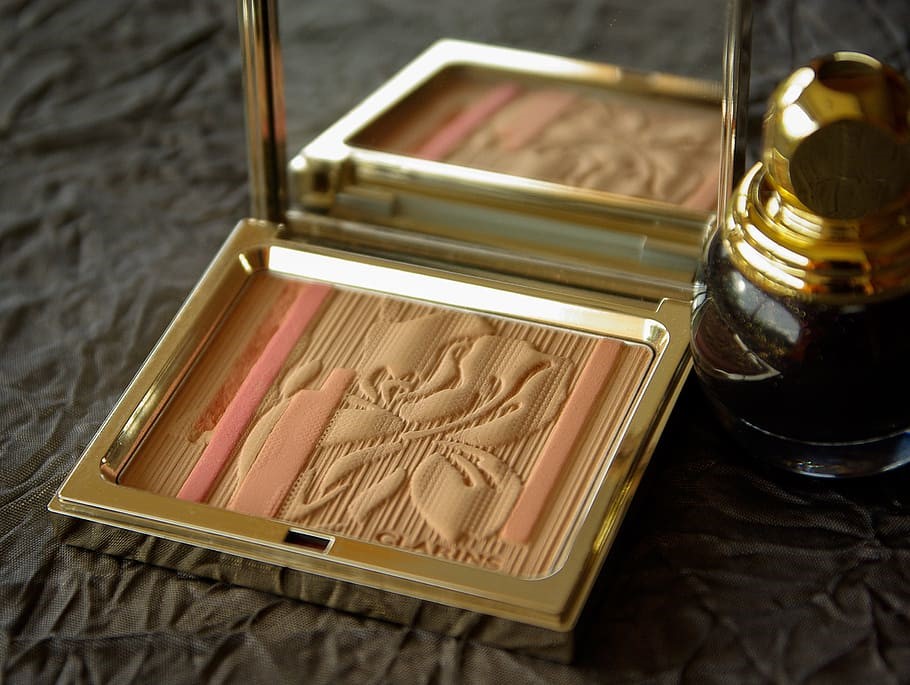 What is the one feature on your face that makes you stand out in the crowd and look beautiful?
Some say it's their eyes because they reel people in, and some say it's their lips that make people go crazy with desire. We completely agree with them because these features are the reason we adore our K-pop idols.
It's also possible that you are inspired by their style and want to emulate them. If you want to know the answer to the question, "How can I look like my favorite K-Pop idol?," then look no further. Our blog post will provide that answer and more!
While other blog posts go straight to the tutorial, we will start with the basics so that you can do the looks like a pro instead of recreating the look using a paint-by-numbers tutorial.
Key Takeaways
• K-Pop idols choose their makeup blusher based on their skin type. For dry skin, blush cushion or liquid cushion are best, and for dry skin, powder cushion works well by absorbing the sebum.
• The key feature of K-Pop idols makeup is using less to accentuate their natural features.
• Choosing between powder blush, cream blush and cushion blush is based on your skin texture and type. • For an innocent look, apply the blusher on the apple of cheeks and for a sharp and sexy look, use angular strokes with your brush.
• K-Beauty Recommendations: FMGT Pastel Cushion Blusher by THE FACE SHOP, By Flower Blusher by Nature Republic and Check Jelly Blusher by Too Cool for School, Lazy & Easy Blusher in Jelly Dough by Holika Holika and Juicy-Pang Water Blusher by A'pieu.
Key Feature of K-Pop Idol Makeup
There are many characteristics of k pop idol's makeup. Thin, long eyes, distinct features, and non-excessive transparent make-up. But at the end of it is a fresh blusher makeup. Let's learn how to use blusher to complete k pop idol makeup.
Choosing the Right Blusher for Your K-Pop Idol Makeup
All you pale-cheek ladies gather around because we are about to tell you how to choose a blusher that your favorite K-Pop idols prefer. One of the reasons why K-Pop idols look so rosy-cheeked and fresh is because their makeup does not melt. You will find them having a fresh appearance effortlessly for a long time.
Here are some tips on how to choose the right blush-on:
Blush-On Types
First up are the types of blushers. Thanks to K-Beauty innovation, there has been an addition to the already existing three types of blush-on, which include liquid or gel-based blush, cream blush, and powder blush. The fourth one, which Korea holds the patents to, is cushion blush. Before choosing any one of these, find out which blusher will work well with your skin.
Skin Texture
The above blush-on formulas mentioned don't suit every skin type, which is why you need to pick one that will stay on your face. For example, if your skin is normal, then you can choose whichever you want. However, for people with greasy skin, a powder blush-on is best. For those with dry skin, a cushion blush-on or gel-based blush-on will work well.
Pigmentation
Don't confuse pigmentation with color. This word refers to the hue of the color. All blushes offer pigmentation, which is divided into two categories: light and dark. Most K-Pop idols choose a blush-on with light pigmentation. However, if your skin tone is a bit dark, then choose one with a buildable formula with high pigmentation.
Color Shades
For light-skinned individuals, shades like coral, peach, and pink work well. On the other hand, individuals with medium skin tone should go for colors like maroon-red, dark peach, and mauve. If your skin is pale with no natural pigmentation, then pick up a peachy-orange shade. Go for shades like warm browns, deep fuchsia, and plum if you have dark skin.
What Blusher Is Good
Powder Blush
This is the most common type of blush, and it's great for people with oily skin. The oil absorbs the blush-on and gives a matte finish.
Cream Blush
Most cream blushes have moisturizing ingredients that protect the skin. These are for dry skin and blend well on the surface. They are also long-lasting and highly-pigmented.
Cushion Blush
The non-creamy, lightweight composition of cushion blush-on makes it the best blush type on the market. It's liquid-based yet so light that it feels exactly like powder blush.
We might sound biased, but all blush-on types are good, as long as you are getting a Korean brand. After all, you are trying to capture your favorite K-Pop idol look and what better way to get it than using the same products they do.
How to Apply Blusher
So, we know how to pick the right blusher and what shade to choose that will go with the overall look. Now, let's start with the application. Following is a short step by step guide on how to apply blusher: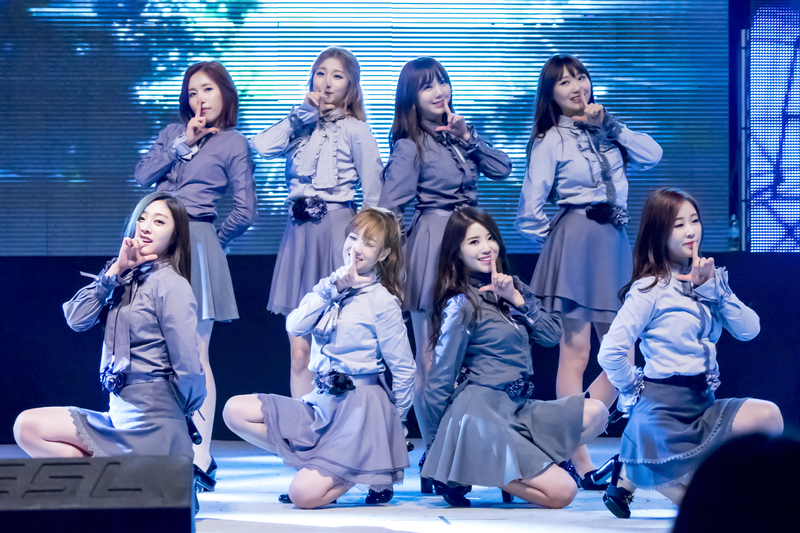 Today, our celebrity inspired makeup tutorial is brought to you by the members of Lovelyz. Each of them has a different face cut, but the way they apply makeup and the products they use are the same.
Step 1 – Wet the applicator slightly when using powder makeup. If you have dry skin, then use a cushion foundation instead. This wet touch gives your skin a dewy look, making you sparkle under the light.
Step 2 – Sweat and sebum are the enemies of your skin. Fight them by making sure that your skin is dry after the foundation is applied. Use a no-sebum matter powder as a top layer. Apply it generously on your forehead to prevent hair from sticking to it.
Step 3 – For a dramatic flair, go for the falsies. Depending on the shape of your eye, pick the right fake eyelashes. For a doe-eyed and natural look, go with falsies with open lashes. If you plan to party it up, then go with heavy ones.
Step 4 –There are two ways to apply blush-on. For an innocent and cute look, apply blush-on the apple of your cheeks. To find them, give a little grin; the part of your cheek that pops out is where the blush-on should be applied. For a sexy look, give your brush a more angular stroke to highlight the cheekbones.
Step 5 – A lipstick can transform everything. If you don't like applying foundation, then a touch of blush-on and a dark lip shade will make you look like a million bucks.
Recommendations – Korean Blush-On
One of the most admirable characteristics of K-Pop idols, whether they are male or female arts, is cheek contouring and a glowing aura. It makes them look beautiful and fresh. Now that you know how to emulate your favorite K-Pop idol, let's take a look at the makeup products that are a must-have. Following are the top Korean blush-on products that you can find at UMMA:
Check Jelly Blusher by Too Cool for School
The Check Jelly Blusher by Too Cool for School comes in a cute tin can with a check pattern. This blusher is available in 8 different flavors, some of which include Strawberry, Peach, Apple, and Ginger. Some of the key ingredients in all the blushers are fruit extracts and Althaea Officinalis Root Extract. The blusher offers a buildable formula that stays in place for a long time. Since it's highly-pigmented, a single stroke will be enough. This Too Cool for School blush is so amazing and cool that it won the "Nylon Beauty Award" in 2018. So, whether you are going to your morning meeting or a dance party with your friends, you can rock it with a little touch of this blusher on the apple of your cheeks.
Juicy-Pang Water Blusher by A'pieu
The Juicy-Pang Water Blusher by A'pieu is a highly-pigmented liquid blusher. It has 12 different shades that have a fruity fragrance and vibrant color. The blusher gives natural color to the cheek with its watercolor effect. Some of the top flavors and colors of this water blusher line are Cherry, Strawberry, Peach and Grape. One of the reasons why this blusher made it on to our list is because it gives a youthful-looking skin. All the blushers are made of fruit extracts and are infused with multiple oils that give a smooth finish.
By Flower Blusher by Nature Republic
The By Flower Blusher by Nature Republic is made with camellia oil, green tea extracts and chamomile extract. All these ingredients together give skin protection, moisture and enough oil to keep the skin in prime condition and a soothing feeling. On top of this, the vivid colors of the blusher offer a natural look and make a face glow. If you are looking for that innocent, girl-next-door look, then this is the blusher you need to have. The blush-on is available in 4 different shades, and each one of them is infused with a sweet-smelling flower. It's suitable for dry as well as oily skin. All the shades are in warm colors and offer a sheer finish. The color is long-lasting, and you don't have to worry about it melting off.
Lazy & Easy Blusher in Jelly Dough by Holika Holika
The Lazy & EasyBlusher by Holika Holika is known as a jelly dough blusher due to its texture. This blush-on is great for everyday wear. It will make your face look radiant, healthy, and fresh. The secret ingredient in this blush-on is the Vita C fruits complex. The extracts of orange, lemon, lime, and grapefruit improve micro-circulation or blood, making the skin supple and smooth. Moreover, the blush-on contains different amino acids that give skin relief and protect it from pollutants.
FMGT Pastel Cushion Blusher by THE FACE SHOP
The FMGT Pastel Cushion Blusher by THE FACE SHOP is a pressed porous powder that comes in a small, cute jar with an equally cute puff with a ribbon top. This blush cushion gives you a doll-like appearance. The colors available in this blush-on line are all in pastel shades, which are ideal for light skin tone individuals. The shades include Merry Pink, Ink Red, India Red, and Ginger Beige. The oil-controlling powder offers a light finish without cluttering. It reduces color breakdown and lasts a long time.
Conclusion
As we said earlier, the type of blush-on you choose should be based on your skin type. Those with dry skin should o with FMGT Pastel Cushion Blusher by THE FACE SHOP. Those with mixed skin type should use By Flower Blusher by Nature Republic and Check Jelly Blusher by Too Cool for School. Those with oily skin type should use Lazy & Easy Blusher in Jelly Dough by Holika Holika and Juicy-Pang Water Blusher by A'pieu.
If you are a wholesaler, partner with UMMA to keep track of the latest products from the brands mentioned above. To get the latest news about K-Beauty and Korean blush-on products, visit our website and subscribe to our newsletter.

You can also sign up to get access to the full list of brands we offer.