Aloe Vera, or also known as the 'lily of the desert', has been around for centuries, even millennials. Aloe Vera is probably the most popular succulent people seek for its cosmetic and medicinal properties. When ingested, it can boost immunity and aid in digestion. When applied topically on the skin, it can have several benefits. Now, before we get into what the top 10 Korean Aloe Vera skin care products are, let me brief you on why Aloe Vera is such a popular skincare ingredient.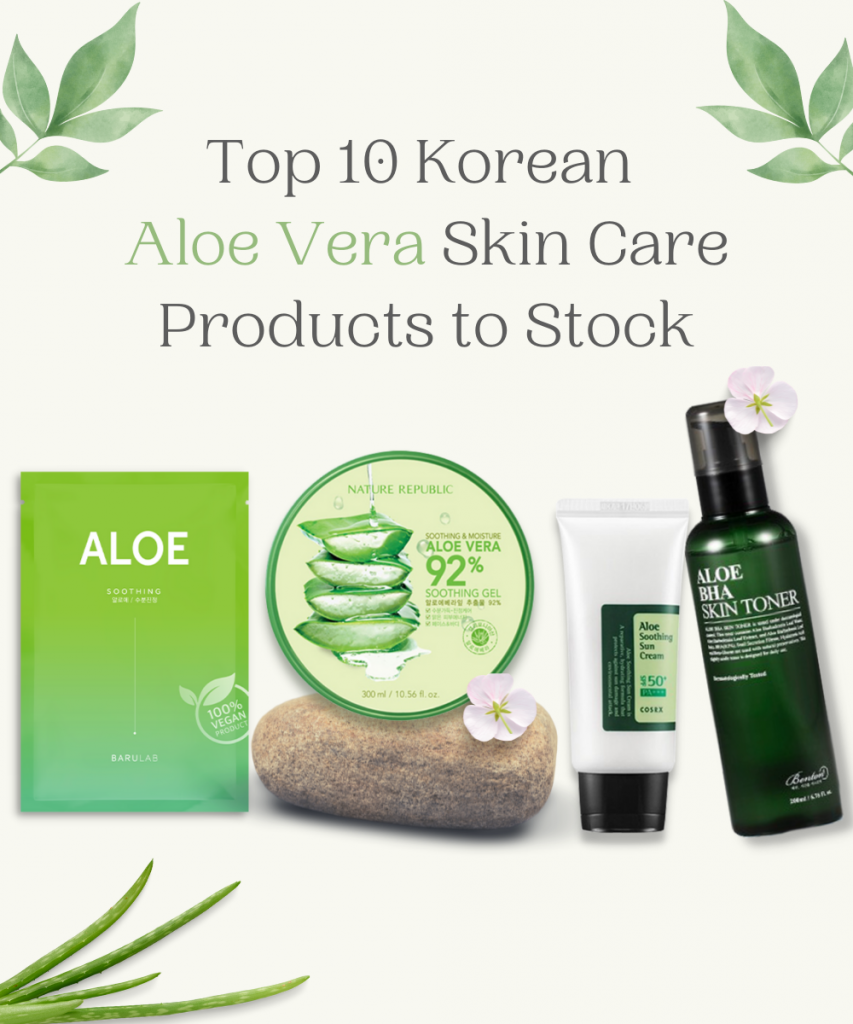 Skincare Benefits of Aloe Vera
Consider Aloe Vera as a multi-functional character. Different brands put Aloe Vera in different skin care categories for different benefits. You may have seen it in suncare or after suncare products for its soothing and anti-inflammatory properties. Or mask sheets due to its moisturizing benefits.
You may choose to use a product that contains aloe for obvious reasons. Maybe because it is effective in soothing and moisturizing your skin. But did you know it also has healing properties? Aloe Vera doesn't just feel cool to the touch and feel soothing because of its gel texture. It actually contains an anti-inflammatory compound that promotes healing and pain relief for sunburns and frostbites! This compound promotes tissue healing and aids skin cell regeneration.
Additionally, Aloe Vera helps fight skin aging. It contains Vitamin A, C, and E and promotes the production of collagen and hyaluronic acid. All these properties play important roles in keeping skin youthful. Vitamin A is known to help speed up healing of the skin, C and E are powerful antioxidants to help reduce skin damage from external factors, such as UV rays. Collagen is what maintains your skin's elasticity and hyaluronic acid is vital for retaining moisture in the skin to prevent wrinkles. And the list goes on!
This superfood has super skincare characteristics – no wonder it's been around for so long and is still high in demand all around the world. So are Korean Aloe Vera products that much higher in demand? Because if there's one aspect of K-beauty you should keep in mind when considering adding it to your business is that they are high in quality and effectiveness, but much lower in cost than high-end brands.
So let's get into the top 10 Korean Aloe Vera skin care products to stock up on.
1. Nature Republic – Soothing & Moisture Aloe Vera 92% Soothing Gel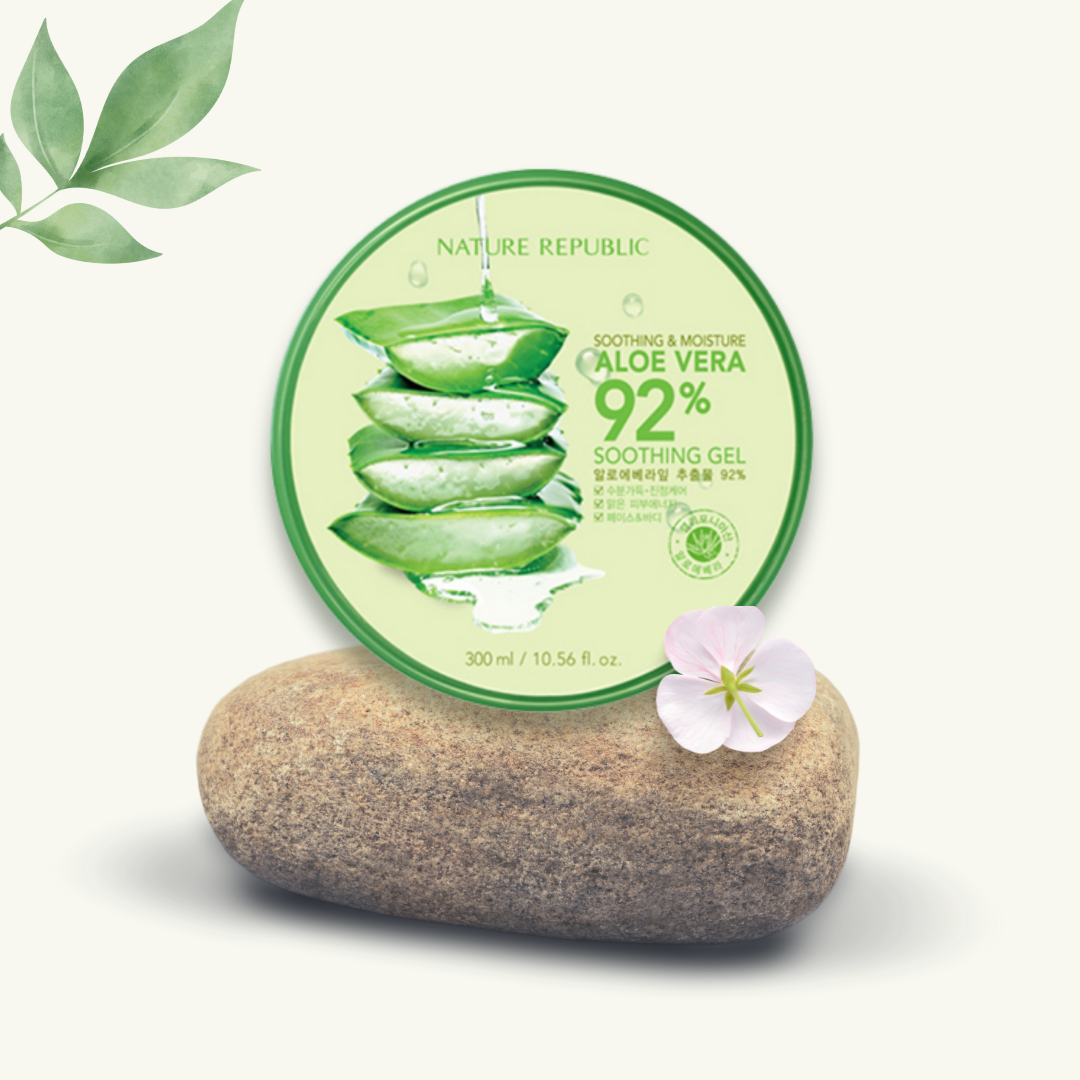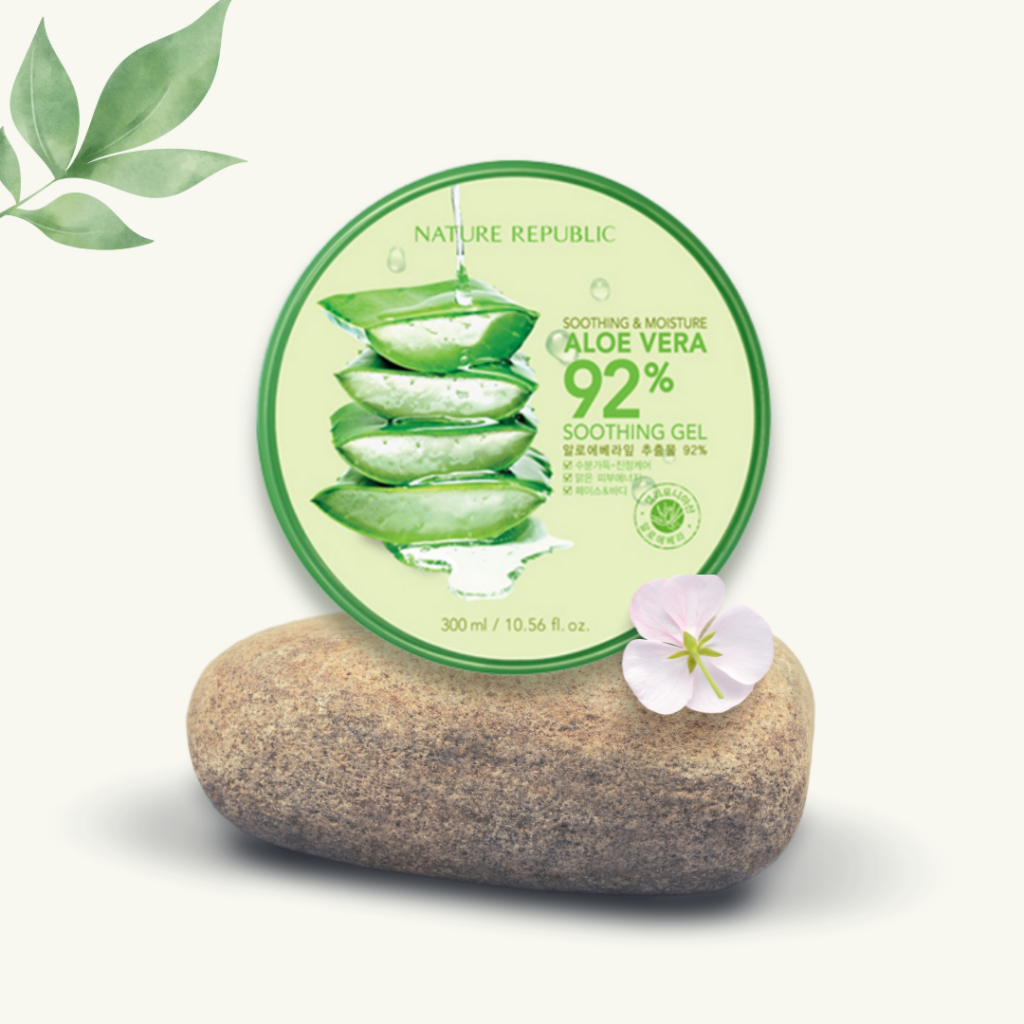 If you don't know this product already, we're so glad you're reading this. This is the Holy Grail of Aloe Vera gel in jar form. Nature Republic blew the beauty community away with this hit product. It doesn't just contain a high concentration of this natural miracle ingredient. They perfected the formulation by making sure the texture is just right – not sticky or greasy, not too light or heavy, doesn't absorb too fast or too slow. And it doesn't contain paraben, mineral oil, or artificial color or fragrance.
update: currently not available on umma
2. The Face Shop – Real Nature Face Mask with Aloe Extract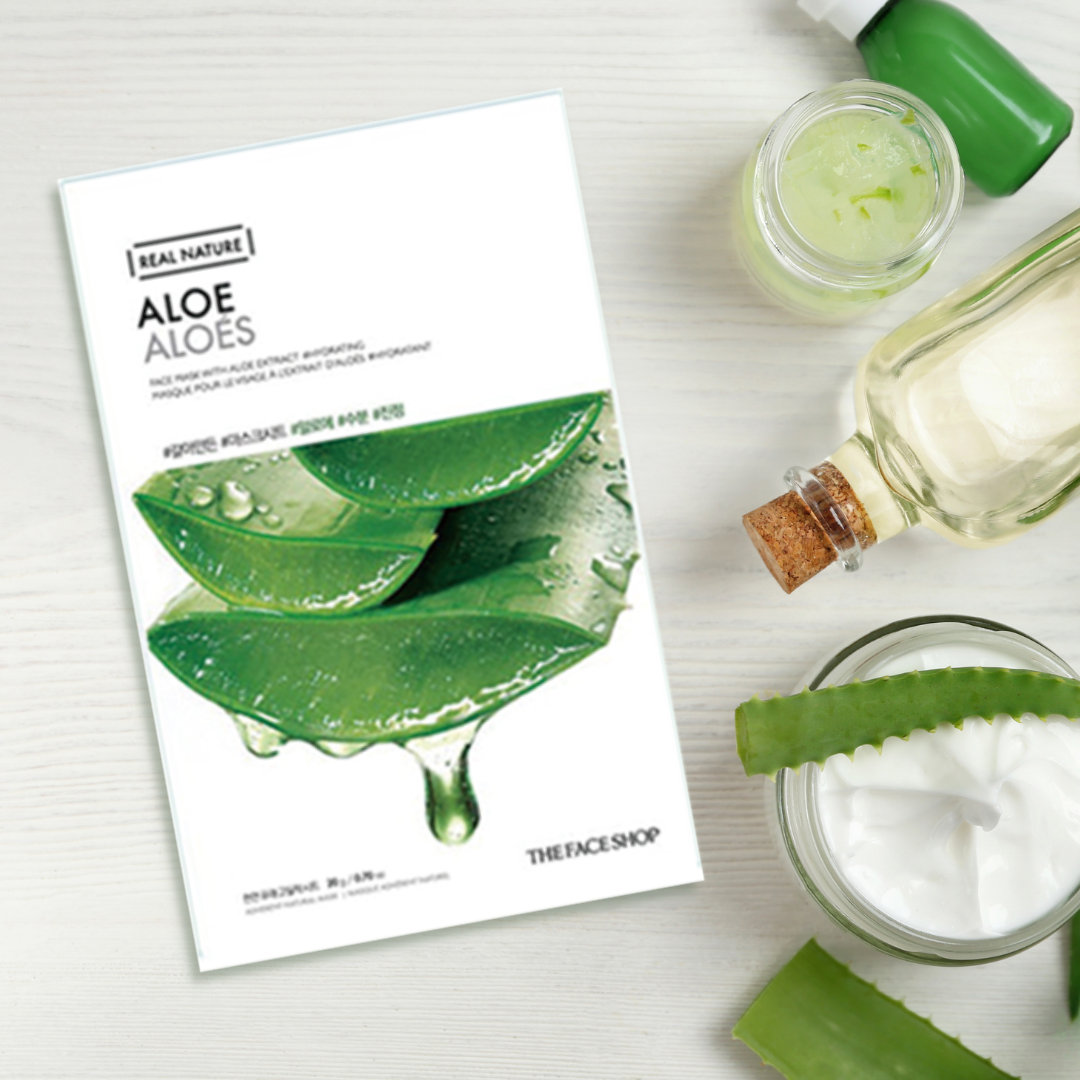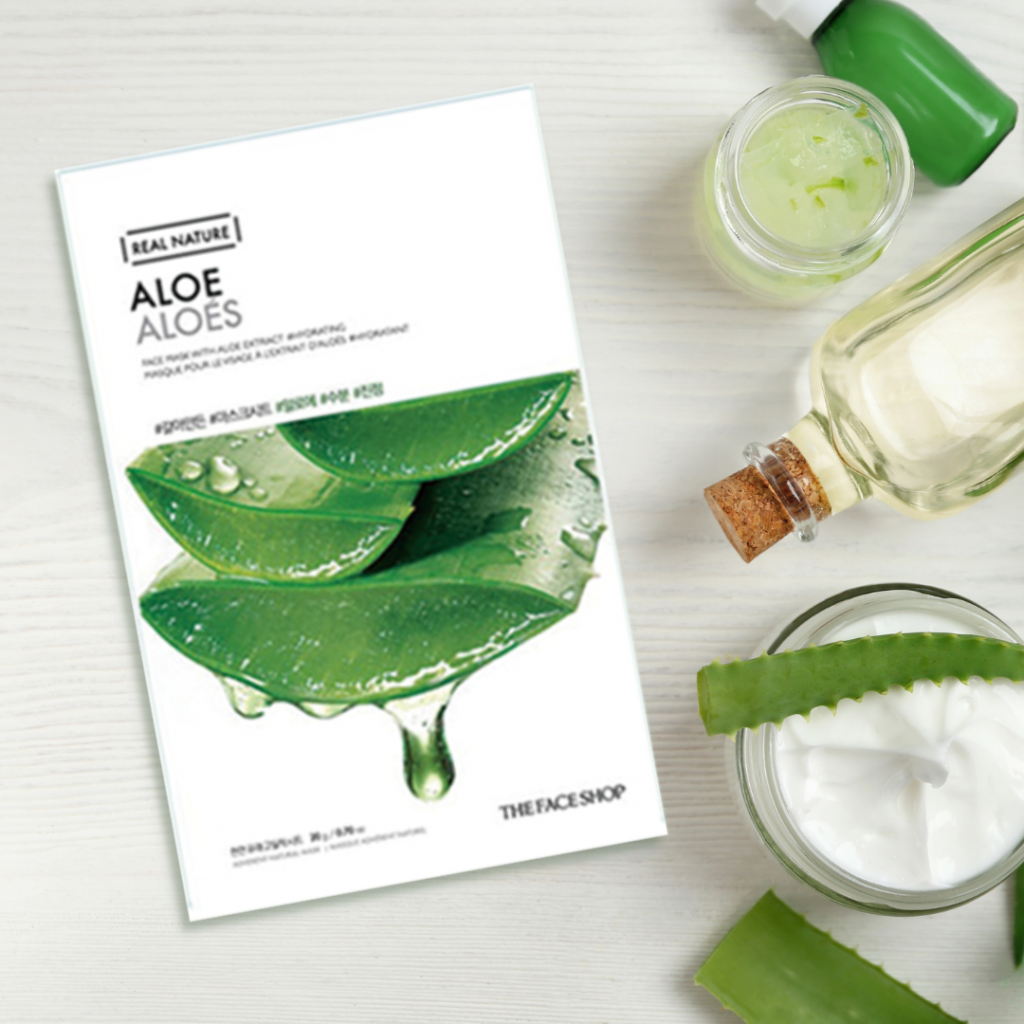 Real Nature Face Mask series by The Face Shop has been a long-term best seller series for quite some time. Containing natural ingredients that are effective but mild for daily use and sensitive skin, beauty lovers all over the world continue to repurchase these masks. Plus, they're extremely affordable. And Aloe, being such a popular ingredient choice, is an easy choice for stocking up.
3. Etude – 0.2 Therapy Air Mask Aloe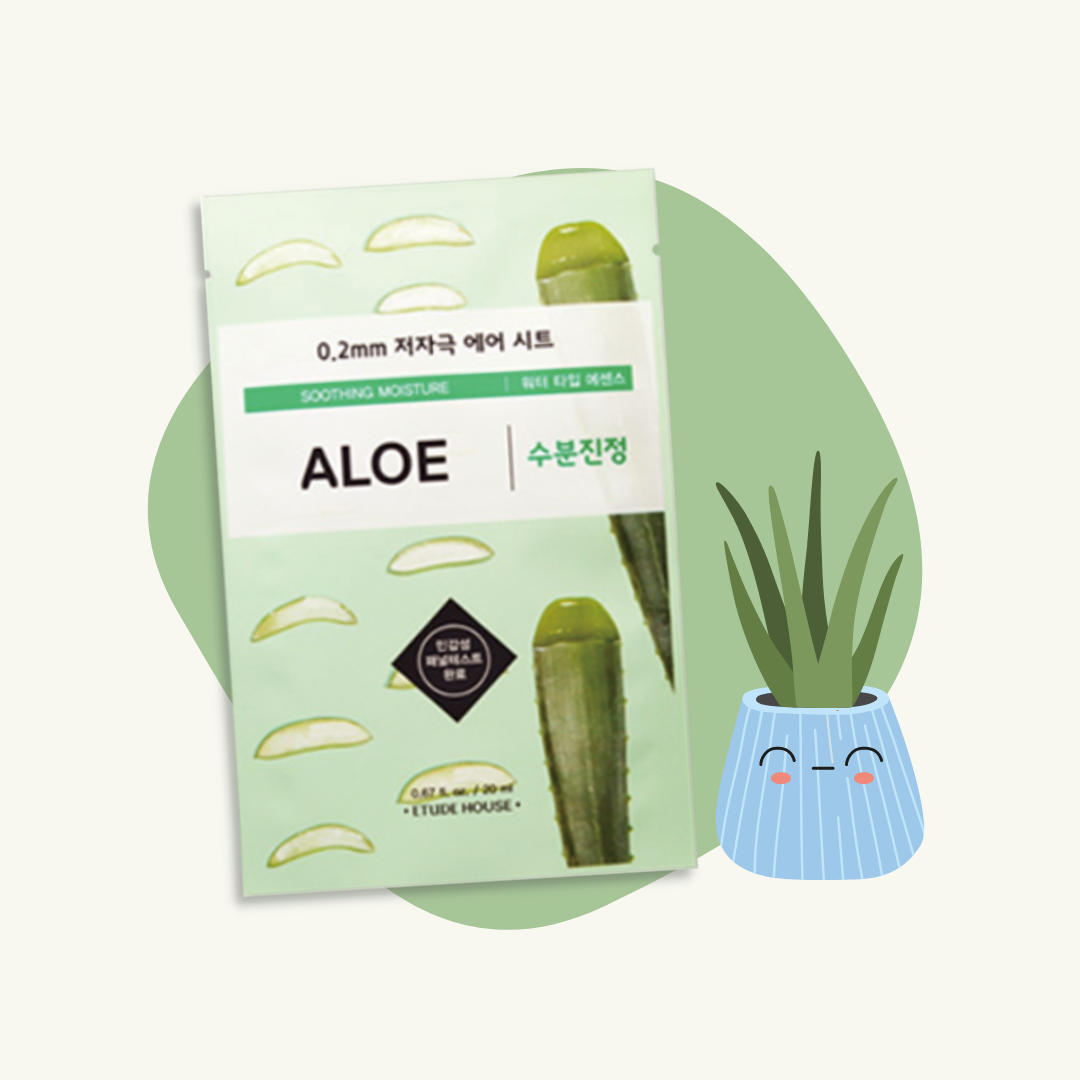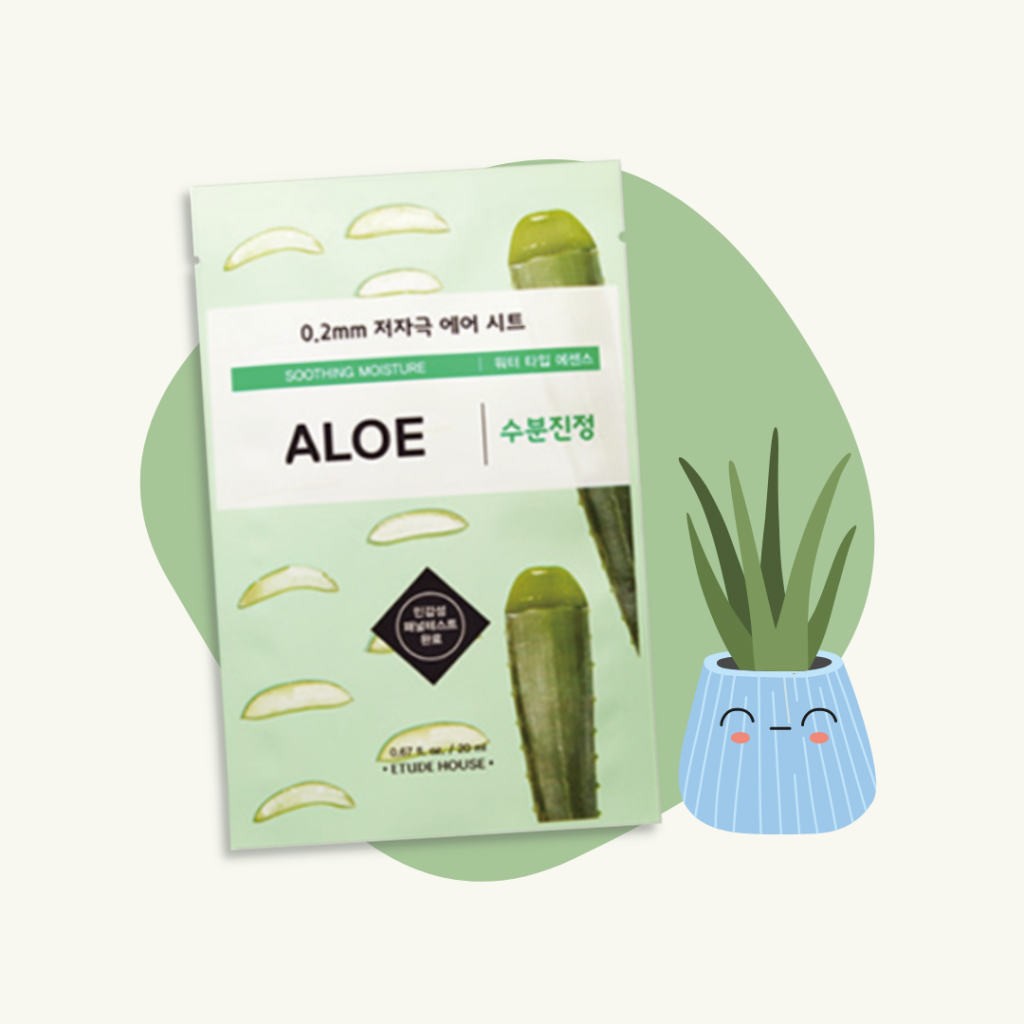 Etude's 0.2 Therapy Air Mask series is also a great investment if you want to keep your K-beauty fanatics coming back. The 0.2mm super thin mask sheets allow for super tight adhesion, so your skin can absorb properly and as much nutrients as possible. The Aloe extract is said to have reduced dryness and redness. And it leaves skin smooth and even vibrant.
4. Barulab – The Clean Vegan Aloe Mask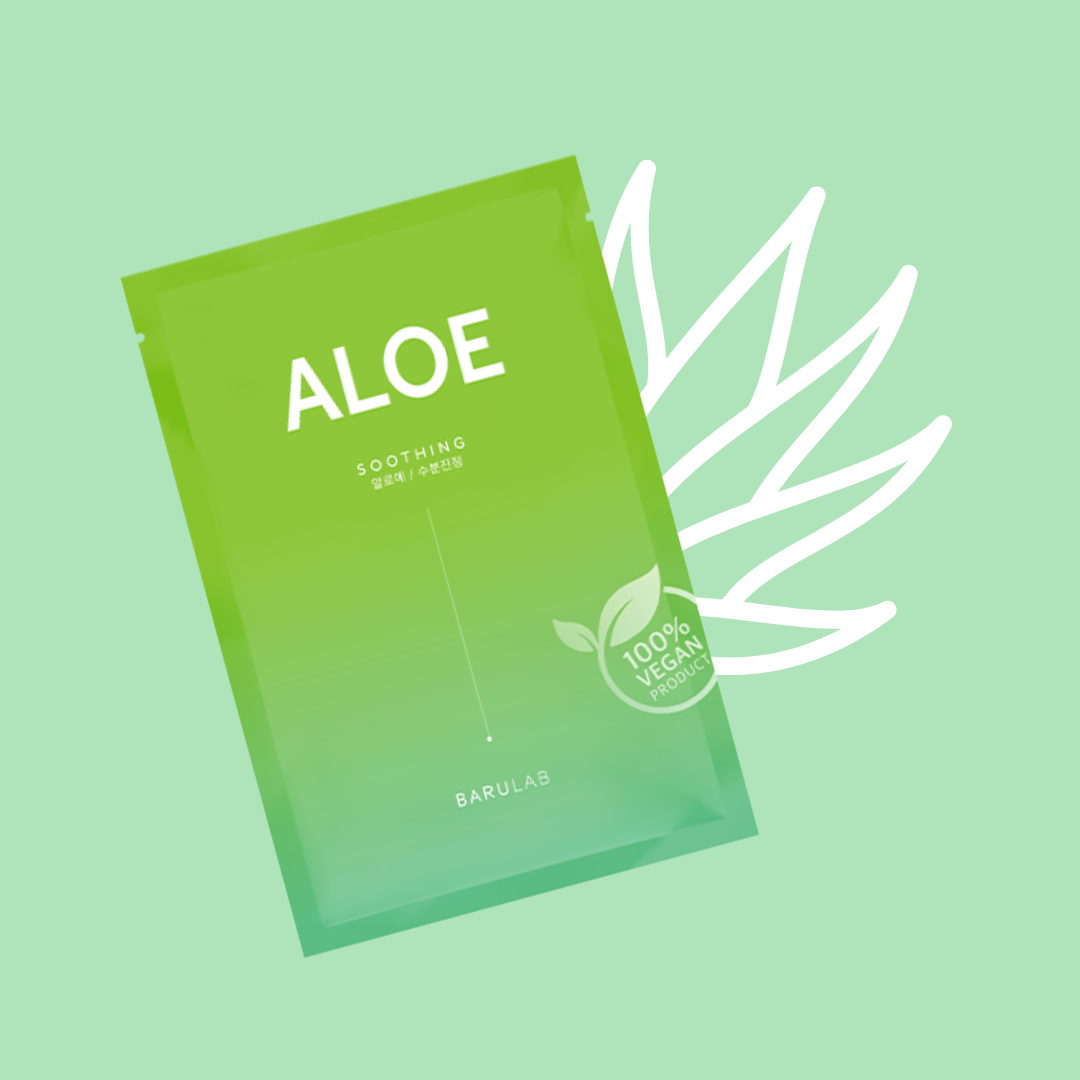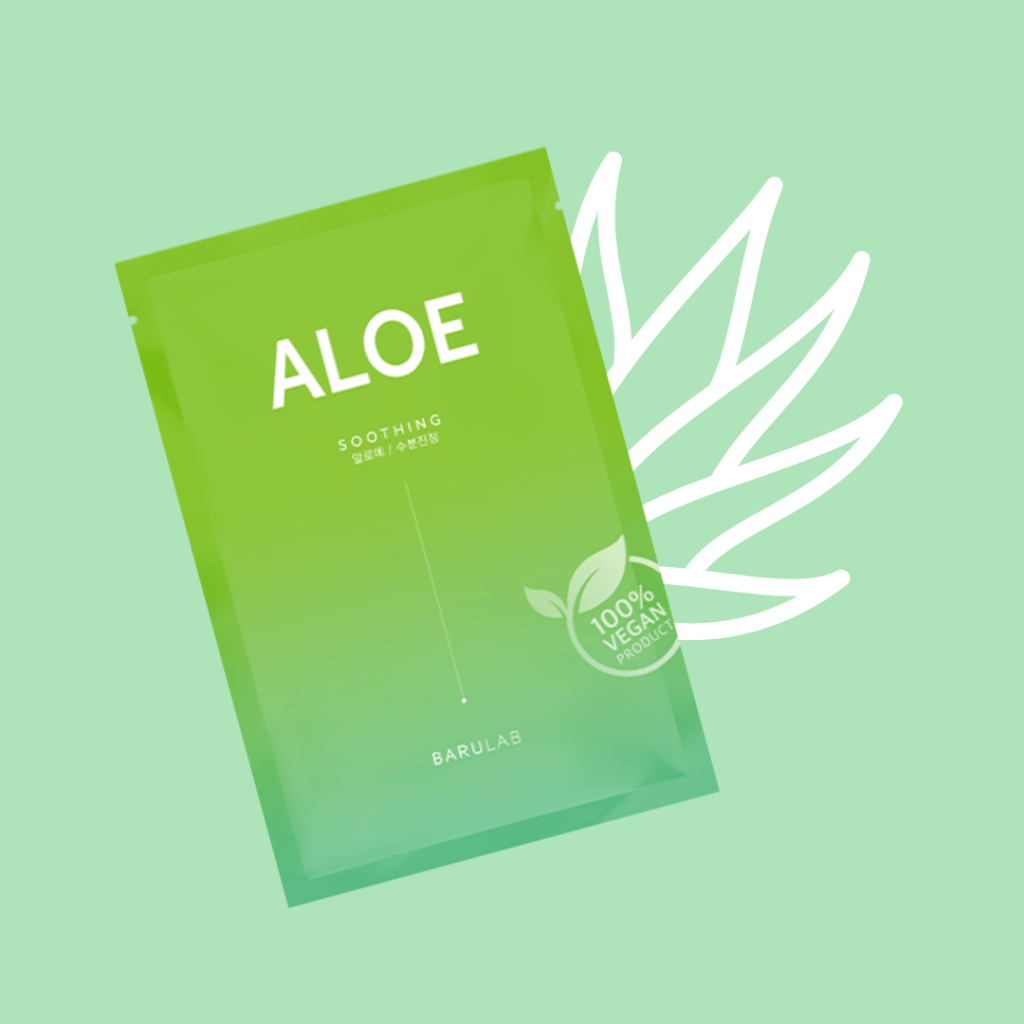 Fairly new to the market, but top in potential, Barulab's The Clean Vegan Mask series should be on your high watch list for new k-brands that bring strong, effective, and desirable skincare. All the masks in this series are 100% Vegan certified by the Korean Vegan Association and provides various ingredients for different skin concerns. Already, the series has a ton of reviews and high rating on Amazon. The Aloe mask is said to soothe skin, care for acne, and even brighten skin.
5. IsNtree – Aloe Soothing Gel [Fresh Type]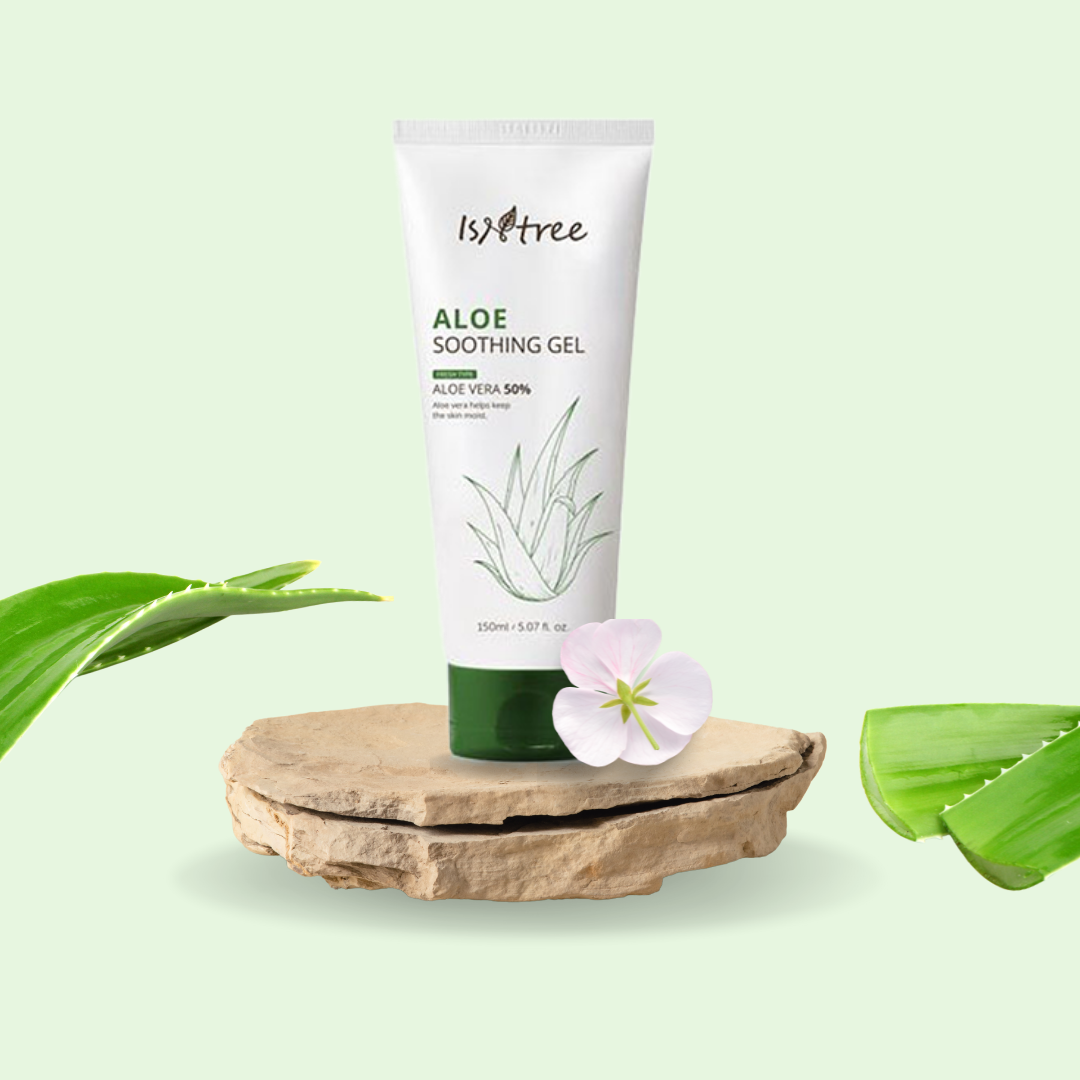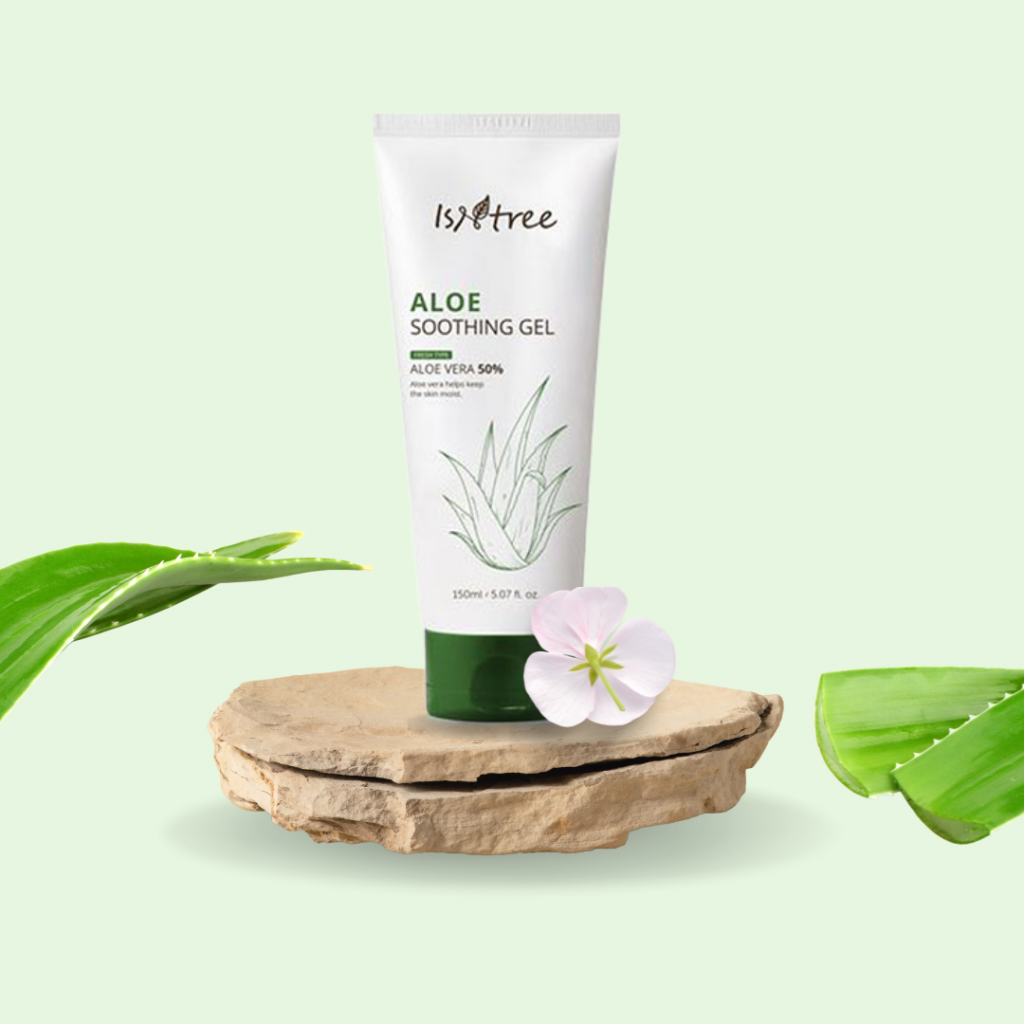 IsNtree Aloe Soothing Gel comes in two types, Fresh and Moisture. As mentioned earlier, Aloe Vera can be used for various benefits in various types of products. Reviews for the Fresh type show that it is better for healing rather than hydrating (while the moisture type is also thicker in texture and more for hydrating). Some reviews suggest this product is better than others only containing Aloe, because it contains other active ingredients, such as Soy Isoflavones and Amino Acids for better skin care effects.
6. Beausta – Aloe Vera Soothing Gel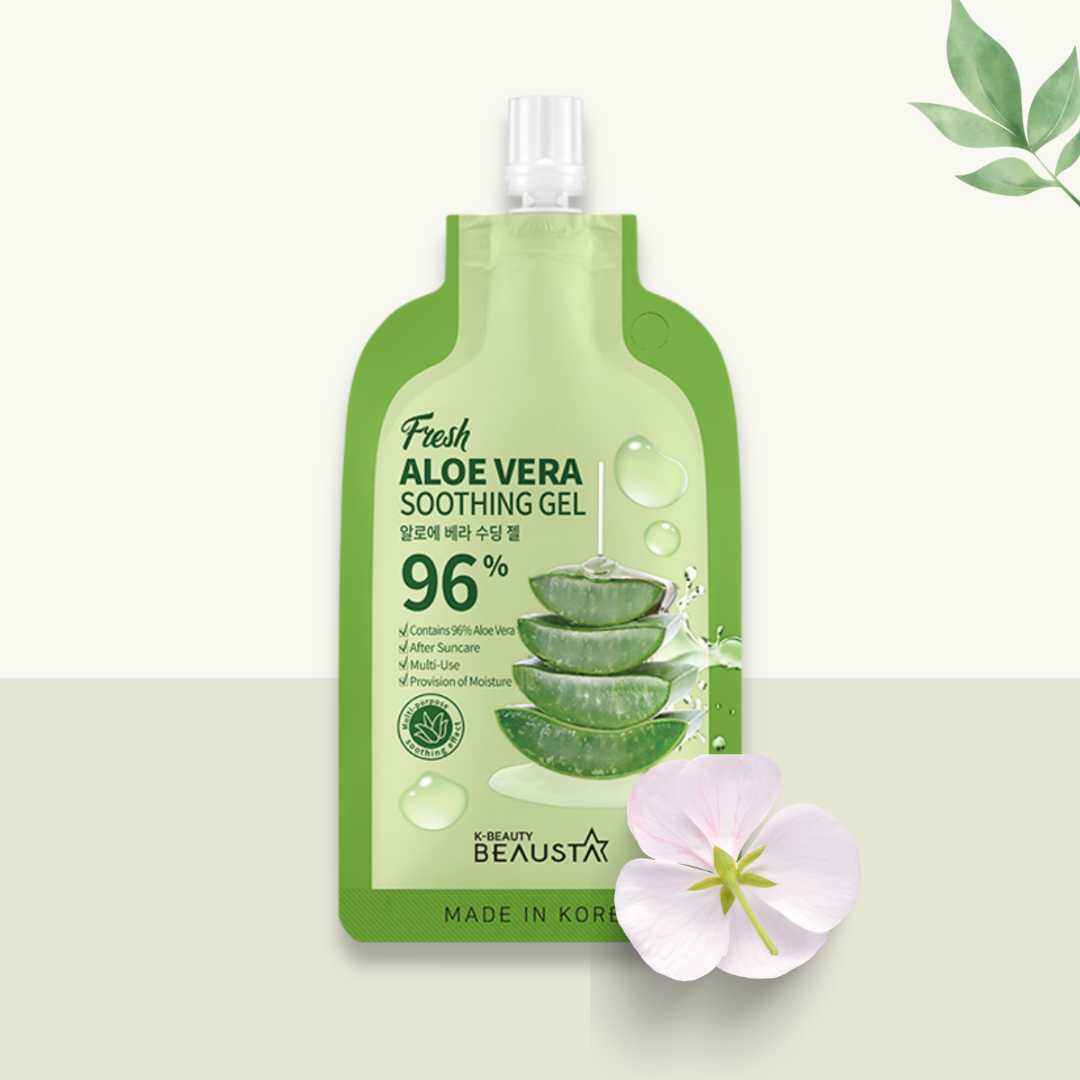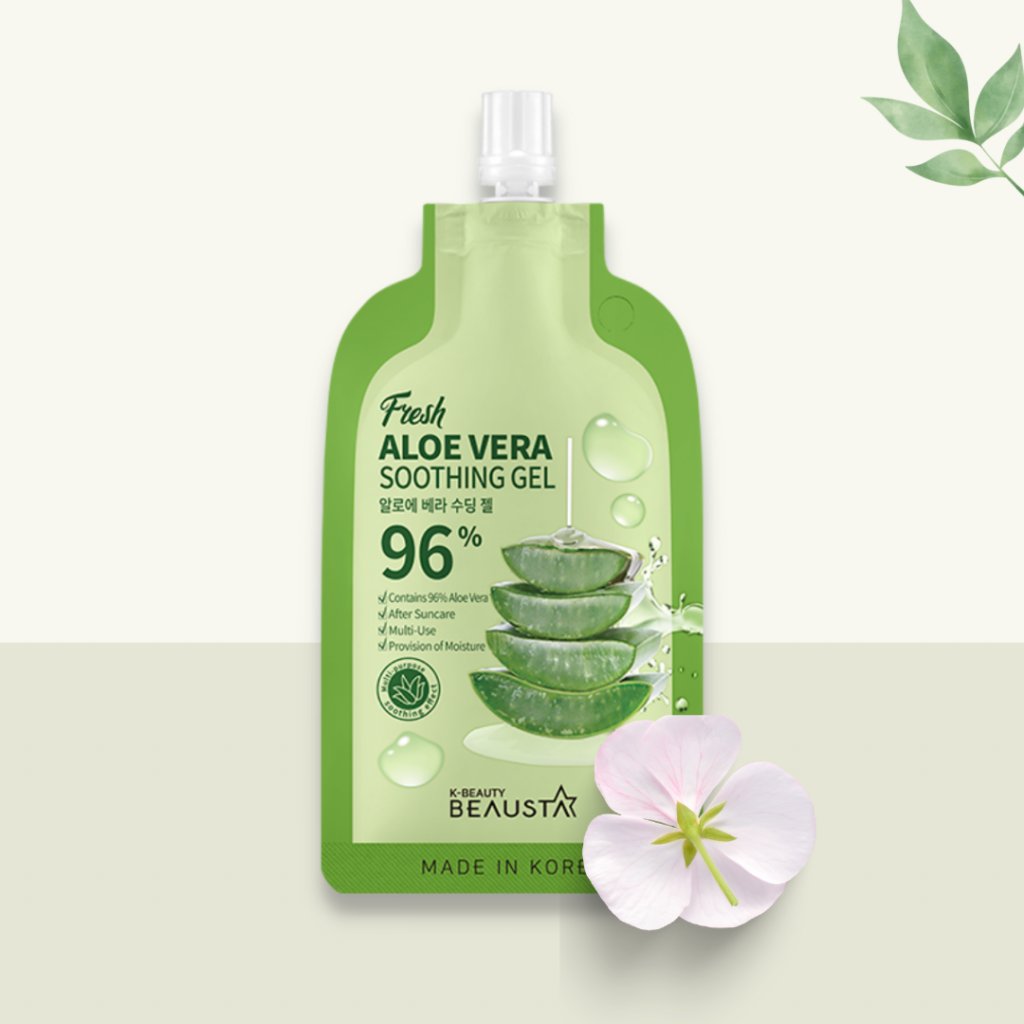 Beausta came up with a great idea to provide great, quality skin care to even the lowest income consumers by containing these formulations in low cost packaging. If you check the Spout Pouch series, you can find all the popular skincare category types all contained in affordable and hygienic pouches that are easy to carry around. Rest assured the quality of the formula remains top shelf. The Aloe Vera Soothing Gel contains 96% Aloe, and also Hyaluronic Acid and Herb Complex for maximum hydration and soothing effects.
7. COSRX – Aloe Soothing Sun Cream SPF50+ PA+++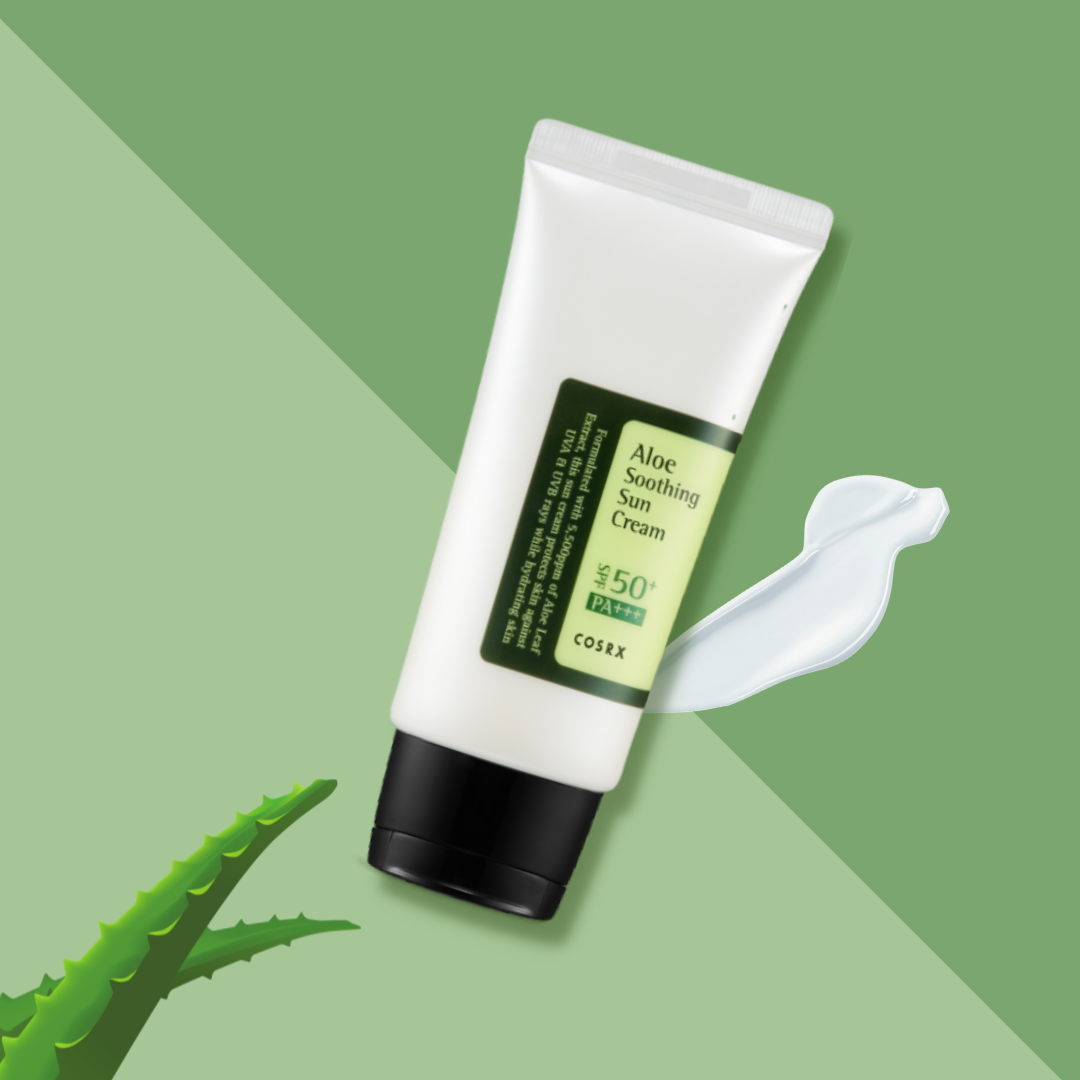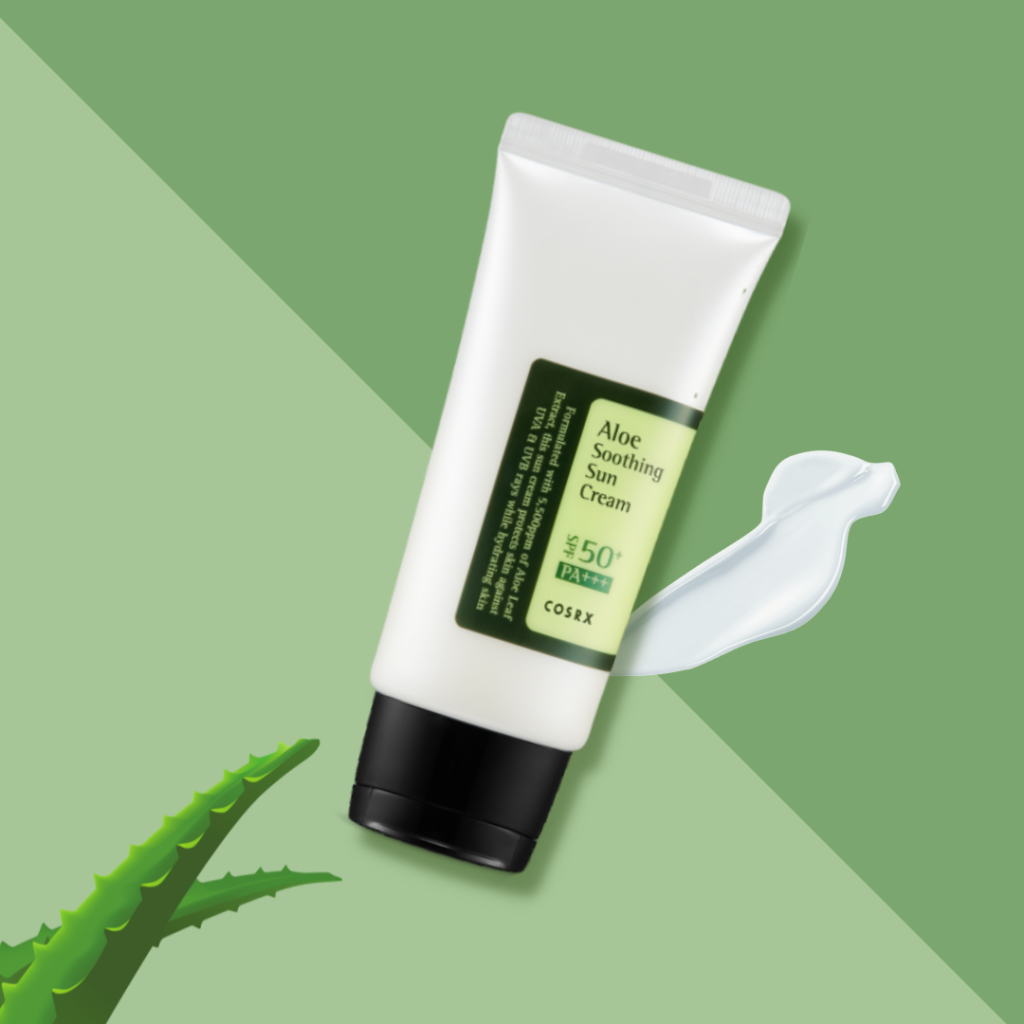 It's really hard to miss this brand when K-beauty is mentioned anywhere nowadays. And this list is no different. This global top seller product is high in demand everywhere. It's more like a sun-moisturizer than a cream. Not only does it prevent damage from UV with its powerful sunscreening agent, but it also soothes and moisturizes skin to keep it in the best condition while you play in the sun. It doesn't leave any white cast, and it applies lightly, almost like a gel that absorbs easily into the skin. This product is an investment you don't want to miss out on. Even if for personal use.
8-10. Benton – Aloe BHA Skin Toner, Aloe Propolis Soothing Gel, Aloe Soothing Mask Pack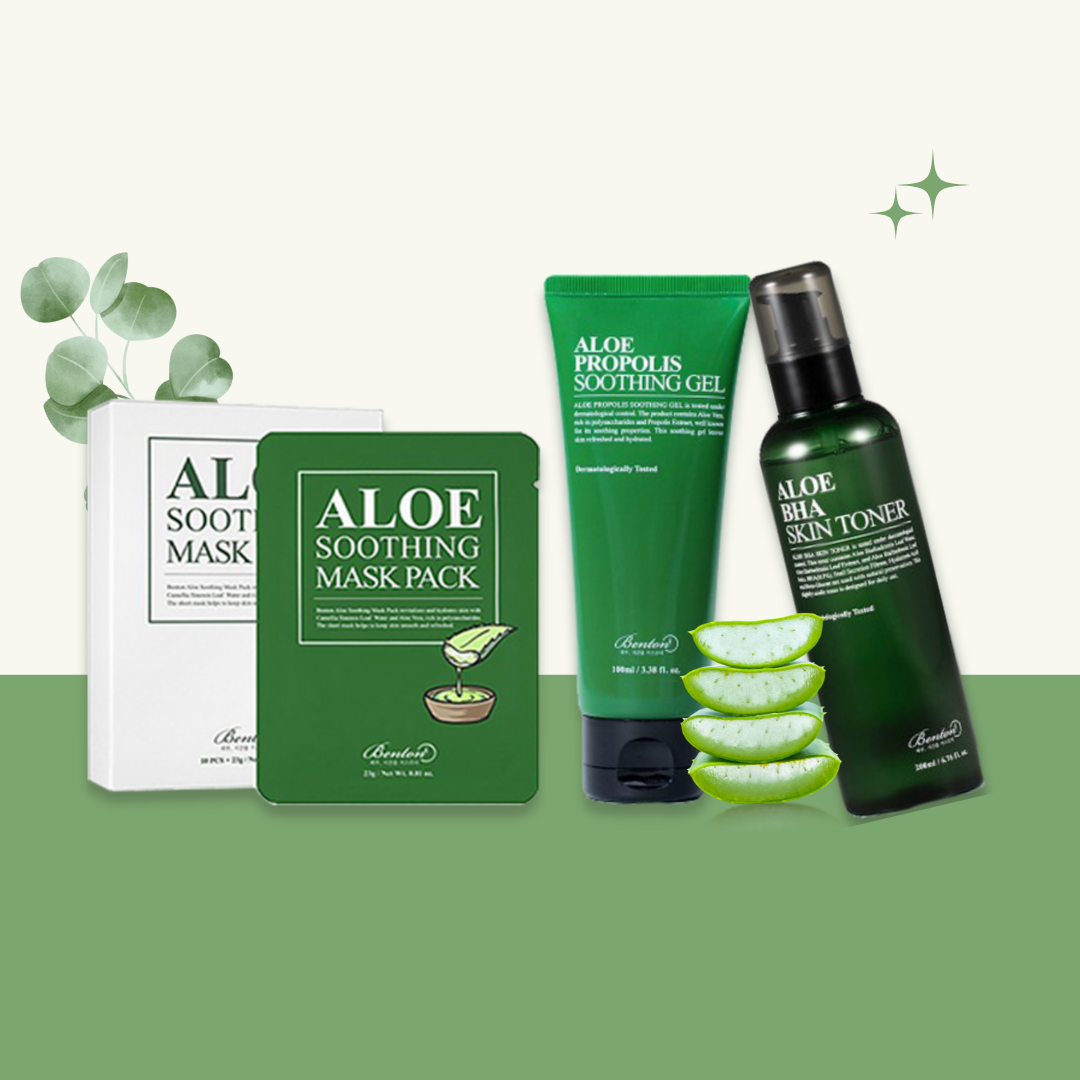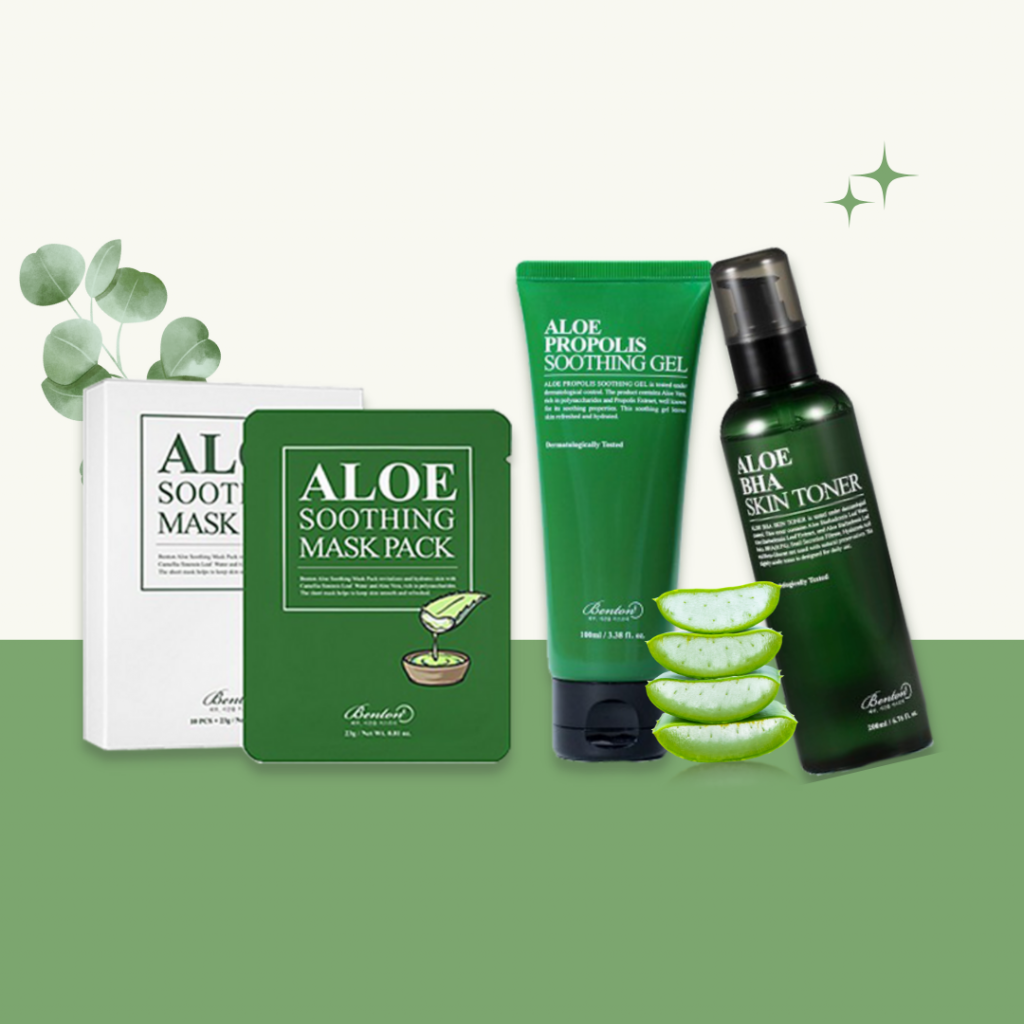 Benton brand is a fast rising star, no doubt. And their Aloe series is not something you want to miss out on. The demand for Aloe is continuing strongly, and Benton is at the top. These three products are actually some of our top sellers at UMMA, which means businesses everywhere are looking for these.
The mildly acidic Aloe BHA Skin Toner exfoliates and nourishes skin into the best condition for moisturizing. The Aloe Propolis Soothing Gel contains more than 80% Aloe and another popular antioxidant ingredient Propolis to maximize the skin soothing and hydrating effects. Lastly, the Aloe Soothing Mask Pack provides deep hydration and instant cooling effect, leaving skin feeling refreshed and soft.
You can find all these products with many reviews and high ratings on Amazon and Shopee, and other K-Beauty marketplaces.
Stock up on Best Selling Aloe Vera Products at UMMA
If this article has helped you choose which Korean Aloe Vera skin care products to supply for your business, we hope we can also help you source them for great wholesale prices. From Nature Republic, to Etude, to Benton, and more, we hand-pick the best and trending Korean cosmetic and skincare brands. Sign up today and get a registration coupon you can use for your first purchase.