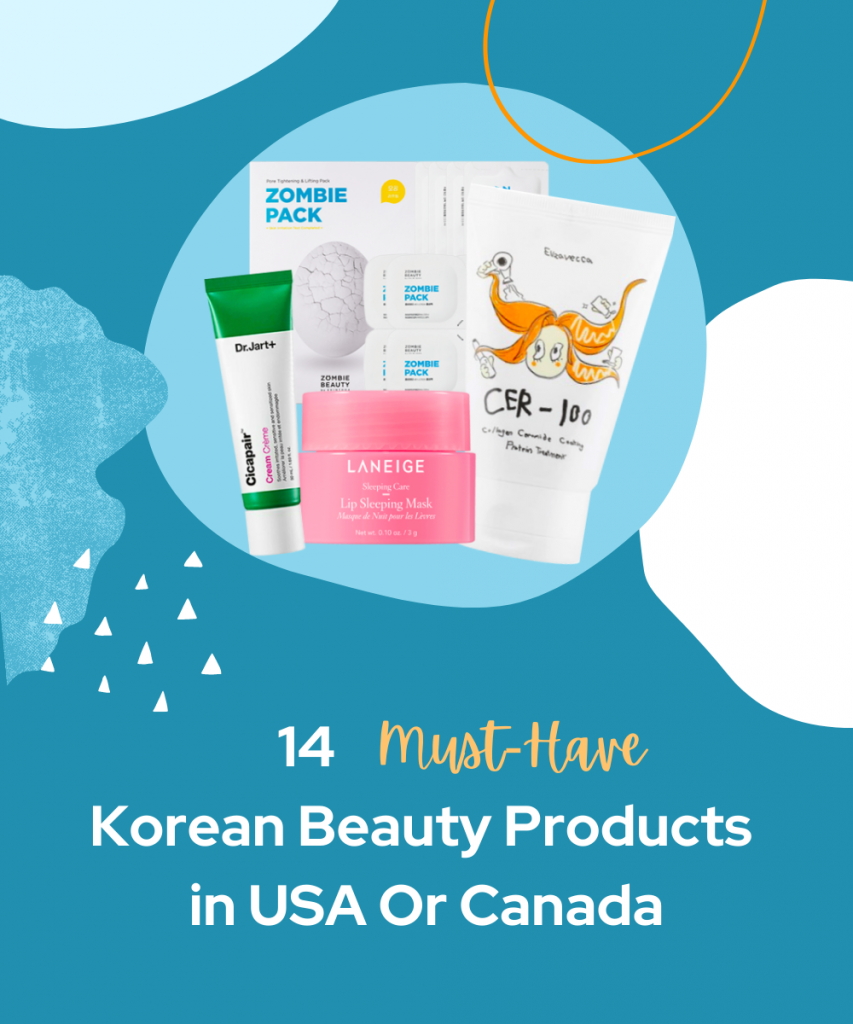 The K beauty market has blessed us with some of the best skincare products and regimens. From the 10-step-Korean-skin-care routine, BB creams to gloriously moisturizing sheet-masks; Korean beauty always has something for everyone. It's unsurprising that the whole world is crazy about K-beauty.
But, if you're still wondering what's so good about Korean skincare? Well, Korean beauty brands combine ground-breaking innovations with the most effective organic ingredients like propolis and snail secretion filtrate (SSF) to make compelling formulations. K beauty products don't just deliver on appearance, but they treat a variety of skin conditions and cater for various skin types too.
That's why K-Pop stars have "glass skin" – because they use Korean makeup. The trick lies in choosing a product that works for you. For those of you in the States and Canada, here's some of our Korean beauty product recommendations for your various skin types.
For instance, weathers in America may affect your skin in a different way than other places. The summers, for example, are just too hot for your skin to handle without the help from sunscreen. Besides, skin dehydration is a well-known problem that affects Americans as much as any other population.
Therefore, you should be looking at K beauty products that sufficiently moisturize the skin and also offer proper SPF protection. It will be a big plus if you also stash a few Korean skin care products that can treat a variety of skin conditions. You just never know when that acne, eczema or cold sore will start flaring up.
With that in mind, here's a round-up of must-have Korean beauty products for anyone living in or travelling to the USA or Canada.
Best K Beauty Products for Acne, Eczema and Other Skin Conditions
If you're American, then you obviously know a thing or two about skin conditions. Acne is by far the biggest nuisance. A whopping 50 million Americans get it each year and 80% of the population struggle with it at some point in their lives. Eczema is not so far behind; up to 31.6 million Americans have it. We can continue to give you the long list of skin issues like cold sores, hives, rosacea, psoriasis, lupus, and melanoma, but you get the point. Instead, we will tell you about the best Korean products for treating them:
Cosrx : Acne Pimple Master Patch
There's why the Cosrx Acne Pimple Master Patch is always sold out: it's the one acne patch that actually works. It's not just effective on your acne, it can help with eczema, pimples, blackheads, cold sores, melanoma and a host of other skin conditions.
If you're at a point where any of these conditions is flaring up, simply slap the Cosrx Acne Pimple Master Patch and watch it work its magic. It does so by extracting bacteria that trigger eczema and acne, as well as removing pimples and blackheads. That's all down to the 100% A.D.F. Hydrocolloid formula used to make the patch.
Elizavecca : Milky Piggy Carbonated Bubble Clay Mask
If you visit the UMMA shop and find that the Cosrx Acne Pimple Master Patch is sold out, don't hesitate to try Elizavecca's Milky Piggy Carbonated Bubble Clay Mask.
It can alleviate acne and eczema just as well. However, this mask comes into its own when extracting pimples and blackheads. Of course, both are the issues that every American can relate to. Whether you're a teen and not liking the bumps on your face, or a grown adult but pimples just won't leave you alone, this mask will come to the rescue.
The best part is that it does so gently. It's designed for all skin types, including sensitive skin. Therefore, it doesn't cause any inflammation or redness when you use it.
Best K Beauty Products for Moisturizing the Skin
Weather in the US can be very harsh to your skin. First there's the hot summer when everyone likes to dress lightly and enjoy the sun. That's always fun, except for the part where the heat draws water from the skin.
Winters and falls have dry, low-humid air. Spring is a mixed bag; it has cold, dry weather outside coupled with dry heat inside. All these periods of dry and/or hot air drain water from your skin, leaving it dehydrated. The good news is that you can solve all your skin dehydration problems with a good Korean moisturizer. Here are a few to add to your beauty cabinet:
Innisfree : No Sebum Mineral Pact
Innisfree No Sebum Mineral Pact is one of the best-selling Korean skin care products. That's all down to its double sebum control system which helps to regulate the skin's sebum secretion (production of oil).
Like every other place in the world, the USA and Canada have people with varying skin types. Some are dry, others are oily. Now, unlike other face powders, which only cater for one skin type, this particular pressed-powder can be used by both sets of people.
If you have oily skin, it will work with your sebaceous glands to control how much sebum is produced. That should help your face look less oily.
On the other hand, people with dry skin will love how this Innisfree pact powder hydrates the skin. It contains glyceryl caprylate, corn starch modified, dimethicone, mica, silica etc., all of which work together to keep your dry skin moist and conditioned.
Best K Beauty Skin Cleansers
How much do you love wearing makeup? You'll be glad to know that you're not alone. 41% of Americans aged between 30- and 59-years wear makeup every day. The percentage is slightly lower (35%) for 60+ year olds, and 31% for 18- to 29-year-olds.
Many more USA and Canadian citizens wear makeup once or a few times per week. The point is USA is covered in makeup (in a beautiful way). The problem comes when you need a good cleanser to thoroughly remove your makeup at the end of the day.
Even if you don't do makeups, your skin is always exposed to pollutants and toxins. They not only damage collagen, but over time they cause irritation, black/red spots, change in pigmentation, and increased risk of skin conditions (particularly acne and eczema).
Then there's the big C. One reason why skin cancer is becoming more prevalent is because of all the pollutants that we expose our skins to. While it's impossible to avoid all of them, you can make sure to clean off the pollutants from your skin after every day, which is why you need a good cleanser. And they don't come any better than these two:
Banila Co : Clean It Zero Cleansing Balm Original
Cleaning makeup is only a problem if you don't have the Banila Co Clean It Zero Cleansing Balm Original. This balm clears makeup in seconds without affecting or stripping off your skin.
It's rich in vitamin E acetate that protects the skin against free radicals. It also contains vitamin C-rich, which is known to exfoliate the skin and even out its tone. And, of course, it also hydrates.
Innisfree : Super Volcanic Pore Clay Mask 2X
This deep-cleansing, creamy clay mask is made with Jeju's magical volcanic clusters. Yes, it's actually formulated using hot lava fragments from Jeju Island's volcanoes. That, combined with its AHA content (lactic acid), gives the mask its amazing cleansing ability.
It gently exfoliates the skin while clearing out pores. It's also very effective for alleviating atopic dermatitis (eczema) and acne. You'll love it if you have normal, oily or combination skin.
Best K Beauty Lip Products
Here's something that has probably never crossed your mind: your skin is thinner on the lips than anywhere else. To make matters worse, lips don't have natural melanin, and that means they can't filter UV rays. They don't even have enough sebaceous glands to stay hydrated. Long story short, lips need all the help they can get from skin care products. But which lip care products should you be looking at?
Laneige : Lip Sleeping Mask
Suffering from dry, parched lips? It's probably due to the summer heat. Or possibly the humidity that comes with the US winter season. Maybe you just lick your lips too much.
Whatever the case, chapped lips are no match for Laneige's Lip Sleeping Mask. It covers lips with a layer of shea butter, glycerin, hyaluronic acid, vitamin C and other lip-softening organic ingredients. Leave it overnight and wake up with puckered lips.
Etude House: Dear Darling Water Tint
This is one lip tint that actually lives up to its hype. It adds a hint of color to the lips. And the good people at Etude House were kind enough to avail three color options: strawberry, cherry ade, and orange ade. The letter two look awesome if your skin complexion is lighter. On the other hand, if you have a deeper skin tone, you'll look stunning with the strawberry.
More importantly, the tint comes with health benefits for your lips. It's packed with glycerin, castor oil, and moisture to keep your kisser hydrated.
Best K Beauty Product for Sensitive Skin
Having sensitive skin is not a problem per se. It, however, means that you are more prone to adverse reactions and inflammation. For example, acne and eczema can flare up so badly at the slightest exposure to dust and dirt. You can even get a rash if you expose your skin to certain fragrances and dyes.
For that reason, it's important to minimize such adverse reactions as much as possible. And the best way to do that is using a topical cream, oil, lotion or essence. These two usually do an excellent job:
Dr.Jart: Cicapair Cream
The Cicapair Cream has all the ingredients necessary to moisturize and soothe the skin. It's actually designed for dry and sensitive skin, thus it's absolutely gentle.
First off, the cream contains Jartbiome which prevents the skin from damage. It also contains Centella Rx for soothing sensitive skin. Then there's Cicabond which repairs the skin after damage. And, of course, it's rich in moisture that keeps the skin sufficiently hydrated.
This may not be the product for every American or everyone in the USA because it's highly specialized; i.e., it's meant for people who suffer from dry and sensitive skin. Therefore, if you constantly find yourself dehydrated or fighting against acne and eczema, you may want to add the Dr Jart Cicapair Cream to your stash of skin care products.
Cosrx : Advanced Snail 96 Mucin Power Essence
This essence is a cult-favorite, and for good reason. It's easily the best Korean skin care product for moisturization, particularly if you have sensitive skin. It is the perfect alternative for Skin1004's Zombie Pack.
Formulated with snail secretion filtrate (SSF), the essence repairs damaged skin, cures dry patches, smoothens out skin tone and fades away scars. And yes, it also helps with acne, eczema and balancing skin pH.
Best K Beauty Anti-Aging Products
The thing with Korean skin is that it looks young even at 50 or 60 years of age. Granted, some of that is attributable to genetics, but a lot of it is down to the skin care products that people in Korea use.
Most K beauty brands don't just focus on the appearance of skin, but also on the effective removal of wrinkles and fine lines. When making products, they add natural ingredients like vitamin C and bamboo water, both of which enhance the production of collagen, which, in turn, offers anti-aging benefits by removing wrinkles.
Thus, if you're looking for a product that will give you a youthful look, shop in the K beauty section. Be sure to add these two in your cart:
Goodal : Green Tangerine Vita C Dark Spot Serum
This serum easily earns a spot among the best Korean anti-aging skin care products. It targets and removes all the signs of aging, including fine lines and wrinkles. Additionally, the serum is formulated with 70% vitamin C extract from green tangerine.
Vitamin C is not only good for improving collagen production (which firms up the skin, giving you a youthful look), but it also keeps skin-damaging free radicals at bay. So, if you're wondering why Koreans always look young, you got the secret right here.
Skin 1004: Zombie Beauty by Skin 1004 Zombie Pack
What can't this mask do? Exfoliating the skin? It can do that. Clearing pores? That too. Smoothening skin texture? Yep!
Rich in albumin, centella asiatica, lavender oil, birch extract, allantoin and other helpful compounds, this Korean face mask is the perfect anti-aging agent. It removes wrinkles and fine lines in a very brilliant way that involves balancing your skin's pH level.
Usually when the pH is thrown off balance (when it's too alkaline), its barrier weakens. The result is that the skin loses its ability to keep moisture in and bacteria out. That often leads to skin infections, itchiness, red spots, acne flare-ups, pimples, blackheads and many unpleasant things.
And what's the main cause of pH imbalance? Pollution. Well, you don't even need to look at the USA pollution index to know that this mask will come in handy after a long day of exposure to traffic fumes, dirt and whatnot.
Best K Beauty Hair Treatment Gel
The average American woman spends well over $55,000 on hair products in her lifetime. Most of it goes to products that are meant to strengthen hair and prevent it from splitting and breaking.
Reason for that (seemingly) high expenditure? Things like hot and dry weather, heat styling, blow-drying, using cotton pillow cases, towel drying and over-washing all contribute to splitting and breaking of hair.
The good news is that if you have a good hair product, you can do all those things without damaging your hair. What do we mean by a good product? We mean these!:
Elizavecca Collagen Ceramide Coating Protein Treatment
This deep-repairing treatment mask contains ceramide NP which moisturizes hair and improves its elasticity. It's also rich in hydrolyzed collagen that aids collagen production and enhances hair growth. To top it all off, the mask is packed with panthenol for improving hair strength.
Best K Beauty Sunscreen
You can't be in the USA and not have sunscreen, particularly in the hot summer months. UV rays from the sun not only cause sunburns, but they're also damage collagen in the skin. That, in turn, leads to premature aging, keratosis, wrinkles, fine lines, and an overall leathery skin. There's also the risk of skin cancer.
Missha: Magic Cushion Cover Lasting SPF 50+ PA+++
The Missha Magic Cushion Coveris rated SPF 50+. That means that it can block up to 98% of UV rays. Slap it on, dress as lightly as you want and step out to the scorching sun; you'll be just fine.
In addition to offering protection against UV rays, this cushion is also anti-acne (contains bamboo water), enhances production of collagen (contains baobab tree extract), has antibacterial and anti-inflammation properties (witch hazel extract).
Best K Beauty Supplier, UMMA
So, there you have it – a list of 14 must-have Korean beauty products in the USA and Canada. They're excellent in many unique ways, which makes them great consumer products. And as such, they are perfect to stock if you're an US-based cosmetic reseller or wholesaler.
You'll be glad to know that UMMA partner with American beauty sellers by providing them with the best K beauty products for your market.
Need to stock up some Korean products for your cosmetic business? Sign up today and get a registration bonus you can use on your first purchase.