The Face Shop is a brand built on the philosophy that every beauty has its dynamics. Working tirelessly to capture nature in bottles for ultimate skin solutions, The Face Shop gained popularity very soon. Working around ingredients straight from nature like mango seed, rice, white daisy, pomegranate and calendula, The Face Shop delivers excellence.
Although there is a variety of products that the brand has created to address several skin concerns, the following five are cult favorites. Let us dive into the details of the top 5 Face Shop products on wholesale available at umma.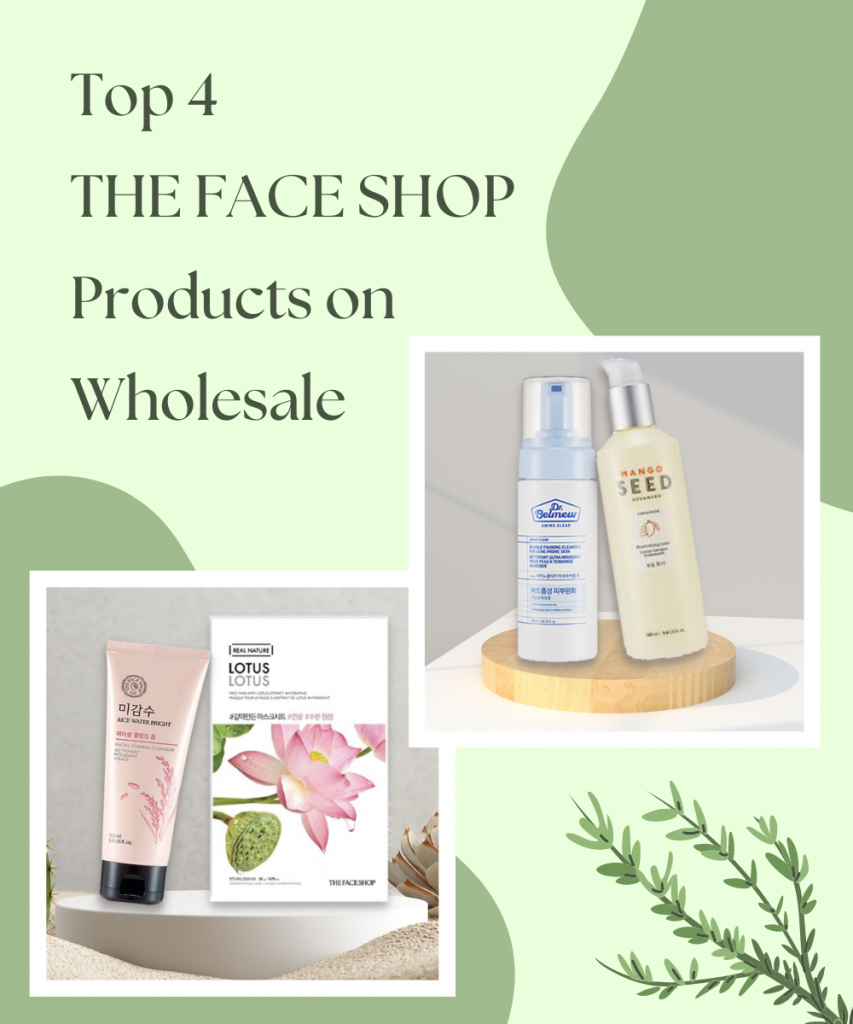 These three products are known as the best ones by the Face Shop:
1. Real Natural Face Mask
The Real Natural Face Masks by the Face Shop is innovative with a thinner sheet that adheres better to the skin. Additionally, it has a no-drip formula making it a less-messy experience overall. These come in several flavors but the top ones are rice, lotus, calendula, bamboo and tea tree. Reviews on Amazon say that these masks are great for hydration and moisture. The rice mask works great on wrinkles and aging skin.
2. Rice Water Bright Facial Foaming Cleanser
This Rice Water Bright Facial Foaming Cleanser made waves in the skincare industry. Rice extracts have the power to deal with several skin problems like dull skin and wrinkles. It is perfect for removing dirt and makeup from the skin. Reviews on Amazon cannot stop praising how good the skin feels after cleansing. Some are even calling this a life-changing cleanser!
3. Dr. Belmeur Amino Clear Bubble Foaming Cleanser
The Dr. Belmeur Amino clear bubble foaming cleanser is great for acne-prone skin. The balanced pH formula gently exfoliates and cleanses the skin. Skincare lovers are in awe of the effects of this cleanser and how quickly it calms down acne. Dermatologically tested and proven to be effective for dry and normal skin, the Face Shop has created a wonder.
4. Mango Seed Moisturizing Toner
Mango and mango seeds are packed with benefits for the skin. The Face Shop did a favor and captured it in a bottle. The toner is milky white with an unmatched mango scent. Mango Seed Moisturizing Toner is highly moisturizing and hydrating for all skin types. Reviews on Amazon talk about how effective it is in removing makeup and hydrating the skin. It has become a part of the daily skincare routine for many skincare influencers and bloggers.
The following two products by Face Shop are worth mentioning:
Unique Mentionable Products
Mask Lab Brightening Lift-up Face Mask
This one-of-a-kind lift-up mask is like nothing we have seen before in the skincare industry. The Face Shop went the extra mile to create a mask with a facelift band to aid face lifting. There are two things available in the mask – a charcoal sheet mask and a lifting band. Users simply apply the sheet mask and then put it on the band. This has a great impact on face lifting and tightening of the skin. Great for those who use anti-aging products, this mask is a lifesaver. Skincare fanatics have seen the results and are buying it again – some even in bulk!
Smile Foot Mask
Smile Foot Mask has been getting great reviews both on Amazon and on Shopee. First-timer users find it tacky but once they get the hang of it – they use it again. One pack contains two socks filled with liquid that helps in exfoliating the feet. In about 4 days, the skin starts peeling off with dead cells leaving behind baby-soft feet. This has been the highlight of skincare in 2021, and there is no stopping it from reigning again in 2022.
Stock up the best of FACE SHOP for your business
Add these top 5 products by the Face Shop to your Korean beauty business and stay up to date on trends. For the best service and prices, register today and shop your wholesale stock at UMMA.