The latest K-beauty product that has taken the world by storm is the KAHI Multi Balm! Starting in 2020, it has made its way to the top skincare game in the industry. This has been the number one searched beauty brand on Naver in November 2021. This top game hot seller is available for wholesale on UMMA.
So, what makes it popular, and why are beauty enthusiasts talking about the KAHI Multi Balm? Let us start with the brand story and how it's changing the Korean skincare industry.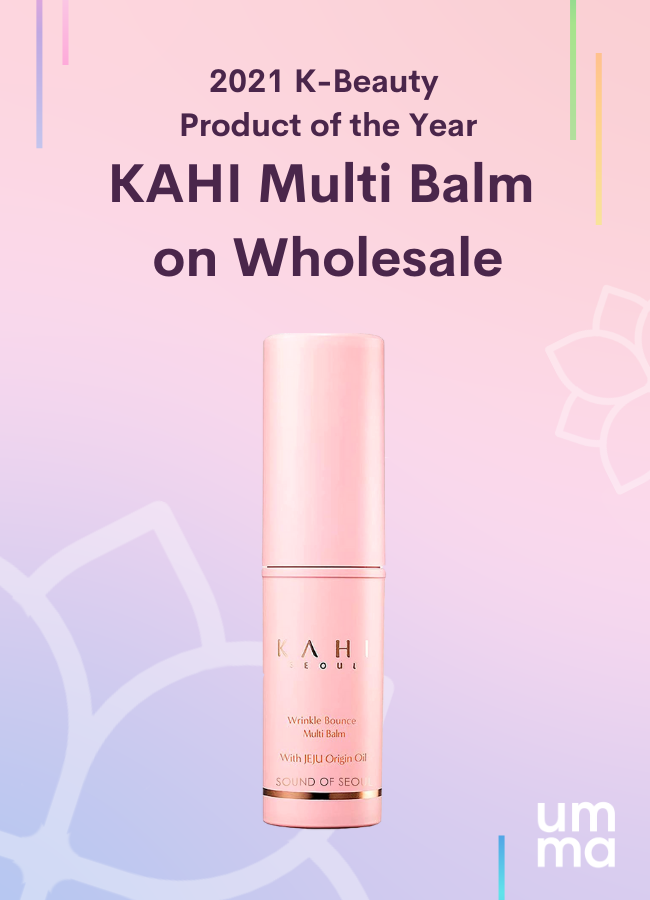 KAHI – The Brand
KAHI is built on the Korean philosophy of simplifying the life of everyone. It has built a product unlike any other, which is convenient and easy to use anytime and anywhere. The products are always produced in limited quantity, as the process of creating the product is complex. Using ingredients extracted from Jeju Island, each balm takes about 744 hours to produce.
The results are amazing, one that the world awaits! KAHI believes in changing the skincare industry by creating a product, which can become a habit. The habit of applying essential and active ingredients directly onto the skin instead of following a 10-step skincare routine. KAHI has created six different Balms but one stands out – the Wrinkle Bounce Multi Balm.
KAHI Wrinkle Bounce Multi Balm
The Wrinkle Bounce Multi Balm has several benefits. Apart from the obvious wrinkle removing properties, it also targets fine lines on and around lips, forehead, eyes, and neck. By simply rubbing the balm on dry and wrinkly areas, users see an immediate impact.
KAHI claims that users can see results after one-time use and reviews on Amazon prove it! Beauty experts swear by the product and believe that it is trending for all the right reasons. It is easy to carry, easy to use, and works like a miracle.
The famous Korean glass-skin look is achievable with the Wrinkle Bounce Multi Balm. Additionally, it is effective for dry and chapped lips. What is almost unbelievable is that it also nourishes and repairs hair ends! A simple dab on split-end, and voila – it repairs the damage!
KAHI Multi Balm is Available at

UMMA

on Wholesale!
Yes! Although the production of KAHI multi balm is limited, we can supply it at wholesale prices for your beauty business. UMMA is a trusted Korean skincare wholesale supplier with many benefits for its clients. So get the top trending Korean beauty product and see your sales soar in 2022!