Established in 1985, ETUDE has become somewhat of a legacy. Reaching every corner of the world, the brand has made waves in the cosmetics industry. Currently, the brand has over 285 ETUDE House Stores across the world. The demand for all their cosmetic products around the world is still high. However, we at UMMA are here to help you decide your plan of investment. Let's look at the top 2 ETUDE products wholesale by country.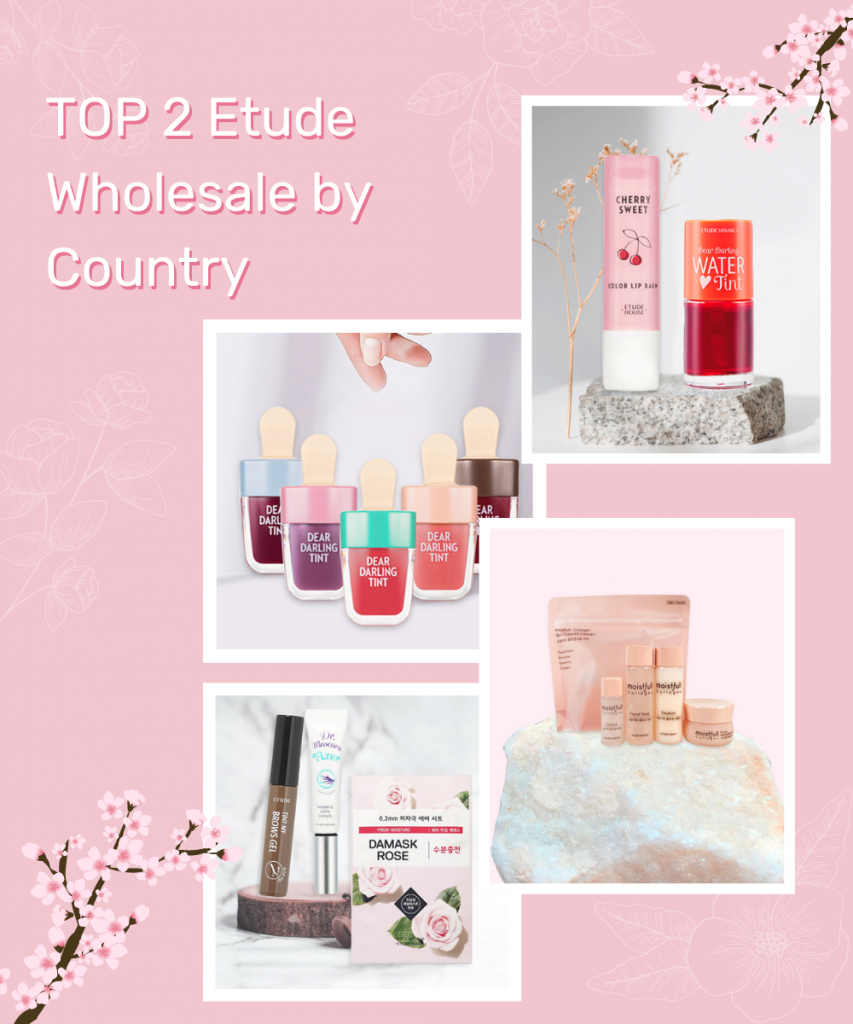 Popular in Romania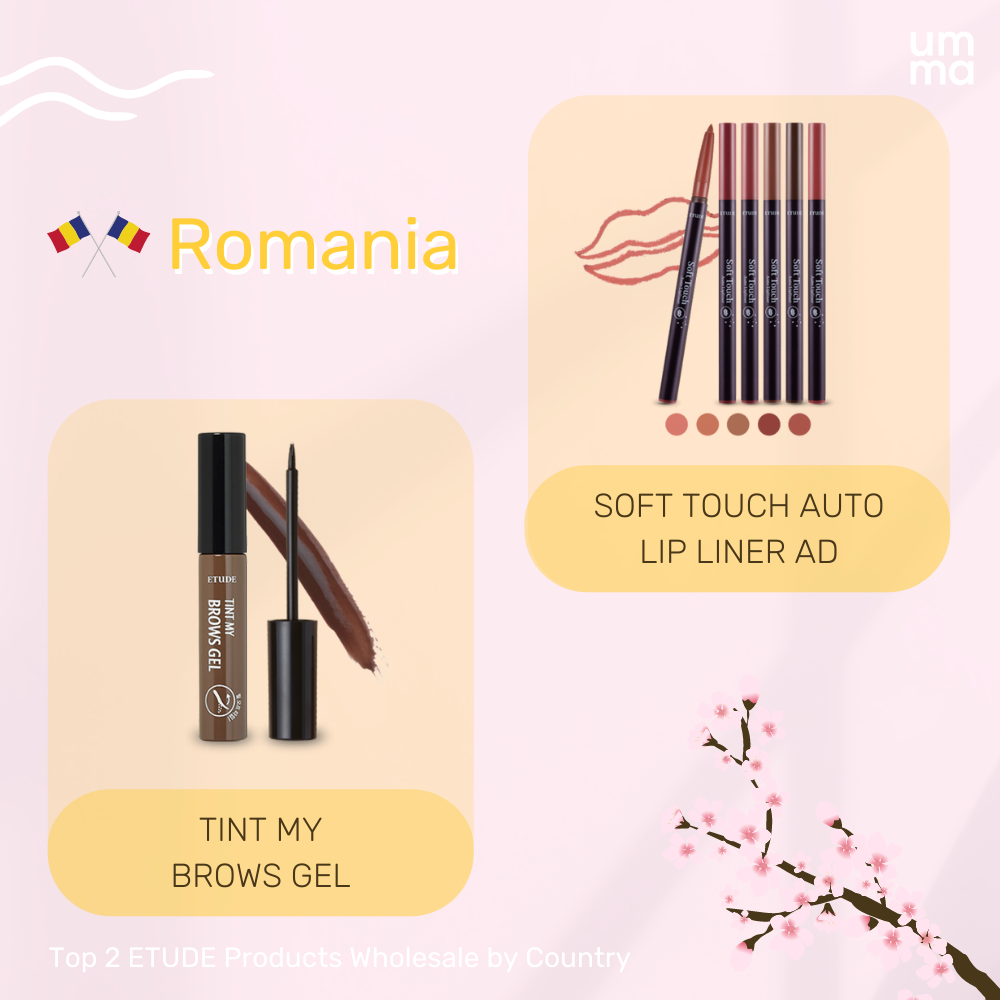 1. Tint My Brows Gel
This tint is a revolutionary product for those who wish to save time working on their eyebrows every morning. A careful application can last from three days up to a week. Reviews show this product has made life easier for most makeup enthusiasts. The natural tint left on the brows allows for a fuller but softer-looking eyebrows.
2. Soft Touch Auto Lip Liner AD
The soft-touch lip liner consists of silicon oil, which is smudge-proof. Again, this liner is famous for giving a natural yet fuller look to the lips. Makeup artists swear by the available nude shades that can be used with any lipstick or individually for a natural look.
High Demand in the Philippines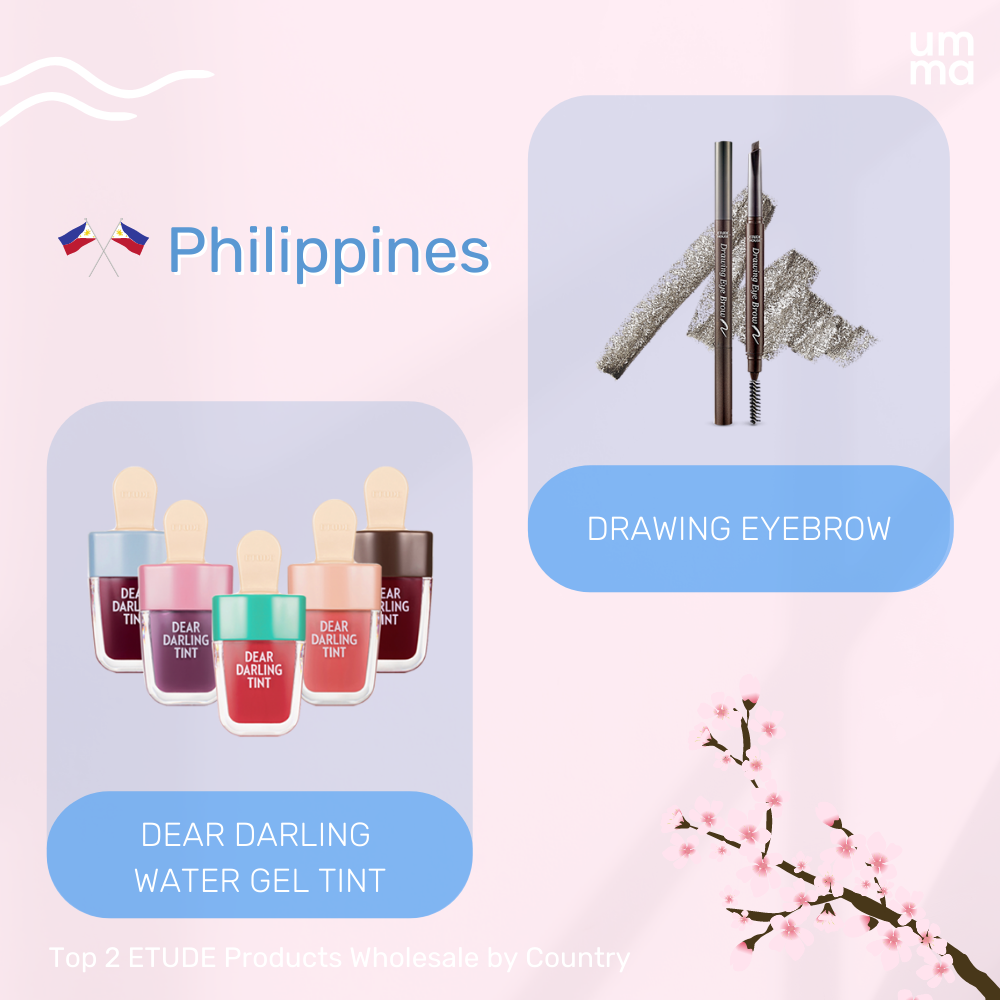 1. Dear Darling Water Gel Tint
The greatest thing about the water gel tints is the shades. They come in a variety but the most popular one is RD 302 – the red shade. The fragrance is similar to grapes and it keeps the lips moisturized for hours. Thanks to natural fruit extracts, users experience softer and vivid lips for a long time.
2. Drawing Eyebrow
The drawing eyebrow got the No. 1 rank for Etude Makeup and made cumulative sales of over 40M. The new and improved design allows anyone to draw natural-looking and long-lasting eyebrows within minutes. Daily users are already on their third pencils as it is pocket-friendly and come in a variety of colors.
Favorites in Canada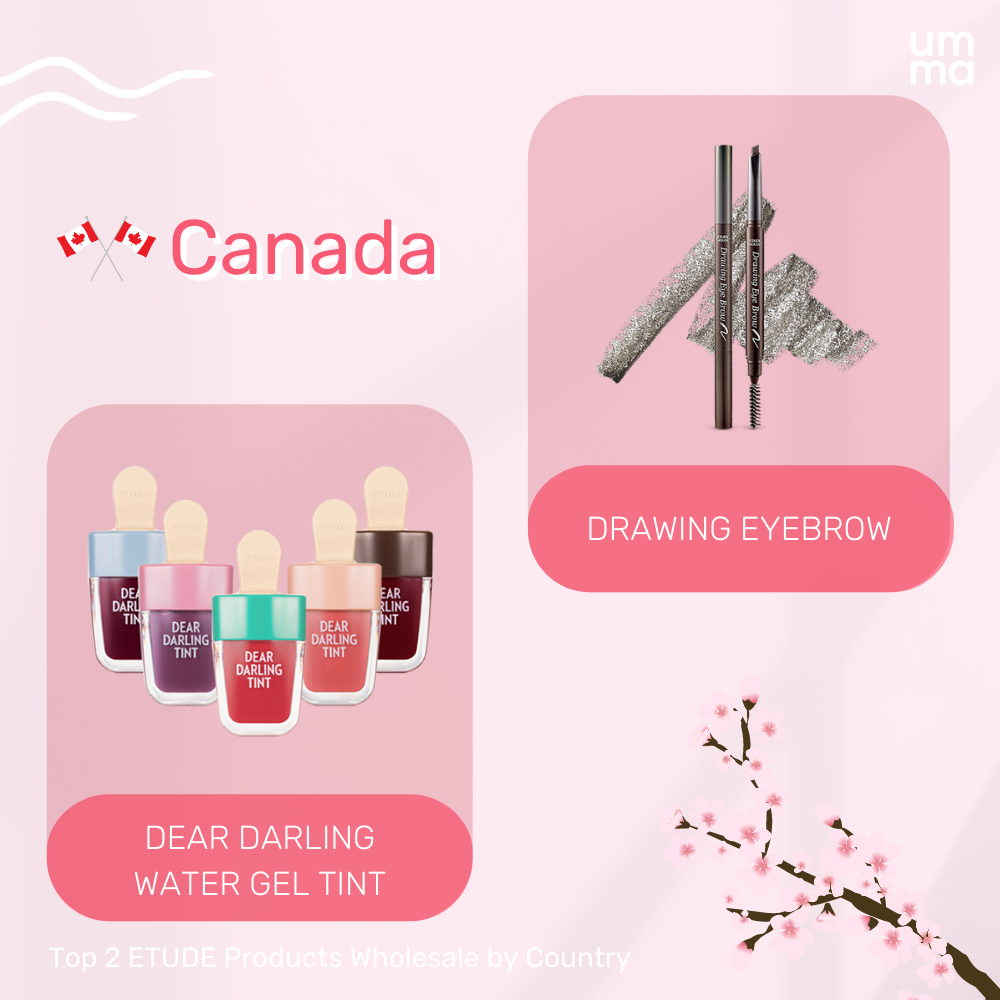 1. Dear Darling Water Gel Tint
The dear darling tint caught the attention of the makeup industry with its cute packaging. Moreover, the range of colors covers every skin shade possible in the world. Easy to apply, easy to carry, and affordable has made the dear darling tint a phenomenon across the world.
2. Drawing Eyebrow
Canadian women also love the drawing eyebrow by Etude. This is a great time for investment in your beauty business! Get in touch for competitive for Etude products wholesale prices.
Best Sellers in the United States of America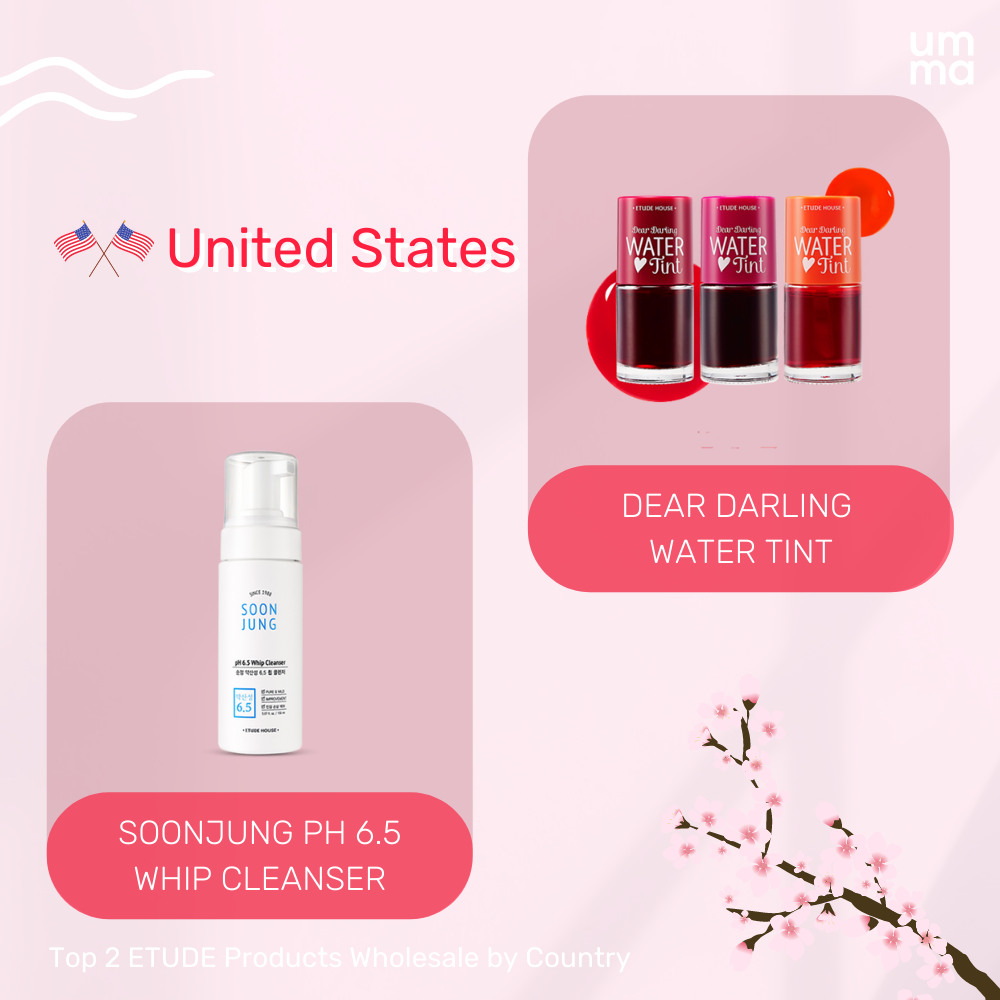 1. Soonjung pH 6.5 Whip Cleanser
This Soonjung cleanser is called the Holy Grail by skincare lovers and has been sold over 700k times in the USA alone. Ideal for sensitive skin, it smooths, moisturizes, and calms down all skin irritations. While some rave about its mildly acidic formulation, others cannot stop talking about its usefulness.
2. Dear Darling Water Tint
The dear darling water tint is a best seller because of its ease of application. Beauty experts recommend using it for everyday makeup wear. However, they also recommend using a balm after using the tint for moisturization.
Top Picks in France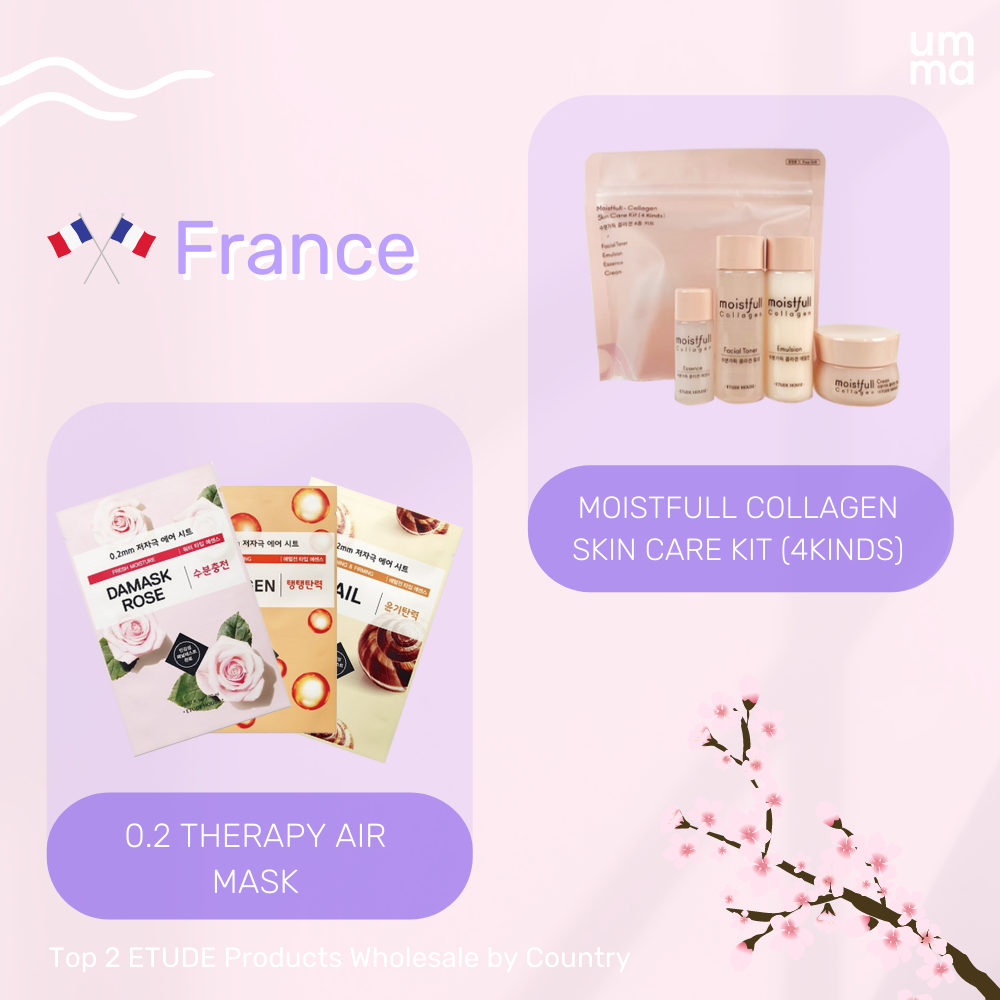 1. 0.2 Therapy Air Mask
The air sheet masks by Etude are very thin – only 0.2mm wide, which makes them a top pick! Since they are thin, they adhere to the skin tightly and the nutrients absorb properly. Made with natural ingredients, each mask smells heavenly and is effective when used daily. The price makes the masks affordable for everyone. According to reviews on Amazon and Shopee, the repurchase rate is constantly going higher!
2. Moistful Collagen Skin Care Kit (4 Kinds)
This collagen skincare set is ideal for women who wish to restore the youthfulness of their skin. Active collagen present in the toner and emulsion ensures elasticity and nourishment. Skincare experts express delight at the price of this skincare kit as compared to its results.
Hot Sellers in the Netherlands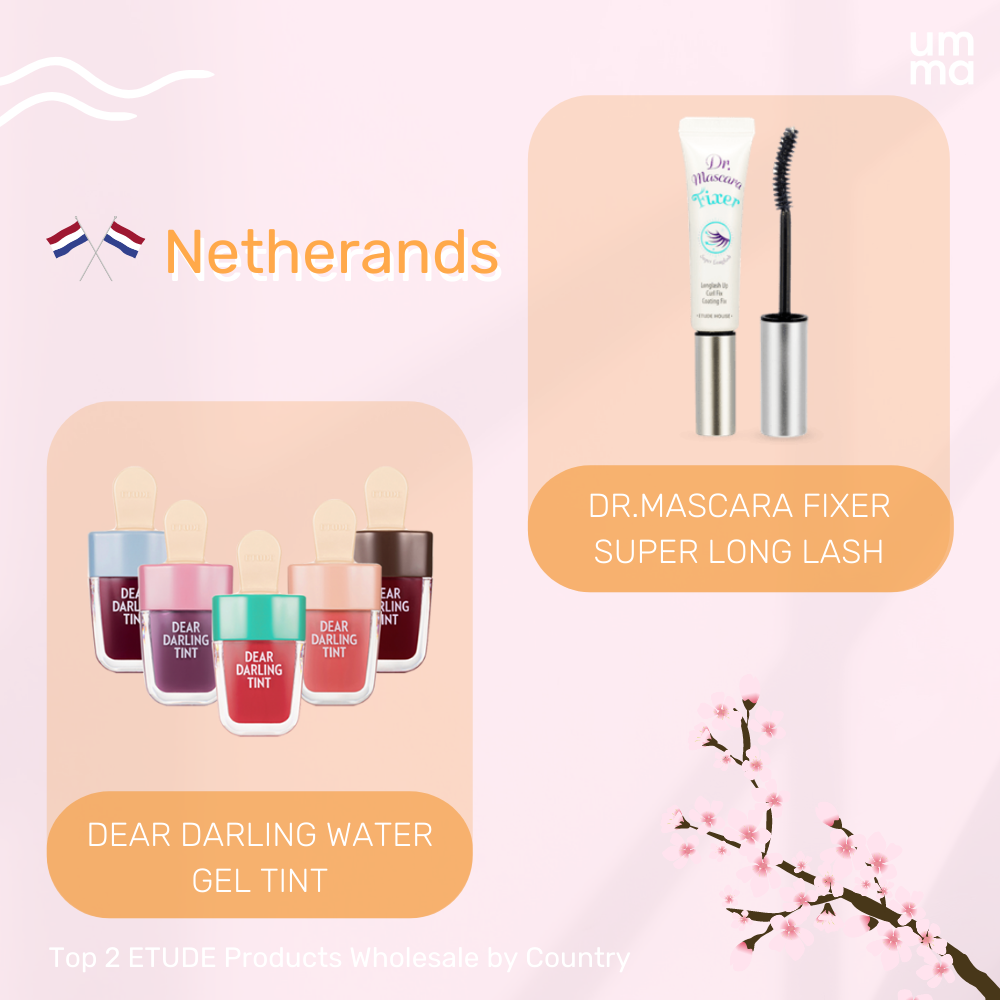 1. Dear Darling Water Gel Tint
The dear darling tint is also a best-seller in the Netherlands. Get this in-demand tint by Etude at the best wholesale rates only at UMMA.
2. Dr. Mascara Fixer for Super Long Lash
This revolutionary product by Etude took the world by storm! The Dr. Mascara Fixer results in super long lashes without leaving any clumps. Users also feel their lashes to be light-weighted instead of heavy as compared to other mascaras.
Top Choices in Australia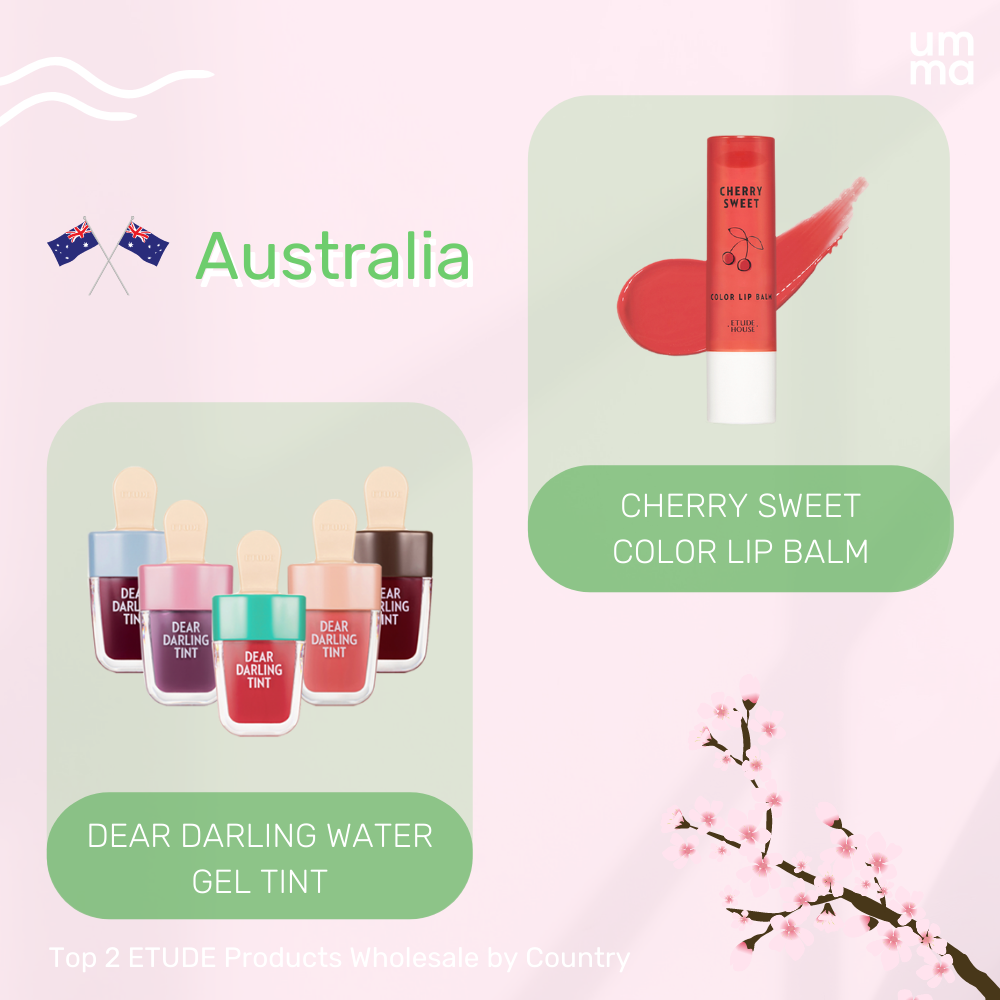 1. Dear Darling Water Get Tint
A hit in Australia as well! This product sure is loved globally.
2. Cherry Sweet Color Lip Balm
For naturally moisturized lips that are beautifully colored, this is the lip balm of choice. Ideal for dry weather, the cherry sweet color lip balm smells like fresh cherries. Users have repurchased the product in different shades and have shown their enthusiasm in trying out new colors soon.
Get ETUDE Products on Wholesale at UMMA!
Now that you know, which products by ETUDE are trending and popular in different countries, you can make an informed decision. Take your beauty business to new heights of success by investing in the right beauty and skincare products.
We at UMMA are available at your service 24/7 to guide, take orders and give updates!