Unique Features of HARUHARU WONDER
There are many reasons why HARUHARU WONDER has drawn the attention of the world since the moment it launched in 2018. From its unique concept of using patented Black Rice ingredient sourced straight from Korea in all of its products to the airless and sustainable packaging with braille and soy ink printing – there are many reasons to choose this Korean skincare brand.
Here at UMMA, we supply wholesale Korean cosmetics to sellers around the world. If they have not yet discovered HARUHARU WONDER we recommend sourcing this brand today, because your customers will revel at the wonders of this popular brand.
Here are some of the top unique features that make this brand wonderfully unique:
Patented Black Rice & Bamboo Shoot
HARUHARU WONDER uses 100% Korean-produced Fermented Black Rice* extract and Fermented Moso Bamboo Shoot Bark* extracts (both patented) in all the products.
Black Rice is already known to be richer in anti-oxidants, but gains a power boost when fermented. The ingredient itself with the brand's fermentation process provides an extremely powerful, yet safe anti-aging skincare benefit.
Bamboo Shoot Bark extract is known to deliver highly effective anti-inflammatory and brightening benefits, making it a super ingredient for those struggling with breakouts. Due to the ingredient being fermented in HARUHARU WONDER's formulations, the actives are delivered deep into the skin to provide its powerful benefits.
EWG Verified 'Green'
HARUHARU's mission is to create safe, yet effective formulas for both the human health and environment. So, they aim to have all of its products obtain EWG Green scores to minimize any harmful effects. EWG Green verified formulas are known to cause no skin irritation, making these products great for even the most sensitive skin.
Vegan, Cruelty-free, Reef Safe
While this does not apply to all products, HARUHARU puts in the effort to provide effective, but safe products by minimizing the inclusion of any harmful ingredients. The brand transparently provides information regarding Vegan certified and Cruelty-Free products, and excluding the addition of parabens, artificial colors and fragrances, GMO's and other harmful ingredients. They also emphasize that both their physical and chemical suncreens (introduced below) are reef safe.
Best Sellers
Black Rice Moisture 5.5 Soft Cleansing Gel
This mildly acidic gel-to-foam cleanser contains natural surfactants from coconut to reduce any skin irritation. It protects the skin barrier while cleansing and provides deep moisturization with the patented Black Rice Ferment and soothing benefits with Bamboo Shoot Ferment.
The formula contains over 95% natural ingredients and is verified EWG Green grade with no fragrance or alcohol added, making it extremely safe and gentle on any skin.
BEST ✨ Black Rice Hyaluronic Toner Free of Alcohol Fragrance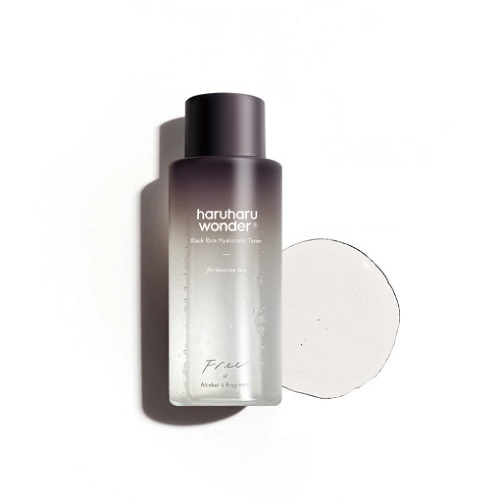 This cult favorite toner contains 99% natural origin ingredients and Vegan certified. It does not contain any artificial color, fragrance, alcohol, paraben, sulfate, phthalate, or animal derived ingredients. Reviewers praise its outstanding power to calm down any breakouts, irritations, and acne while providing deep hydration and a glow finish.
Black Rice Backuchiol Eye Cream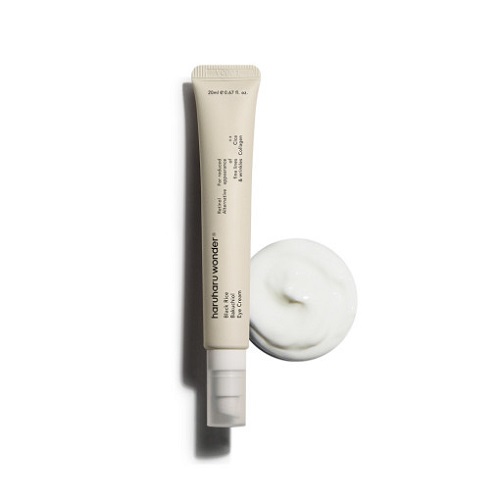 Backuchiol has become a very popular vegan alternative to the powerful anti-aging active, Retinol. HARUHARU's Black Rice Backuchiol Eye Cream contains double the anti-aging power of other competing eye creams from its patented Backuchiol ingredient (5,000ppm) and Black Rice Ferment (2,000ppm). The EWG Green safe formulation has been proven to lighten dark circles and reduce wrinkles and fine lines, according to reviewers.
NEW 💜 Black Rice Pure Mineral Relief Daily Sunscreen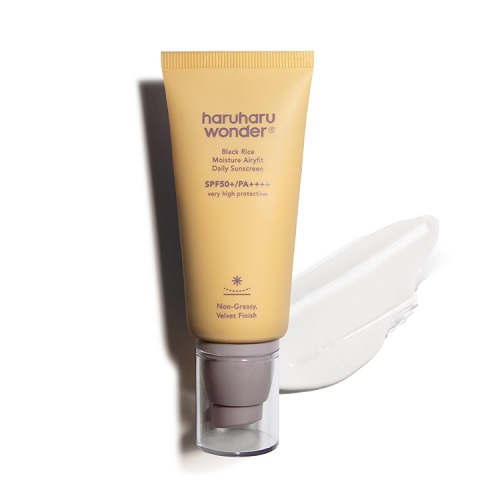 Most recently launched, this non-nano physical sunscreen is suitable for even the most sensitive skin. Its lightweight formula applies smoothly and leaves skin soft with a satin finish with minimal white cast. Its airless packaging helps maintain the formula in fresher condition, and contains no fragrance, no mineral oil, drying alcohol, or other ingredients known to cause harm to the reef and sea life.
NEW 💛 Black Rice Moisture Airyfit Sunscreen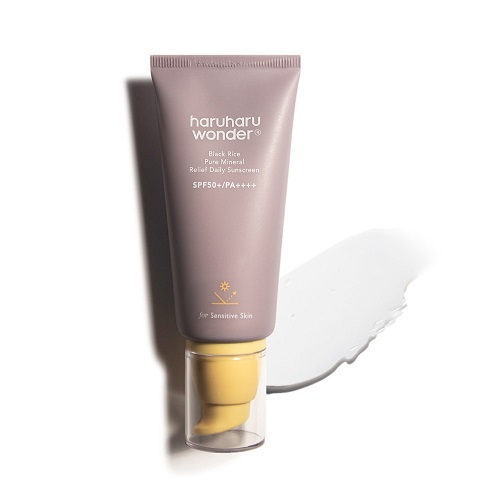 This chemical sunscreen is also reef safe and does not contain any toxic, GMO, fragrance, or artifical color. It is certified Vegan and Cruelty-free, and contains only EWG Green ingredients. The lightweight, no white cast formula leaves skin feeling deeply moisturized, and provides a non-sticky, non-greasy, velvet finish.
[CLOSED] Limited Time HARUHARU WONDER Giveaway
For a limited time only, we are providing a lavish amount of giveaway items by HARUHARU with a wholesale purchase from UMMA. But they run out quickly, so hurry and claim these gifts while we have them in stock!
[With Any UMMA Purchase] claim up to total value of $178 (73ea) with any wholesale purchase from UMMA
🎁 Here are the gifts you can select with HARUHARU WONDER brand purchase:
– Black Rice Pure Mineral Relief Daily Sunscreen SPF50+ PA++++ (2ml*10ea)
– Black Rice Moisture Airyfit Sunscreen SPF50+ PA++++ (2ml*10ea)
– Black Rice Moisture 5.5 Soft Cleansing Gel (5ml*10ea)
– Black Rice Backuchiol Eye Cream (1ml*10ea)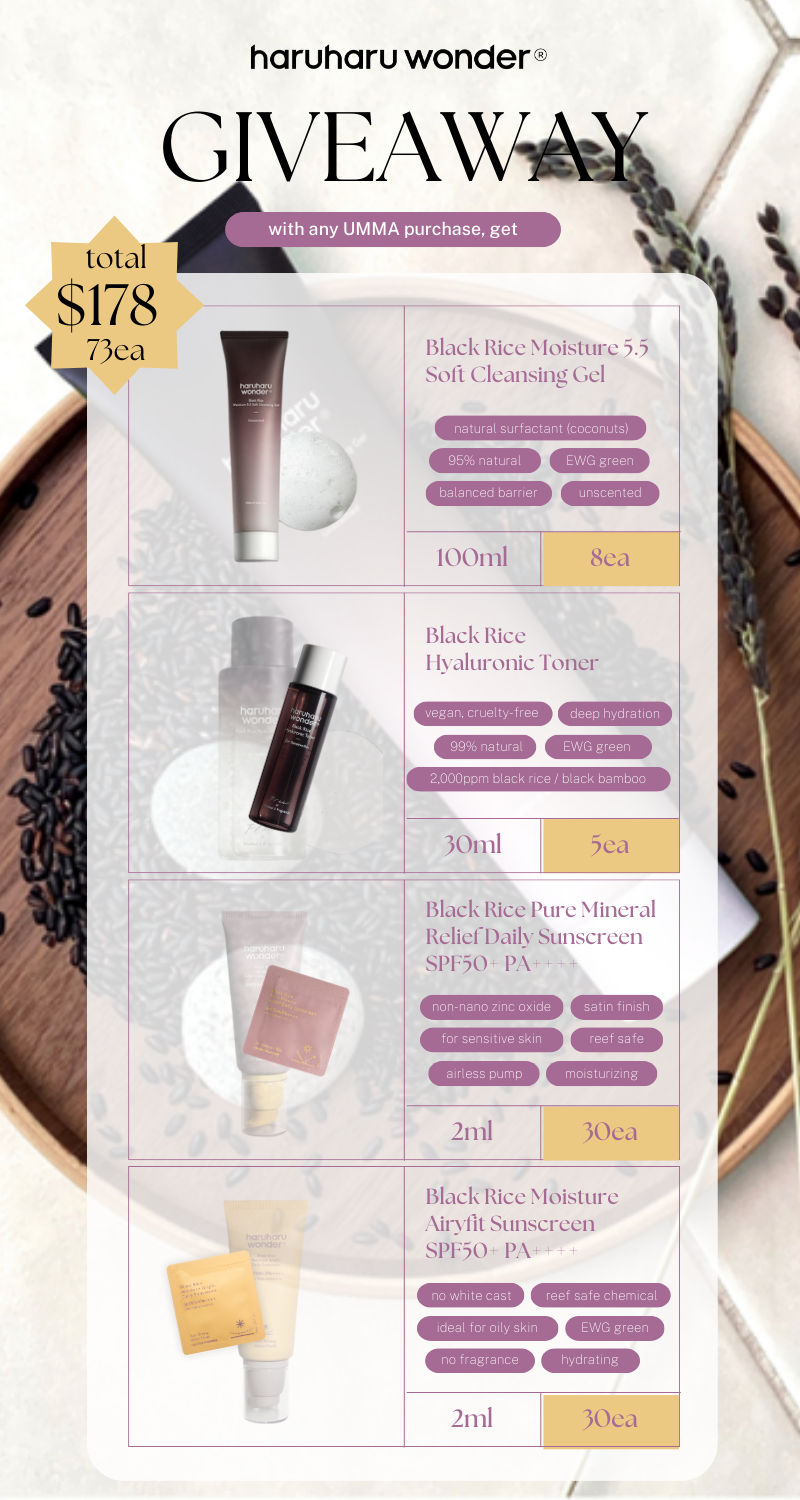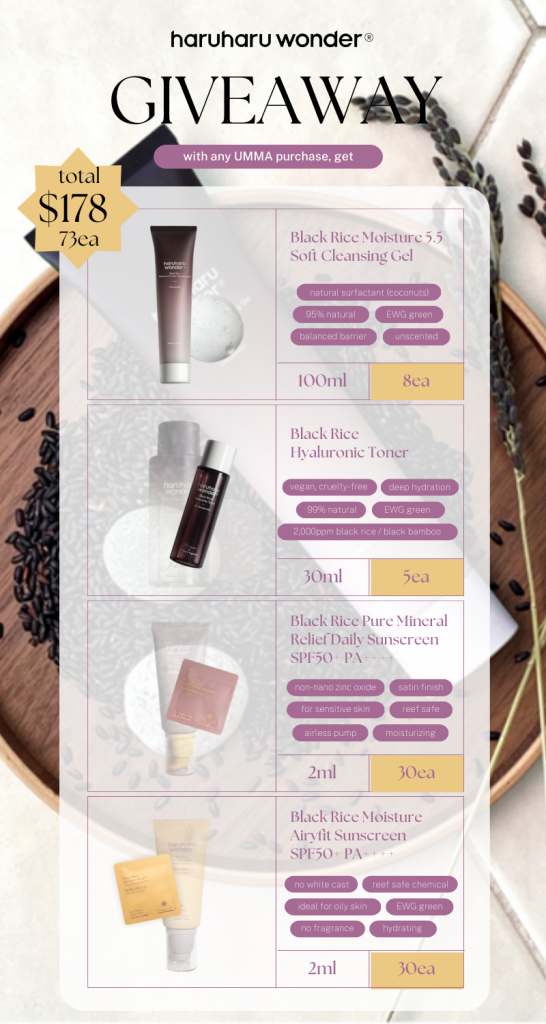 [With Brand Purchase] claim total of 40ea sachet samples with a purchase of at least one HARUHARU WONDER product from UMMA
🎁 Here are the gifts you can select with HARUHARU WONDER brand purchase:
– Black Rice Moisture 5.5 Soft Cleansing Gel (100ml*8ea)
– Black Rice Hyaluronic Toner Free of Alcohol Fragrance (30ml*5ea)
– Black Rice Pure Mineral Relief Daily Sunscreen SPF50+ PA++++ (2ml*30ea)
– Black Rice Moisture Airyfit Sunscreen SPF50+ PA++++ (2ml*30ea)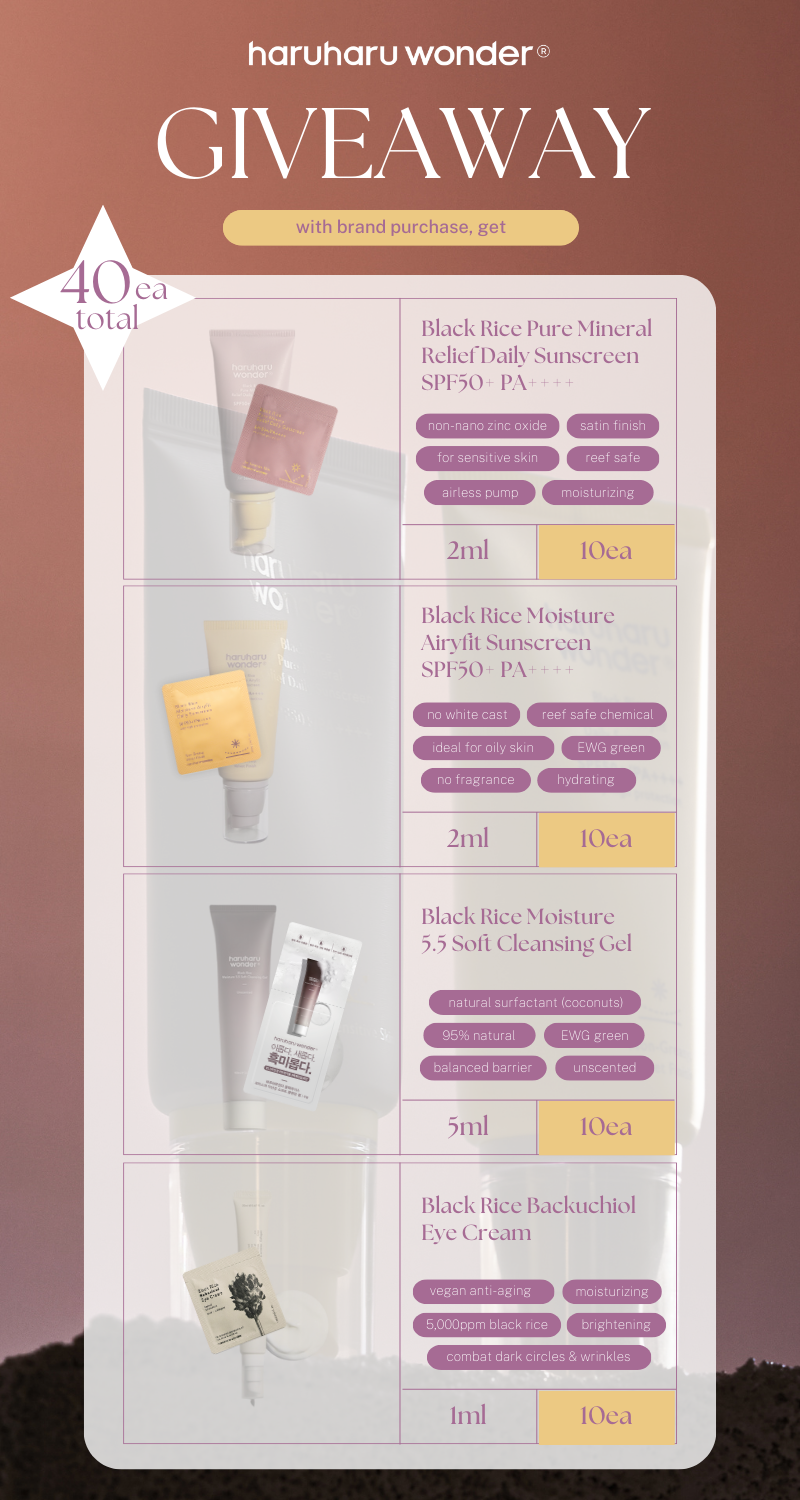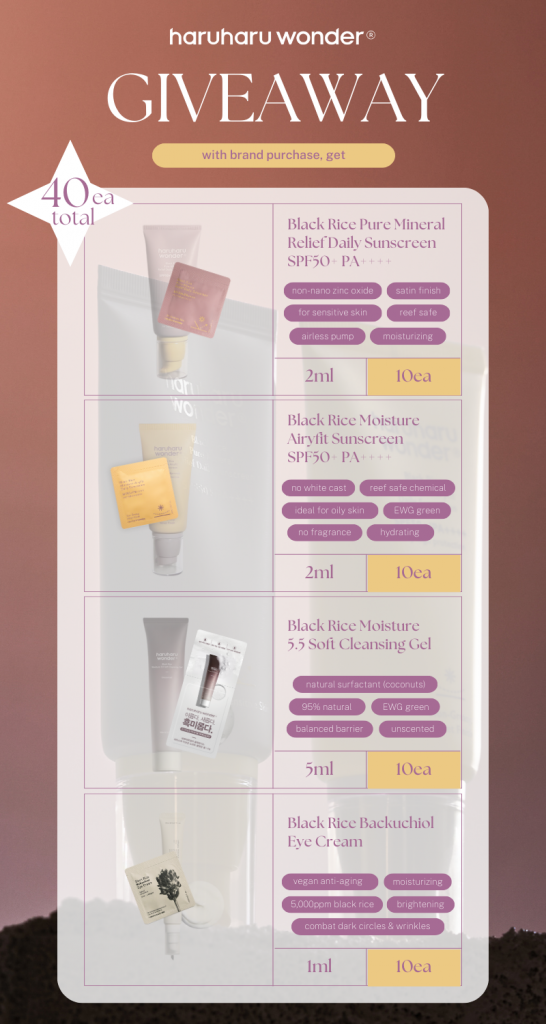 Shop your wholesale supply of HARUHARU WONDER from UMMA & claim your gifts now!
Why Get Your Wholesale Supply from UMMA?
UMMA is your favorite reliable Korean beauty & skincare wholesale provider, already shipping to over 94 countries around the world! We have over 120+ global, local, and cult favorite Korean brands that we hand-picked so you can skip the time-consuming research, sourcing, and delivery waiting.
In fact, we provide an even faster delivery service, called u-quick. This is how it works: we stock up on 2000+ best selling products in high demand around the world, and we ship them within 48 hours of confirming your order. These products can be found when you use the 'view u-quick' filter.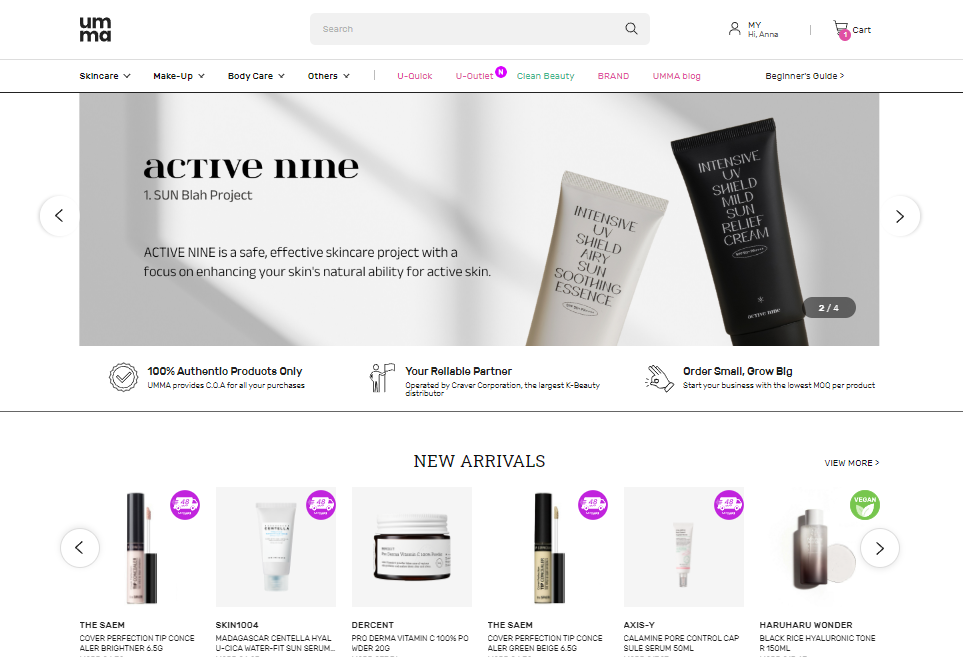 Furthermore, for every purchase, we provide a cash back program, called UMMA points, to continuously support the growth of our members.
You can also find more business support and exclusive brand giveaway opportunities to test new products in your market prior to making a purchase.
Lastly, we work hard (we really do!) to provide 1:1 sales and customer service, source products requested from you, and a plan a multitude of promotions for you to experience various kinds of dedicated support from us.
If all of this sounds like a good opportunity for you, don't hesitate to join our K-Beautiful family now and get a registration bonus. Don't miss out on the limited time only Active Nine freebie when you order! For more details about our service, check out our FAQ page.