Of the many Korean skincare ingredients, Rice has been around for centuries and is still one of the most sought after – even trending – K-beauty ingredients today.
Rice has many benefits for skin. It is a gentle yet powerful ingredient that soothes, hydrates, brightens, and smoothes out uneven skin texture. It is especially effective for extremely dry skin – which makes it the perfect go-to treatment for the winter season.
THE FACE SHOP's Rice Water and Rice & Ceramide skincare lines have been one of the most popular rice formulas for years, globally. At UMMA (your favorite Korean cosmetics supplier), we proudly recommend these highly repurchased products by THE FACE SHOP. And thanks to the brand, we're able to give away free products to sellers if you have not already tested them yet!
Read full details of the promotion and product line up below.
Limited Time THE FACE SHOP Giveaway Promotion
For a limited time only, we are giving away various THE FACE SHOP best seller items with a wholesale purchase from UMMA. But they run out quickly, so hurry and claim these gifts while we have them in stock!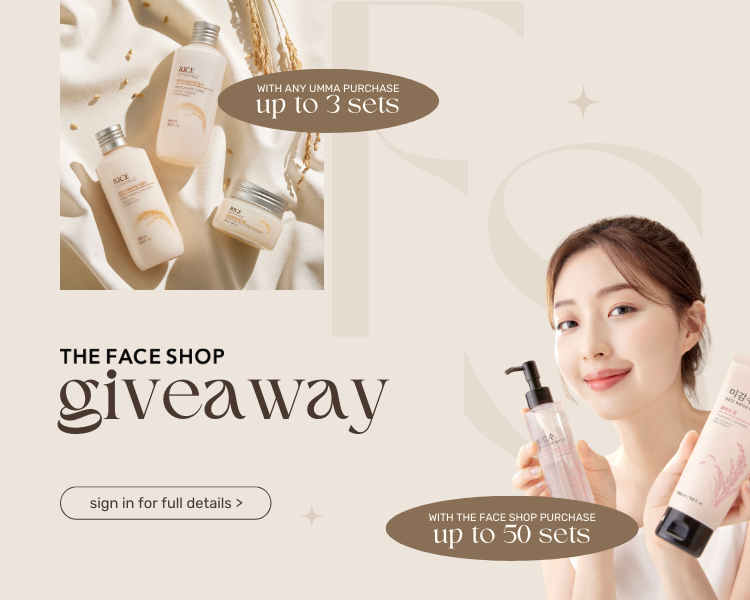 [Closed as of 11.23.2023] Promotion 01 [With Any UMMA Purchase] get THE FACE SHOP Rice & Ceramide Set (3ea*3 or total 9ea)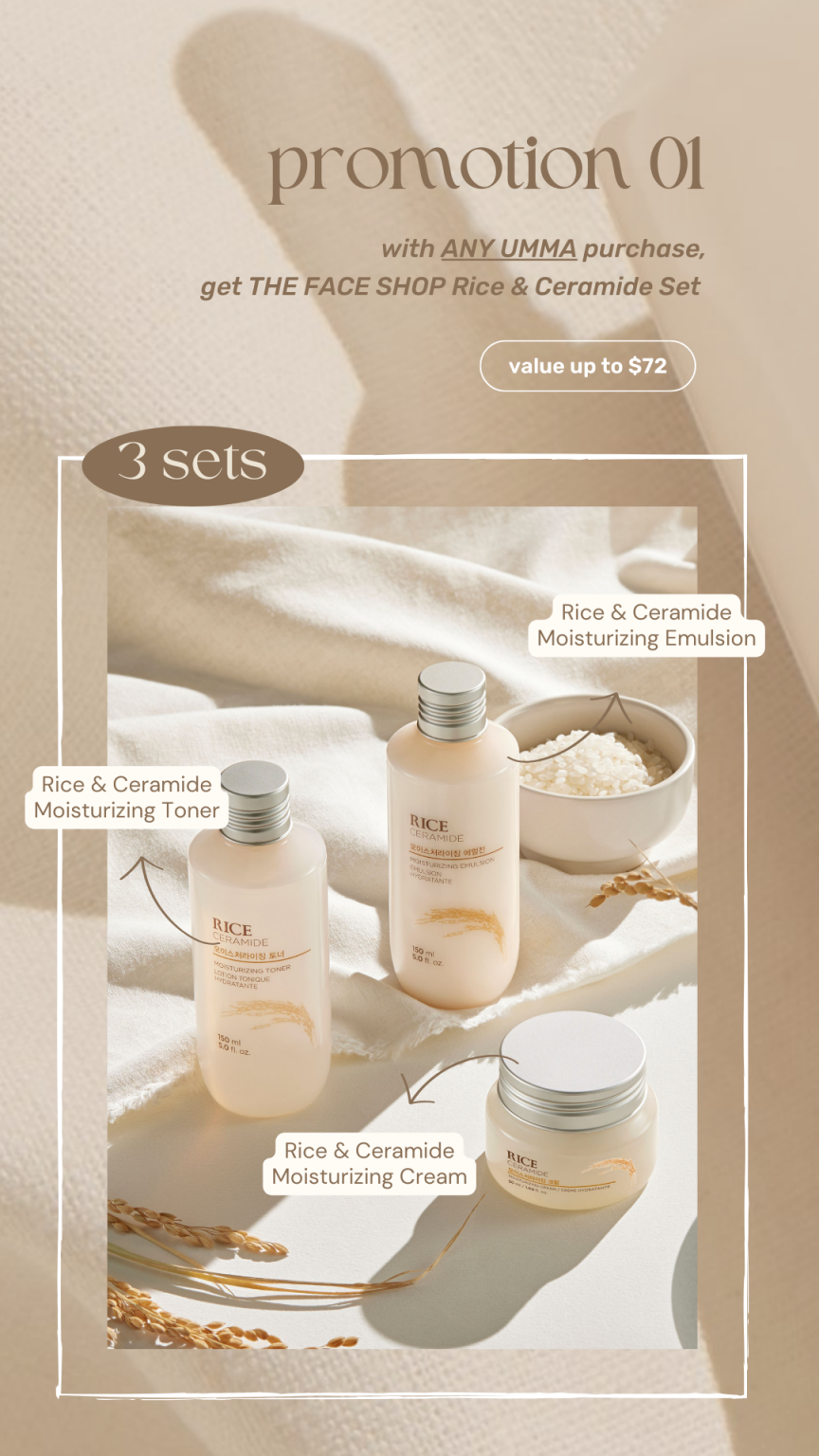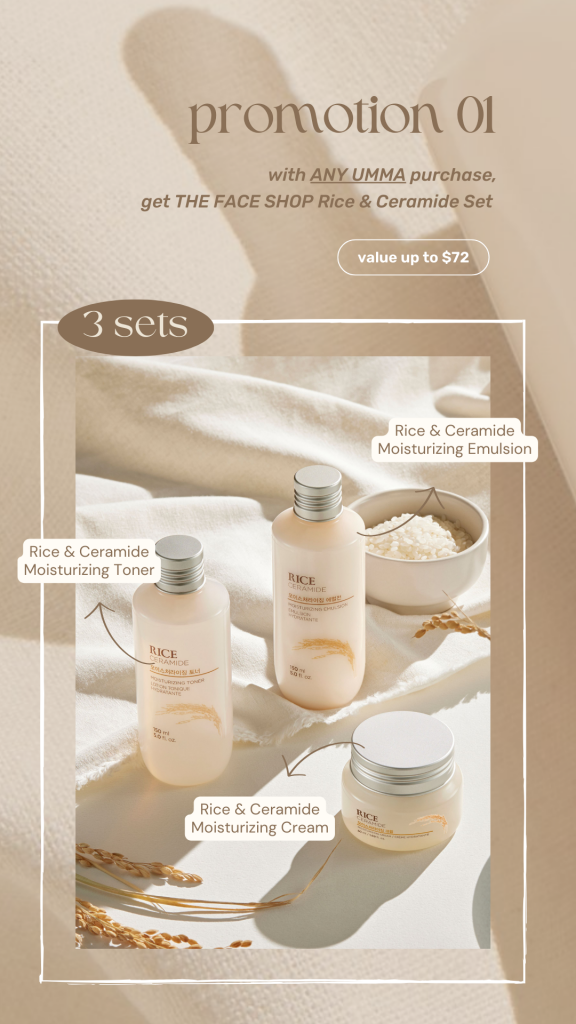 – Rice & Ceramide Moisturizing Toner 150ml
– Rice & Ceramide Moisturizing Emulsion 150ml
– Rice & Ceramide Moisturizing Cream 50ml
Promotion 02 [With THE FACE SHOP Purchase] get Rice Water Bright Cleansing Oil & Foam Set (according to purchase amount)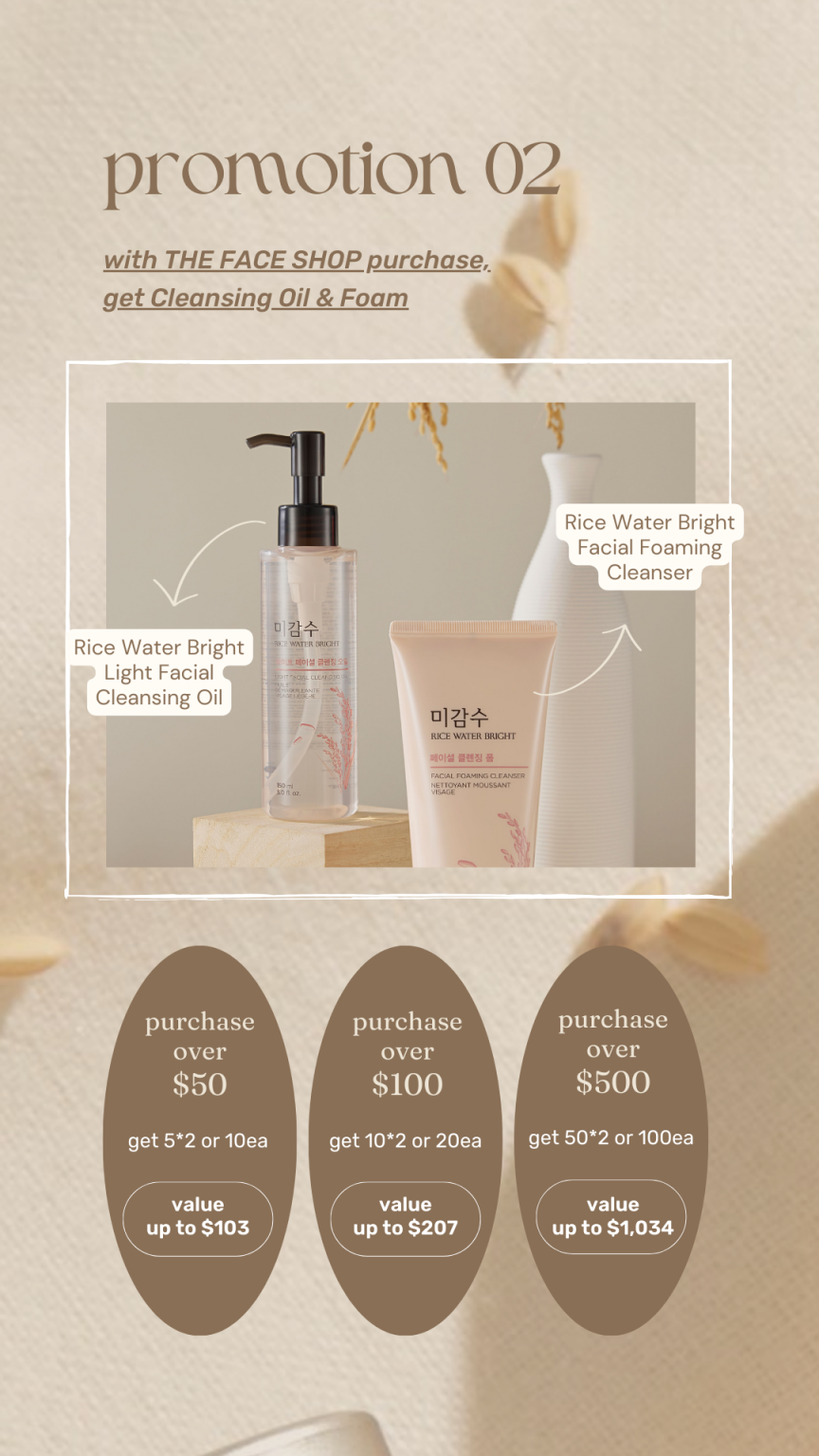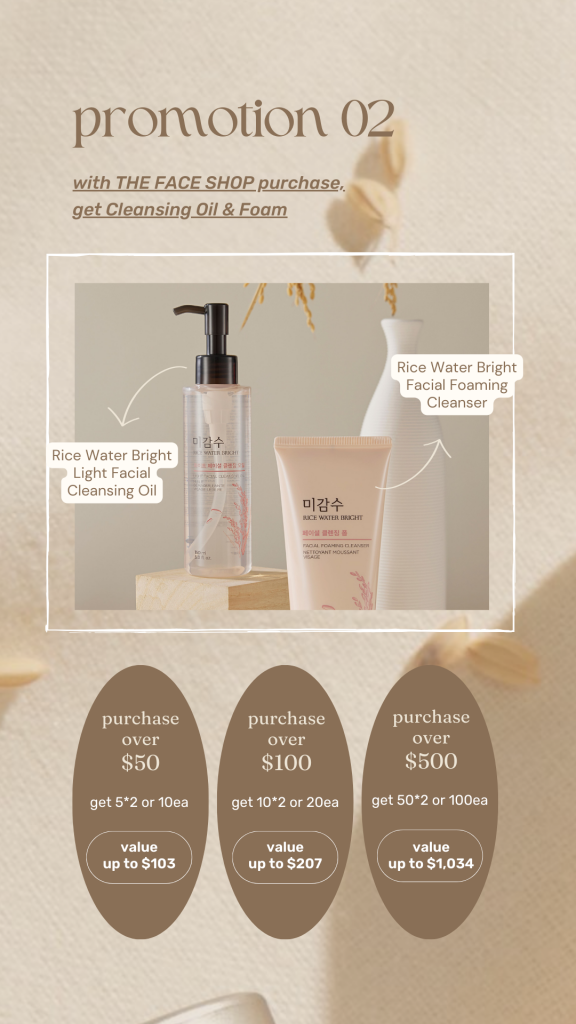 Purchase over $50, get 5*2 or 10ea
Purchase over $100, get 10*2 or 20ea
Purchase over $500, get 50*2 or 100ea
– Rice Water Bright Light Facial Cleansing Oil 150ml
– Rice Water Bright Facial Foaming Cleanser 150ml
Rice & Ceramide
The Rice & Ceramide lineup contains Rice extracts and Vegetable Rice Ceramide to deliver deep hydration and strengthen skin's protective barrier for dry skin relief. All three products are free from Parabens, Tar Colorant, Polyacrylamide, Animal-derived ingredients, and Paraffin.
Moisturizing Toner
The Toner contains an additional Nano Ceramide Water and Rice Bran Oil to brighten and rebalance skin's pH all while providing the deep hydration your skin needs. It absorbs quickly and feels soft and refreshing after each use.
Moisturizing Emulsion
The Moisturizing Emulsion adds an additional layer of hydration that seeps deeper into the skin to reduce the appearance of dark sports and improve skin texture. It provides a natural glow that makes skin look healthy and hydrated.
Moisturizing Cream
Lock moisture in with the last layer of hydration and protective skin barrier with the Moisturizing Cream. It applies smoothly without stickiness. Adding the cream to your skincare routine helps prevent early signs of skin aging and leaves skin feeling plump.
Rice Water Bright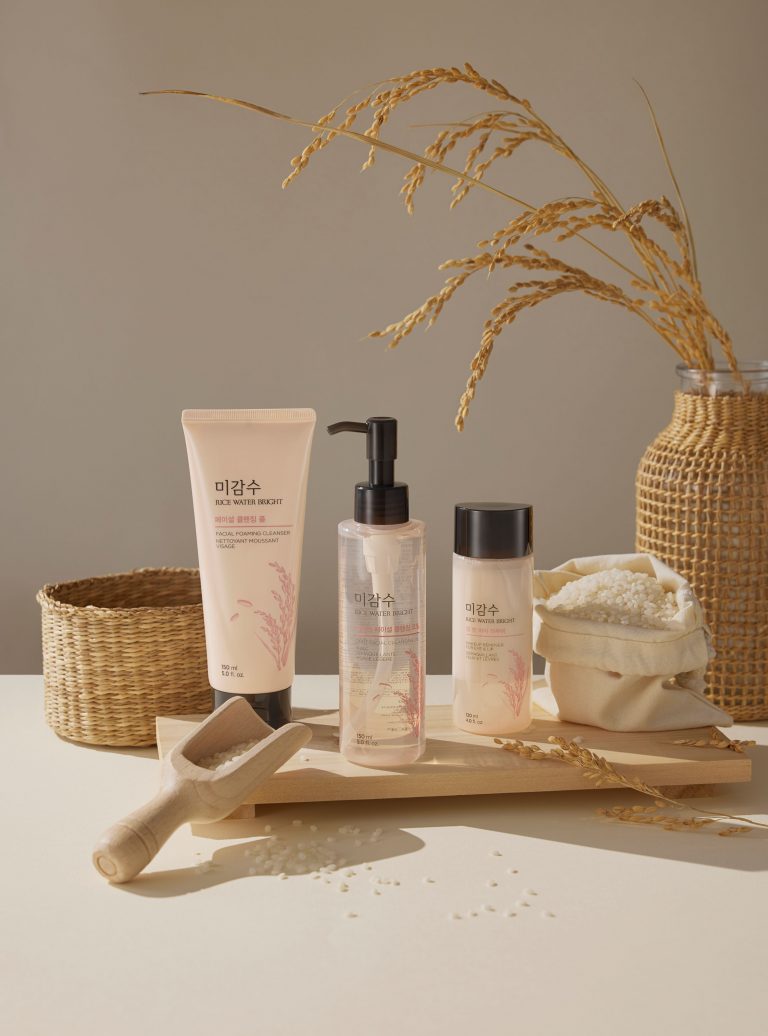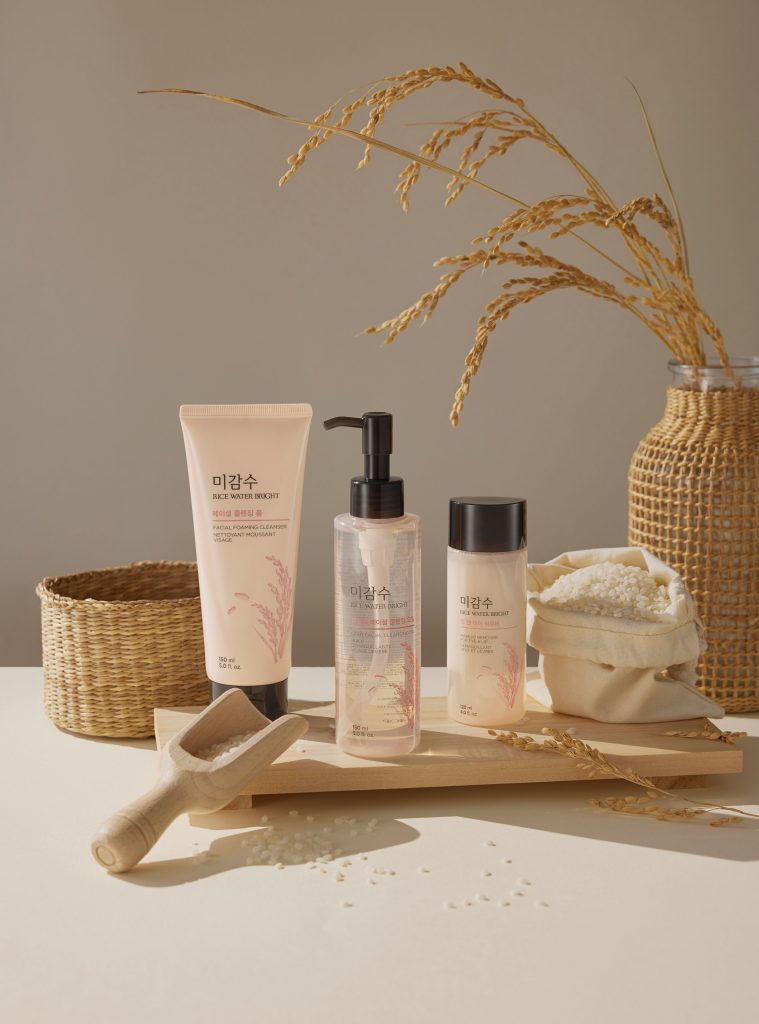 Light Facial Cleansing Oil
This light cleansing oil is considered on of the best Korean cleansing oils that exists. An absolute cult favorite. The water-to-oil ratio of the formula is perfect for cleansing heavier makeup without leaving an uncomfortable oily residue. The Rice Water, Rice Bran, Jojoba hydrating ingredient combination helps protect the skin from losing moisture while cleansing, and leaves skin feeling soft and refreshed after use.
Foaming Cleanser
Another cult favorite among the beauty community, the Rice Water Bright Foaming Cleanser is of the most repurchased cleansers that exists in the market. Perfect as a second cleanser, it cleanses away impurities gently with a plant-based cleansing ingredient, Soap Wort, and brightens and restores skin's moisture with Rice Water and Rice Bran.
Get THE FACE SHOP wholesale & other best seller Korean cosmetics from UMMA!
Now counting shipment to over 104 countries around the world, UMMA is your favorite Korean skincare, makeup, haircare, and babycare wholesale supplier. Our U-Quick (in stock) selection ships within 48 hours of order confirmation, and you can also find extra discounted items on U-Outlet. Sign up and sign in to shop from over 140 best Korean cosmetics brands and grow your business with our support!