AXIS-Y is a brand focused on bringing the best skincare while keeping the environment in mind. It is not about mass production but focused on community and self-love. AXIS-Y is vegan, cruelty-free, and climate-focused, and encourage individuals to look after their health and happiness. Get all the best products by AXIS-Y on wholesale at UMMA.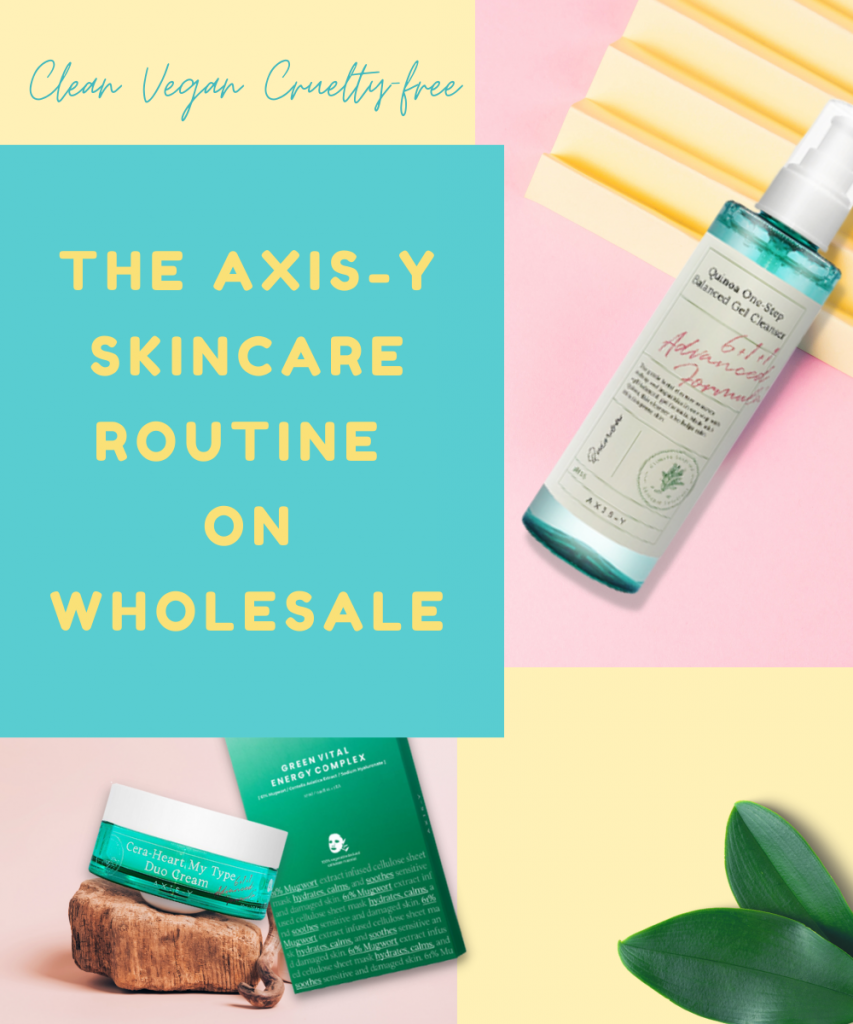 Packed with natural ingredients that gradually but surely improve the skin, every product by AXIS-Y is a winner. And for this particular brand, we really mean it when we say that each and every product is a best seller. But for the sake of getting into the details of the products, we chose the five below that sets up a whole clean skincare routine for you to try.
Quinoa One-Step Balanced Gel Cleanser
This is step one of a healthy and clear skincare routine. Packed with quinoa seed extracts, it works well to remove excess oils, clean sebum, and remove all impurities built during the day. In just one step, reviews on Amazon reveal that skin feels refreshed and clean. It is perfect for all skin types especially those prone to acne.
Daily Purifying Treatment Toner
Daily Purifying Treatment Toner is step two of the skincare routine. Salicylic acid works on soothing the texture of the skin by breaking into the barrier. The result is a clearer and healthier-looking complexion. Moreover, reviewers on Amazon claim that the toner can be used as a stand-alone for a perfect skin tone.
Spot the Difference Blemish Treatment
This is a customer-centric product that AXIS-Y created to address the concerns of individuals in communities. Spot the Difference treats blemishes and acne scars, which form due to environmental stressors. Perfect for oily and acne-prone skin, the serum contains Ceramide capsules that help in restoring the skin barrier. Skincare influencers who are constantly looking for magic serums praise this one by AXIS-Y. The repurchase rate of this blemish treatment is high and for all the right reasons.
Cera-Heart My Type Duo Cream
The duo cream comes in blue – for the T-zone and the white cream – for the U-zone. This product by AXIS-Y has been trending for some time now since it addresses skin concerns of all seasons. Perfect for both men and women, the duo cream is full of the richness of moisture while clearing out the sebum and oil. Reviews on Amazon suggest that this cream feels like a personalized product created for an individual. The philosophy behind it is the same; it allows the user to personalize the skincare to their needs.
61% Mugwort Green Vital Energy Complex Sheet Mask
The Mugwort Green Vital Energy Complex Sheet Mask is a crowd-made product. What does that mean? After conducting a survey of what the customers wanted, AXIS-Y decided to create a sheet mask fit to their wants that was rich in mugwort extracts and green tea. This is the perfect formulation for irritated and dry skin of the summer season. Reviews on Amazon suggest that this product has proved nothing less than a lifesaver for many. Customers love it so much that they are buying it in bulk for personal use!
AXIS-Y on wholesale at UMMA!
Get the best and trending skin care products from top Korean brands at UMMA at competitive prices. We also provide a faster delivery service exclusive to UMMA called U-Quick, where we dispatch your order within 48 hours of confirming your order. Sign up to check which AXIS-Y products are available for quick service!