Bonajour is the story of a young girl suffering from several skin issues and then resolving them with effective skincare. Today, that girl is the CEO of Bonajour – one of the most conscious skincare brands in Korea. Packed with healthy ingredients, each product includes authentic and natural ingredients. You can get all the best Bonajour Korean skincare for wholesale at UMMA.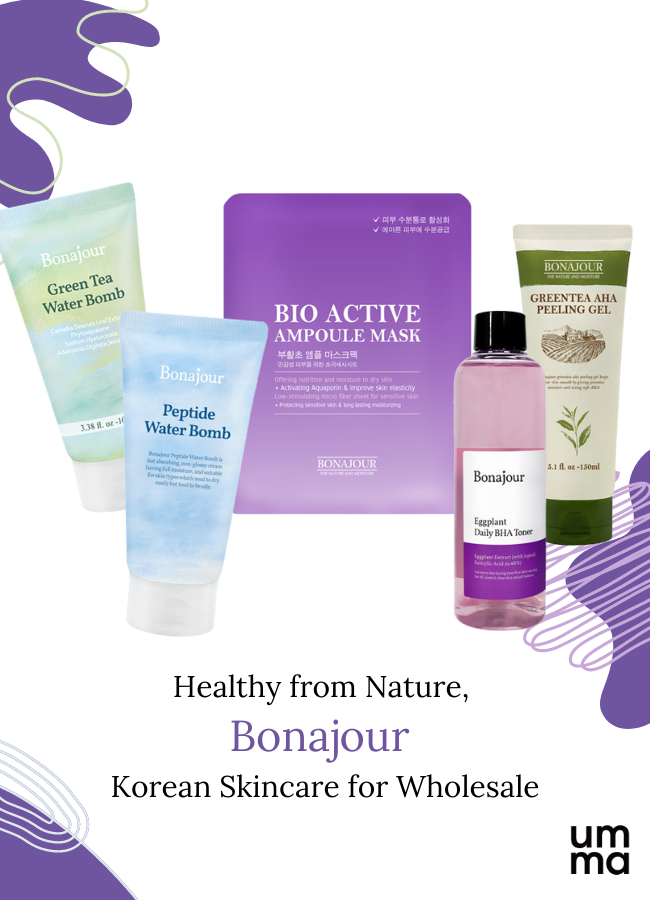 The brand offers several products that effectively target skin problems. Each product is carefully formulated, and effective in addressing various skin concerns. But, we list the best selling and trending products below.
Green Tea Water Bomb Cream
The Bonajour Green Tea Water Bomb Cream gained popularity among skincare enthusiasts due to its texture and quantity. The effectiveness of the cream is a lot more than just moisturization. Clinical tests proved that users experienced brighter and more nourished skin. Additionally, the skin texture also improved.
Peptide Water Bomb Cream
Rated at 4.8 stars on Naver Smart Store in addition to being awarded as number one for three consecutive years, this product is in high demand. Ideal for men and those with oily skin, the Peptide water bomb cream tackles oily skin by locking in moisture to reduce oil production. The skin is left feeling fresh and there is no stickiness.
Bio Active Ampoule Mask
The active ingredient, Selaginella Lepidophylla Extracts in this mask has the power to awakens dry and dull skin. Accordingly, the active ingredients lock in moisture and resurrect the skin no matter how dull or dry it is in just 20 minutes. According to reviews on Shopee, using the Bonajour Bio Active Ampoule Mask is a weekly skincare routine.
Green Tea AHA Peeling Gel
The Bonajour Green Tea AHA Peeling Gel works like wonder on the skin. Instantly making the skin softer, brighter, and smoother, this gel is necessary for any skincare routine. When the gel peels, it works like an exfoliator that removes dead skin cells from the skin. Reviews on Amazon show how effective it is for an instant glow before a rendezvous with friends.
Eggplant Daily BHA Toner
Highly recommended for trouble and oily skin, the Bonajour Eggplant Daily BHA Toner has low pH levels, which are ideal for the skin. It removes sebum and impurities from the surface of the skin leaving it clean and well-nourished. The color of this toner comes from the natural eggplant extract, an effective ingredient for healthy skin. This was the Singles Magazine Editor's Pick of 2019 and is still sought after around the world.
Bonajour Korean Skincare is Available for Wholesale
We at UMMA are committed to supplying the best Korean skincare brands. Only the best selection of K beauty brands are available, so you don't have to be overwhelmed with choices. Global brands, like Etude, COSRX, Dr.Jart+ to local brands like Bonajour, A'BLOOM, Beauty of Joseon, and more are available for great wholesale prices you can't find anywhere else. Register free and get shopping!