Established in 2014, Dr. Althea quickly created a brand identity of innovative and sophisticated skincare. Focused on creating natural solutions to address different skin concerns, the brand has marked itself as a pioneer. However, what skincare lovers adore about the brand is high-quality products in aesthetic packaging.
Dr. Althea has great reviews for most of its products. However, the following four products are bestselling and trending in the K-beauty industry. At UMMA, you can get these effective and innovative skincare products by Dr. Althea on wholesale for low competitive prices.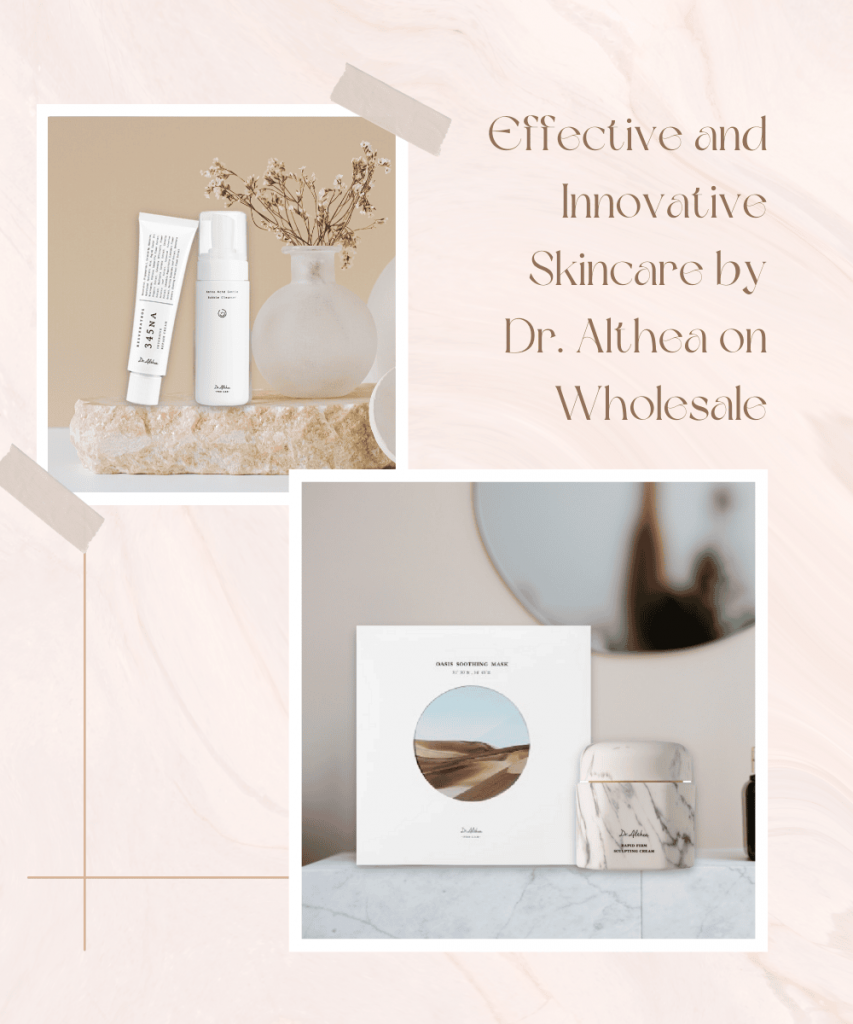 Amino Acid Gentle Bubble Cleanser
This bubble cleanser contains an active amino acid that gently cleanses the skin of all impurities. The focus of this gentle cleanser is that it hydrates the skin to new levels of nourishment. Moreover, the low acidity of the amino acids ensures that skin does not dry out or feels more sensitive. Reviews on Lazada suggest that users have become addicted to this cleanser as it leaves their skin feeling smooth and clear.
Resveratrol 345NA Intensive Repair Cream
Rich in nutrients, the Resveratrol Intensive Repair Cream is great for moisturizing and anti-aging. The ingredients are focused on repairing the damages on the skin caused by age factors and other environmental stressors. Skincare gurus call this repair cream by Dr. Althea a magic tube that addresses all kinds of skin issues. Additionally, this works fast and effectively, therefore, users are already on their second and third buy.
Rapid Firm Sculpting Cream
As the name suggests, the active ingredients present in this cream by Dr. Althea addresses wrinkles and fine lines. Therefore, the result of consistent use is firm skin with increased elasticity. Skincare fans have experienced lifted faces or 'sculpted' to their desired shape. A major cause of wrinkles and fine lines is the loss of moisture and important oils. However, Rapid Firm Sculpting Cream locks in the moisture and fades wrinkles.
Oasis Soothing Mask
The Oasis Soothing Mask is designed for use on sensitive skin. Moreover, it is free from 20 strong chemicals that may cause irritation and acne breakout on sensitive skin, this mask is incredible. Moreover, it has six natural and active ingredients, which soothe, calm, and nourish all skin types. Reviewers rave about the level of moisturization they experience after using this soothing mask by Dr. Althea.
Get Dr. Althea Best Products at UMMA!
We are UMMA, are committed to serving our members with the best offers and promotions. Join the family to take part in amazing promotions and offers, and faster delivery of the bestselling and trending Korean skincare products. Register and order today and take your beauty business to new heights!