Blanc Diva, the brand
True beauty needs a clean canvas to paint upon. And Korean beauty reflects this idea through the healthy choices of good, quality skincare and makeup that enhances your natural beauty rather than masking it. Blanc Diva was created from this idea of providing the white 'Blanc', purifying skincare and colorful 'Diva' makeup variety to bring out the best of each individual.
The brand came into the scene in 2019 and their Gleam Coverage Cushion became a hit in Korea, ranking number one on Naver (Korea's top search engine). Soon, brand popularity expanded throughout East Asia, and reaching further to fans in United States. Furthermore, Blanc Diva's collaboration with global k-pop group NCT Dream has been a huge factor in the success of their widespread increase in popularity.
But when it comes to introducing 'Hidden Gem' Korean brands to the global scene, we at UMMA consider some important standards. Such standards include whether the brand will be consistent and transparent with purchasers, if the quality of the products are high, and do they align with current trends. And we confidently present Blanc Diva to K-beauty sellers for our next brand giveaway event.
First, let us introduce Blanc Diva's newest addition in order to share what giveaway items we have prepared:
Introducing NEW! Coloring:Me Eyeshadow Palette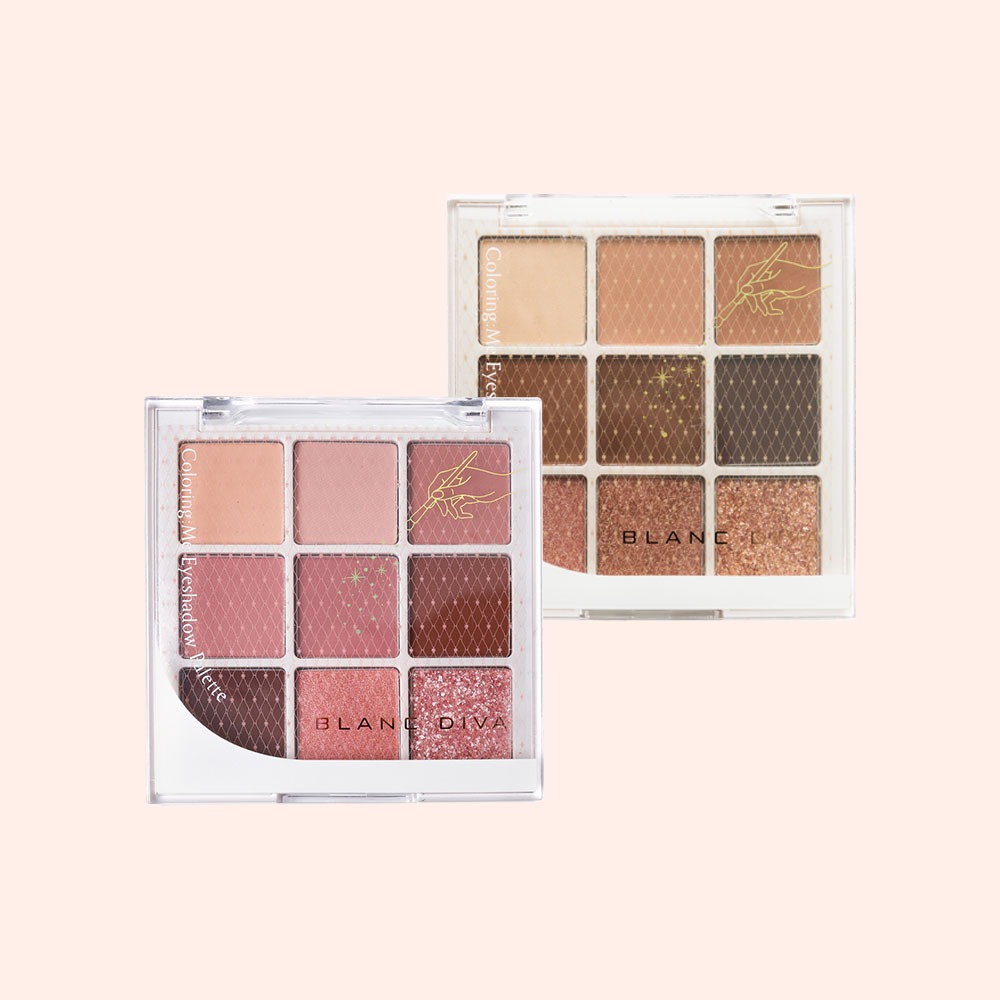 The Pink and Brown Coloring:Me Eyeshadow Palette provides a range of daily 'Blanc' to glamourous 'Diva' shades and glitter for variety of moods. The Pink palette consists of soft beige and pink tones to reveal a rosy, feminine look, while the Brown palette contains apricot to brown tones that are comfortable for natural-looking everyday makeup.
To help support the promotion of this amazing brand and new dazzling item, we are providing 3 generous giveaways by Blanc Diva:
(Promotion details updated in June 2023)
[closed] [Promotion 1] Buy both NEW Coloring:Me Eyeshadow Palettes (PINK 10ea and BROWN 10ea), Get up to 20ea Pure Mild Oil Foam Cleanser 150ml + 30ea Pure Mild Oil Foam Cleanser 2ml + 30ea Multi Protection Fitting Sun Base 1ml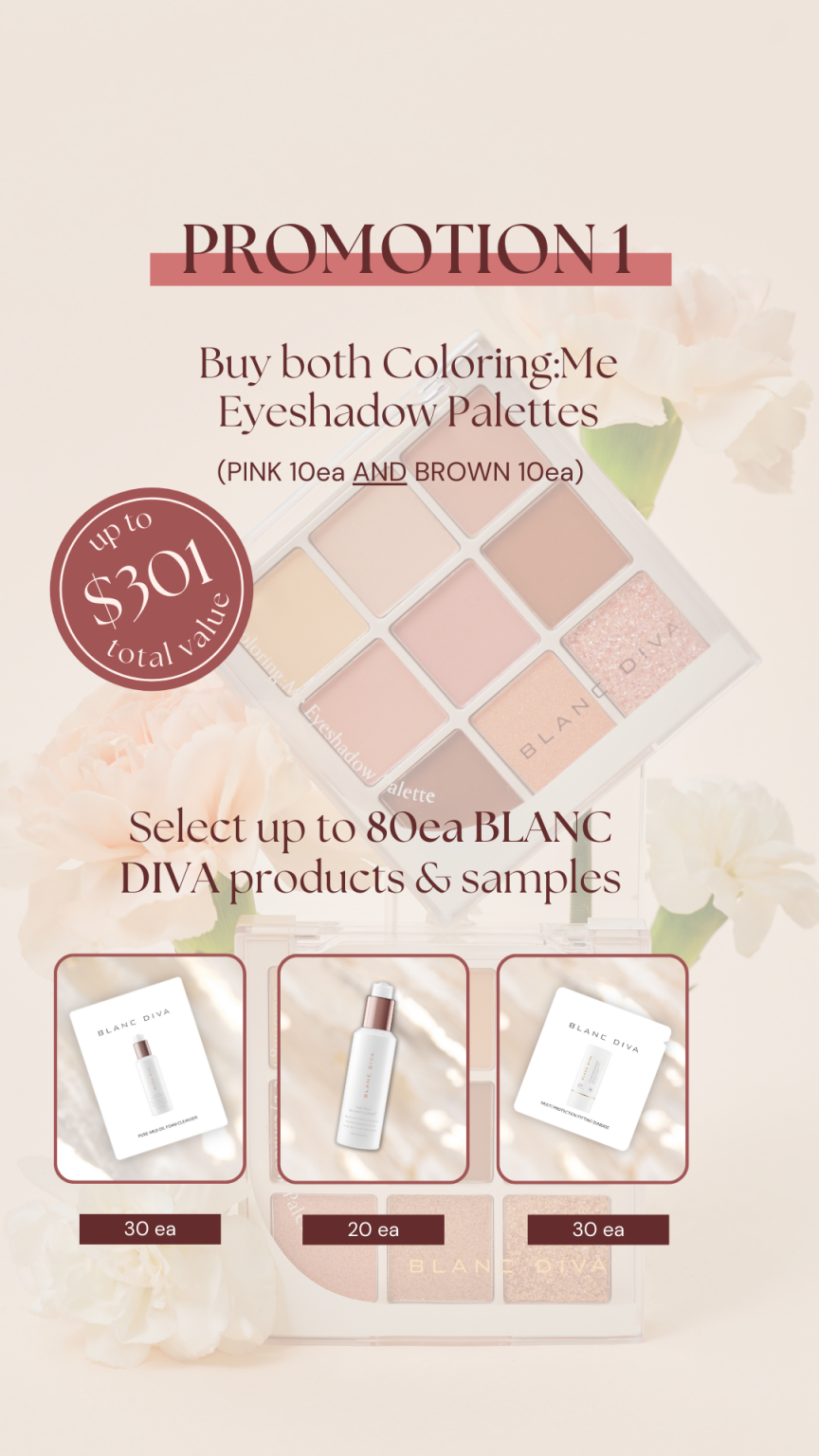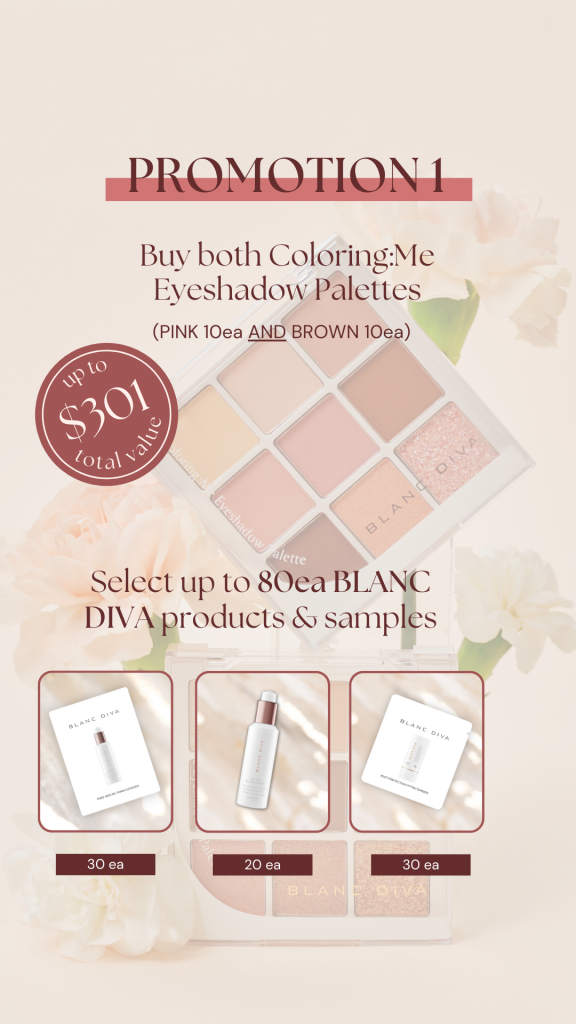 The Pure Mild Oil Foam Cleanser is a one-step oil to foam cleanser that melts away excess sebum, dirt, and makeup. It consists of EWG green grade ingredients clinically tested for hypoallergy, and gentle enough for sensitive skin. The main cleansing ingredient is 100% natural from coconut and corn called Coco-Glucoside, which is biodegradable and provides less irritation and dryness. Other Ingredients include Willow Bark Extract, Allantoin, and Jojoba Seed Oil, which help remove impurities and provide moisture and soothing benefits.
[closed] [Promotion 2] Buy 10ea NEWColoring:Me Eyeshadow Palette (PINK 10ea or BROWN 10ea), Get up to 10ea Pure Mild Oil Foam Cleanser 150ml + 30ea Pure Mild Oil Foam Cleanser 2ml + 30ea Multi Protection Fitting Sun Base 1ml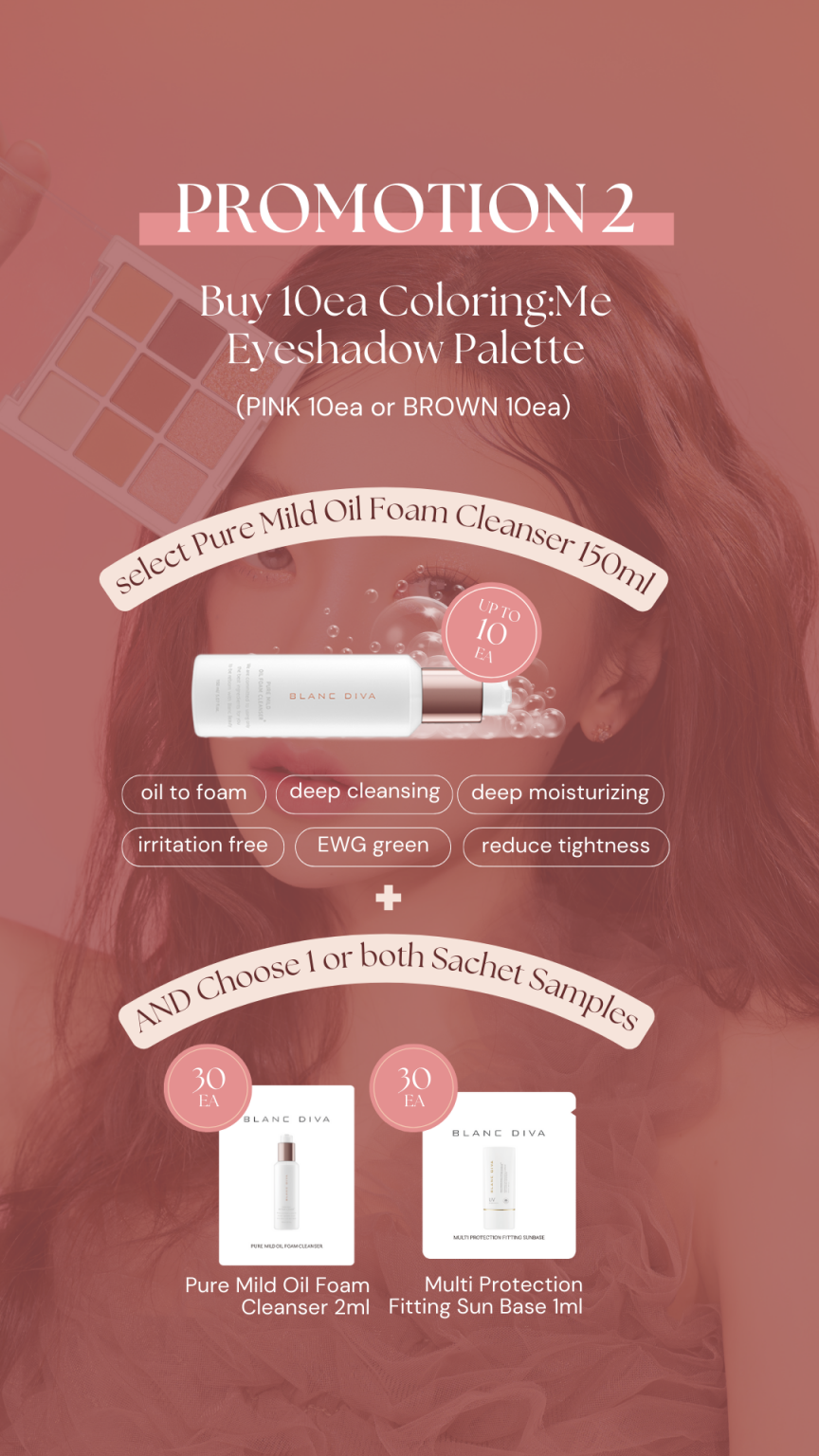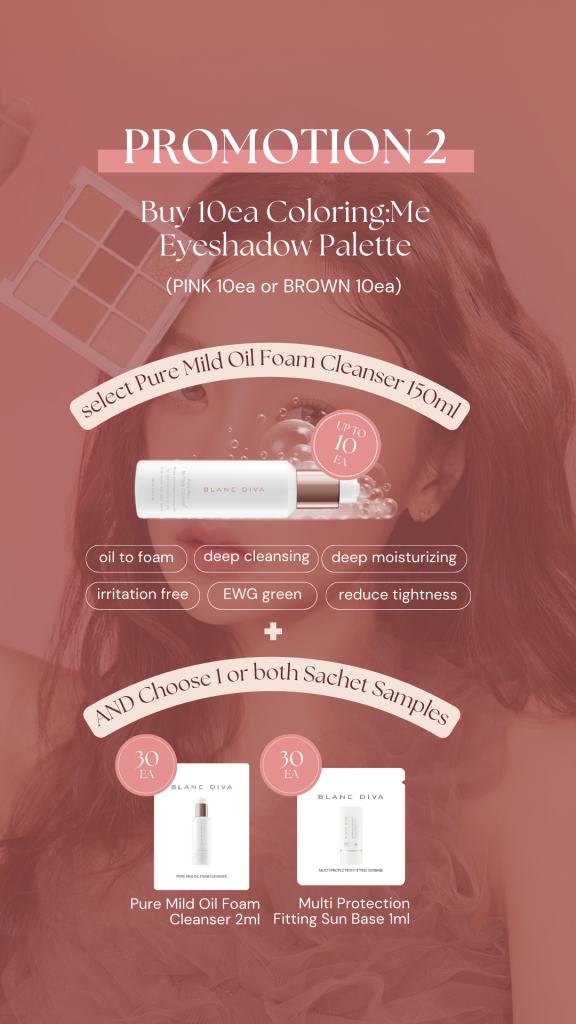 The Multi Protection Fitting Sun Base is a non-nano physical sunscreen that applies like lotion, and delivers a natural tone-up layer. It has been clinically tested for SPF50+ PA++++ and to block out fine dust absorption. The patented Pollustop ingredient helps block these fine dust. And the overall formula contains EWG green grade ingredients, and is ideal for sensitive skin. Main ingredients include Chlorella Vulgaris Extract, which helps build skin's strength for maintaining health.
[closed] [Promotion 3] Buy ANY Blanc Diva Product, Get 30ea Pure Mild Oil Foam Cleanser 2ml and/or 30ea Multi Protection Fitting Sun Base 1ml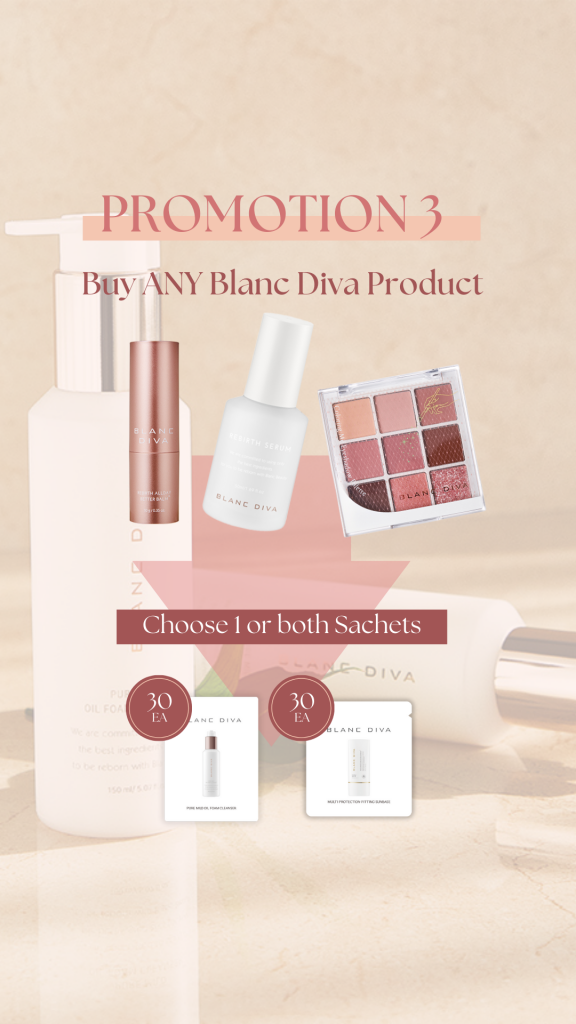 Shop your kbeauty wholesale stock from UMMA, and get this exclusive product offer today!
For more details of the promotion, sign in and click on the main giveaway banner on the homepage.
Why Choose UMMA?
UMMA is your favorite reliable Korean beauty & skincare wholesale provider, already shipping to over 94 countries around the world! We have over 120+ global, local, and cult favorite Korean brands that we hand-picked so you can skip the time-consuming research, sourcing, and delivery waiting.
In fact, we provide an even faster delivery service, called u-quick. This is how it works: we stock up on 2000+ best selling products in high demand around the world, and we ship them within 48 hours of confirming your order. These products can be found when you use the 'view u-quick' filter.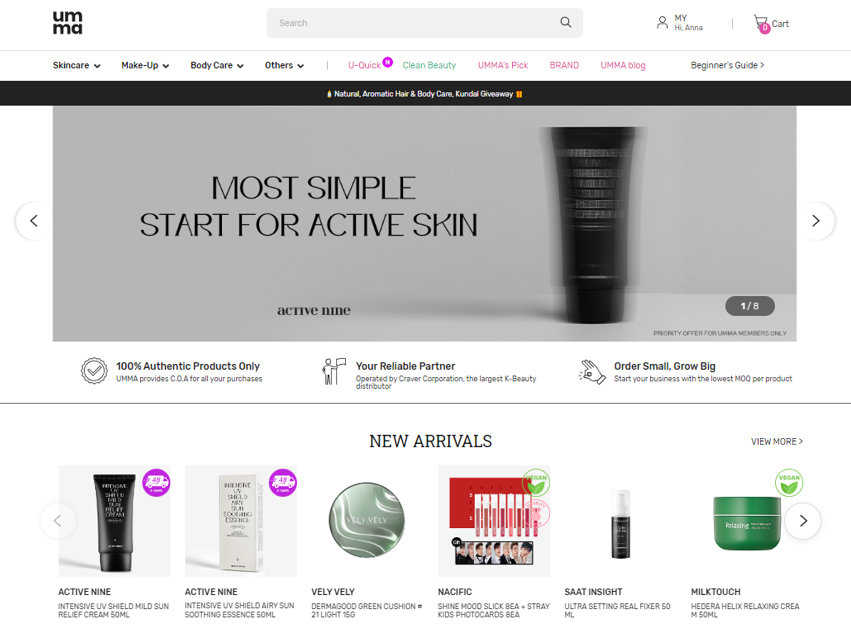 Furthermore, for every purchase, we provide a cash back program, called UMMA points, to continuously support the growth of our members.
You can also find more business support and exclusive brand giveaway opportunities to test new products in your market prior to making a purchase.
Lastly, we work hard (we really do!) to provide 1:1 sales and customer service, source products requested from you, and a plan a multitude of promotions for you to experience various kinds of dedicated support from us.
If all of this sounds like a good opportunity for you, don't hesitate to join our K-Beautiful family now and get a registration bonus. Don't miss out on the limited time only Active Nine freebie when you order! For more details about our service, check out our FAQ page.