3CE is the child of the leading clothing Korean brand Style Nanda. In 2009, the company extended its makeup line called the 3CE, which instantly became a hit. What 3CE offered was different from the other color makeup brands – exceptional quality, innovative textures, but most of all, desirable never-seen-before color choices.
Although all the makeup products by 3CE come in attractive packaging with long-lasting results, some have become long-term best sellers. Here are the bestselling and trending 3CE on wholesale at UMMA: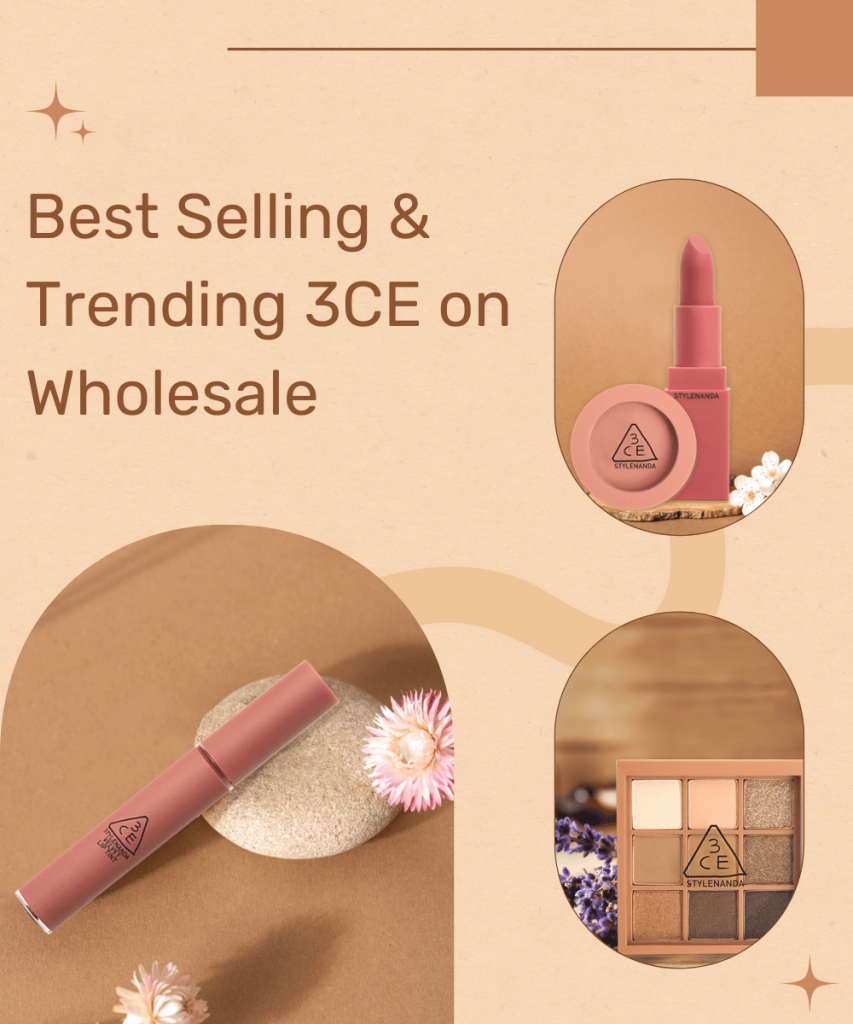 3CE Best Seller Lip Makeup
Velvet Lip Tint
Unlike other tints, the velvet lip tint by 3CE is unique. It has a thick formula yet once applied it feels lightweight. The result is a long-lasting application that looks and feels natural. According to reviews on Shopee, the velvet lip tint is a must-buy for everyday natural makeup looks. The tube lasts long as there is no need for reapplication of the tint. Additionally, it comes in five different natural shades of nude colors.
Mood Recipe Matte Lip
High pigmentation, primer matt texture, and creamy application make the mood recipe matte lip a best seller! This comes as a set of five different shades, unique for different occasions. Makeup influencers highly recommend the Mood Recipe Matt Lip Kit by 3CE for a pocket-friendly investment in cosmetics. The shades go with all types of casual and formal makeup looks.
3CE Best Seller Eye Makeup
Mood Recipe Eye Color
The combination of nine unique colors makes the mood recipe eye color by 3CE a best seller. Each eye shadow glides on the eyelid creating a seamless and clump-free subtle look. Makeup enthusiasts love experimenting with the colors and creating looks ideal for parties and formal meetings at the office. The two best-sellers are:
· Cool Tone: Overtake
This palette has pinkish tones that buyers love for creating subtle and formal looks.
· Warm Tone: Plot Twist
Plot Twist has warmer tones with a focus on peanut brown shades. Makeup artists use this pallet to create more glamorous makeup looks.
3CE Best Seller Blush
Mood Recipe Face Blush (Rose Beige)
As reviews suggest on Amazon, the Mood Recipe Face Blush has a silky texture that glides on the skin. One stroke of Rose Beige is all it takes to create a subtle and natural-looking blush. Additionally, the powders from the blush prevent sweat and sebum from accumulating on the skin. This product has a high repurchase rate on Amazon.
3CE Top Trending Product
Blur Water Tint
The Blur Water Tint is trending for all the right reasons. According to makeup lovers, the first swipe of the tint feels watery. This allows the formula to absorb into the lips, tinting them for a long time. It results in the color being non-transferable which is why this is a highly loved product. The lips feel light, comfortable and without any stickiness. Of this product line, the colors Laydown, Play Off and Spot Player are found to be rising in popularity.
Stock up on Best Seller 3CE Items at UMMA
3CE cosmetics are ranking on top because of the quality and the color choices the brand offers. Every product focuses on enhancing the natural beauty of the user instead of altering it to look better. If you are looking for a Korean makeup product wholesale supplier, you have come to the right place.
At UMMA, we offer the best prices, best services, and quick delivery worldwide. Get in touch today and boost the sales of your beauty business with bestselling and trending 3CE on wholesale for great prices.