3W Clinic by XAI Korea is a brand built on the philosophy of careful integration between traditional Eastern medicines with modern technology. The result is effective skincare that guarantees results. 3W Clinic gained popularity with its affordable skincare products that include top skincare ingredients like snail mucus and collagen. Check our website for 3W Clinic sunscreen, cleansing on wholesale for low prices.
Although 3W Clinic has many products, which are popular and in demand around the world, some are highly sought-after. The sunblock cream and various cleansing options are in high demand.
Let us break down the best products of 3W Clinic and why these are a profitable opportunity for your beauty business.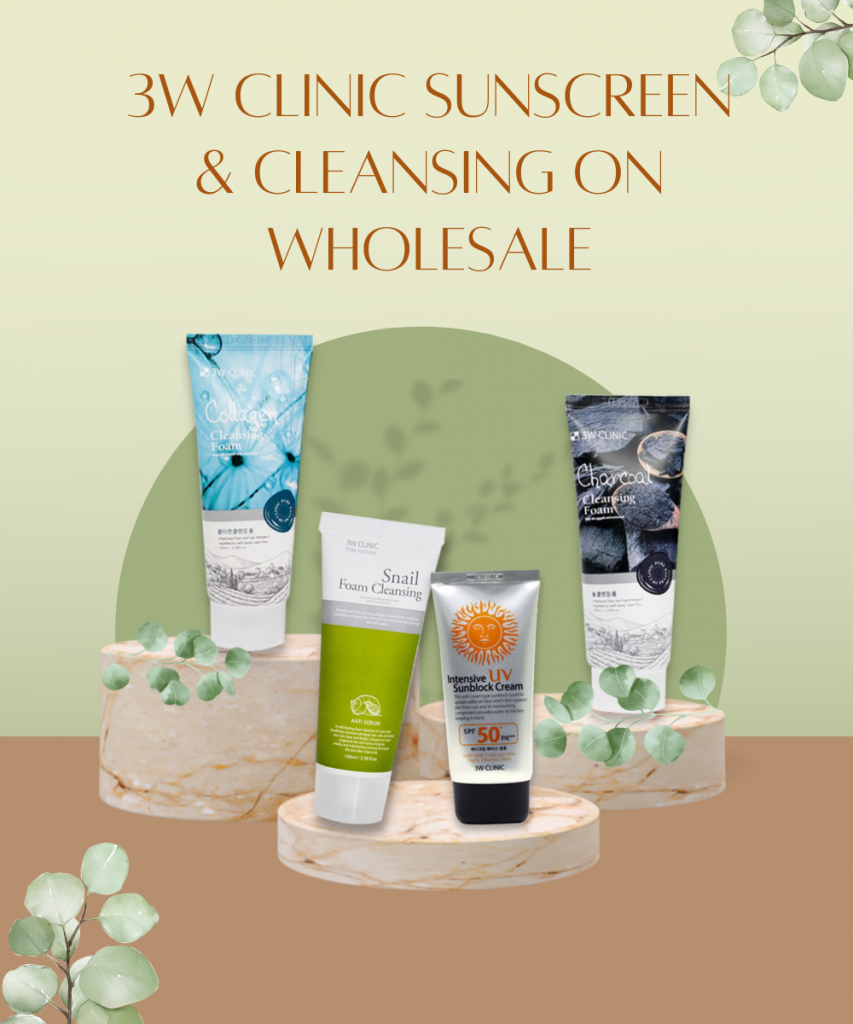 3W Clinic Best Seller: Intensive UV Sunblock Cream SPF50 PA+++
According to reviews on Amazon, this is a rare sunscreen that does not cause acne to break out. Since sun creams are thick in texture and contain UV protecting ingredients that cause irritation, pore-clogging, heavy-coat application and acne are common.
But, 3W Clinic Intensive UV Sunblock Cream is light on the skin and has great coverage. Additionally, it is useful as a makeup base for day events to protect and moisturize the skin at the same time. Moreover, this sunblock cream is affordable, which increases its repurchase rate.
Best 3W Clinic Category – Cleansing
The cleansers from this brand are very much in-demand around the world. The ingredients in each one are unique and they are all affordable products.
Collagen Cleansing Foam
The most popular skincare ingredient for 3W Clinic is collagen. The 3W Clinic Collagen Cleansing Foam cleanses effectively and targets wrinkles and dry skin. Active collagen relieves skin from irritation and protects from roughness. Beauty influencers are in awe of the cleanser's effectiveness at such low rates. 3W Clinic Collagen Eye Cream and Sleeping Pack are also popular.
Charcoal Cleansing Foam
Charcoal is an active ingredient that targets the sebum in open pores and tightens them after each use. Users have commented on Amazon to feel their skin, how clean and tight it feels after every wash.
Green Tea Foam Cleansing
Green tea targets active acne and clarifies skin. This foam cleanser works wonders on all skin types and contains a mild, delicate scent of tea tree extract. Skincare enthusiasts comment how they purchase these for their friends and family.
Snail Foam Cleansing
The reviews on Amazon rave about the snail foam cleanser to be perfect for wide pores. Apart from its great cleansing properties, it tightens the pores and cleans out sebum from the inside. The main ingredient is ideal for skin tightening which are also effective for wrinkle care.
Stock up 3W Clinic products from UMMA!
If you are a beauty retailer looking to stock up 3W Clinic sunscreen, cleansing, and other top K beauty products, we at UMMA are here to serve you! Members from 213 countries trust our services with fast deliveries, top K beauty brands, and the best wholesale rates. Register with us today and boost your business.