What gave rise to the popularity of Korean makeup?
If you don't already know, your favorite BB creams and cushion foundations were first originally innovated in South Korea. Korean beauty lovers absolutely love two particular things – better skin and convenience. There has always been a constant need for something new and better to help speed up their daily makeup routine while getting the results they desire.
Combining skincare with base makeup to create more natural looks while benefiting the skin (BB creams), and making foundation portable and easier to reapply (cushion foundation) are just two examples of how the Korean makeup industry changed the competitive world of makeup innovation.
Another amazing leap for makeup innovation may be lip tints. The need for long-lasting lip makeup was finally met when lip stain/tints were created; the lip tint formula applies like any lipstick, but like a tattoo, it leaves a thin color even after it wears off so you're not left with bear lips, and even creates 'My Lips But Better' effect.
Now that you have some background of what makes Korean makeup products so different and popular, we'll guide you through this year's 2023 top Korean makeup picks.
Who we are: As a global K-beauty and cosmetics wholesale supplier, we at UMMA supply over 130 Korean skincare, makeup, and haircare brands to sellers around the world. We are providing 5% off already low wholesale prices on all UMMA's 2023 Makeup Picks (88 products) until September 30, 2023.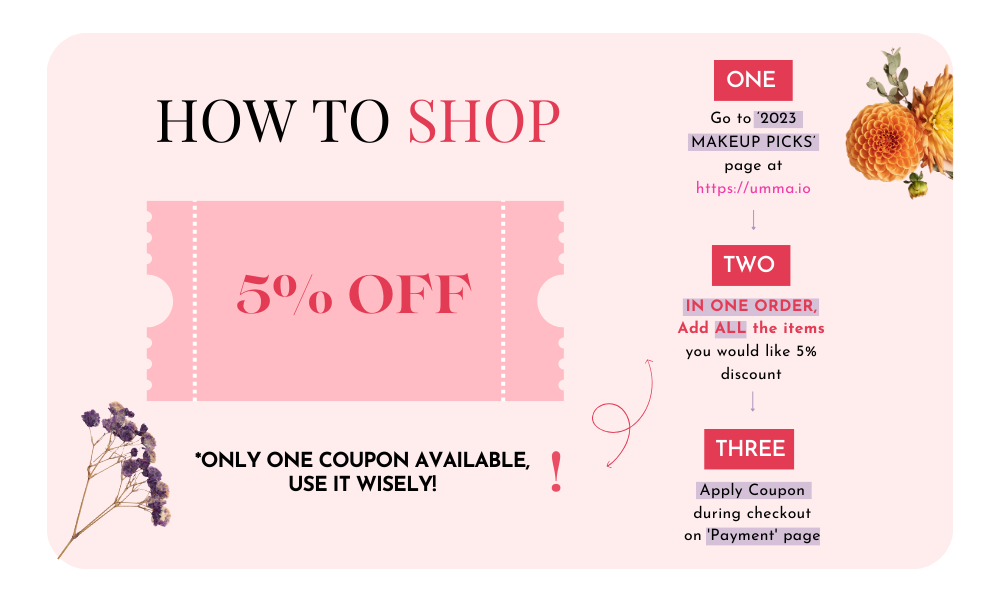 Check out our list of top Korean makeup picks below! (Wholesale prices can be viewed by signing in)
Base Makeup
BB Cream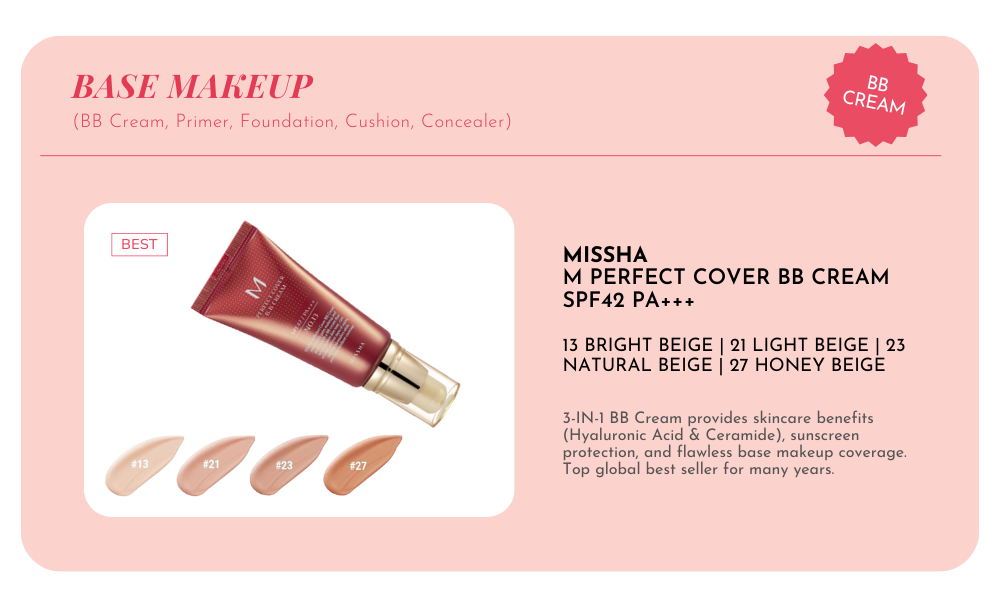 MISSHA M PERFECT COVER BB CREAM SPF42 PA+++
has been one of the most sold, best selling BB Cream of all time for many years globally – and for good reason! The 3-in-1 BB Cream provides skincare benefits, sunscreen protection, and smooth base makeup coverage that seamlessly blends into the skin, making your skin look better with each application. With Missha's BB Cream, you can reapply without the fear of caking or flaking, and it actually helps moisturize your skin at the same time.
*Note: More shades are available, but for this promotion we offer 4 shades for 5% off.
Primer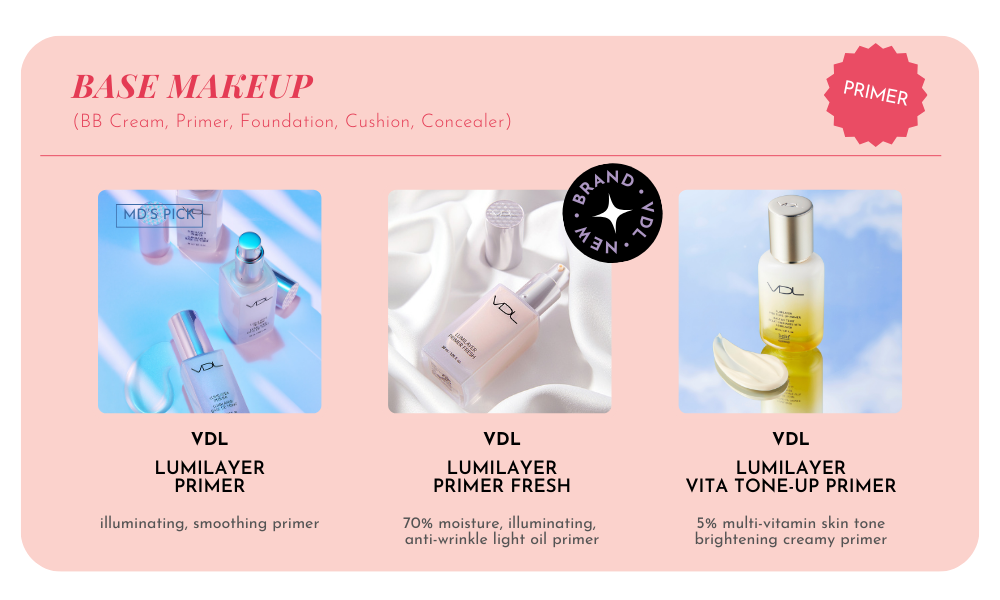 VDL LUMILAYER PRIMER
With just a small dab of VDL's silky smooth Lumilayer Primer, you can smooth out the bumps and dips of your skin and brighten it with Violet Lightflects™ Pigment. The red pigments help provide natural flush, and blue pigments help reflect translucents on the skin, creating a much vivid, clear skin. You can use it alone just to even out skin tone and texture for a no-makeup look, or apply foundation on top for more coverage.
VDL LUMILAYER PRIMER FRESH
The Lumilayer Primer Fresh provides slightly less Violet Lightflects™ Pigment luminescents with a pinkish undertone, but contains more moisture content plus anti-wrinkle benefits. If you're looking for a primer that works as the perfect 'glass skin' base prior to foundation, but also delivers skincare benefits to help your inner, natural skin glow – this is your new best friend.
VDL LUMILAYER VITA TONE-UP PRIMER
Yes, VDL's Lumilayer primers are top tier in the K-beauty world! The Vita Tone-Up Lumilayer Primer Contains Vitamin B3, B5, C, E, and Belif Aqua Bomb moisturizing formula to provide natural brightening skincare benefits, along with VDL's Violet Lightflects™ Pigment for an inner and outer glow effect. It also has a slight UV protection function of SPF20, PA++ and leaves a slight yellow-ish tint, making this the favorite primer used like a lighter version of a BB cream on days you'd rather not wear heavy makeup.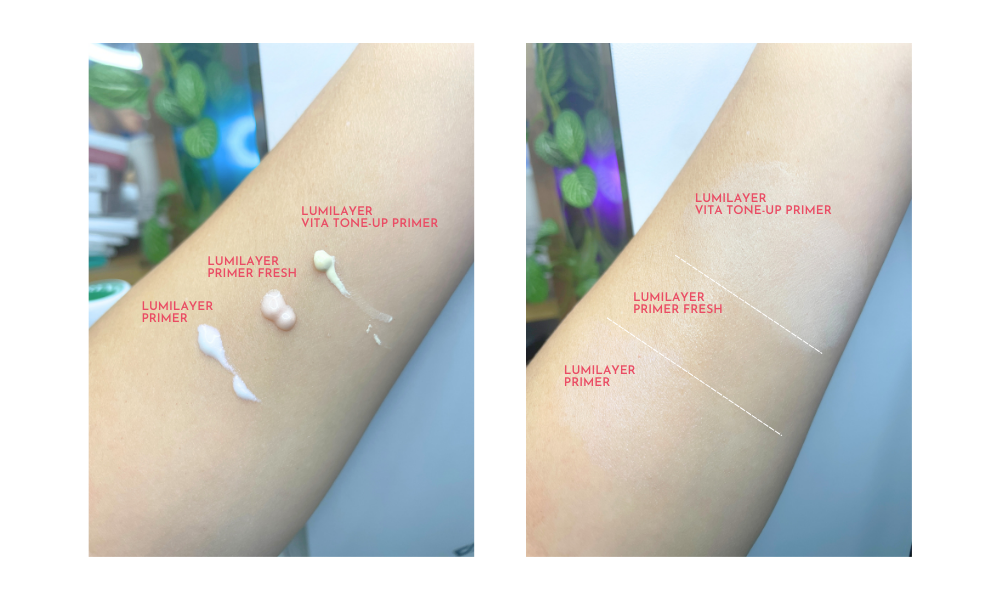 Foundation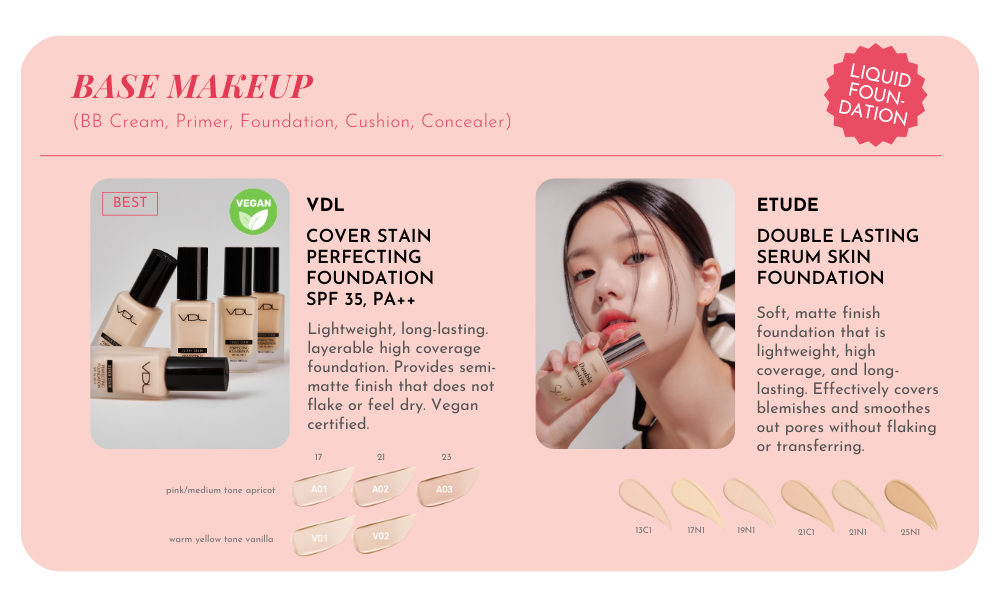 VDL COVER STAIN PERFECTING FOUNDATION SPF 35, PA++
To compliment VDL's highly praise primer technology is the VDL Cover Stain Foundation. This lightweight, long-lasting, layerable foundation provides high coverage despite its silk-like softens. It finishes semi-matte, but does not feel dry, which makes it a great formula that does not make your skin oily after a long period of time and it does not cake up when reapplied mid-day. But almost like lip tint, the formula adheres to the skin to last for many hours without stickiness.
*Note: More shades are available, but for this promotion we offer 5 shades for 5% off.
ETUDE DOUBLE LASTING SERUM SKIN FOUNDATION
Compared to the VDL foundation, the Etude Serum Foundation is an excellent choice for those requiring more moisture content to support healthier skin expression, and would rather create a more natural look with medium coverage. It also provides SPF 25, PA++, wrinkle care, and whitening functions, and you would not have to give up any long-lasting effects. This serum foundation would be ideal for those with dry skin.
*Note: More shades are available, but for this promotion we offer 6 shades for 5% off.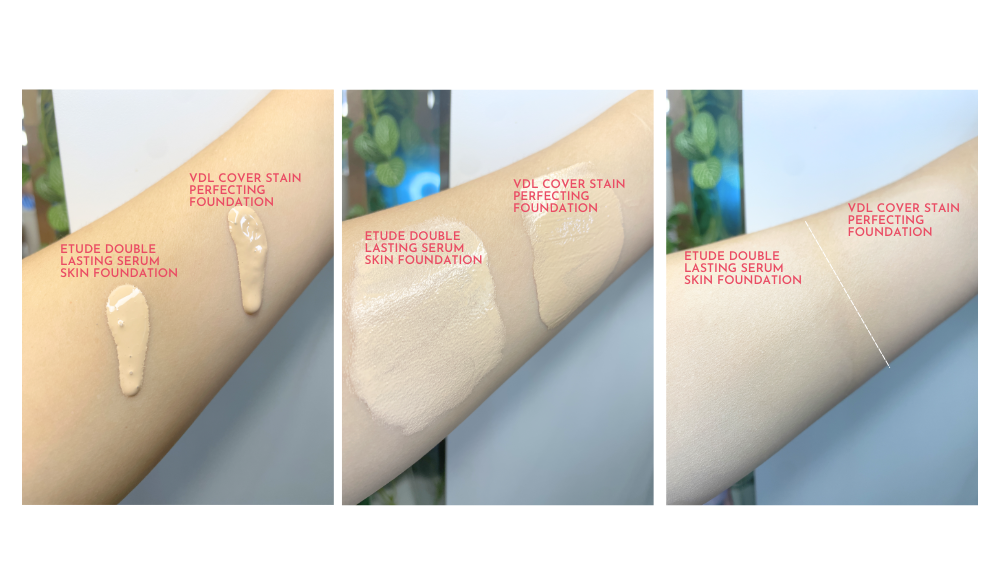 Cushion Foundation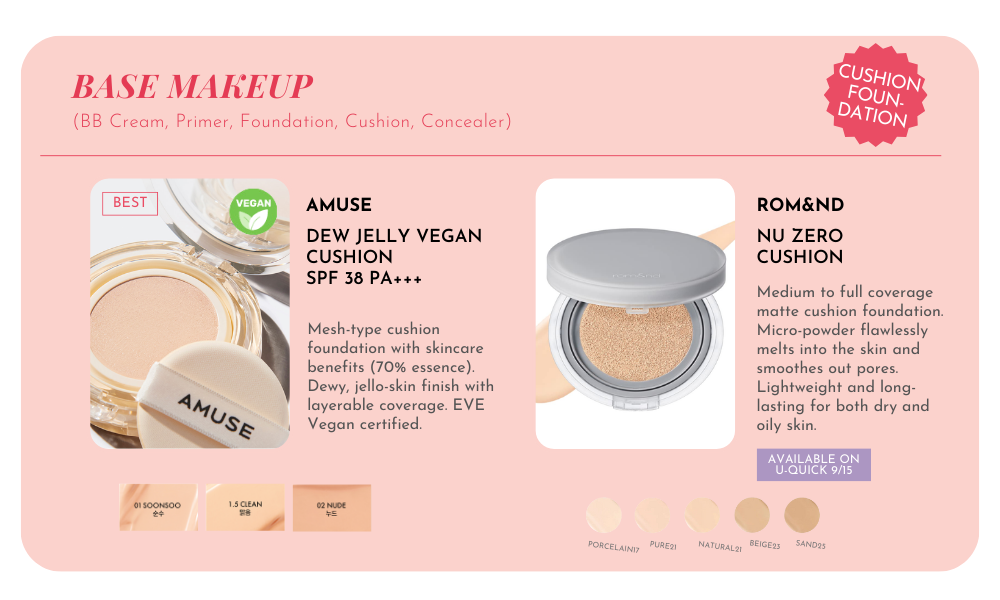 AMUSE DEW JELLY VEGAN CUSHION SPF 38 PA+++
Amuse has undoubtedly become the top Korean clean beauty makeup brands of the year. Rising in fame due to its highly praised 'jello skin' makeup effect while also providing formulas that are safe for the skin, the environment and animials. The Jelly Vegan Cushion formula contains 70% essence of benefical skincare ingredients to help your skin glow naturally from within. The mesh-type application and fine powder foundation delivers enough coverage to cover blemishes, redness and pores while maintaining skin's dewy, translucent appearance.
*Note: More shades are available, but for this promotion we offer 3 shades for 5% off.
ROM&ND NU ZERO CUSHION
Rom&nd's innovations have exceeded far beyond many even global makeup brands and are famous for its wide range of product selections and affordable pricing. Rom&nd's Zero Cushion is a lightweight, long-lasting cushion foundation that provides layerable medium to full coverage with its innovative micro-powder formula. It flawlessly smoothes out pores and textures on the skin without stickiness or flaking, and leaves a semi-matte finish.
*Note: More shades are available, but for this promotion we offer 5 shades for 5% off.
Concealer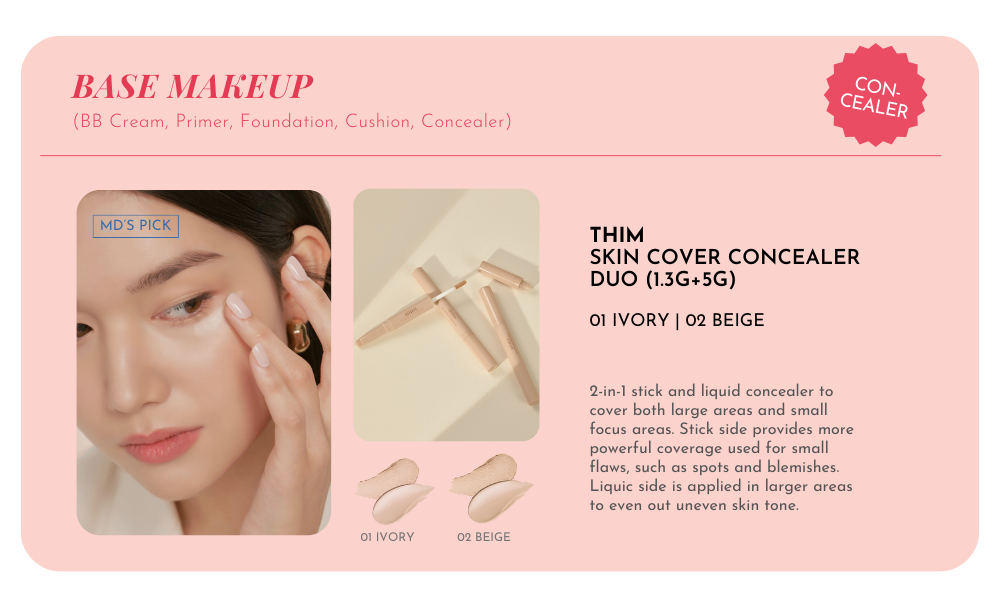 THIM SKIN COVER CONCEALER DUO (1.3G+5G)
This 2-in-1 stick and liquid concealer is perfect for those looking for a concealer that works for various types of blemishes. Some dark spots need a heavier cream-like full coverage, while dark circles and other wide areas need a thinner liquid type that blends well with the skin for natural highlighting. Thim's Concealer Duo provides both types in one product for your convenience, making it an obvious choice as UMMA MD's Pick!
Eye Makeup
Eyebrow/Eyeliner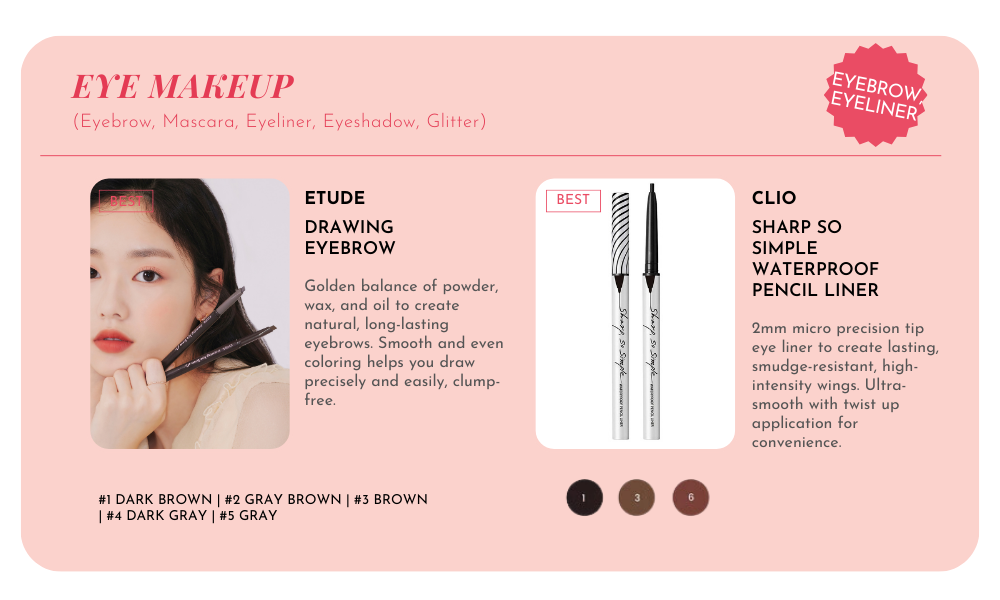 ETUDE DRAWING EYEBROW
To create defined, yet natural-looking eyebrows, you need a formula that does not apply too thick or too soft, and contains just enough wax to fix your brows while not drying out the skin. The Etude Drawing Eyebrows contains the golden balance of powder, wax, and oil to create long-lasting, natural eyebrows. This perfect formula along with it's narrow, elongated triangle shape makes it super easy to apply with precision and clump-free.
*Note: More shades are available, but for this promotion we offer 5 shades for 5% off.
CLIO SHARP SO SIMPLE WATERPROOF PENCIL LINER
Some makeup brands have specialties, and Clio's just may be their eye makeup. This micro-tip 2mm waterproof eye liner is smudge-resistant, high in color intensity, and ultra smooth for easy, precise wing application. The thin twist-up pencil is the perfect width to create fine, natural-looking eye lines that almost look like extensions of your own eyelashes.
*Note: More shades are available, but for this promotion we offer 3 shades for 5% off.
Mascara & Mascara Base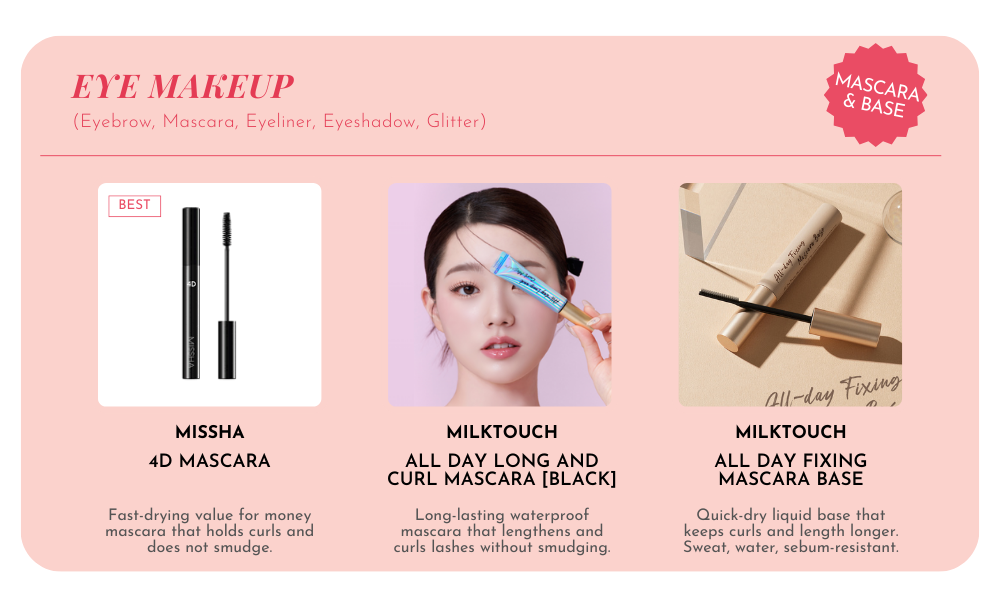 MISSHA 4D MASCARA
The Missha 4D Mascara is simple in function – it provides depth to your natural eyelashes. Its affordability and ability to hold your curl and not smudge is the reason for its popularity, and has been a best seller for many years.
MILKTOUCH ALL DAY LONG AND CURL MASCARA [BLACK]
The Milktouch Mascara is a great affordable option for those looking for a waterproof lash-lengthening mascara. This mascara does what it describes! The smooth consistency of the formula is able to hold curls, lengthen your lashes, and dry without clumping to provide smudge-free lashes all day.
MILKTOUCH ALL DAY FIXING MASCARA BASE
The Milktouch Fixing Mascara Base is the perfect companion to any favorite mascara for even longer-lasting lashes. This sweat, water, and sebum-proof formula applies like soft wax and keeps curls, volumize and lengthen mascara formulas, and help them lasting longer throughout the day. Think of this as the primer of mascaras – it boosts the effects of mascaras, or you can just apply the mascara base after the use of a curler to help keep your natural curls last!
Eyeshadow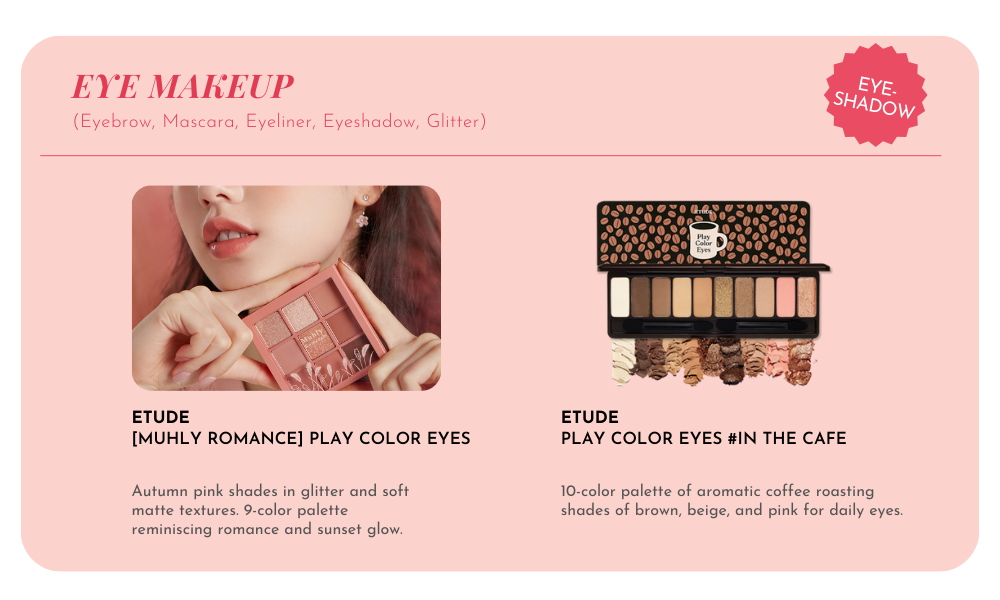 ETUDE [MUHLY ROMANCE] PLAY COLOR EYES
Korea's pink Muhly grass fields in autumn is a sight to see. There is a sense of peace and wonder among Muhly grass fields due to its pink fluffiness that seems almost surreal. Inspired by these grasses, the Muhly Romance palette contains 9-shades of matte and shimmer shades reminiscent of the romance and sunset glow set on these Muhly fields on a perfect autumn day.
ETUDE PLAY COLOR EYES #IN THE CAFE
You can almost smell and taste the cafe mochas and the caramel lattes at a cafe by the beach with Etude's #In The Cafe palette. Some days you crave a dark roast, while other days, you'd rather have something light and sweet. The 10-color palette has a wide combination of contouring and soft shades, as well as shimmer colors to allow you to play with a variety of mixtures to fit your mood of the day.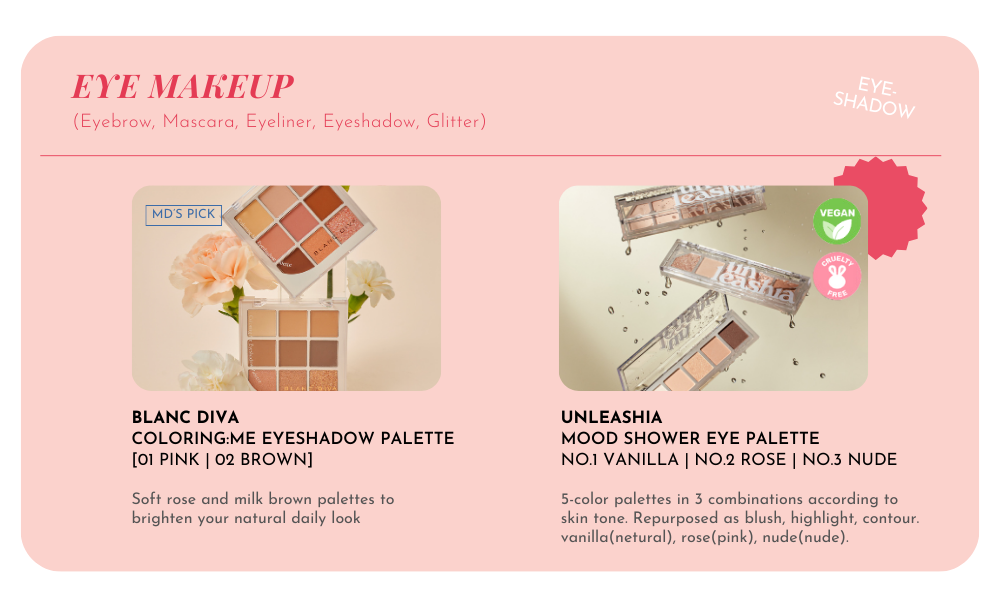 BLANC DIVA COLORING:ME EYESHADOW PALETTE [01 PINK | 02 BROWN]
Blanc Diva is an underrated Korean skincare and makeup brand that performs at a global level. The Blanc Diva Coloring:Me shadow palette comes in two 9-shade combinations perfectly fitting for the fall season. The Pink palette contains soft pink and brown shades with two shimmer and glitter options reminescent of dried roses. The Brown palette contains three shimmer/glitter options and 6 beige to dark brown shades perfect for daily makeup and can be repurposed as contour colors for the face.
UNLEASHIA MOOD SHOWER EYE PALETTE
There is something special about Unleashia's 5-color Mood Shower Eye Palettes. They comes in 3 combinations according to skin tone – and can be repurposed as blush, highlight, contour! No.1 Vanilla palette comes in neutral beige and light brown tones for neutral skin tones. No.2 Rose palette contains beige to brown tones and a rose beige base glitter for those with pink-ish skin tones. The No.3 Nude palette contains beige to dark brown shades speckled with shimmer to help enhance your natural nude face contours.
Glitter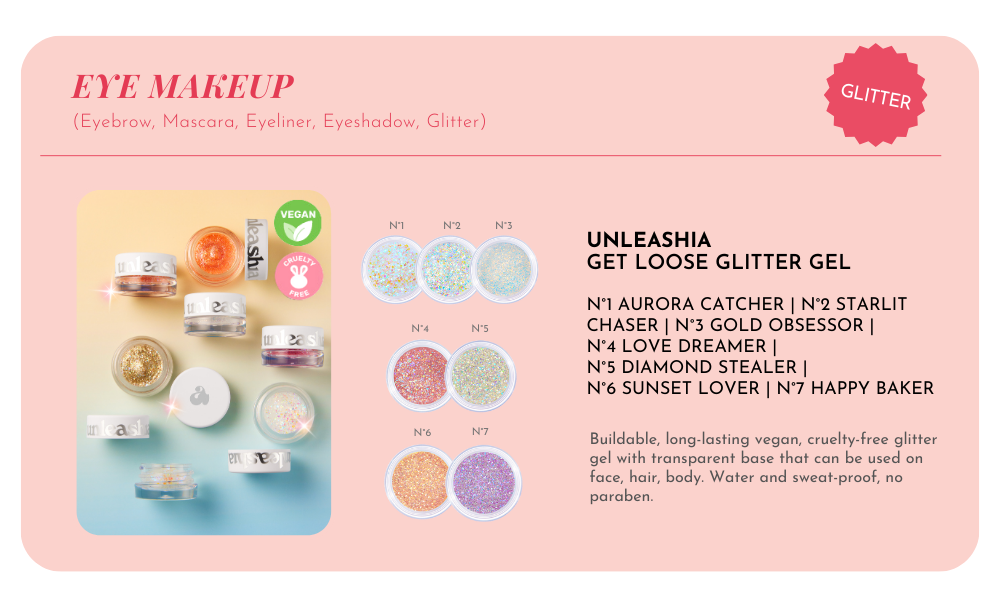 UNLEASHIA GET LOOSE GLITTER GEL
These buildable, long-lasting vegan, cruelty-free glitter gel are versatile and playful! All glitter options contain transparent bases so they can be used on face, hair, and body to glam up your look. It is also water and sweat-proof and contains no paraben so it stays on for long without causing any irritation or harm.
Special Care
Glow Care (Natural Highlighter)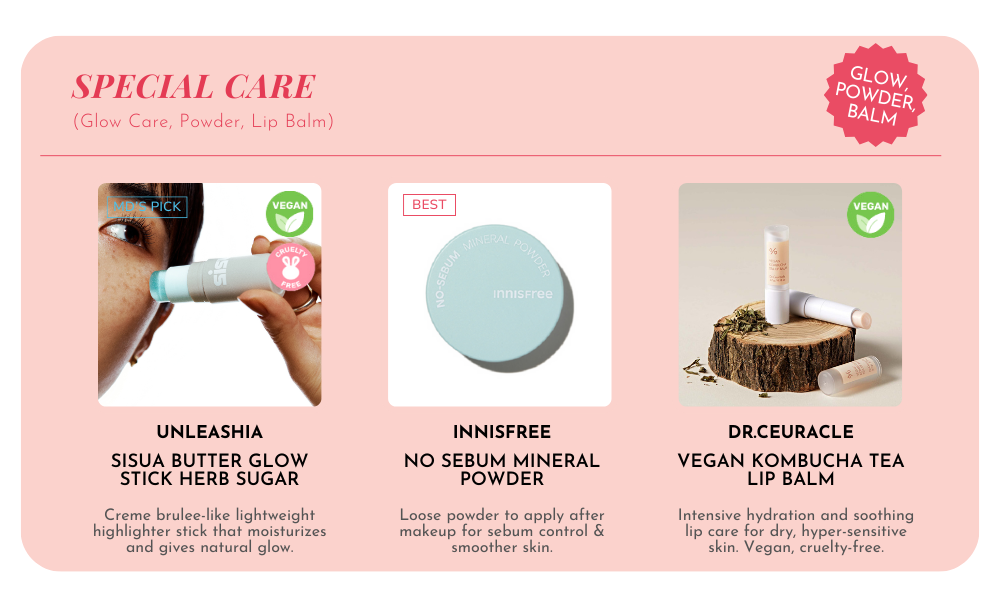 UNLEASHIA SISUA BUTTER GLOW STICK HERB SUGAR
Unleashia's Sisua Butter Glow Stick contains various plant-based oils, such as Calendula and Sunflower Seed Oil with fine rose gold pearl shimmer to provide your skin with skincare benefits and a healthier glow appearance than regular highlighters. We have seen nothing like this must-have item, which is why we have chosen this glow care stick as one of UMMA MD's pick.
Powder
INNISFREE NO SEBUM MINERAL POWDER
This product needs no introduction as the best loose mineral powder finish for a shine-free skin. It is applied after makeup and to retouch for when your skin becomes oily throughout the day. It will absorb and capture any excess sebum and keep your skin looking smooth without any irritation.
Lip Balm
DR.CEURACLE VEGAN KOMBUCHA TEA LIP BALM
Are you a fan of Dr.Ceuracle Vegan Kombucha Tea Essence? Say no more, and add this best selling essence formula to your lips to nourish and hydrate all day. Vegan certified and cruelty-free, this lip balm contains Dr.Ceuracle's Kombucha extract formula, Olive and Shea Butter extracts for the perfect buttery-smooth lips you've always wanted.
Lip Makeup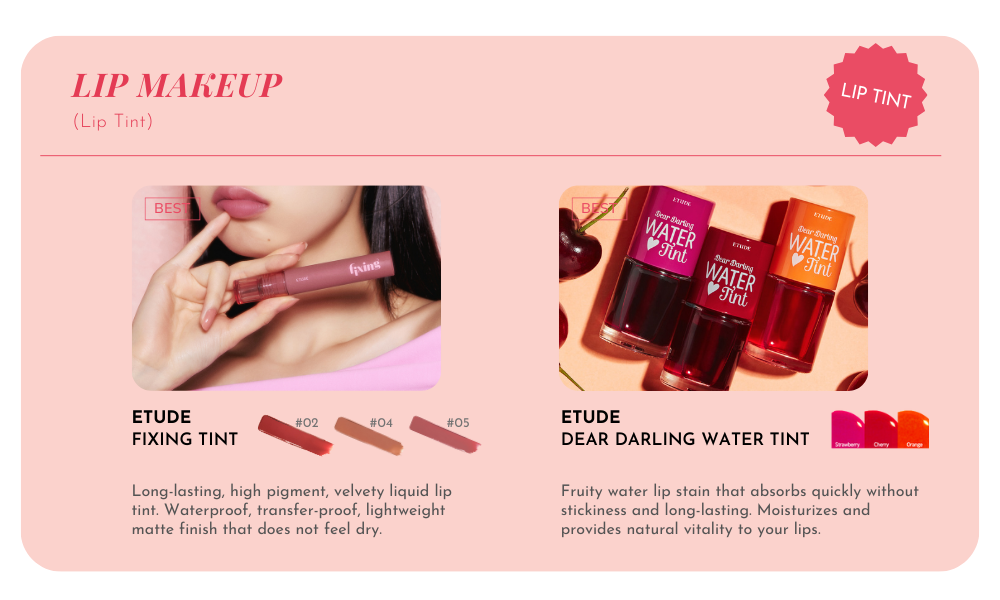 ETUDE FIXING TINT
One of the original best selling lip tints in the market, Etude's Fixing Tint formula provides long-lasting, transfer-proof color for your lips. It is a lightweight matte formula that blends into your lips without dryness.
ETUDE DEAR DARLING WATER TINT
If the Fixing Tint provides a velvety lip liquid stain, these also best selling Dear Darling Water Tint provides a watercolor-like liquid tint that feels refreshing. It applies like watercolor, creating a more natural lip stain effect while providing the moisture your lips need.
ROM&ND JUICY LASTING TINT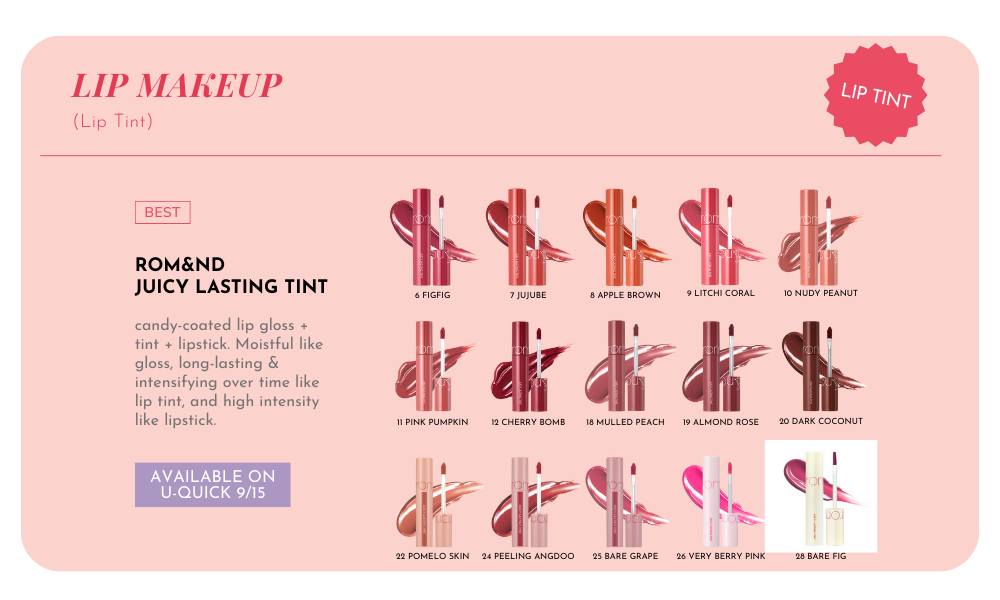 Rom&nd's Juicy Lasting Tint is the best 3-in-1 lip tint available, and constantly going out of stock. It provides a glossy effect when first applied like lip gloss, stains the lips like lip tint for long-lasting color, and the color is highly pigmented like lipstick.
Cheek/Blush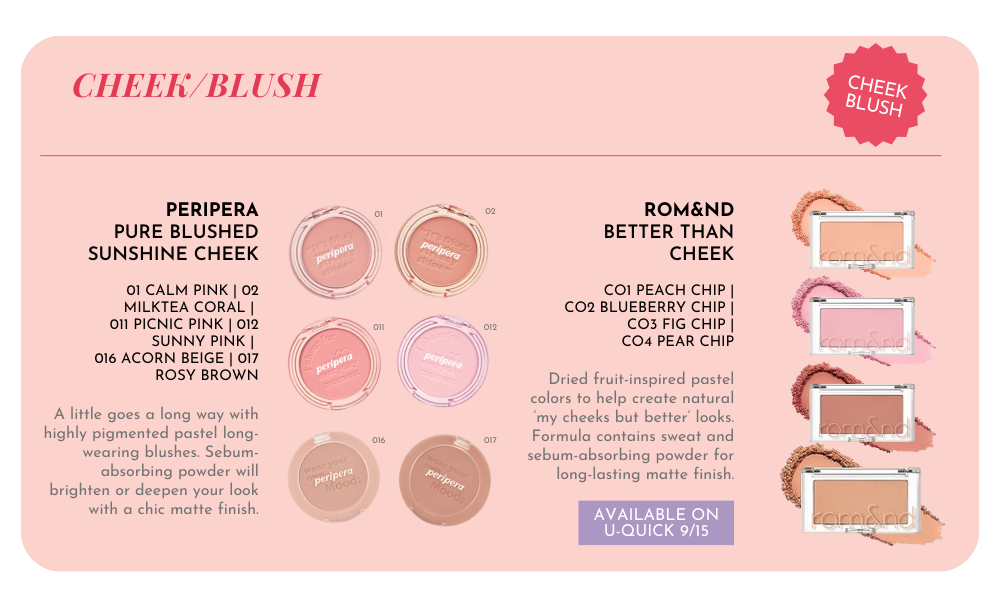 PERIPERA PURE BLUSHED SUNSHINE CHEEK
Peripera's Pure Blushed Sunshine Cheek series provide a range of shades that can be repurposed as eyeshadow and contour colors. The sebum-absorbing powder provides a chic matte finish that lasts long. Due to its highly pigmented micro-powder formula, a little dab can provide a bright (or deepened) liveliness to your look.
ROM&ND BETTER THAN CHEEK
Rom&nd Better Than Cheek series is inspired by dried fruit pastel colors to help create the most natural 'my cheeks but better' looks. The powder formula is also sebum-absorbing and lasts a long time, creating gorgeous, natural matte finishes.
Get an extra 5% off already low wholesale prices on all UMMA's 2023 Makeup Picks today! Limited offer ends of September 30, 2023.
For more details of the promotion, sign in and click on the main giveaway banner on the homepage.
Why Choose UMMA?
UMMA offers over 130 best and trending Korean skincare, makeup, hair and body care brands with over 8,000 product selections. We provide fast shipment option (U-Quick), low and competitive wholesale prices, and unbeatable 1:1 sales support.
This is how U-Quick works: we stock up on 2000+ best selling products in high demand around the world, and we ship them within 48 hours of confirming your order. These products can be found when you use the 'view u-quick' filter.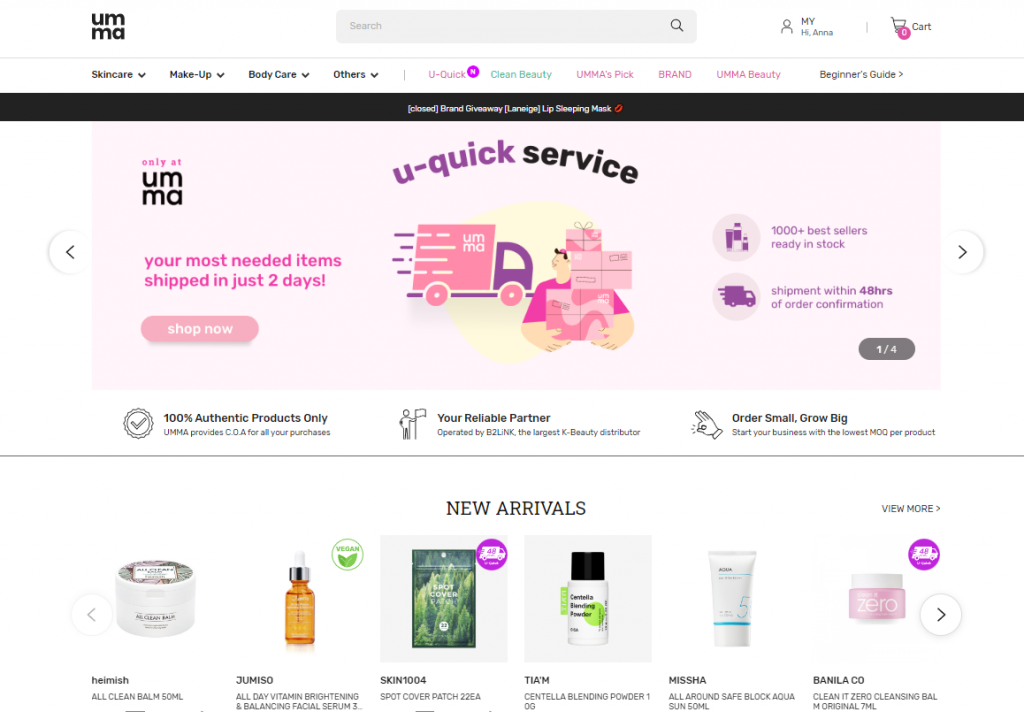 Furthermore, for every purchase, we provide a cash back program, called UMMA points, to continuously support the growth of our members.
You can also find more discount and giveaway promotions to support your business sales and test new products in your market prior to making a purchase.
Lastly, we work hard (we really do!) to provide 1:1 sales and customer service, source products requested from you, and a plan a multitude of promotions for you to experience various kinds of dedicated support from us.
If all of this sounds like a good opportunity for you, don't hesitate to join our K-Beautiful family now. For more details about our service, check out our FAQ page.