Some by Mi has created waves in the K-beauty industry with its toner. The famous AHA BHA PHA 30-day miracle toner is all the rage in the skincare industry as it delivers what it promises: a miracle! Make sure to stock up on miracle products of Some by Mi on wholesale at Korean cosmetics e-commerce, UMMA.
There are many brands with skincare products that cause skin irritation for various skin types. But the best part about Some by Mi is that each product is guaranteed to soothe and calm the skin. All the ingredients are extracted from nature and free from stimulants that give instant results. You would think 'instant result' is a good thing. But most of those type of products cause skin irritation and are not long-lasting. Some by Mi products contain extracts that focus and deal with skin problems naturally.
A True Miracle!
What makes Some by Mi a popular brand name in the Korean beauty industry? The answer is simple: the promise of calming down irritated skin. Every product is formulated using ingredients that do not cause harm to the skin. And they are rather effective and long-lasting.
Each and every one of their products have something miraculous to say. But, here are just some of Some by Mi's best skincare products listed below.
AHA BHA PHA 30 Days Miracle
Before we jump in, take a look at the function of AHA, BHA, and PHA. AHA helps in removing dead and flaky skin while BHA targets open pores by reducing them visibly. To complete the skincare cycle, PHA focuses on locking in moisture and removing keratin. Take a look at the top 4 Miracle products.
Toner
First is the toner. If there's anything you should stock up on as a K-Beauty shop owner, it's this toner. This AHA BHA PHA 30 Days Miracle Toner has made waves around the world; so much that one bottle is sold every three seconds!
As the name suggests, the formula treats multiple skin problems. The toner is enriched with AHA, BHA, and PHA, and also includes witch hazel and papaya extracts. The combination of ingredients carry out their miracle to produce smoother, brighter skin.
Serum
The second miracle: AHA BHA PHA 30 Days Miracle Serum. It has done wonders for users by improving acne-prone skin in a month. The cooling effects of the serum help in reducing redness, calming skin inflammation and rejuvenating the skin. Resulting in a clear and smoother skin tone.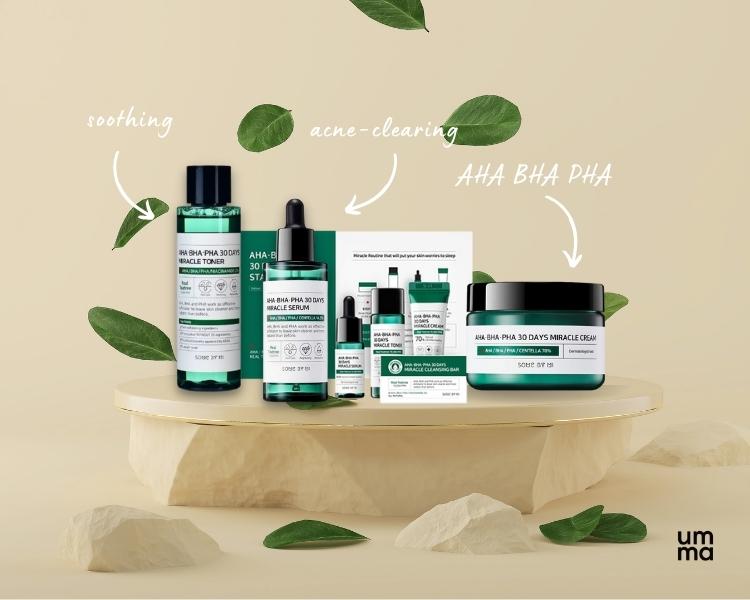 Cream
The AHA BHA PHA 30 Days Miracle Cream is the third miracle. An ingredient known to cure scars on a tiger, called Centella Asiactica is added to this cream. 4 Cica Care is also included to strengthen skin barriers weakened over time.
This miracle cream is enriched with 10,000 ppm of natural tea tree extract. The AHA, BHA, and PHA ingredients help in normalizing the skin turnover cycle to remove dead skin cells gently with deep miniaturization.
Starter Kit
This AHA BHA PHA 30 Days Miracle Starter Kit is high in demand as it comes at an affordable price tag, and comes in fourth of the most demanded miracles. It consists of the cream, serum, and toner along with a cleansing bar. You may be surprised, but the demand is all the more high because of its travel-size volume. The consistent demand is why this kit has been UMMA's pick for a long time. So, pick up your stock before it runs out!
The steps of using the kit are simple. Start with the cleansing of the skin using the bar, followed by toner, then serum and finally the cream. This 4-step skincare is enough for anyone facing acne-prone skin with open pores and dark spots.
Truecica™
Truecica™ is Some by Mi's exclusive formula. It includes mugwort extract, tea tree leaf water, asiatic pennywort extract, and titrated asiatic pennywort extract. The golden ratio formulation to soothe troubled skin and strengthen its barrier.
The two highly in-demand products of Some by Mi x Truecica are the Miracle Repair Toner and Calming Tone Up Sunscreen.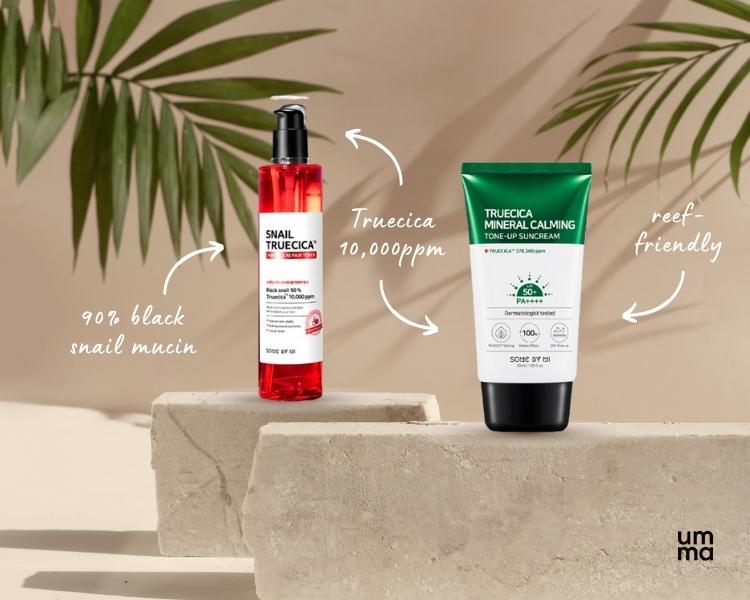 Snail Truecica Miracle Repair Toner
This toner contains 90% black snail mucin, niacinamide, and 10,000ppm of Truecica. It is highly praised for improving acne scars, and relieving irritated and red skin. Despite the light viscosity, reviewers commend the hydrating feel left after even light application. Users have seen visibly better skin results after using up one bottle.
Truecica Mineral Calming Tone Up Sunscreen
Skincare gurus swear by Truecica Mineral Calming Tone Up Sunscreen. It leaves the skin feeling fresh, and non-greasy, which is not common with sunscreens. This sunscreen contains 85% moisturizer and 10,000ppm Truecica which creates a barrier against skin damage. Another perk to this product is that it was developed with reef-friendliness in mind to minimize environmental damage.
Everybody Wants Some by Mi!
The demand for the four-step skincare starter kit is high around the world giving retailers a huge business opportunity. The starter kit contains a cleansing bar, toner, serum, and cream. This has thousands of 5-star reviews as it transforms any skin in 30 days. At UMMA, you can get the starter kit and more products from the award-winning brand wholesale. For all Korean beauty products wholesale, register with us free!