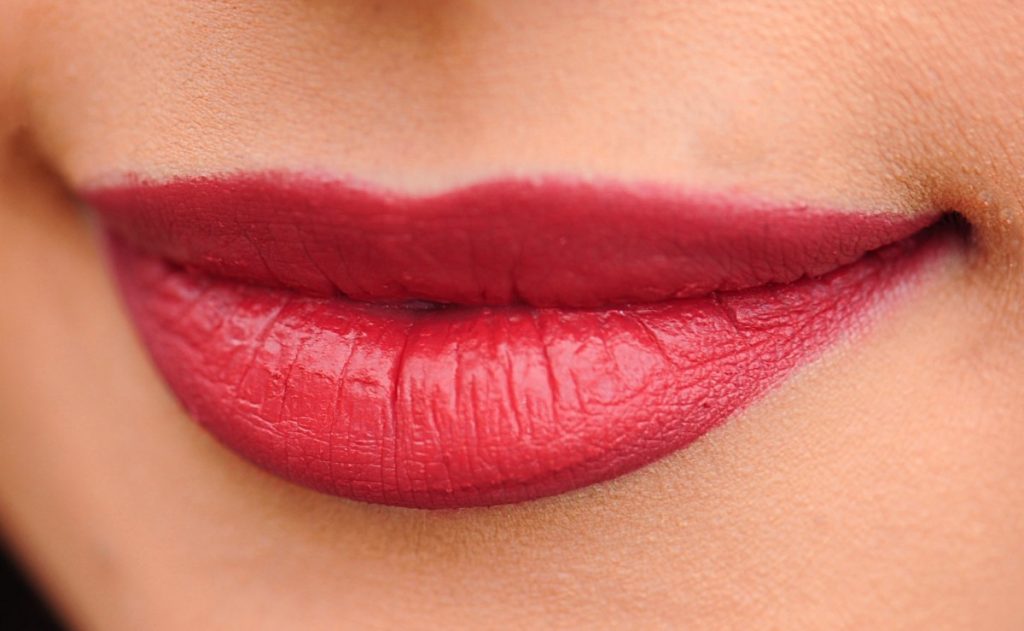 Are your lips chapped? Do you wake up in the morning and have a cracked layer of skin on your lips? Do your outer lips have a black hue?
If so, then we have got a solution for you. The Lip Care Country brings you its nourishing balm that will revitalize your lips and make them whole and healthy again!
Enriched with jojoba oil, the balm forms a protective layer over the lips, which locks in moisture that soothes dry, cracked, and chapped lips. It's the kiss of moisture that will nourish your lips and make them beautiful again.
Would you be interested in such a product? Lip care should be an essential part of your beauty routine because next to your eyes, lips are the most striking feature on your face!
A swipe of red on your lips, and it will bring all the boys to the yard… if you know what we mean *wink*.
The keys to having soft and pink lips are hydration and the right lip balm. To give you both, we have created a short guide that covers not only lip care tips but also K-Beauty lip care products, which are currently trending.
Key Takeaways
• Lip care should be a part of your beauty routine as it ensures soft and pink lips.
• The best way to avoid chapped lips and lip aging is to exfoliate them and apply a moisturizing lip balm.
• To start your lip care routine, you need to first increase your water intake. Make sure to use a lip balm and lip sleeping mask, and try red light therapy.
• The best lip care tip is to stop licking your lips because it's what leads to chapped lips. Others tips include removing makeup, massaging your lips, using a DIY honey scrub, and doing a little citrus application in the morning.
• K-Beauty Recommendations: Lip Sleeping Mask by Laneige, My Lip Balm by Innisfree, Sweet Cherry Color Lip Balm by Etude House, Lip Care Cream by The Face Shop, and Canola Honey Lip Balm by Innisfree.
Are You Interested In Lip Care?
If Chandler can wear lip balm and Joey can do a commercial on it, then what's stopping you from getting on board this lip care train? Your Friends have been and are telling you, courtesy of Netflix, to wear lip balm. So, do it!
We might have gone a bit tad overboard, but surely you can see why. You are probably now dying to know what tips and tricks we are about to impart.
Let's begin:
Importance of Lip Care
Have you ever thought about giving the same amount of attention to your lips as you give to your face? Every night, you sit in front of your bedroom vanity mirror and give your face the full spa treatment. Yet, you bemoan about your lips that how discolored and chapped they are.
Well, enough is enough! Take that exfoliate, and give your lips a little scrub too. Well, not the one for your face, of course. Buy one that's specially made for lips.
The reason you need to take care of lips is that they are constantly exposed to environmental elements. The more moisture gets sucked out of your lips, the drier they become. This puts them in a vulnerable state where the skin starts to break and bleed.
Since this is a prominent feature on your face, you look older. To stop these signs of aging, you need to exfoliate your lips regularly and apply lip balm so that the moisture gets absorbed in deep.
Things You Will Need for Your Lip Care Routine
Now, let's talk about the ultimate lip care routine. If you don't know where to start from or how, then read the following advice to get on track:
As mentioned earlier, lip care is all about moisturizing your lips. So, the first thing you need to do is increase your water intake. According to the CDC, women should drink at least 13 cups of water daily. The more moisturize your body has, the less chapped your lips will be.
Always have a lip balm in your purse and on your dressing table. Make sure that the lip balm you are applying does not have ingredients like eucalyptus or menthol because they can cause irritation. Apply the lip balm generously day and night.
Lip masks give you better look lips in just 20 minutes. So, give these a try too.
In order for the moisturizer to be absorbed by your lips, you need to first exfoliate them. Use lip scrubs with calming ingredients such as honey and Jeju extracts.
Chapped and cracked lips and dark skin are all signs of aging. Try red light therapy to stimulate collagen. This will help increases firmness in your lips and give them a more youthful appearance.
5 Tips for Lip Care
We have covered the basic points of lip care, which are to stay hydrated and use lip balms. Following are five lip care tips that you can easily add to your lip care routine:
1. Do Not Lick Your Lips
When you lick your lips, the saliva on your skin quickly evaporates, leaving your skin dry. The enzymes in saliva are too harsh for the lips, and that's why the skin cracks. Always keep a lip care stick in your purse and apply it after every few hours.
2. Remove Makeup
Makeup always creates a barrier on your skin. By letting it stay overnight, your skin pores become clogged due to all the chemicals. So, use a makeup remover to wipe your lipstick, exfoliate it with a scrub and then apply the lip balm.
3. Massage Your Lips
To stimulate your lips, massage it with essential oils for 5 minutes every day. This boosts circulation and keeps your lips looking fresh.
4. Use a Honey Scrub
To lighten your lip color and make it pinker, use a scrub that contains honey, such as Honey and Milk Scrub from Aꞌpieu. Since honey is a humectant, it keeps the lips moisturized. Moreover, the enzymes in honey offer great lip care for dark lips.
5. Use a Lip Plumper to Get the Blood Circulating
If you want your lips to appear fuller and bright, then use a lip plumper. We are talking about that lip tool that gives you a pout but a simple product such as Devil's Plumper by Holika Holika. It contains collagen and jojoba oil that improves your skin and chili extract that gives a tingling sensation. This helps rub off dead skin and make your lips appear brighter and more beautiful.
Recommendations – K-Beauty Lip Care Products
Now that you know how to keep your lips soft and pink, let's take a look at another mode of nourishment. K-Beauty products have created a name for themselves for being the best in the market. We bring to you the top five K-Beautylip care products, which you can get from UMMA.
Lip Sleeping Mask by Laneige
The Laneige Lip Sleeping Mask is a little pink tub of berry goodness that you will have a hard time preventing yourself from licking once applied on your lips. The softening texture of this balm sticks to the lips and gets quickly absorbed within 15 minutes. This lip sleeping mask is enriched with a Berry Mix Complex™, antioxidants and Vitamin C that offers a blend of blueberry, strawberry, raspberry and cranberry. Combined with the other two ingredients, this mask is a powerhouse that will give you berry lips, literally. The mask also has a Moisture Wrap™ technology that boasts minerals and hyaluronic acid, which provide an overnight protective layer. As a result, when you wipe off the lip mask in the morning, your lips feel refreshed and are soft and supple to touch.
My Lip Balm by Innisfree
My Lip Balm by Innisfree is right now one of the best K-Beauty products that are trending in the lip care market worldwide. The key to its success ― different tea extracts. Some of the top tea flavors that Innisfree lip balm offers include green peppermint tea, sky vanilla tea, dried rose tea, and sun-kissed cherry tea. It's the tea complex in these lip care balms that stop moisture from evaporating. The other ingredients such as sunflower seed oil, beeswax, cupuacu butter, castor oil, jojoba oil and more give long-lasting hydration. This gives your lips a non-greasy blockade that keeps the skin looking dewy fresh. The balm comes in a variety of shades. 1 is clear, 2 and 3 have a soft pink transformation after they are applied, and 4 through 11 give a more opaque and deep shade.
Sweet Cherry Color Lip Balm by Etude House
The Sweet Cherry Color Lip Balm by Etude House is an ultra-hydrating lipstick-like lip balm that revitalizes and moisturizes your lips. Infused with different fruit extracts, especially cherry extract and oils, it locks in moisture and keeps your lips soft all day long. The lip balms are available in 5 light pinkish-red and orange shades that match your natural skin tone. What makes these lip balms so special and good for your lips is that they are all enriched with oils. As a result, the lips not only get a dose of moisture but stay moisturized for a long time.
Lip Care Cream by The Face Shop
The Lip Care Cream by The Face Shop has been revamped. At first, this lip care line included only one flavor – Shea butter. Now, the line includes two new flavors, which are mango and honey. The key ingredient in these lip care creams is Shea butter. Not only is this lip care cream affordable, compared to other lip care products but long-lasting too. It keeps your lips moisturized for like… forever. Many K-Pop celebrities use this lip care cream. Kyung-Sun, a Korean actress currently appearing on Netflix, says that this is a lip balm that she cannot live without. So, you know this lip care product is that good!
Canola Honey Lip Balm by Innisfree
The Canola Honey Lip Balm by Innisfree is a powerful lip balm that contains Jeju Canola Honey extract. Other essential ingredients of this lip balm that nourish your lips and soften them include canola seed oil and mango seed butter. Combined, the formula of the lip balm improves lips elasticity and gives them a lustrous look. If you have scaly lips that you often encounter in the morning and want to peel off, then this lip balm will banish this urge. The lip balm can be applied at night. It easily absorbs into the skin and does not leave any residue behind.
Conclusion
If you ask us, all of these lip care products are a must-have. Imagine prepping for an outdoor meeting, and when you start to get ready, you see your lips all chapped and cracked. Right about then, you could use the Lip Sleeping Mask by Laneige. For out and about chore runs, keep the Sweet Cherry Color Lip Balm by Etude House in your purse. As for the others, add them to your morning and nighttime beauty routine.
If you are a wholesaler, partner with UMMA to keep track of the latest products from the brands mentioned above. To get the latest news about K-Beauty lip care products, visit our website and subscribe to our newsletter.

You can also sign up to get access to the full list of brands we offer.