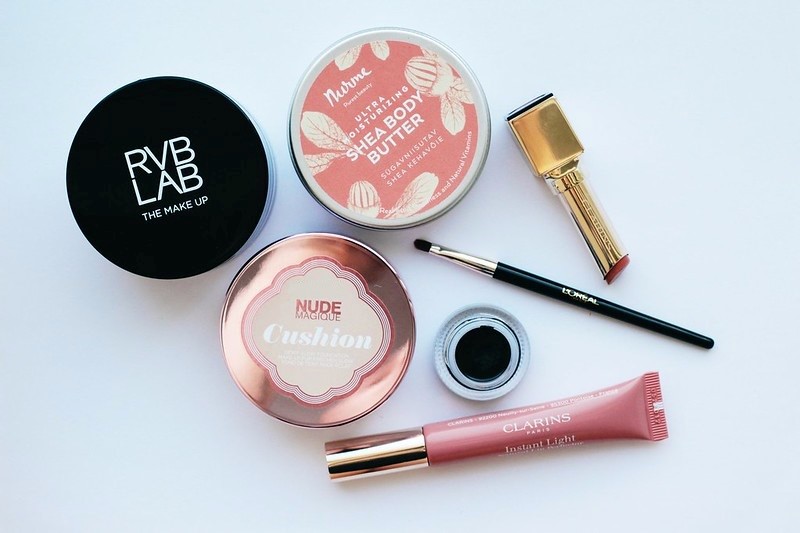 Keeping track of the latest beauty trends is quite frankly exhausting. As a woman, you need to know about the best makeup products that offer a natural glow, which means ― always be on the lookout for up and comer.
Guys and their man-buns haven't changed much. There was some revolution in the beard oil industry, but that's about it. As for chicks, fashion keeps changing, and so do beauty trends. One day it's the foundation stick that is being heavily advertised, and the next, its cushion makeup.
We know what you are thinking. "What has cushion makeup to do with foundation?""What even is cushion makeup?"
Got you interested, didn't we? Well, buckle up because we are going to tell you about the holy grail of foundation makeup, and it will blow your mind.
Key Takeaways
• Cushion makeup is a compact that contains liquid instead of powder. The cushion is soaked in foundation, which can be applied with a sponge.
• Cushion makeup is a Korean find by Amorepacific, which was introduced in 2008.
• Cushion foundation is applied like any other foundation. The sponge is pressed on the cushion, which releases the liquid.
• K-Beauty Recommendations: BB Cushion Whitening by Laneige, FMGT Oil Control Water Cushion by THE FACE SHOP, M Magic Cushion (Moist Up) by MISSHA, Nudism Velvetwear Cushion SPF50+ PA+++ and May Queen Big Cushion SPF50+ PA++++ by MAYCHIC
What Is Cushion Makeup?
As one can guess from the name, cushion makeup involves the use of cushion for application. It also involves the use of a sponge. In fact, the use of cushions and sponges takes place in various areas. But today we will talk about Korea's cushion makeup, so it would be nice to think of it as a foundation for base makeup. The only difference between cushion makeup and the pressed foundation is that the former comes in liquid form, whereas the latter in powder.
The compact cushion is pressed, which releases the liquid foundation on to the sponge. You can then easily apply it to your face. One of the best things about cushion foundation is that you don't have to worry about accidentally letting out too much foundation, which is what usually happens with tubes. No matter how hard you press, the cushion will release a minimum amount of foundation. If you want more, you can press it multiple times.
Cushion vs. Liquid vs. Stick vs. Powder – The Difference Between Foundations
So, cushion makeup is neither an accessory for your couch nor the beige stains that you see on your pillowslip when you don't remove your makeup.
In case you are wondering, it's not the round compact that is often found in purses ― the kind of makeup that comes in loose or pressed powder form. Although they both have cushions, they are not called cushion makeup. Simply put, the Korean cushion foundation is a base in a cushion. It gives a natural and dewy finish. Here's how it differs from other types of foundation:
Liquid Foundation
Liquid foundation is the most common type of foundation. It offers plenty of coverage opens and is great at hiding scars and acne marks. It offers a matte finish, which gives your skin a clean and clear look. This foundation is also available in different consistencies such as cream, mousse and serum.
Stick Foundation
If you want to cover blemishes on your skin, then this foundation is the best choice. The easy application of this foundation is what makes it a favorite of people who need regular touchups. This foundation is a bit thicker so you need to find the ideal shade. It can also be used as a concealer.
Powder Foundation
This is the compact foundation that every woman has in her purse. It's for the on-the-go and discreet touchups that you need to do in a hurry. Powder foundation is lighter in weight, offers a natural look and matte finish. Another type of powder foundation is a mineral foundation, which comes in loose powder form and is made of organic ingredients. The only problem with this foundation is that using it can be a little messy.
Here's a chart that will help you understand which foundation is used for what skin type:
| | | | | |
| --- | --- | --- | --- | --- |
| Foundation Type | Skin Type | Coverage | Finish | Wear Duration |
| Cushion | Oily and Dry | Light, Medium and Full | Natural Looking and Dewy | 24 Hours |
| Liquid | Oily but Mostly Dry | Light, Medium and Full | Matte and Dewy | 3 to 4 Hours |
| Stick | Normal and Oily | Light and Medium | Matte | 12 Hours |
| Powder | Oily | Light and Medium | Matte and Luminescent | 2 to 3 Hours |
The reason why cushion foundation should be your top choice is that it does not give you that caked-on feeling that you get with liquid foundation. Plus, the cushion and sponge have anti-microbial and anti-bacterial properties. While the cushion will stay safe and clean due to the compact, do wash your sponge every weak because that can transfer bacteria onto your skin. Lastly, cushion foundations suit all skin types and offer a natural glow.
Are You Using It Right?
Since we have brought a new liquid foundation makeup to your attention, we wouldn't leave you hanging by not explaining how it's applied.
Here's how to use cushion foundation:
Step 1 – Gently press your sponge on the cushion to release the foundation.
Step 2 – Apply the foundation on your face and fold the sponge in half for the hard-to-reach areas.
Step 3 – Blend the foundation for even coverage.
Step 4 – Apply concealer.
Step 5 – Apply pressed powder for a perfect finish, and then use a bronzer for contouring.
Do You Know – Cushion Makeup's Origin Is K-Beauty?
It was in 2008 in Seoul when the craze for cushion started. K-Beauty has always been praised for coming up with the best makeup products that are made with natural ingredients. This revolutionary makeup was created by Amorepacific, a cosmetics company in Korea. The company created a "Cushion Lab" that was specifically dedicated to creating the best cushion foundations. In the year, the company launched its first cushion makeup product; it made more than 3.8 million KRW. To make sure that the customers got the best of the best, the company tested over 200 sponges to find the right applicator. By 2015, cushion makeup had spread from Korea to around the world, making the country a pioneer in the makeup industry once again.
Change the Makeup Routine – How About K-Beauty Cushion?
Korean women are known for their skincare routines. When it comes to makeup, they make sure that whatever they are using is made of natural ingredients. This is why K-Beauty is so revered in the world. You will find cushion foundation extremely easy to apply and light on your face, compared to foundation sticks, which are often dry tube foundations that get thick and creamy.
Recommendations – Korean Cushion Foundation
Now that you know the difference between pressed compact powder and cushion makeup, what would you prefer? Since K-Beauty is leading the cushion foundation line, we have gathered the top five Korean products, which can be found at UMMA.
BB Cushion Whitening by Laneige
The Laneige BB CushionWhitening gives you a white, bright and clear complexion. This BB cream comes in 11 different shades is best for creating a natural look. The three secret ingredients that make this Laneige cushion perfect for every occasion are the Sparkling CoatTM Pigment Technology, which gives a coat of water and pear for ultimate dewiness and brightness. This is not just a foundation but a skincare cream too that prevents the skin from turning dark. The SKIN FIT cushion in the compact coats the sponge evenly, which allows for uniform application. This also gives you radiant skin. Lastly, the Super Flex LastingTM Technology improves skin adherence. As a result, the foundation stays for a longer time on the skin.
FMGT Oil Control Water Cushion by THE FACE SHOP
The FMGT Oil Control Water Cushion by THE FACE SHOP is for all skin types. Its sebum-controlling, hydrating formula keeps the skin fresh even with a matte look. It protects the skin from harmful UV rays. It also offers full coverage for normal, oily and dry skin. This cushion foundation has a Multi-Particle Technology, which allows for a thin spread of the foundation that goes evenly on the skin. This ensures weightless wear that doesn't clog your pores. It also addresses skin troubles such as wrinkles, dull skin and lack of moisture. If you are looking for cushion makeup for dark skin, then this is the one you need to buy.
M Magic Cushion (Moist Up) by MISSHA
The M Magic Cushion by MISSHA is known for its long-lasting coverage. The three key ingredients in this cushion foundation are bamboo water that refreshes skin and replenishes hydration, baobab tree fruit extract that gives a radiant glow and witch hazel extract that minimizes temporary redness and pores. The compact has a non-drying cushion infused with the leaf extract of rosemary and chamomile flower. Both these ingredients aid healing and make it idle for oily and dry skin. Lastly, the ceramide and hyaluronic acid locks in the moisture and gives the skin more elasticity, which slows down aging side effects.
Nudism Velvetwear Cushion SPF50+ PA+++by Clio
The Nudism Velvetwear Cushion SPF50+ PA+++ by Clio is a cushion foundation from the brand's Nudism line, which contains 5 different skin shades. The foundation offers a flawless nude touch that lasts all day long. The foundation's formula blurs out pores and offers natural radiance and glow, youthful complexion and long-lasting hydration. The hydrating properties of the ingredients, pearl powder and spring water, deliver a smooth and dewy look that can withstand moisture, sebum and sweat. Apply a little powder foundation on top, and you will be ready to face everything.
May Queen Big Cushion SPF50+ PA++++ by MAYCHIC
The May Queen Big Cushion SPF50+ PA++++ by MAYCHIC has a pretty complex list of ingredients, which include Water, Zinc Oxide, Cyclopentasiloxane, Titanium Dioxide, Ethylhexyl Methoxycinnamate and more. The formula offers the ultimate UV protection. The high water content in the foundation keeps the skin hydrated, which improves wrinkles. Combined with the other ingredients, this cushion foundation is a whitening powerhouse. The foundation offers extremely high UVA protection and can be worn all day long.
Conclusion
So, what's the verdict? Does the cushion foundation excite you? The M Magic Cushion by MISSHA is great for dry skin. It has an oily base and keeps dry skin moisturized. As for cushion makeup for dark skin, you will find the FMGT Oil Control Water Cushion by THE FACE SHOP right up your alley. The May Queen Big Cushion SPF50+ PA++++ by MAYCHIC works wonders for oily skin. The remaining cushion foundation products can be used for everyday wear for long-lasting effects.
If you are a wholesaler, partner with UMMA to keep track of the latest products from the brands mentioned above. To get the latest news about K-Beauty cushion makeup, visit our website and subscribe to our newsletter. You can also sign up to get access to the full list of brands we offer.