What exactly is minimal skincare?
It is one thing to minimalize your skincare steps, but it's another thing to use skincare products from a minimalist brand. The difference is in the label.
While many great Korean skincare brands have innovative products great for targeting specific skincare needs, their ingredient label may contain a lot of – well, words. True minimalist brands contain just the essentials with no unnecessary additions. One great example of a Korean minimal skincare brand that's rising to the top is Pyunkang Yul. But here, we'll discuss a new hidden gem, Mixsoon.
Mixsoon, the brand
Mixsoon humbly provides a wide range of skincare products containing only one or a few essential active ingredients that cause little to no irritation. Their hero products consist of essences and toners that have 100% extracts, no water, preservatives, alcohol, or fragrance added. Many are vegan certified, and they are so mild you can blend a couple together to fit your skin needs.
At UMMA, we provide hand-picked best, trending, and niche Korean cosmetics and skincare brands that meet the demands of the global beauty community. And we are confident this brand is worth sharing with the world. So here are some of the top selling products by Mixsoon for you to check out:
Master Gentle Recipe Foam Cleanser
The Master Gentle Recipe Foam Cleanser contains 8 powerful essential ingredients to provide the gentlest deep cleansing without damaging skin barrier. The 8 ingredients include: Hydrolyzed Hyaluronic Acid, Centella Asiatica Extract, Houttuynia Cordata Powder, Madecassoside, Ceramid NP, Panthenol, Gluconolactone(LHA), Capryloyl Salicylic Acid(PHA).
These ingredients blend with a synergetic effect to cleanse effectively, soothe and fill the skin with nourishment to reveal a clearer, smoother skin.
Soondy Centella Asiatica Essence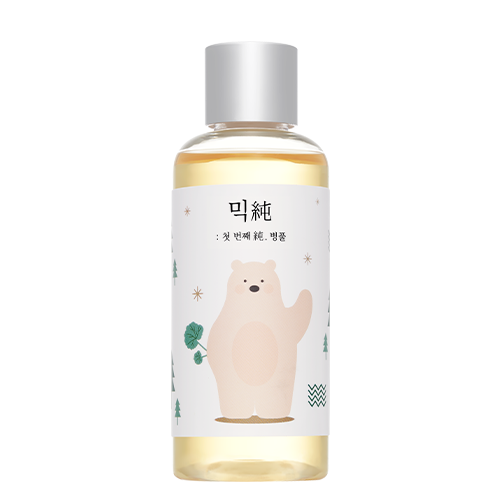 Soondy is the name of the bear character on this limited edition centella essence. It is Mixsoon's mascot, and a symbol of their promise to work for cleaner products. This essence contains purely 100% locally grown centella asiatica extract. While the bottle seems small in size, a few drops of this formula is enough to soothe away redness and blemish, and provide ample amount of moisture.
The top is capped with a drip control seal to allow just enough formula to be tapped out. Reviewers especially sensitive to the touch and smell absolutely love the scent-less mild formula that causes zero irritation.
Master Serum
Mixsoon's Master Serum contains only 5 essential ingredients (Hydrolyzed Hyaluronic Acid, Sodium Hyaluronater, Panthenol, Centella Asiatica Extract, and Bifida Ferment Extract) delivering the perfect balance of lightweight application and long lasting hydration. This serum restores nourishment and moisture to tired skin, revitalizing the barrier.
Reviewers love the lightness of the formula that absorbs quickly and lasts for a long time. And due to the formula containing only essential ingredients, it is mild even for sensitive skin.
✨Best seller: Bean Essence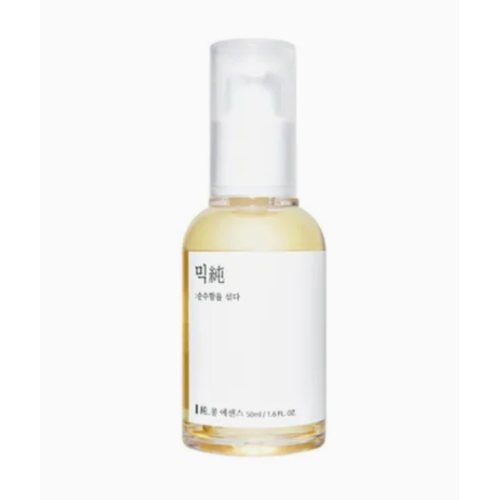 This vegan certified fermented essence is the perfect starter when introducing Mixsoon to those around you. The formula appears almost mucin-like when you first pump out the formula, but feels almost like light oil that quickly absorbs into the skin when applied.
This essence contains a blend of Soybean, Barley, Pomegranate, Pear Juice Ferment Extracts for the perfect egg smooth skin with a glow finish.
There are two ways you can apply this product. One, you can either lightly tap the formula onto the skin for absorption after the toner step. The second way is to use it right after cleansing and massage into the skin like a gentle exfoliator.
The Pomegranate ferment is a natural AHA that mildly peels dead skin cells and excess oil when you massage the formula into the skin. You can even see and feel the residue rubbing off. It is recommended when you apply it this way, to wipe off the residue with a cotton pad soaked with the essence.
The unique 2-in-1 effect itself will be surprising enough to empty the bottle yourself!
Get Best Selling Mixsoon Products Wholesale at UMMA!
Aside from the above top four, Mixsoon has an amazing variety of great skincare products for each individual needs. UMMA provides great competitive wholesale prices for Mixsoon products and other Korean skincare brands.
At UMMA, we hand-pick the best, trending, and niche brands wholesale at low competitive prices.
With 1:1 personal assistance, 24/7 live chat service on the website, and 48 hour shipment option, we guarantee a friendly, convenient wholesale shopping experience with us.
To uncover more Korean cosmetics and skincare brands, like Mixsoon and get some sweet deals with exclusive benefits, register free today and get in touch with us. Sign up now and get a discount bonus you can use on your first purchase.