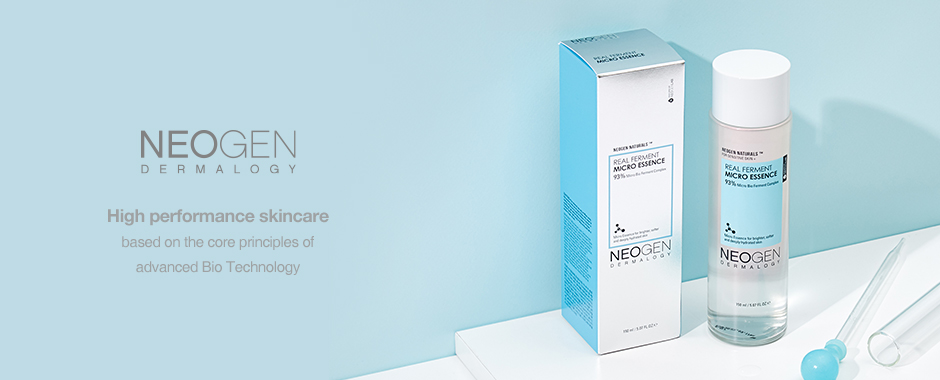 Founded in 2000, this Korean brand is driven by innovation. With a strong focus on developing high-quality products backed by science, Neogen is ever evolving and always on the lookout for new motivation and values. With various awards and 20 years of experience under its belt, Neogen prides itself on being sold in over 1000 stores around the world.
Neogen Dermalogy
Known for its emphasis on research and innovation, Neogen Dermalogy aims to provide customers with solutions to their skincare needs. To cater to all audiences and various skin types, Neogen has come out with multiple product lines. Making sure that every product line targets specific skin concerns, Neogen has made a name for itself all over the world as a brand that caters to all needs.
In addition to this inclusivity, Neogen offers its users the opportunity to customize their skincare routines. With this, Neogen encourages choosing products for specific concerns and skin needs.
Innovation & Formulation
All products are developed by NEOGENLAB, which takes inspiration from Neo-Nature to constantly innovate and create better formulations. With an emphasis on using biotechnologies to focus on better and more high performing solutions, the brand makes sure to back its formulations up with scientific research. As such, their formulas are effective and loved by people around the globe.
Mass Appeal: Neogen's Popularity
From the Neogen Green Tea Foam cleanser to the ultra-popular Neogen sunscreen, it seems that talk of the brand follows you everywhere you go. The global popularity of the brand can only be rivaled by a few other K-Beauty giants, and even then, Neogen isn't going anywhere.
There's a reason Neogen appeals to so many consumers – their constant innovation and introduction of new formulations not only furthers the idea of them being on top of their game and aware of the latest technology, but also cements their name in users' minds.
While most Korean brands are known for their cute packaging, Neogen comes across as a more serious brand, one focused on the quality of their products instead of just appearance. That isn't to say that their packaging is ugly – it is colorful and aesthetically pleasing, while also being sophisticated. Their emphasis on research and data-backed formulations also works to attract customers. This, coupled with the effectiveness of their products, makes them an extremely reliable brand.
Top 10 Neogen Dermalogy Product Recommendations
While Neogen has a line of truly remarkable products, this list can only include 10 items. The following are some of the very best items that the Neogen skincare range has to offer.
Best Neogen Dermalogy Products
Check out our tried and true favorites that are sure to wow you.
Neogen Dermalogy Real Fresh Foam Cleanser Green Tea
Hypoallergic and suitable for sensitive skin, this Neogen Green Tea cleanser gently cleanses the skin without stripping it of its natural oils. While it thoroughly cleans the skin, it features green tea, an anti-inflammatory antioxidant, to make sure that the skin doesn't get irritated.
Other soothing ingredients included for this very purpose are allantoin, panthenol, aloe, and various extracts. Hydrating ingredients like glycerin, hyaluronic acid, and acetyl glucosamine also help keep the skin moisturized and ready for skincare application.
Neogen Dermalogy Real Ferment Micro Essence
This lightweight Neogen essence is a pleasure to use since it immediately sinks into the skin without leaving any sticky residue. The Neogen Real Ferment Micro essence is one of the brand's bestsellers and for good reason – over 90% of its ingredient list is formulated with natural fermented ingredients which deeply hydrate the skin upon application. In addition to moisturizing the skin, this product promotes cell stimulation, which then results in brighter, clearer, and firmer skin.
The Neogen micro essence also benefits from the XXXX ingredients' anti-aging benefits – in addition to tighter skin, users can expect to see a reduction in the appearance of wrinkles. High quality ingredients like bifida ferment lysate, saccharomyces ferment filtrate, betula alba juice, and rice ferment filtrate make this product one of the best in the Neogen skincare line.
Neogen Dermalogy Real Vita C Serum
Every skincare routine needs a good Vitamin C serum, and Neogen has provided users with just that. Along with a stable form of Vitamin C, this formula includes niacinamide so that both ingredients can complement each other and result in brighter and more even-toned skin.
In addition to skin damage, this serum targets hyperpigmentation – with Vitamin C and niacinamide at work, sunspots and acne scars will be sure to improve. Along with hyaluronic acid, this formulation includes collagen for extra hydration. Tocopherol and panthenol also aid niacinamide in keeping breakouts under control.
Neogen Dermalogy Day Light Protection Sunscreen SPF 50+ PA+++
Lightweight and quick absorbing, the Neogen sunscreen is one of the brand's most popular products. In addition to providing broad-spectrum sun protection, this sunscreen also protects the skin from environmental stressors and promotes anti-aging. Antioxidants like raspberry fruit extract, portulaca oleracea extract, and tocopheryl acetate, together with glycerin, hyaluronic acid, beta-glucan and more result in making this sunscreen a multi-use product that seems to do it all.
Neogen Dermalogy White Truffle Ampoule Drop Mist
In addition to hydrating the skin, this mist protects the skin from environmental damage. A mixture of oil and ampoule, misting this on the face results in a burst of hydration that is quickly absorbed into the skin without leaving behind any sticky residue.
A combination of white truffle, vitamins, minerals, and amino acids, this mist is specially formulated to nourish dry skin. In addition to preventing transepidermal water loss, this white truffle mist adds to the skin barrier, which then helps protect the skin against environment pollutants like micro dusts. Other ingredients of note include hyaluronic acid, ceramide NP, arginine, niacinamide, glycerin, and panthenol. 
Neogen Dermalogy Collagen Lifting Cream
Bursting with hydrating and anti-aging ingredients like collagen, hydrolyzed collagen, ceramides, and peptides, this moisturizer encourages cell turnover to not only strengthen the skin barrier, but also increase tightness and elasticity of the skin. Known as a miracle product for more mature customers, this moisturizer results in plump, hydrated, and firmer skin. Squalene and hyaluronic acid further increase hydration while allantoin and panthenol work to protect the skin barrier.
Neogen Dermalogy Bio-Peel Gauze Peeling Wine
The Neogen bio-peel pads provide gentle but thorough exfoliation using PHAs lactobionic acid and gluconolactone. Because these pads use PHAs instead of AHAs, they are sensitive skin friendly, and will not result in redness or irritation. The formulation also uses calming ingredients like raspberry fruit extract, blueberry fruit extract, and chamomilla recutita oil to soothe the skin. These, combined with the various antioxidants and hydrating ingredients, make for a great exfoliator that is suitable for all skin types.
Latest Neogen Dermalogy Products
Neogen Dermalogy is known for research and innovation, and their newest formulas are better than ever. Check them out below.
Neogen Dermalogy A-Clear Aid Soothing Overnight Mask
Another standout product from the Neogen skincare line, this overnight mask is a godsend for oily skin. After the day's stressors, you can relax, sleep, and leave all the work to the mask. Using oil soluble BHA salicylic acid, this mask works all night to exfoliate the skin, remove impurities, and unclog pores. In addition to providing sebum control, salicylic acid leaves the skin smooth and free of dirt, effectively preventing blackheads and whiteheads.
While the BHA does its work, this overnight mask works to hydrate and soothe the skin. Using ingredients like centella asiatica, panthenol, green tea, willow bark extract, tea tree oil, and more, this formulation works double time by both, exfoliating and soothing the skin.
Neogen Dermalogy Probiotics Double Action Serum
Probiotics strengthen the skin and improve its immunity – this serum combines probiotics with skin barrier strengthening ingredients like ceramides to make sure that that the result is an extremely well-protected and moisturized skin barrier. Including powerful ingredients like niacinamide, adenosine, phospholipids, hyaluronic acid, squalene, as well as ceramides 1, 2, and 6, this product results in brighter, firmer skin. Soothing ingredients like allantoin and panthenol combine with lactid acid mix exfoliation and hydration to result in ultra-smooth skin.
Neogen Dermalogy A-Clear Aid Soothing Foam Cleanser
Perfect for oily and acne-prone skin, this cleanser not only removes excess sebum, but also removes bacteria, and thoroughly cleanses the skin without stripping it. For extremely thorough cleansing, this product uses the BHA, salicylic acid to exfoliate the skin, and uses acne-fighting ingredients like tea tree oil and lauric acid to thoroughly cleanse pores. Although salicylic acid isn't usually irritating to oily skin, the formulation still includes calming ingredients like panthenol, green tea, allantoin, licorice extract and more to soothe the skin. To make sure that the skin remains hydrated, glycerin, propylene glycol, panthenol, centella asiatica extract, and butylene glycol are used.
If you are a retailer looking to stock Neogen Dermalogy skincare, you're in luck. UMMA not only stocks staple Neogen Dermalogy products, but always makes sure to stock the latest products. Brand new releases may be hard to find elsewhere, but you can eliminate this problem by ordering from UMMA.
 At UMMA, we specialize in wholesale K-Beauty sourcing and distribution. In addition to stocking all the latest brands and products, we pride ourselves on our ability to help you with additional needs such as marketing. UMMA is truly an all-service provider – do register and check out our full range of products and services. Upon registration, you will receive 50 UMMA points, which you can utilize toward your first purchase.
Even if you're not interested in inventory, keep us in mind for questions about wholesale e-commerce, business-related inquiries, and advice on marketing. Join the UMMA family to grow your business today!