The concept of IM'UNNY is a unique one! The journey started with over 3000 experiments in well-established labs by using 90 different kinds of natural ingredients that influence the skin in wonderful ways. IM'UMMY quickly caught the attention of hundreds of skincare lovers with its attractive packaging and amazing high-quality cosmetic products. Stocking up with IM'UNNY on wholesale for your business is a must.
IM'UNNY has award-winning products that are loved by international beauty artists. Moreover, these cosmetics are the top choice for international backstage fashion shows. Products of IM'UNNY have two categories: makeup and mild cleansing formulation. Both the product lines have gained popularity and fame within a few months of their launch.
The following products by IM'UNNY are top trending in the K-beauty industry and are in high demand across the world. This is the best time to stock up your beauty business with the following products.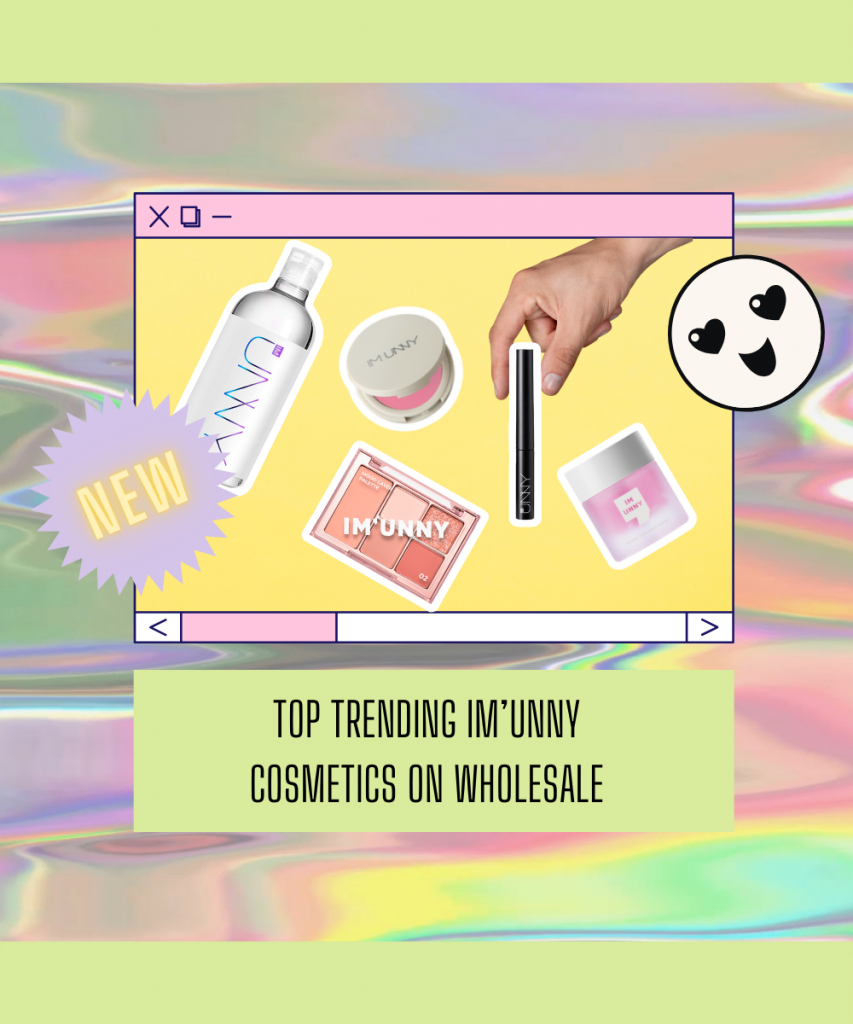 Cover Up Tip Concealer
The Cover Up Tip Concealer by IM'UNNY makes it to the list of the topmost beloved concealers from Korea. Its liquid base glides over the skin smoothly leaving a well-concealed and finished final look. The formulation is lightweight and has SPF30PA++ protection. The fact that this concealer contains sun protection makes it a most favorite for makeup fans. Reviews also rave about its finished look, which is a matte finish with a powdery feeling that lasts all day.
Mood Layer Pallet
The Mood Layer Pallet comes in four different shade options. Makeup artists love the pigmentation and experimenting looks with these pallets is a delightful experience. The beauty community claim that these pigments are long-lasting and do not wear out. Moreover, these shades are light and can be used for creating everyday looks easily. Additionally, some reviews also love the quality they get for such a little price.
Mild Cleansing Water Ex Special
Skincare and makeup fans are in awe of this product by IM'UNNY! The Mild Cleansing Water Ex Special has been doing wonders for the skin of users. Apart from effectively removing makeup and residue, it leaves the skin hydrated, soft, and bright. The size of the bottle is big enough to last about two months, which is a great skincare investment! What's more? Reviews show that the Mild Cleansing Water Ex Special has proved effective for all skin types.
Real Fit Skinny Mascara
The best thing that cosmetics fanatics think about Real Fit Skinny mascara is that it is perfect for everyday use. Thanks to its lightweight formula, this mascara by IM'UNNY is trending and for the all right reasons. The mascara wand's design is for people who are new to the world of makeup.
Watery Rose Makeup Base
Useful as a makeup base and pore minimizer, this Watery Rose Makeup Base by IM'UNNY is a top seller in the makeup category. Makeup lovers rave about how their skin feels soft and ready for makeup application about using this watery rose base. It is ideal for those with sensitive skin and does not contain silicon, unlike other similar products.
Melting Blush
The Melting Blush has several purposes. It is useful as a blush for the cheeks as well as a tint for the lips and on eyelids too. The smooth texture leaves a velvety finished look that looks natural. The cosmetic industry is bursting with products that harm the skin in some way or another. However, the Melting Blush by IM'UNNY protects the skin barrier. Reviews on Amazon claim that users are already on their second purchase and trying out the different shades available by the brand.
Invest in IM'UNNY with UMMA!
We at UMMA directly source and ship all Korean cosmetics and skincare products from Korea. We do the research, the sourcing, the recommending, and the delivery. Get IM'UNNY on wholesale at the most competitive prices.