Mixsoon, the brand
If this giveaway sounds familiar, you may have already participated in our first Mixsoon giveaway last year. But since then, Mixsoon has continued to gain popularity among the global and local beauty community, and growing in product variety as well. The brand proudly creates products with high quality raw ingredients, like locally grown Centella Asiatica directly from their farm in Jeju island, and carefully Fermented Soybeans that provide the exact results you would expect. Not only do reviewers verify this, but the brand has also taken it upon themselves to undergo various clinical dermatological tests to certify their main products regarding their skincare benefit claims.
Brands like Mixsoon that provide transparency and effort to strive to be better for you and the environment deserve more spotlight. That's why we have prepared another amazing giveaway by Mixsoon at UMMA.
So let's first get into the giveaway items:
1. Centella Sun Cream 50g x 5ea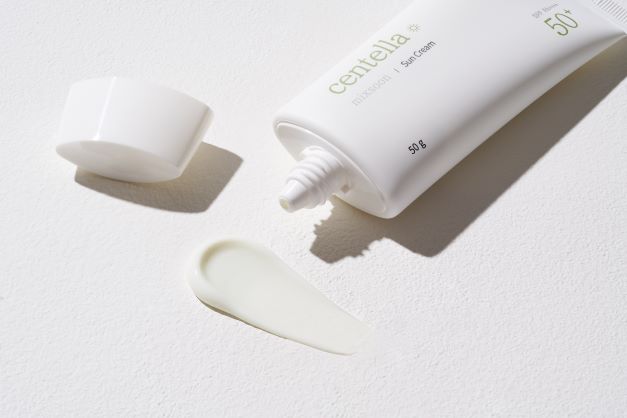 Centella Asiatica is an ingredient that perfectly coordinates with sun care. Whether it is the hot summer blemishes or the cold weather dryness that your skin experiences, Centella is the ingredient you want to help treat your troubles. Added to this sunscreen is Mixsoon's original Jeju Centella Asiatica, containing 970ppm to protect from sun damage and beyond.
Mixsoon has also verified the SPF 50+ PA++++ UVA/UVB blocking ability through clinical testing, so you can rest assure it works. And due to the chemical sunscreen agents and the moisturizing formulation, you can reapply multiple times without any white casts or stickiness.
1. Bean Essence & Cream Sachet Set (1.5ml*2 x 10ea)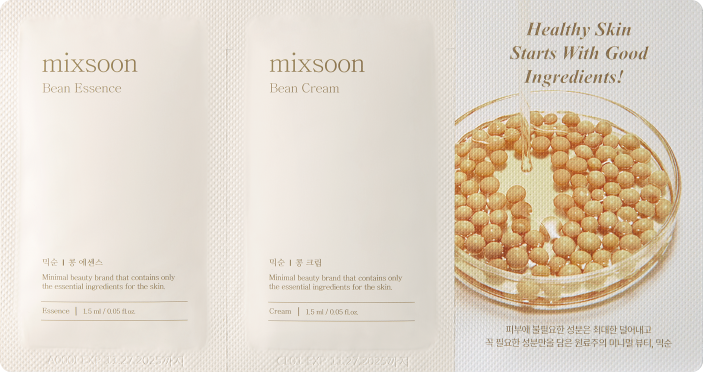 Mixsoon is most popular for their mucin-like bean essence and cream. Regular Soybean extract particles are large and absorption is not effective. By fermenting all the natural ingredients included in these two products, Mixsoon was able to maximize the penetration and absorption. The fermentation process is also as carefully crafted as their choice of raw ingredient source:
The Fermentation Process
The particles are broken down carefully at the perfect temperate of 30° Celsius (86° Fahrenheit), and extracted through high frequency/low heat current. The extract is then fermented for 72 hours, and the final formula is clinically tested for safety before delivered to you in perfect form.
Bean Essence
The Bean Essence contains Soybean Ferment Extract (25%), Pomegranate Ferment, Barley Ferment, and Korean Pear Juice Ferment, and certified Vegan. The mucin-like consistency applies without any stickiness (more light oil consistency), and provides a multiple of skincare benefits to reveal a smooth, bright, egg-like skin. It has been tested to show the following results in 2 weeks:
– 19.25% improvement in blackhead reduction
– 78.7% improvement in dead skin cell elimination
– 85.8% improvement in excess sebum control
– 8.02% improvement in skin texture
– zero skin irritation
Bean Cream
Much like the Bean Essence, the Bean Cream contains the main four ferment extracts, Soybean Ferment Extract, Pomegranate Ferment, Barley Ferment, and Korean Pear Juice Ferment, but also contains an ample amount of Glycerin, among other actives that help moisturize, brighten, and soothe skin.
The cream is exceptional suited for those with oily and sensitive skin. If your current moisture cream is not absorbing effectively, this is the perfect replacement cream. The jello-cream-like consistency is non-sticky and non-oily, and applies softly and lightly, providing an amazing feeling of moisturization.
Mixsoon, giveaway
With any purchase at UMMA, you will be able to select 5ea (per person) of Mixsoon Centella Sun Cream, and 10ea of the Bean Essence & Cream sachet set.
Shop your kbeauty wholesale stock from UMMA, and get this exclusive product offer today!
For more details of the promotion, sign in and click on the main giveaway banner on the homepage.
Why Choose UMMA?
UMMA is your favorite reliable Korean beauty & skincare wholesale provider, backed by a company with 8 years of experience in the global distribution and curation business. We have over 120+ global, local, and cult favorite Korean brands that we hand-picked so you can skip the time-consuming research, sourcing, and delivery waiting.
In fact, we provide an even faster delivery service, called u-quick. This is how it works: we stock up on 2000+ best selling products in high demand around the world, and we ship them within 48 hours of confirming your order. These products can be found when you use the 'view u-quick' filter.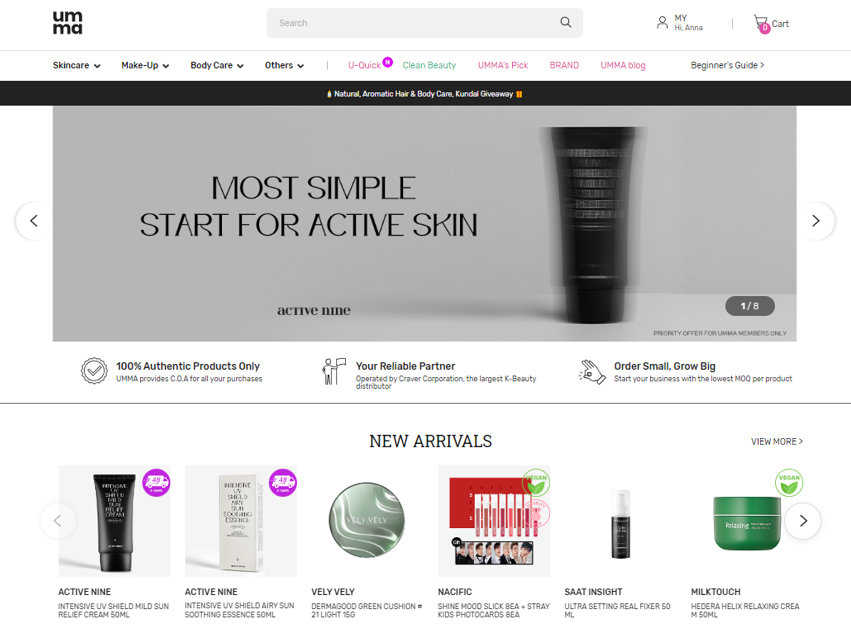 Furthermore, for every purchase, we provide a cash back program, called UMMA points, to continuously support the growth of our members.
You can also find more business support and exclusive brand giveaway opportunities to test new products in your market prior to making a purchase.
Lastly, we work hard (we really do!) to provide 1:1 sales and customer service, source products requested from you, and a plan a multitude of promotions for you to experience various kinds of dedicated support from us.
If all of this sounds like a good opportunity for you, don't hesitate to join our K-Beautiful family now and get a registration bonus. Don't miss out on the limited time only Active Nine freebie when you order! For more details about our service, check out our FAQ page.