Mixsoon, the brand
Not all ingredients are made the same. While some are mass produced, some are hand-picked with quality. Mixsoon is a brand that believes that healthy skin starts with good, quality ingredients. "Exclude all unnecessary ingredients and only add the essential ones". This was the beginning philosophy of Mixsoon, and they came up with a wide range of one ingredient, 100% extract essences, toners, and other key skincare products.
The brand provides simple products with transparent ingredient labels to share this minimal philosophy for healthy skin. The chosen ingredients are also natural and mild for even the most sensitive skin. And because many of the products contain 100% extract of one active ingredient, you can mix and match according to your skin needs.
We at UMMA stand behind this philosophy of hand-picked quality – we choose the brands we provide for our members to source from carefully. We want to make sure that businesses everywhere can provide the best of Korean cosmetics.
Mixsoon is a brand that we want to share with the world. For this giveaway, you will be able to choose 1 or both sets of Mixsoon's top two skincare products – Bean Essence (3ea) and/or Soondy Centella Asiatica Essence (3ea).
Bean Essence 50ml x 3ea, giveaway set 1
Mixsoon Bean Essence is the brand's best selling product that also comes with a super unique experience.
The formula is vegan certified, and contains Soybean Ferment Extract (25%), Pomegranate Ferment, Barley Ferment, and Korean Pear Juice Ferment. Due to the fermentation process, you get a mucin-like stickiness to the formula that absorbs deeper and more quickly than non-fermented ingredients. The Bean Essence provides multiple skincare benefits, including oil control, gentle dead skin cell peeling, blackhead reduction, egg-like smooth skin, and deep hydration leaving skin instantly glowing.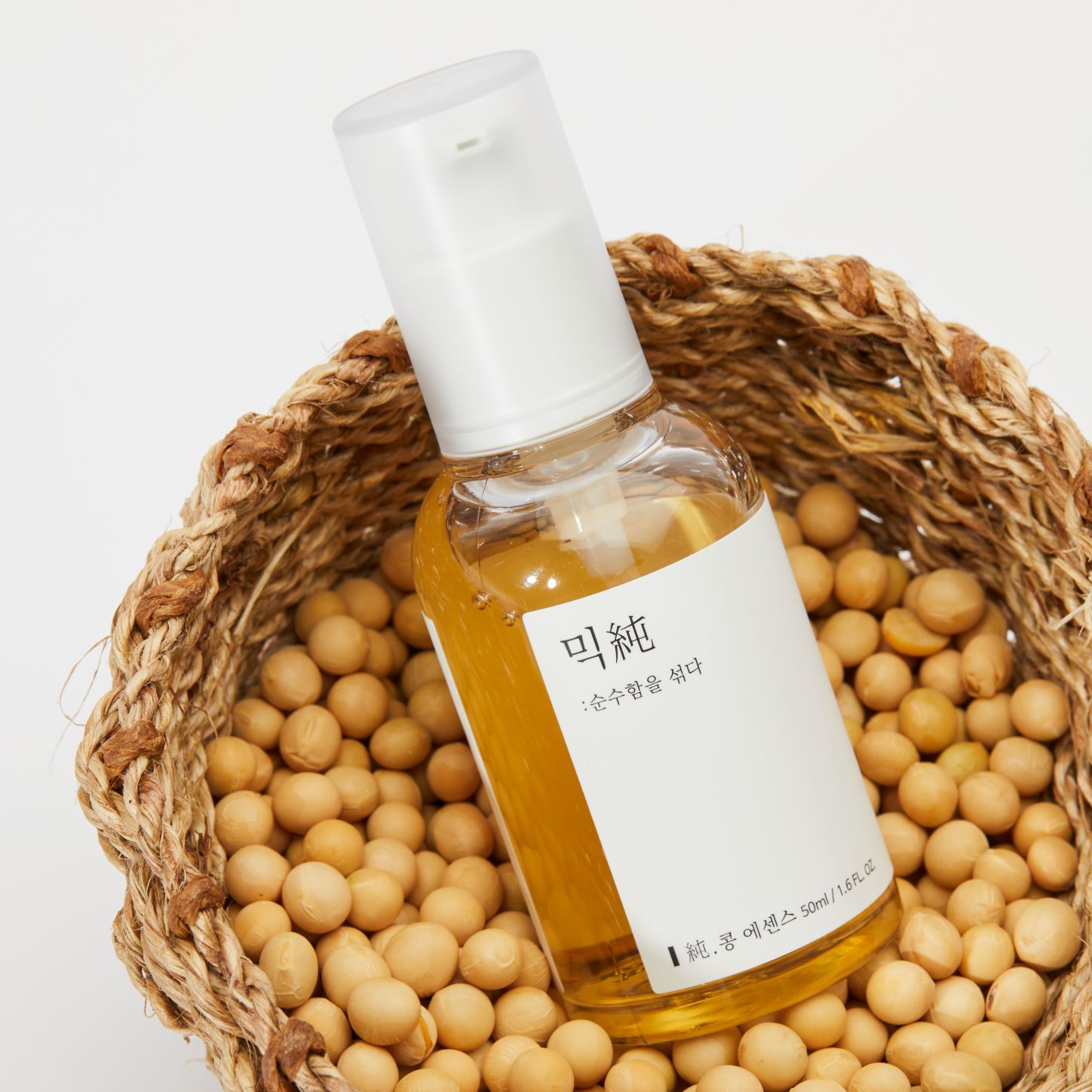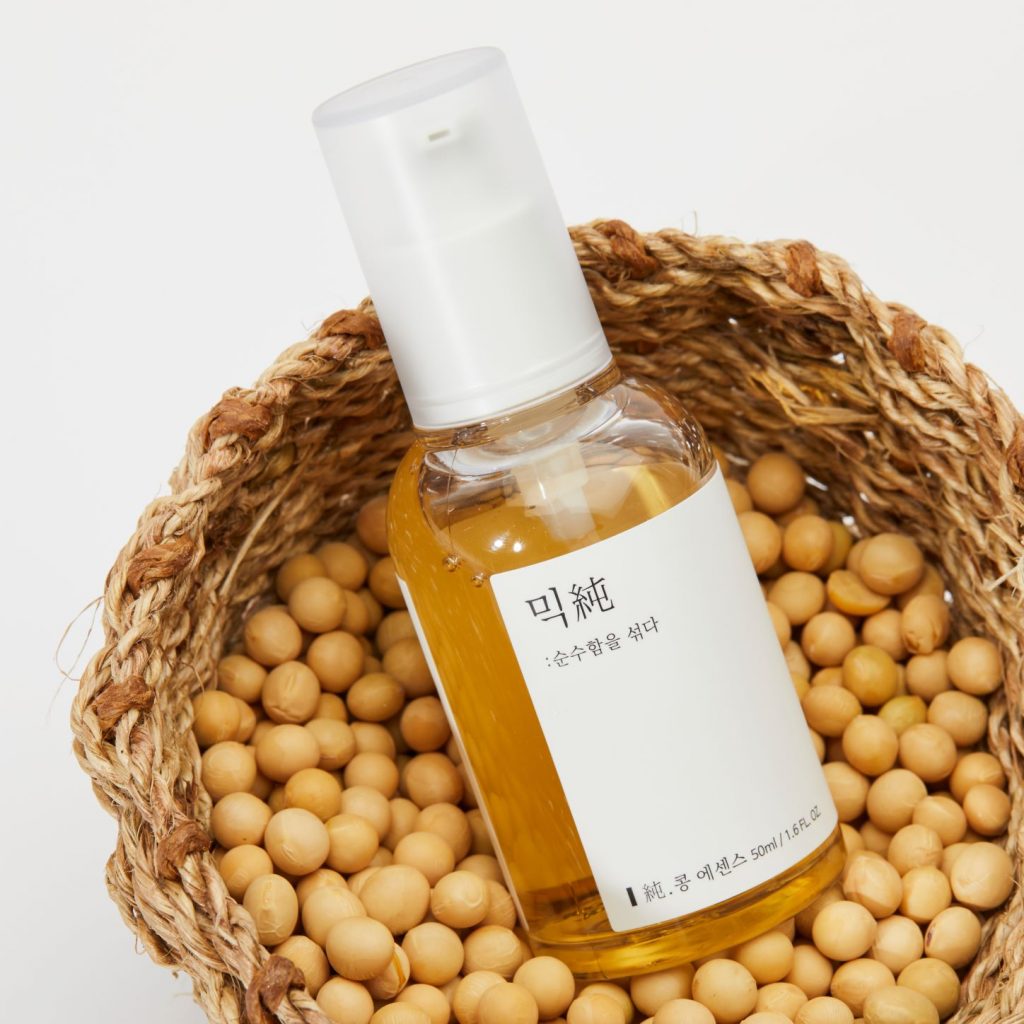 The interesting thing about this essence is that it comes with a peeling benefit. The Lactobacillus/Punica Granatum Fruit Ferment Extract (Pomegranate Ferment) is a natural AHA contained in the formula. You can either use this essence by lightly tapping onto your skin for absorption after the toner step, OR you can use it right after cleansing and massage it onto your skin as a gentle exfoliator, and you will feel excess oil and dead skin cells peel off your skin. Lightly wipe off the residue with a toner pad without having to rinse.
Using it the second way allows this essence to be a a 2-in-1 multi-functional product that exfoliates while delivering active essence ingredients into the skin.
Soondy Centella Asiatica Essence 100ml x 3ea, giveaway set 2
Soondy is the name of the cute little bear mascot for Mixsoon.
This Centella Asiatica Essence contains 100% locally grown Centella Asiatica – no water, parabens or any other unnecessary ingredients have been added to the formula. While the bottle may appear small, it contains 100% of one of the best active ingredients for soothing redness and inflammation. It is particularly known to help heal and prevent acne, and mild enough for sensitive skin. It also provides deep moisturization and improve skin elasticity.
This essence is also vegan certified, and come strongly recommended by those that have tested and proven the results.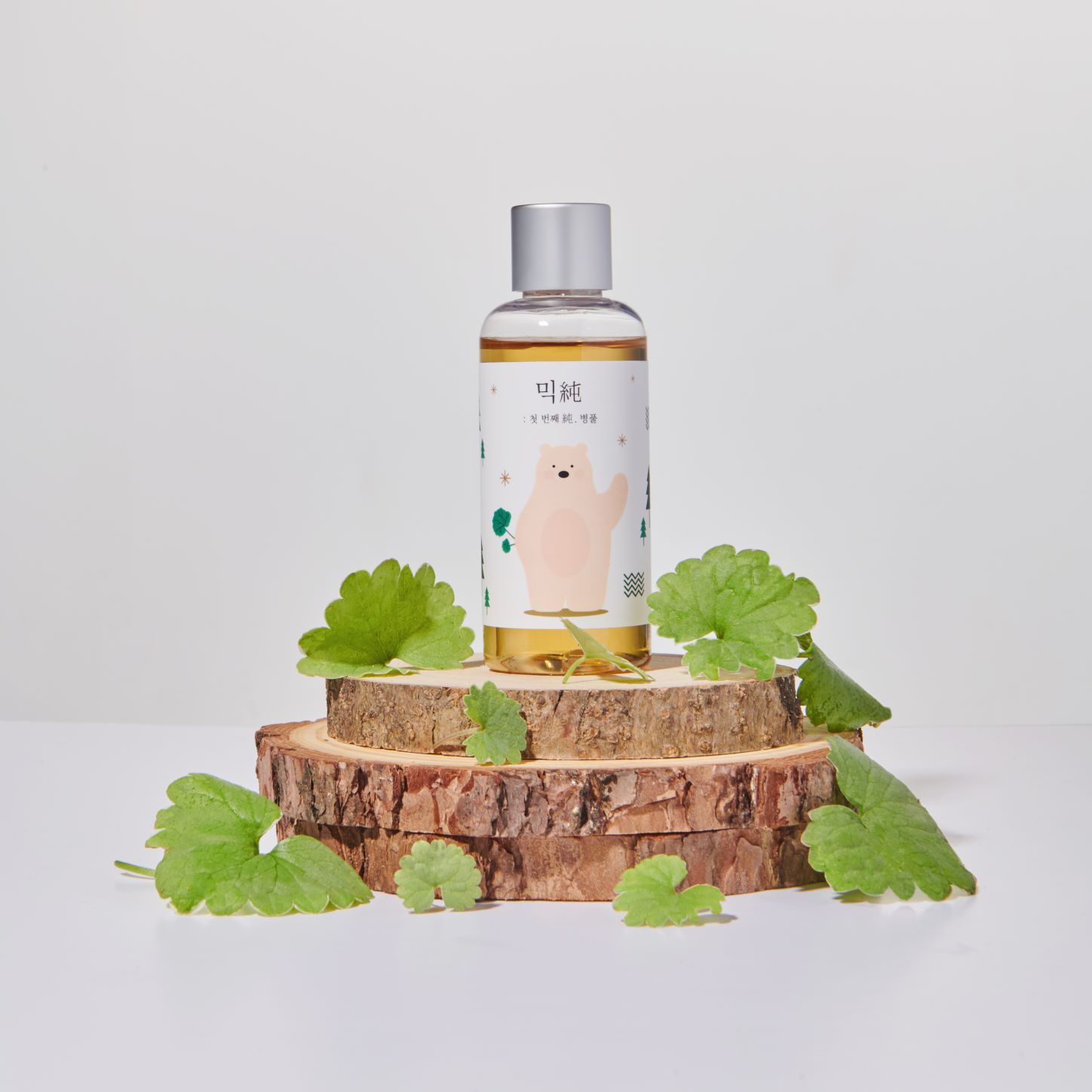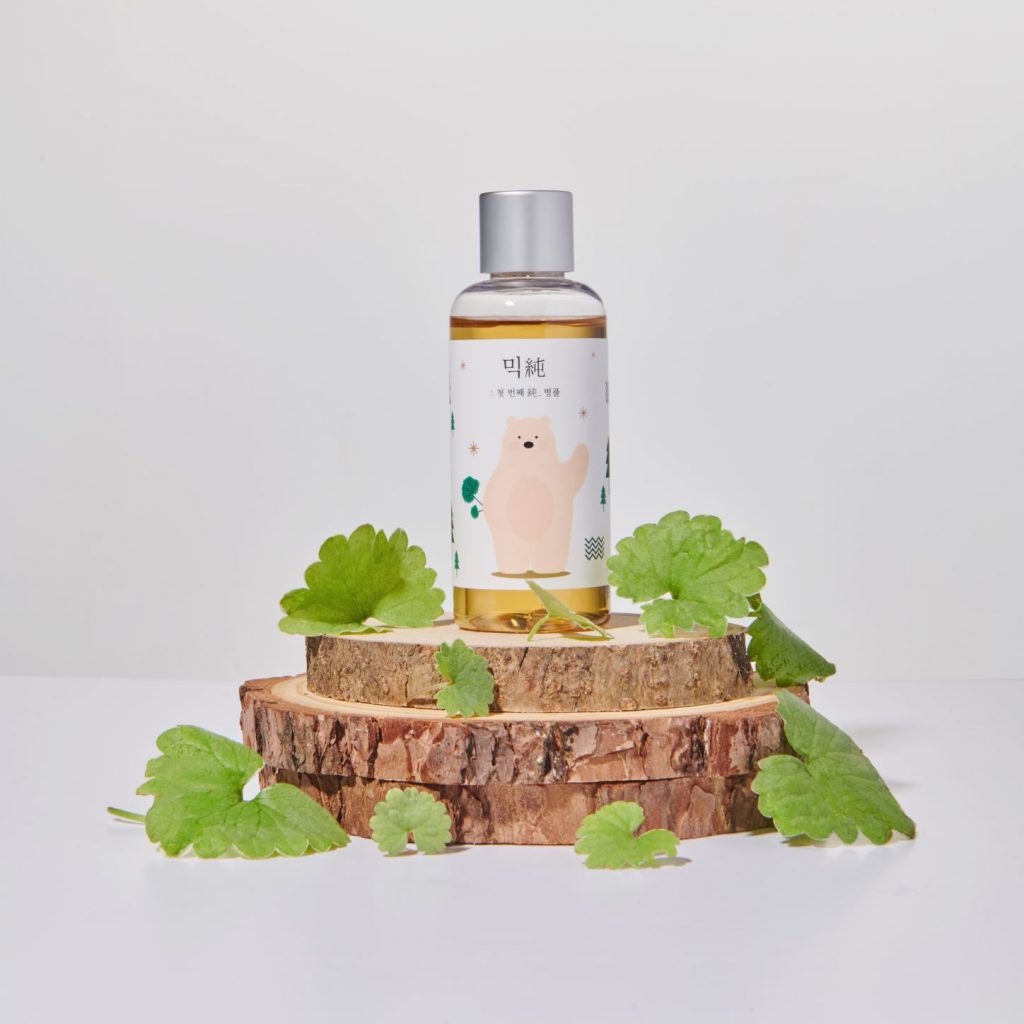 How to claim your giveaway
With any purchase from UMMA, you will be able to choose 1 or both sets (up to 6ea per person) of MIXSOON Bean Essence 3ea and/or Soondy Centella Asiatica Essence 3ea.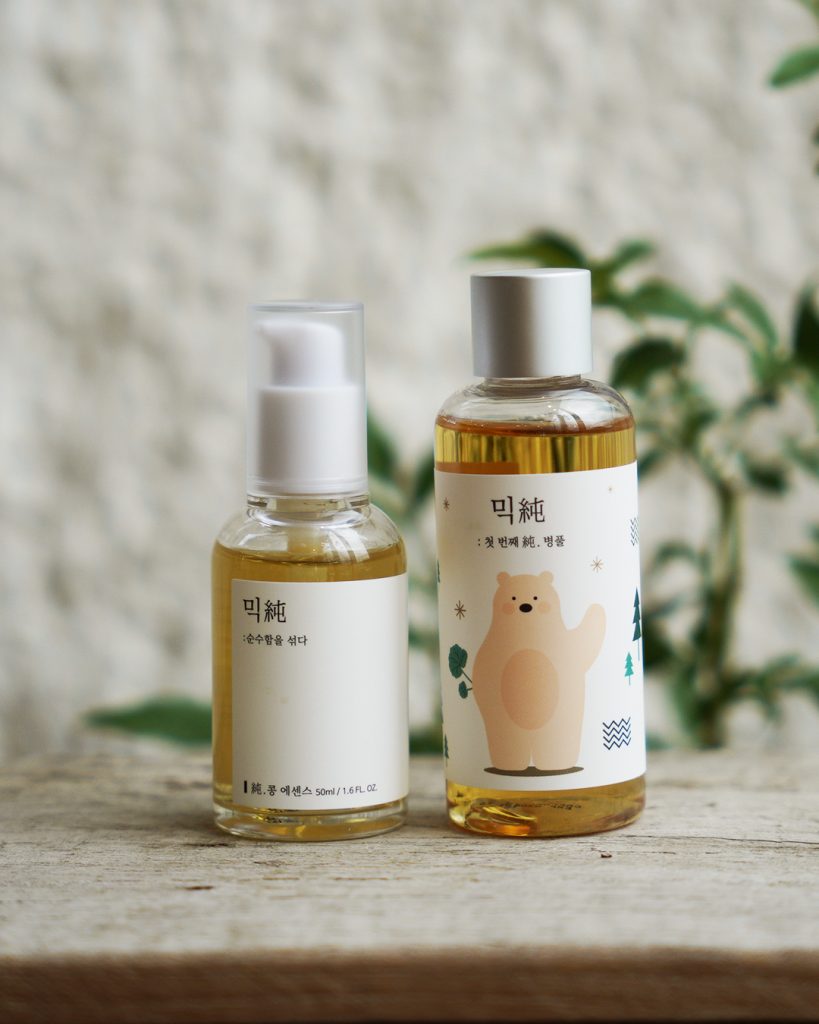 Shop your kbeauty wholesale supply from UMMA, and get this exclusive giveaway offer today!
For more details of the promotion, sign in and click on the main giveaway banner on the homepage.
Why Choose UMMA?
UMMA powered by Craver. one of the largest global K-Beauty supplier in South Korea, with 8 years of experience in global distribution and curation of K-beauty. We hand-pick only the best and trending brands and products for you to source from, so you can skip the time-consuming research, sourcing, and delivery waiting.
In fact, we provide an even faster delivery service, called u-quick. This is how it works: we stock up on 2000+ best selling products in high demand around the world, and we ship them within 48 hours of confirming your order. These products can be found when you use the 'view u-quick' filter.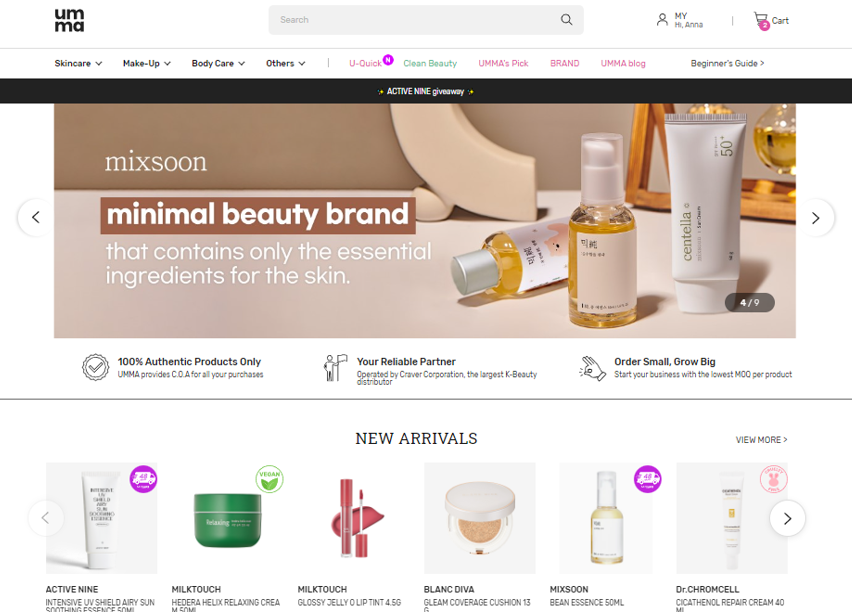 Furthermore, for every purchase, we provide a cash back program, called UMMA points, to continuously support the growth of our members.
You can also find more business support opportunities like Mixsoon giveaway promotion to test new products in your market prior to making a purchase.
Lastly, we work hard (we really do!) to provide 1:1 sales and customer service, source products requested from you, and a plan a multitude of promotions for you to experience various kinds of dedicated support from us.
If all of this sounds like a good opportunity for you, don't hesitate to join our K-Beautiful family now. For more details about our service, check out our FAQ page.