UMMA's Brand Giveaway
There are many sellers of Korean cosmetics that hesitate to purchase a product, a new brand, or even from a particular supplier because well… how can you take a risk on something you don't know well enough about that takes up valuable resource? And will this decision bring you the results you are hoping for?
We at UMMA have created the exclusive brand giveaway events to provide a simple way to relieve the burden of testing out products in your market before investing large amounts for a brand or product you're not sure about.
However, for this month's brand giveaway, we bring you something extra special. While trying out something new can be an exciting challenge, getting some freebies of already best selling products can also be very beneficial for your growing business.
Are you ready to take a chance on UMMA and get the best benefits in the supplier market?
This month's giveaway items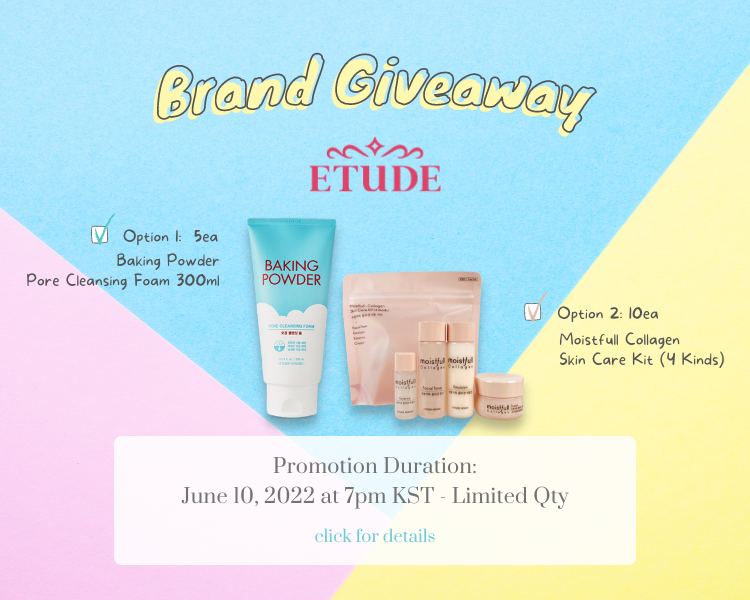 This month's Brand Giveaway Promotion is brought to you by ETUDE, the global k beauty brand that has brought countless beautiful transformation for women into reality.
Etude House is one of the foundational Korean cosmetics brands that have made skincare fun and playful. The packaging of each and every product brings color to life from a redundant routine, whether it be makeup or skincare.
This brand has been around since 1985, starting out as Korea's leading makeup brand for younger generations. However, the brand has since expanded its categories to skincare, and has been successfully providing long-term best selling Korean cosmetics to those especially in their late 10's to 20's. Among these top sellers include Soonjung product lineup, the 0.2 Therapy Air Mask series, Dear Darling lip tint series, and of course the long-standing legend – Moistfull Collagen skin care.
For this month's giveaway at UMMA, you will be able to select one of the following two choices by ETUDE:
ETUDE Baking Powder Pore Cleansing Foam (5ea)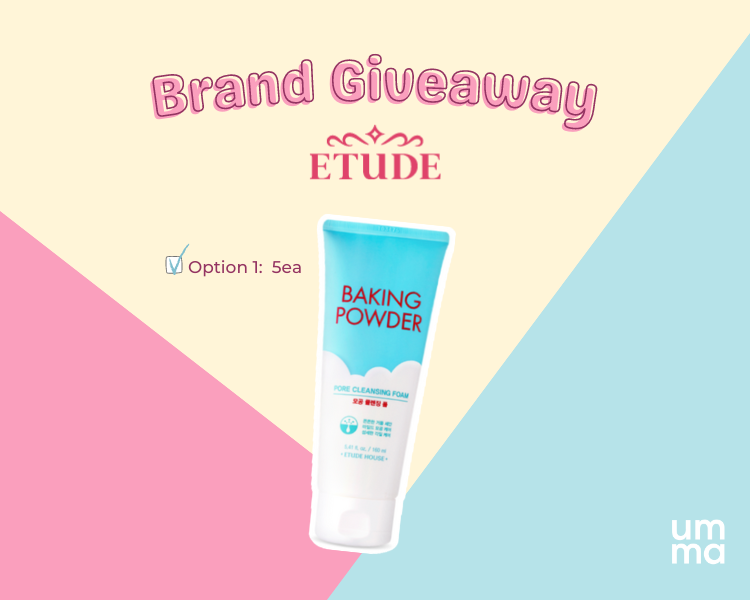 This velvety cream cleansing foam contains baking soda and lactic acid (a form of AHA) which provide a gentle, deep scrubbing effect. The exfoliants in this cleanser is fine enough to really go deep into pores to clean out dirt, makeup, and excess sebum without damaging the skin. Additionally, baking soda is known for its brightening effects, which reviewers claim it delivers (a slight effect).
Most reviewers recommend the product to be used by normal, combination, or oily skin types due to its deep exfoliation property that may be a bit too drying for dry or sensitive skin. The product is also not meant to clear away active acne.
While this foam cleanser that is more like a scrub is gentle enough to use everyday, most reviews say the best way to use this product is to 2-3 times a week for deep pore cleansing that makes your skin feel cleaner and brighter.
ETUDE Moistfull Collagen Skin Care Kit – 4 Kinds (10ea)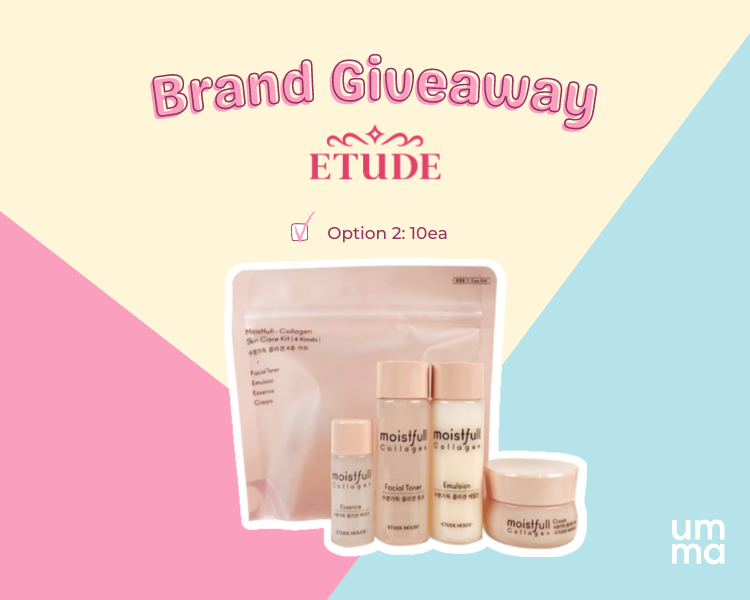 This long-standing skincare lineup legend will probably stand the test of time. The kit contains the Moistfull Collagen line's toner (25ml), emulsion (25ml), essence (8ml), and cream (10ml), which makes it an ideal set to test out the effectiveness, carry as a travel kit, or gift to those just starting out their first skincare routine.
Moistfull Collagen's popularity is thanks to timing and demand. Collagen had been one of the top ingredients younger beauty consumers yearned for to maintain a plump, youthful skin. It was also provided by beauty brands at very expensive prices. Etude has taken on the challenge of creating a collagen lineup that was effective and inexpensive, and the steady demand stayed consistent ever since.
While many beauty consumers have since graduated this simply laid out skincare routine, this cute, playful skincare kit still continues to be the very first skincare set to many blooming beauty consumers around the world.
How do I claim these free samples?
Here are the simple steps for obtaining these samples:
1. Sign in and shop at UMMA. Fulfill the MOA (for this event) at $1,000 USD and checkout.
2. The option 'select gift' will show after you put in your shipment information. Make sure to check '5ea' or '10ea' depending on which product you wish to claim.
3. Complete your order, and wait for delivery.
4. Enjoy 🙂
*For more details regarding the promotion, please check the end of this blog.
I got the products… now what?
The freebies you receive from us is free for you to do with it whatever you'd like.
Additionally, we are here to help your business grow. You can also reach out if you have any questions regarding the promotion at anna@umma.io.
If you had a positive experience selling the products in your market, we encourage you check out our blog on ETUDE's other best selling items by country to make an informed decision on which products to invest in at low wholesale prices on UMMA.
Oh, and look out for the next brand giveaway, because the come as fast as they go!
What other benefits can I expect from UMMA?
UMMA powered by B2LiNK is one of the largest global K-Beauty supplier in South Korea. We hand-pick only the best and trending brands and products for you to source from, so you can skip the time-consuming research, sourcing, and delivery waiting.
In fact, we provide an even faster delivery service, called u-quick. This is how it works: we stock up on 1000+ best selling products in high demand around the world, and we ship them within 48 hours of confirming your order. These products can be found when you use the 'view u-quick' filter.
Furthermore, for every purchase, we provide a cash back program, called UMMA points, to continuously support the growth of our members.
Lastly, we work hard (we really do!) to provide 1:1 sales and customer service, source products requested from you, and a plan a multitude of promotions for you to experience various kinds of dedicated support from us.
If all of this sounds like a good opportunity for you, don't hesitate to join our K-Beautiful family now. For more details about our service, check out our FAQ page.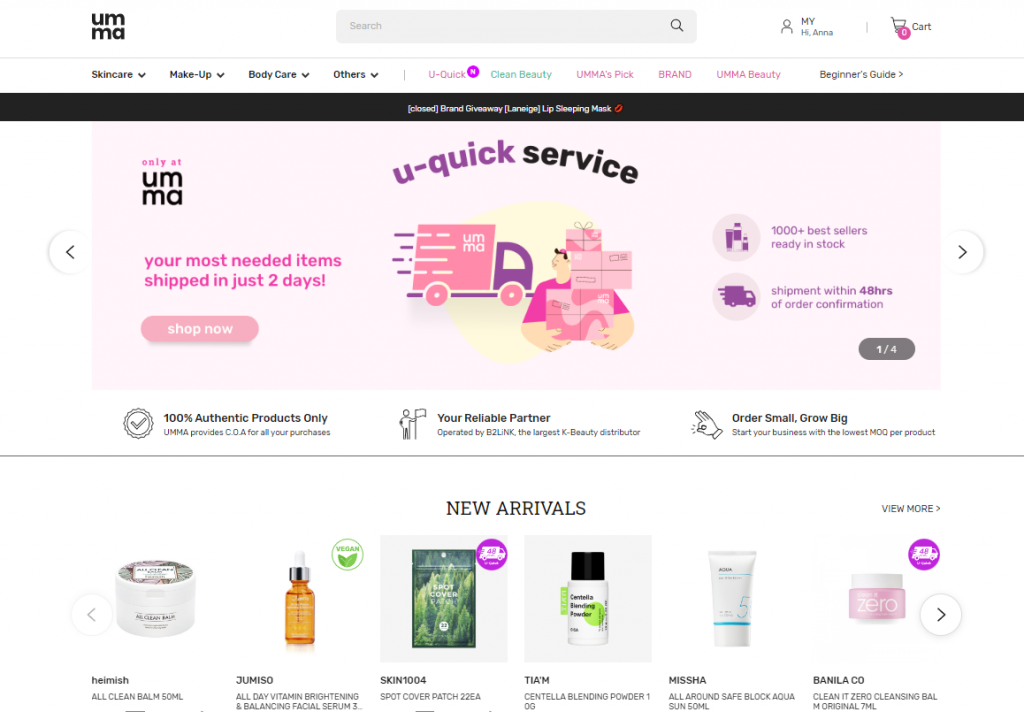 Detailed Promotion Information
– Purchase is necessary to participate in this promotion. The required MOA to participate for this event is $1,000 (USD).
– This promotion is not available for China and South Korea.
– Please note we will not be able to pay for any additional shipping fee (if any should apply). It will automatically be added to your total payment amount.
– The maximum amount 1 person can select is 5ea for 'ETUDE Baking Powder Pore Cleansing Foam' or 10ea for 'ETUDE Moistfull Collagen Skin Care Kit (4 Kinds)'.
– You will only be able to select one of the two choices above.
– This promotion is first come first serve, limited set quantity availability.