Real Barrier the Brand
Real Barrier may just be one of Korea's skin barrier skincare pioneers.
NeoPharm is the parent company of Real Barrier, Atopalm, Derma: B, and T'else. Of the various brands owned by NeoPharm, the first three brands present products containing NeoPharm's world-renown original skincare technology, MLE®.
MLE®, or Multi-Lamellar Emulsion, is a technology that can mimic almost perfectly the cellular structure of skin's natural barrier. What this means is that when applied to the skin, it is able to restore the barrier system and strengthen and boost the skin's natural ability to protect and hydrate itself.
The plant-derived ceramides, fatty acids, and cholesterol that makes up MLE is safe, mild, non-greasy and quick absorbing, best for dry and sensitive skin. It works fast to coat the skin to block external stresses while retain the skin's natural moisture.
This innovative technology is backed by various patents and published research articles in both Korea and America. Clinical trials were conducted to solidify the findings of the efficacy of the technology.
The motivation and achievements built up from this technology was thanks to a father and skin science specialist at NeoPharm looking for a solution for his children's atopic dermatitis. Thus, the baby and kid's skincare line, Atopalm was created, and expanded to skincare for dry and sensitive skin types (Real Barrier) and Derma: B's personal care product line.
The paraben free, safe and effective products enhanced by the one-of-a-kind technology has put a spotlight on Real Barrier and the other brands globally.
Real Barrier Product Types
All the products by Real Barrier are made focused to its purpose and user-friendly with various texture options. Each category of products provided by Real Barrier come in various textures to meet the diverse needs of diverse individuals.
For example, they provide two different types of sunscreens – the Mild Sun Cream SPF50+ PA++++, which is a physical sunscreen, and Moisture Sun Lotion SPF50+ PA++++ a reef-safe chemical sunscreen. Those that have sensitive skin may prefer a physical sunscreen while those that prefer a no white cast, less heavy option may choose the Moisture Sun Lotion.
Real Barrier's focus on skin barrier instinctively makes their cream products their most loved.
They provide three options according to the texture and moisture care intensity – Aqua Soothing Cream, Intense Moisture Cream, and Extreme Cream.
All of these choices were carefully researched and created to provide the best care according to need.
Real Barrier Giveaway Selections
For this particular promotion, we have prepared two sets of Real Barrier's top products, courtesy of Real Barrier.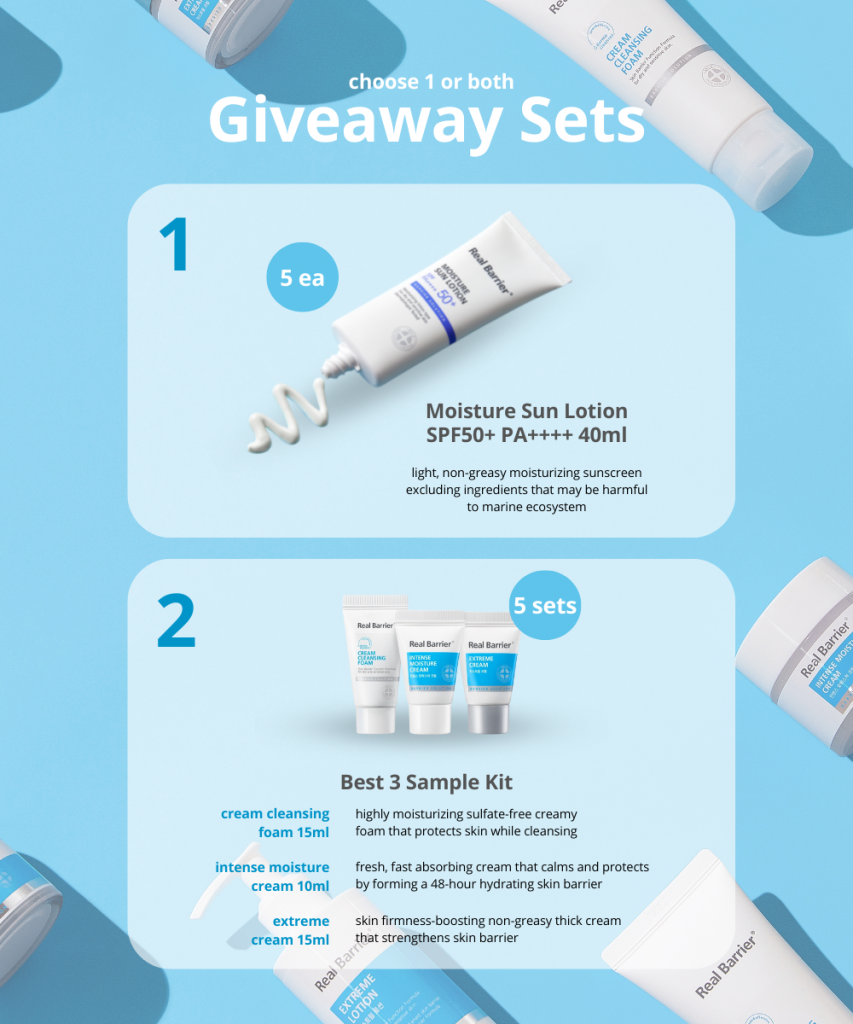 With any purchase from UMMA, you will be able to claim

1 or both sets

below:
1. 'Moisture Sun Lotion SPF50+ PA++++' 40ml x 5ea
2. 'Real Barrier Best 3 Sample Kit' x 5 Sets
Each Best 3 Sample Kit includes 1ea of Cream Cleansing Foam 15ml, Intense Moisture Cream 10ml, and Extreme Cream 10ml.
Sign in, shop your wholesale stock, and claim these great giveaway items before we run out!
For more details of the promotion, sign in and click on the main giveaway banner on the homepage.
Why Choose UMMA?
UMMA powered by Craver. one of the largest global K-Beauty supplier in South Korea, with 8 years of experience in global distribution and curation of K-beauty. We hand-pick only the best and trending brands and products for you to source from, so you can skip the time-consuming research, sourcing, and delivery waiting.
In fact, we provide an even faster delivery service, called u-quick. This is how it works: we stock up on 2000+ best selling products in high demand around the world, and we ship them within 48 hours of confirming your order. These products can be found when you use the 'view u-quick' filter.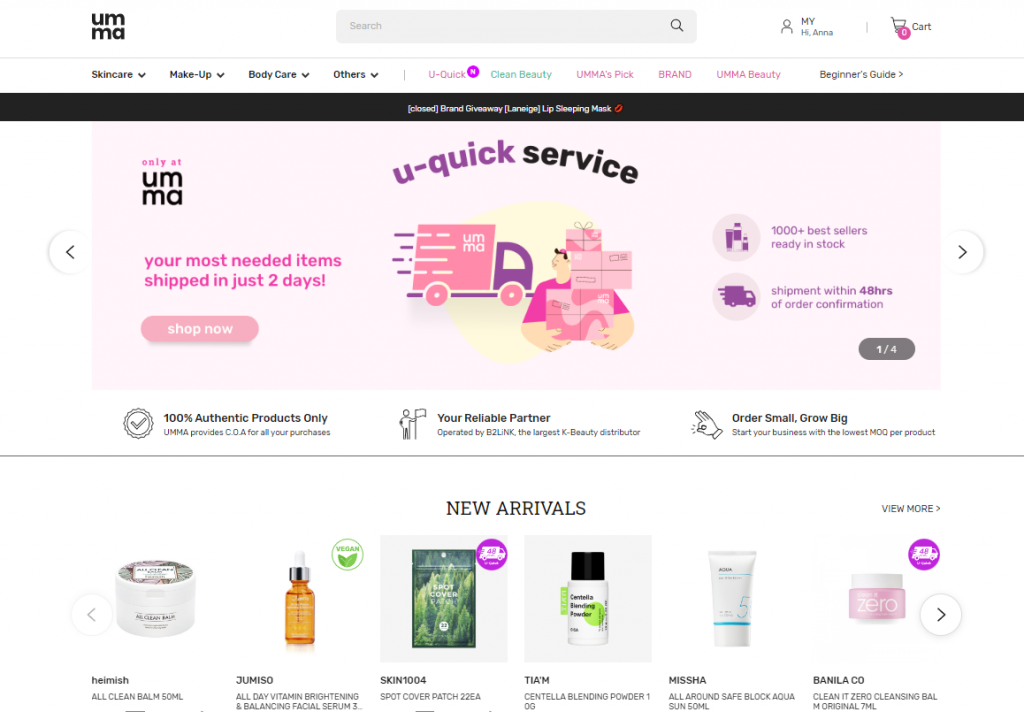 Furthermore, for every purchase, we provide a cash back program, called UMMA points, to continuously support the growth of our members.
You can also find more business support opportunities like Juice to Cleanse giveaway promotion to test new products in your market prior to making a purchase.
Lastly, we work hard (we really do!) to provide 1:1 sales and customer service, source products requested from you, and a plan a multitude of promotions for you to experience various kinds of dedicated support from us.
If all of this sounds like a good opportunity for you, don't hesitate to join our K-Beautiful family now. For more details about our service, check out our FAQ page.