If you are new to skincare, there two basic things you need to know to keep your skin youthful and healthy – hydration and sun protection. Although it is now common knowledge that sunscreens are a must no matter the season or the weather, it is exceptionally important to be prepared with a powerful, yet gentle sunscreen in hand during the summer season 🔅
But it can be quite difficult to find the right 'powerful, yet gentle' sunscreen when there are just too many options available with very similar names and ingredients.
This is why we did the research, looked through all the official websites, customer reviews on e-commerce shops and blogs and put together a list of the TOP 10 KOREAN SUNSCREEN PICKS according to their most highlighted benefits. Here, you will find the most elaborate details of each product – pros, cons, certifications, and other information to help you decide which sunscreen would suit your needs the best!
As a wholesale provider of Korean cosmetics, we recommend taking a look at some of the best sunscreens Korea has to offer. Our standard for choosing these 10 products are:
– All products are all under $25 (USD) in retail price.
– They are certified and clinically tested for exceptional skincare quality and sunscreening power
– The formulas are lightweight and suitable for the summer
– They are hero products from popular Korean brands
From April 19th to the 30th, we are offering 10% of all top 10 sunscreen products for wholesale purchasers. Sign in and sign up for access to shop for this exclusive, limited time sale promotion!
Now, let's jump in to UMMA's Top 10 Sun Picks of various types for every need:
BEST OVERALL PAIR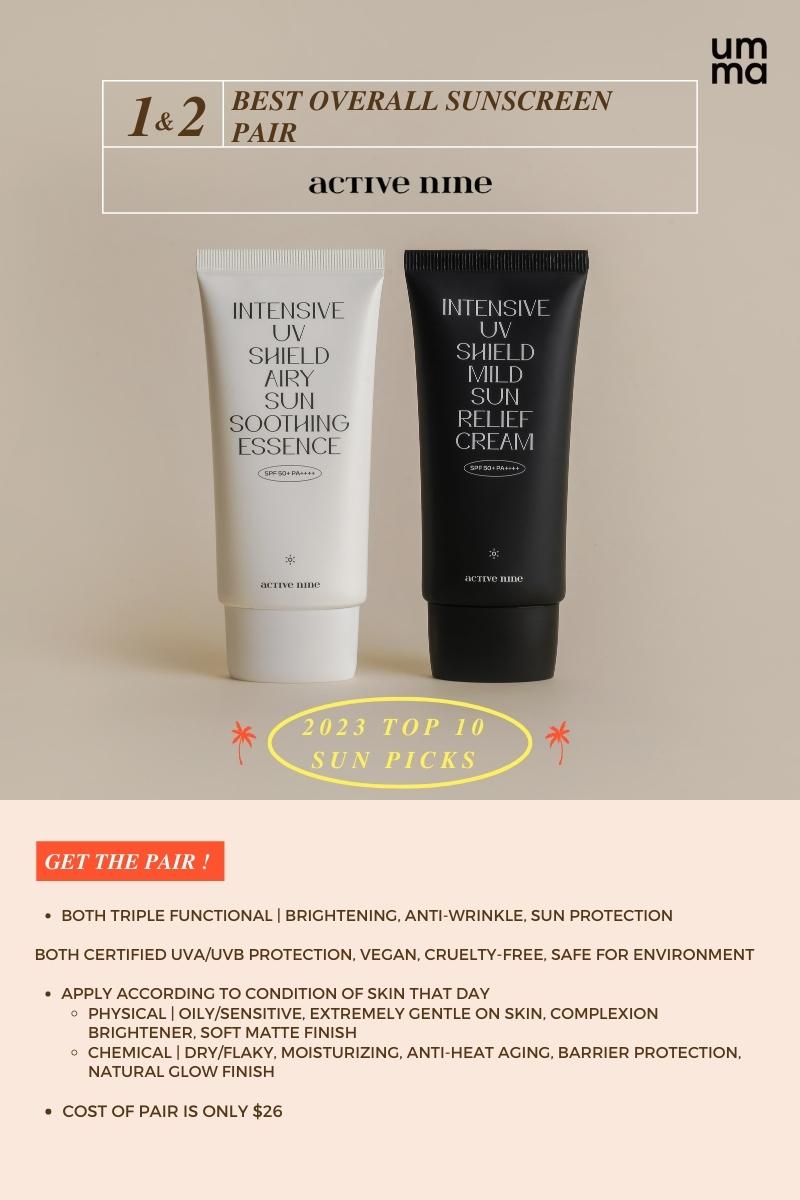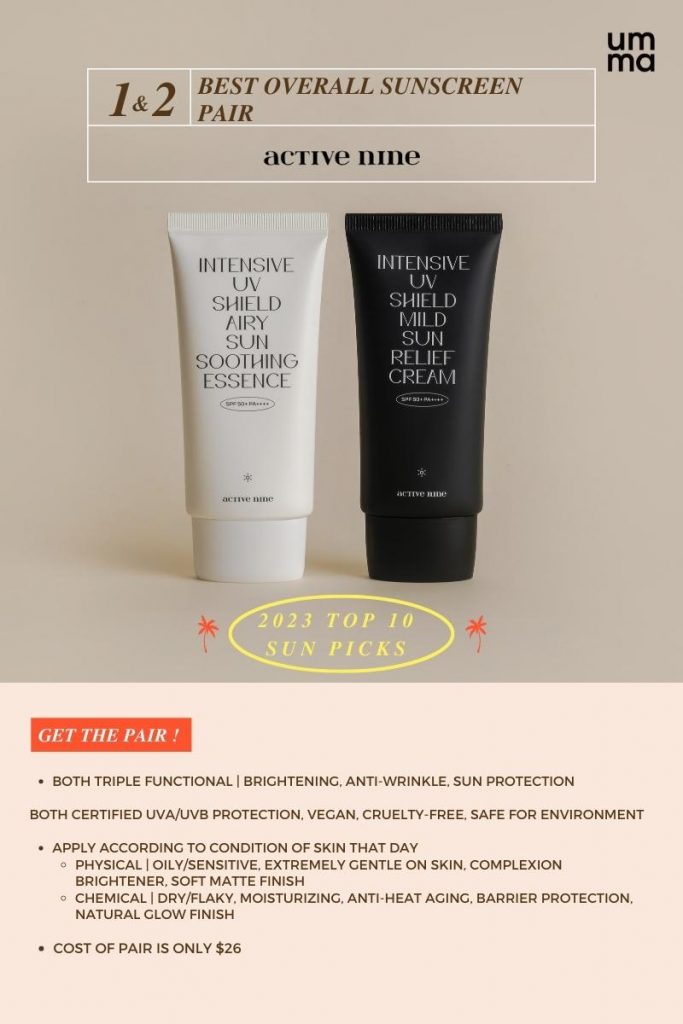 1 ACTIVE NINE Intensive UV Shield Mild Sun Relief Cream ($13)
Best Highlights: It contains high quality ingredients for half the cost of most 'affordable' sunscreens, and the formula blends into the skin like a silk sheet, leaving almost no white cast.
Active Nine Intensive UV Shield Mild Sun Relief Cream is unlike other physical sunscreens. It applies almost like a chemical sunscreen, leaving little to no white cast, but the physical screening agent, Zinc Oxide, is known to be very mild and non-irritating to the skin making it ideal for sensitive skin.
Additionally, the formula is vegan, cruelty-free, and reef safe, and clinically tested for UVA/UVB protection. It also contains brightening and anti-wrinkle functional ingredients. Patented 'Phyto Mucin 5 Complex' (Fresh Vinegar, Lotus Root, Molochia Leaf, Okra Fruit, Yam Root Extract) helps moisturize and control the balance of oil-water of the skin, making this product suitable for oily skin. Panthenol provides deep hydration and Tea Tree Leaf Extract delivers soothing, anti-inflammatory, and skin regenerating benefits.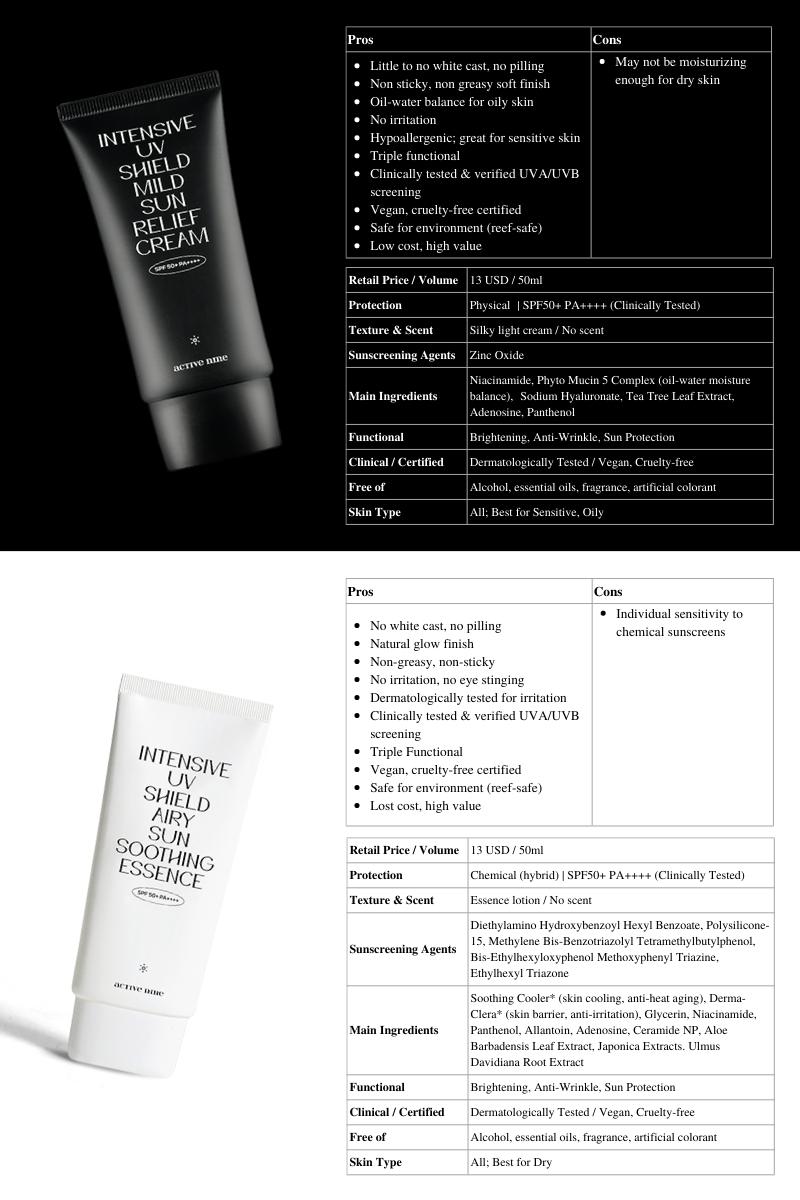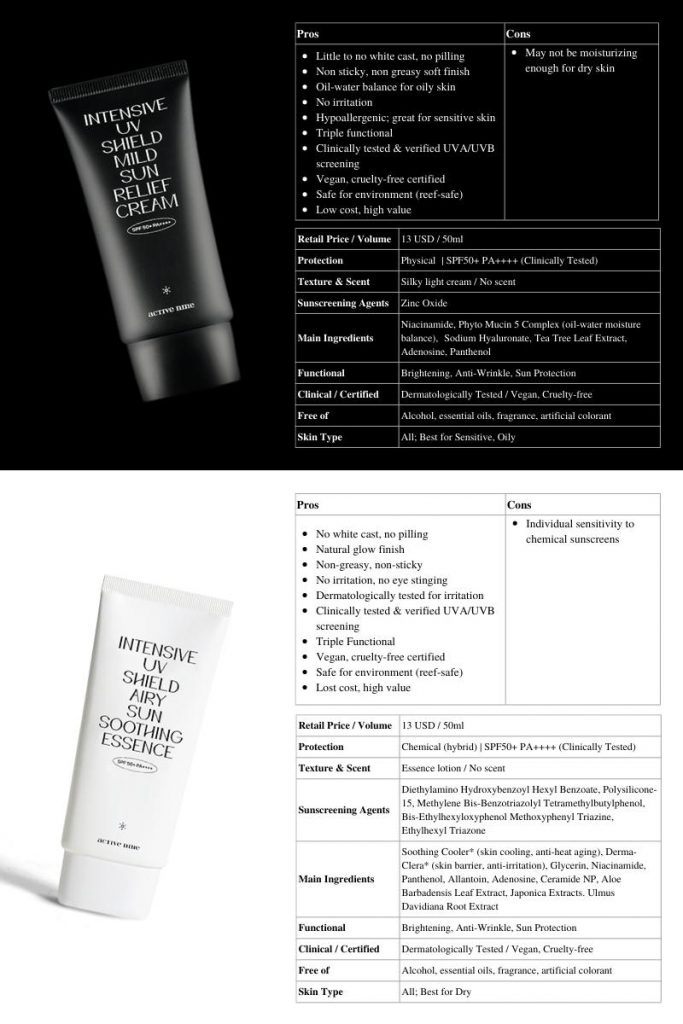 2 ACTIVE NINE Intensive UV Shield Airy Sun Soothing Essence ($13)
Best Highlights: Same high value, low cost as 'Mild Sun Relief Cream', and provides moisturizing skincare benefits with no white cast.
This lightweight sunscreen is also triple functional (sun protection, brightening, anti-wrinkle), vegan, cruelty-free, reef-safe, and has been clinically tested for UVA/UVB screening. The Airy Sun Soothing Essence applies light like air and moistful like essence. The formula also contains 60% moisture content for optimal hydration, patented Soothing Cooler* that cools the skin and prevents aging from heat, and Derma-Clera* that strengthens the skin barrier. Other actives, such as Allantoin and Aloe Vera helps keep the skin's oil-water balanced and healthy all day.
This natural glow essence is the perfect choice for those looking for a non-sticky, chemical sunscreens that does not contain any harmful ingredients for the skin or environment.
BEST 'NO PORE CLOG' GLOW SUN SERUM
3 SKIN1004 Madagascar Centella Hyalu-Cica Water-Fit Sun Serum ($19)
Best Highlights: Non-nano chemical sunscreening ingredient is used to prevent pore clog, and 3 types of hyaluronic acid and serum formula provides hydrating, dewy glow finish.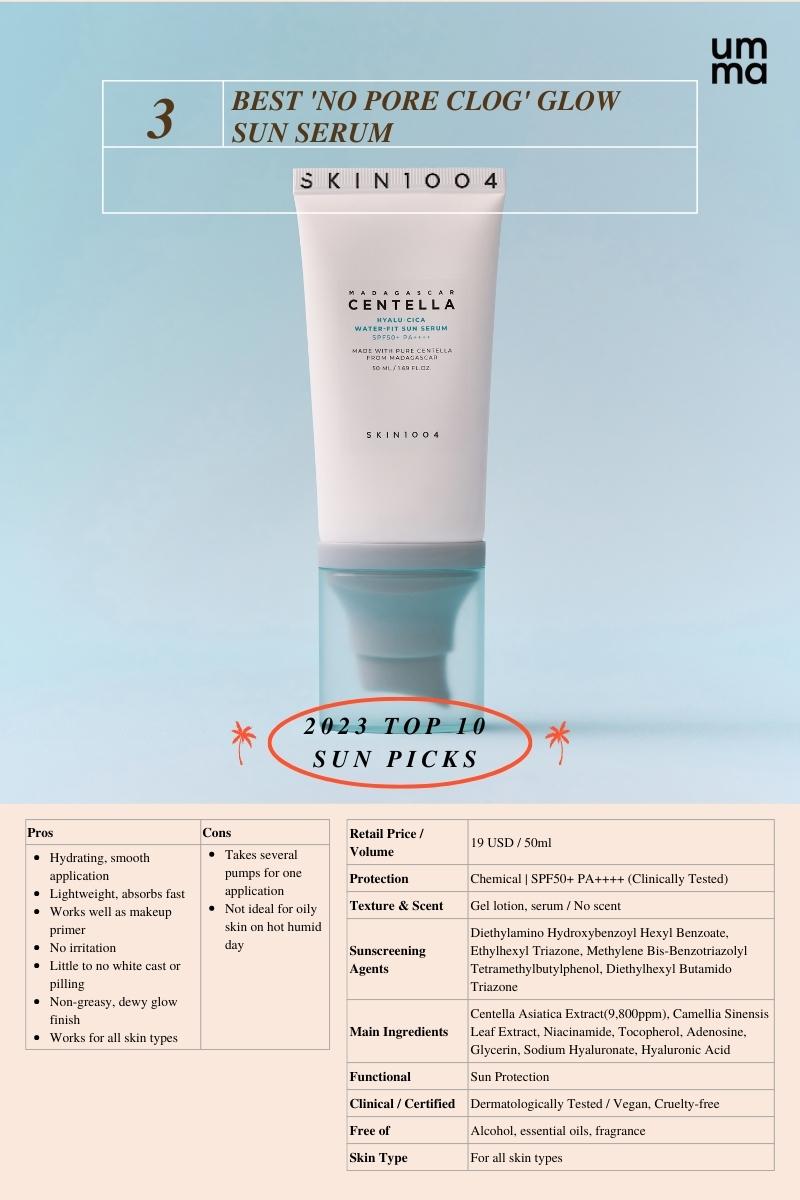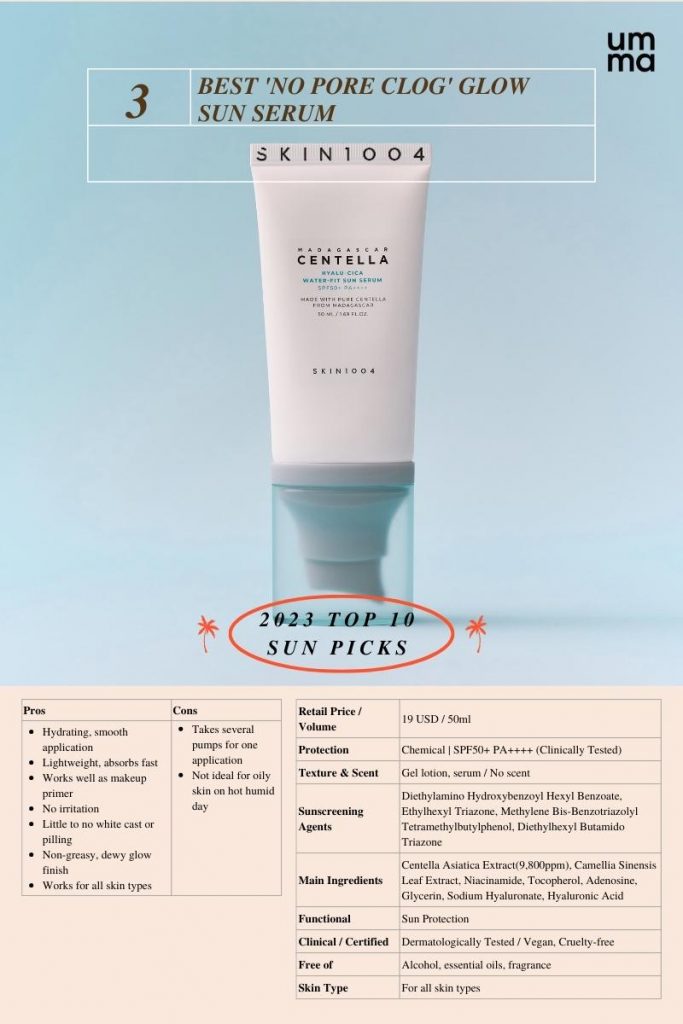 Madagascar Centella Hyalu-Cica Water-Fit Sun Serum has become a holy grail of sunscreens ever since its launch. Created to provide a smooth, dewy sunscreen with no white cast or irritation, this product has quickly become one of the top best Korean sunscreens, especially in the social space.
Infused with 3 types of Hyaluronic Acid and SKIN1004's famous Madagascar Centella extract, this product will provide intense hydration and soothing skincare benefits along with a powerful sunscreening ability. Due to its soothing, gentle formula, this product is suitable for all skin types.
BEST SWEATPROOF SOOTHING SUN CREAM
4 KAINE Green Fit Pro Sun
Best Highlights: Clinically tested for UVA/UVB protection and sweat-resistance; EVE Vegan and reef-safe certified milky light cream sunscreen perfect for hot, humid summer days.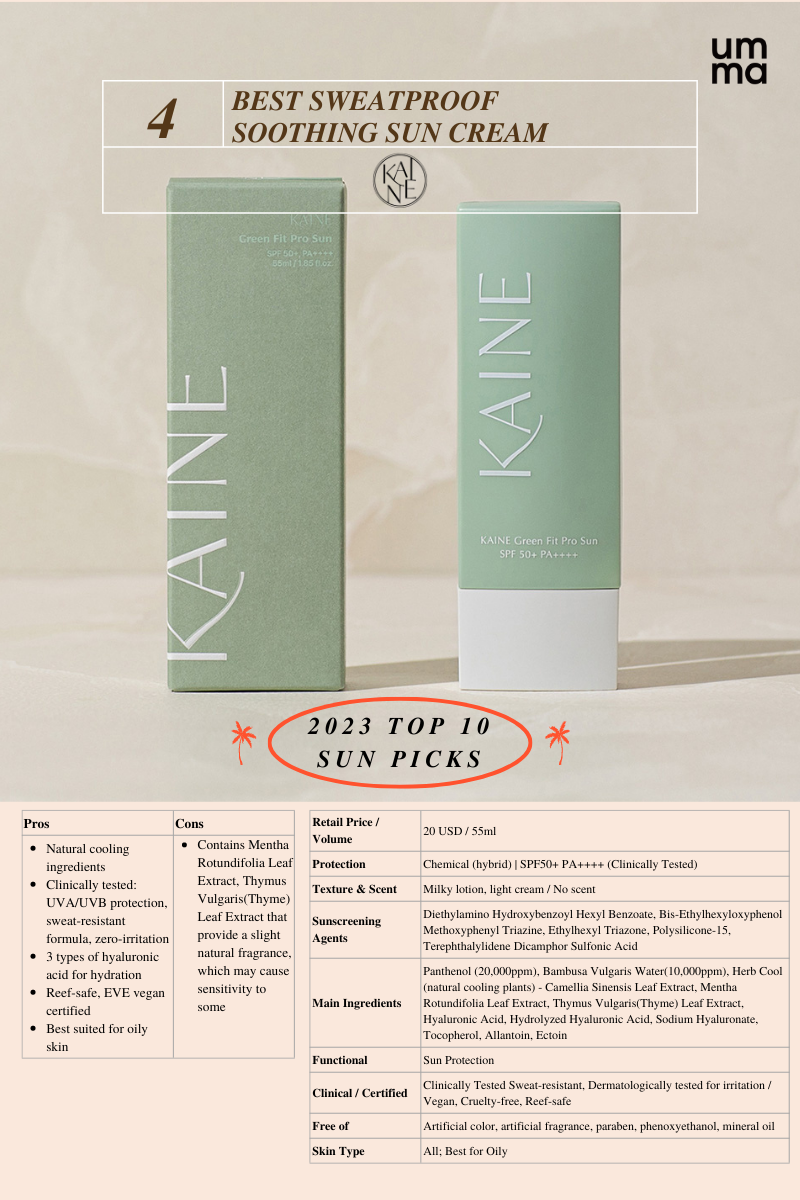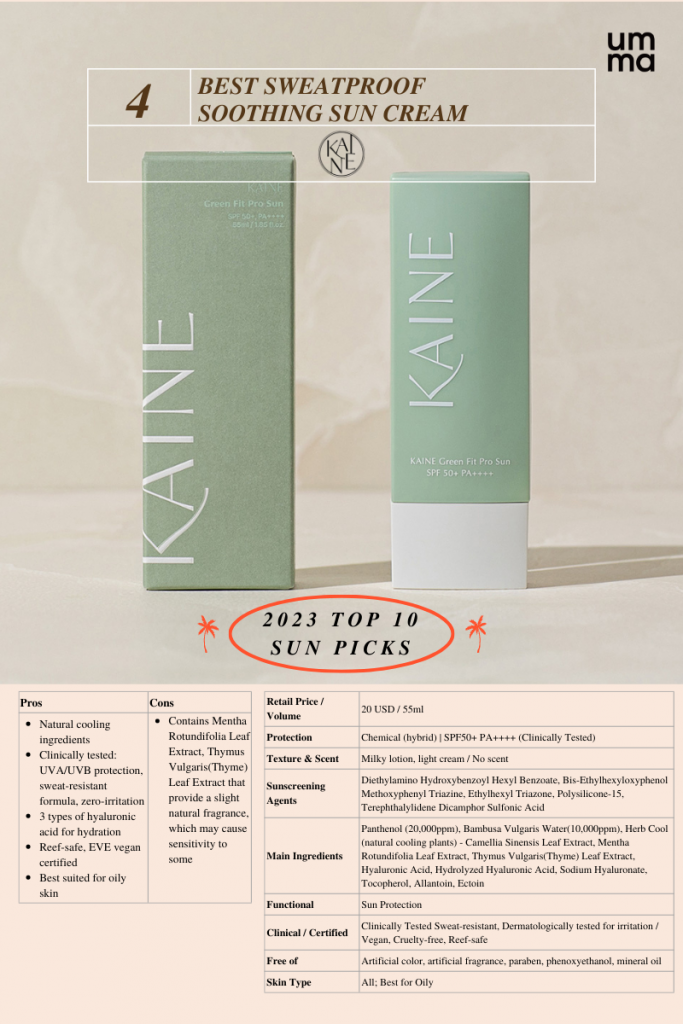 The creator of Green Fit Pro Sun knew exactly the type of product was needed among consumers – a certifed sweatproof sunscreen with all the basic clean beauty practices. This product is EVE vegan certified, reef-safe, and contained in eco-friendly packaging. While this sunscreen is very new to the market, KAINE is a very chic, very effective rising star clean beauty brand, and we are already in love with this product!
Infused with 20,000ppm of Panthenol and 10,000ppm of Bambusa Vulgaris Water, this product also provides naturally soothing and cooling benefits, along with 3 types of Hyaluronic Acid for hydration. While this is suitable for all skin types, it is especially great for those with oily skin.
BEST REDNESS CALMING SUN CREAM
5 BENTON Air Fit UV Defense Sun Cream
Best Highlights: EWG Green grade, non-comedogenic sunscreen that is also clinically tested for blue light screening and 'The Vegan Society' certified.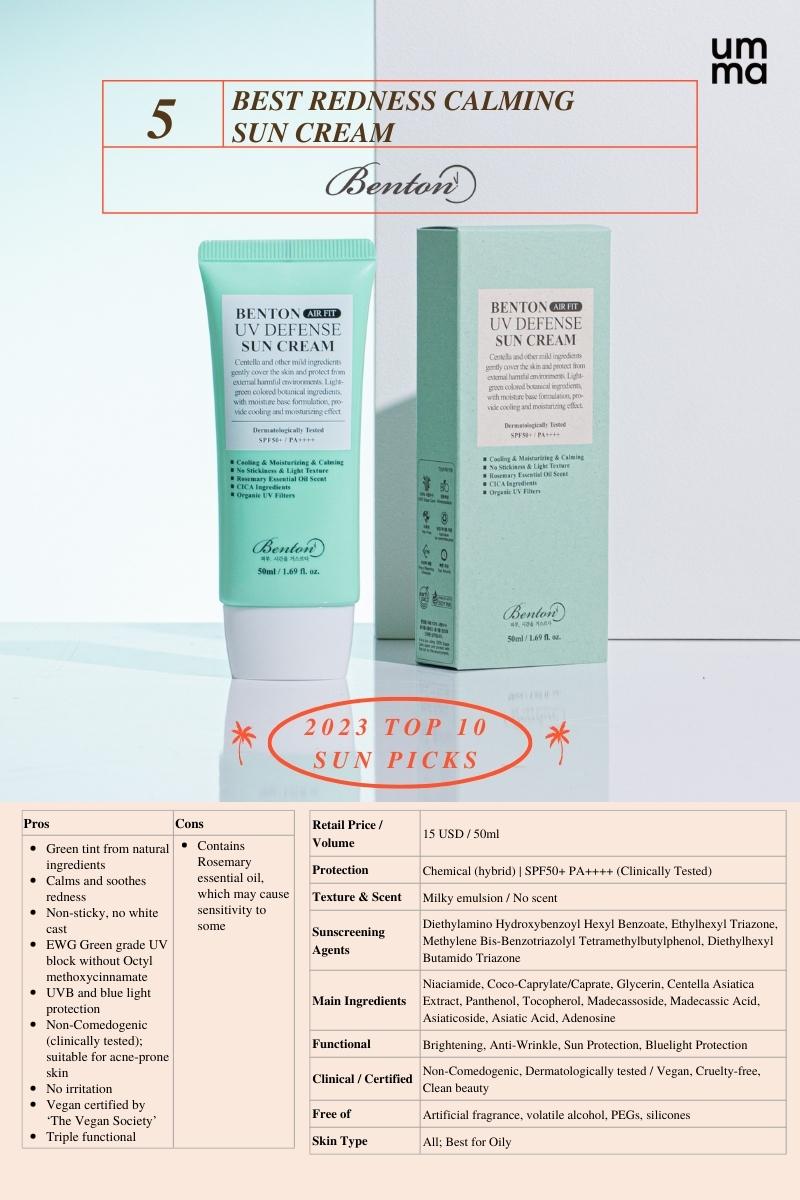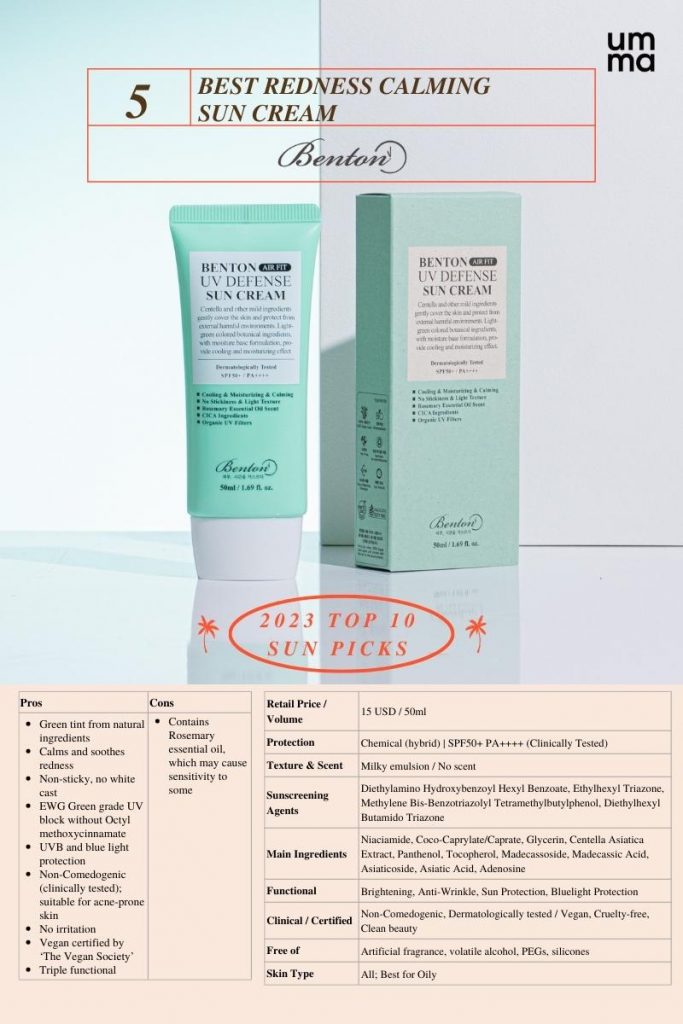 Possibly Benton's most underrated sunscreen, the Air Fit UV Defense Sun Cream is perfect for those with acne-prone skin. The green tint is due to natural soothing ingredients contained in the formula, including Centella Asiatica, Panthenol, and other soothing ingredients that allow this product to be clinically tested to be non-comedogenic (Madecassoside, Madecassic Acid, Asiaticoside, Asiatic Acid).
The milky emulsion texture blends well into the skin with no white cast and no stickiness. The product is also triple functional for brightening, anti-wrinkle, sun protecting abilities. As an added bonus, it is also tested to filter out blue light, which is perfect for office employees with long screen time! Suitable for all skin types, this sun cream especially fits well with oily, acne-prone skin.
BEST PHYSICAL SUN CREAM FOR OILY SKIN
6 AXIS-Y Complete No-Stress Physical Sunscreen
Best Highlights: Zero-irritation, minimal white cast physical sunscreen that is especially made for oily skin. Recently upgraded (3.27.23) formula excludes herbal fragrance and includes hyaluronic acid for hydration.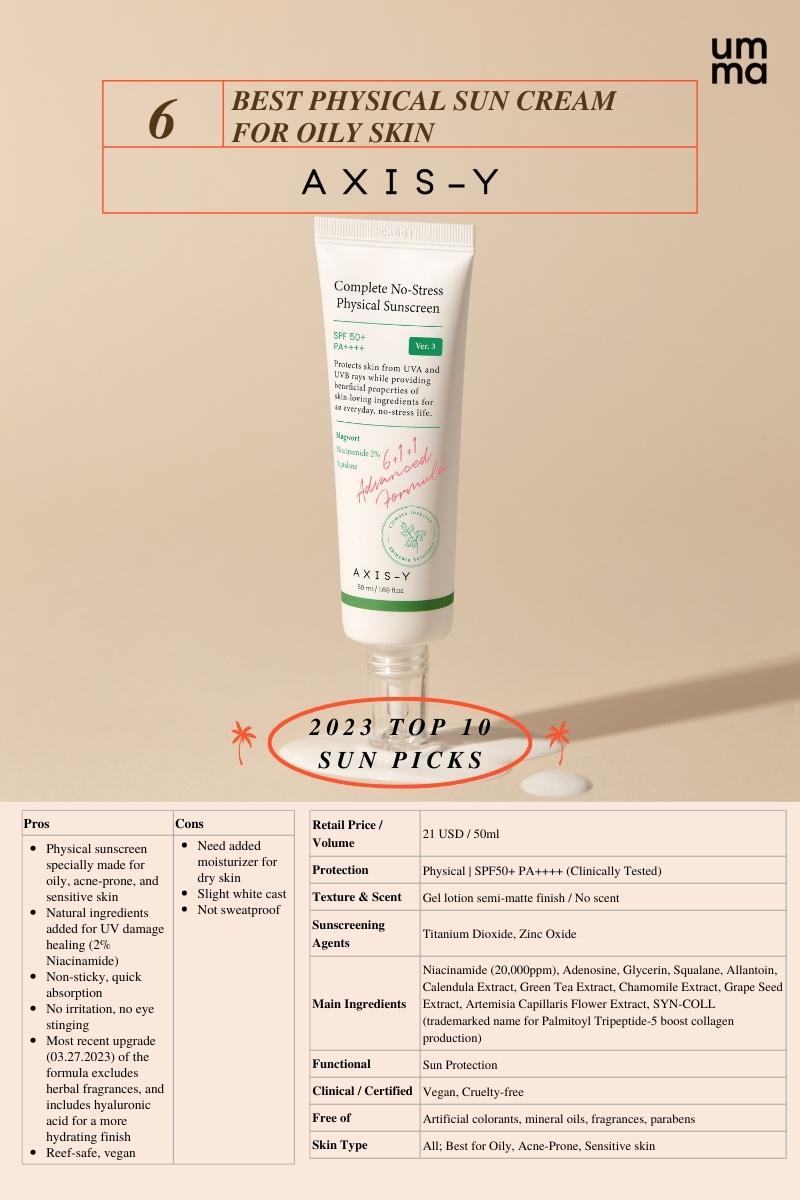 Consumer and climate conscious brand, AXIS-Y always delivers the perfect product, and this physical no-stress sunscreen is no exception. Created to fit the needs of those with oily, acne-prone, sensitive skin, the lightweight, gel-like texture and physical screening agents are gentle on any skin. Infused with 2% Niacinamide and Squalane for healing UV damages, this is the perfect summer companion for those conscious of oil overload!
BEST NOURISHING SUN MOISTURE CREAM
7 Dr.Ceuracle Cica Regen Vegan Sun
Best Highlights: Double as a moisturizing cream, this sunscreen provides skin barrier protection with CICA Barrier Complex, shows no white cast, and packaged in eco-friendly material.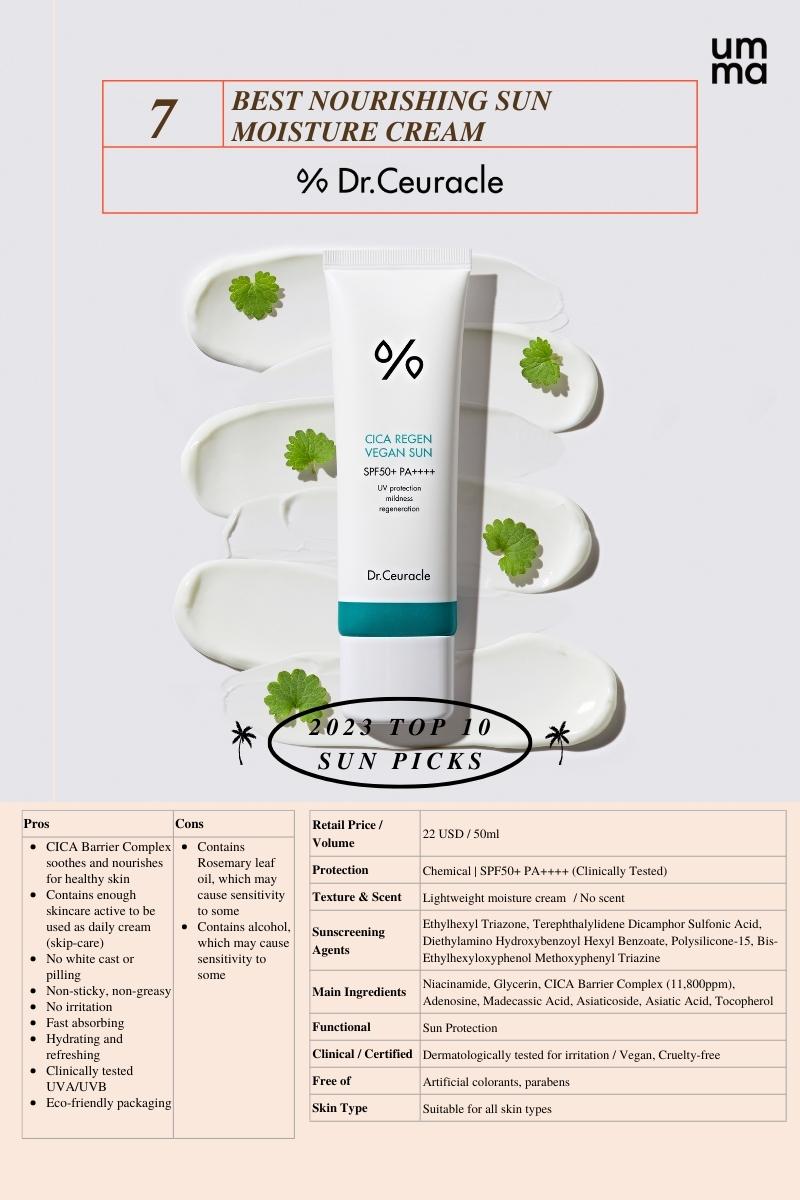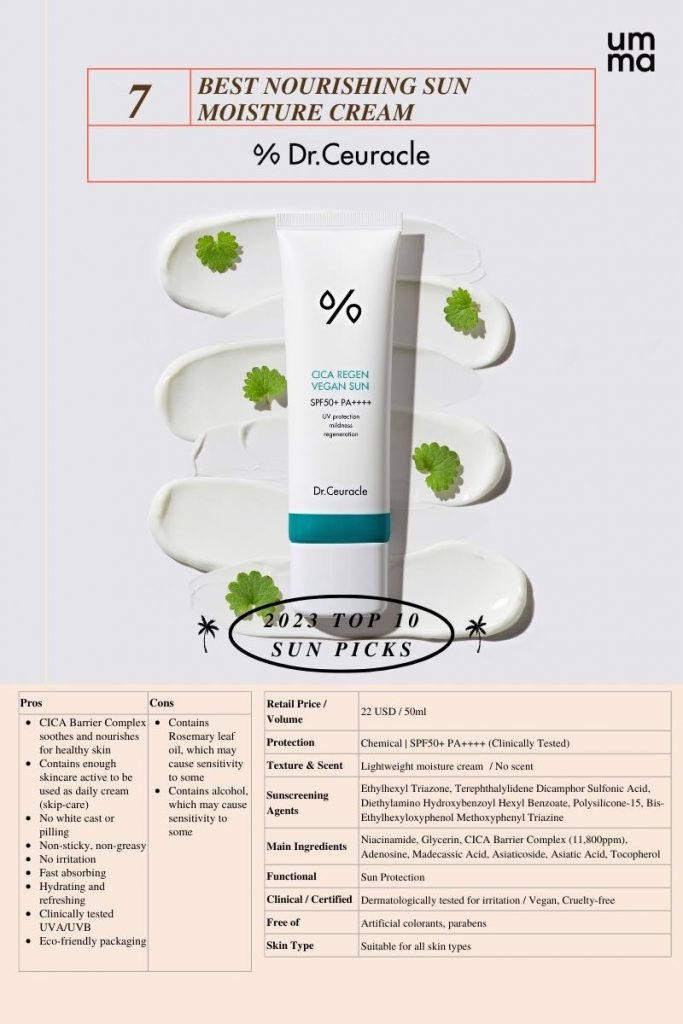 Famous for delivering highly effective and affordable skincare, Dr.Ceuracle's Cica Regen Vegan Sun provides powerful sunscreening capability with just as powerful skin barrier protection skincare benefits. Named 'Best Nourishing Sun Moisture Cream', this product is perfect for those that want a 2-in-1 skincare item you can use on skip-care days. This is due to the formula containing 11,800ppm of CICA Barrier Complex for highly effective skincare benefits.
It is also non-sticky, non-greasy, shows no white cast and feels hydrating and refreshing. It is vegan, cruelty-free and suitable for all skin types.
BEST MATTE SUN STICK
8 ISNTREE Hyaluronic Acid Airy Sun Stick
Best Highlights: Water-based matte finish powdery sun stick that also contains 8 types of Hyaluronic Acid. Triple functional, portable, and easily reapplicable with eco-friendly packaging.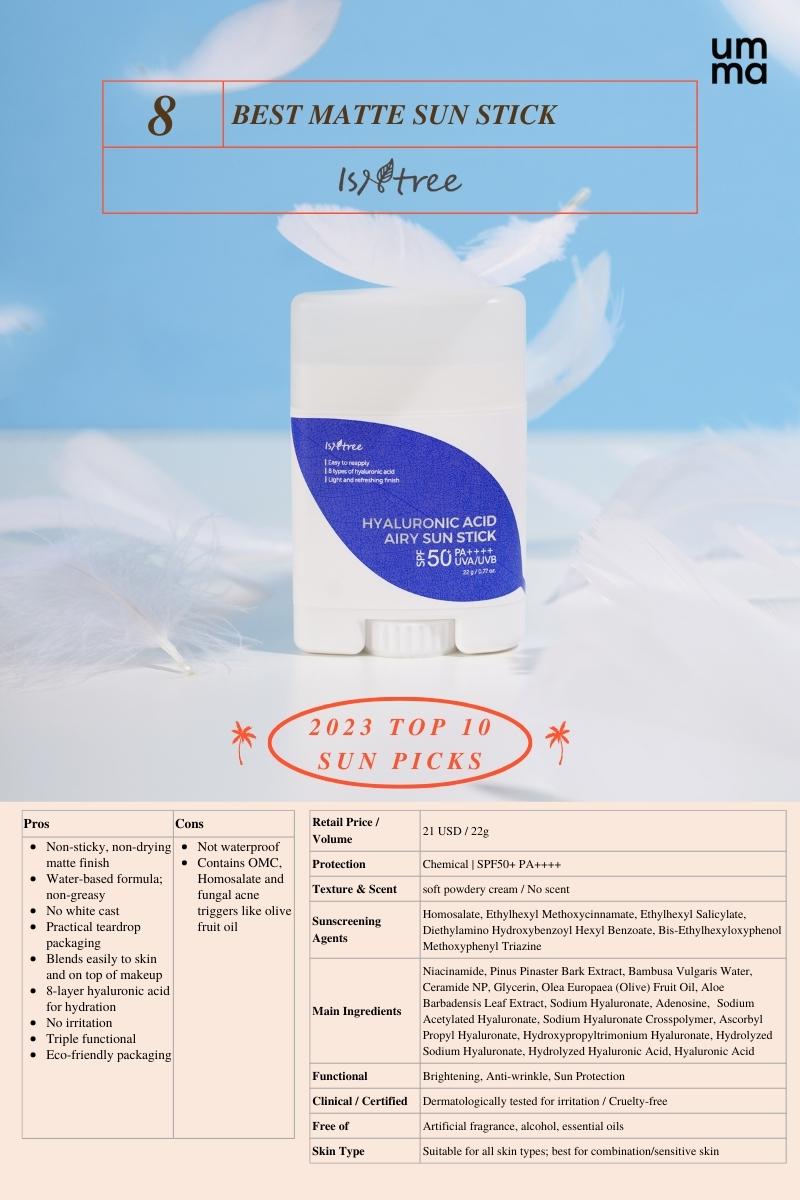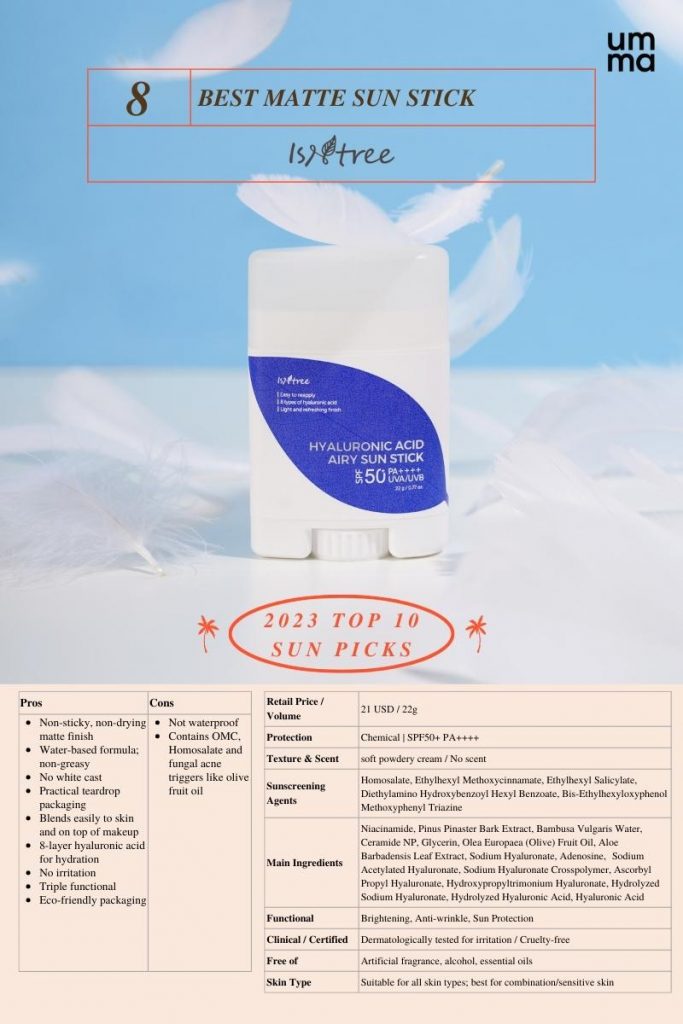 If you don't know, now you know: All of IsNtree's sunscreens are amazing! But we nominated the Hyaluronic Acid Airy Sun Stick to be on UMMA's top sun picks because it meets the need other sunscreens cannot offer.
There are some consumers that really hate the feeling of sun creams, and this product is the perfect alternative. It applies powedery and finishes matte, but it contains 8 types of Hyaluronic Acid to prevent the skin from feeling any dryness! Due to its characteristics, while it is suitable for all skin, it is best for combination and sensitive skin types.
BEST PORTABLE ACNE-FIGHTING SUN ESSENCE
9 HAMEL Vegan Relief Water Essence Sun Cream
Best Highlights: Egg-shaped portable sun essence with acne-fighting ingredients. Gentle with no white cast and natural glow finish.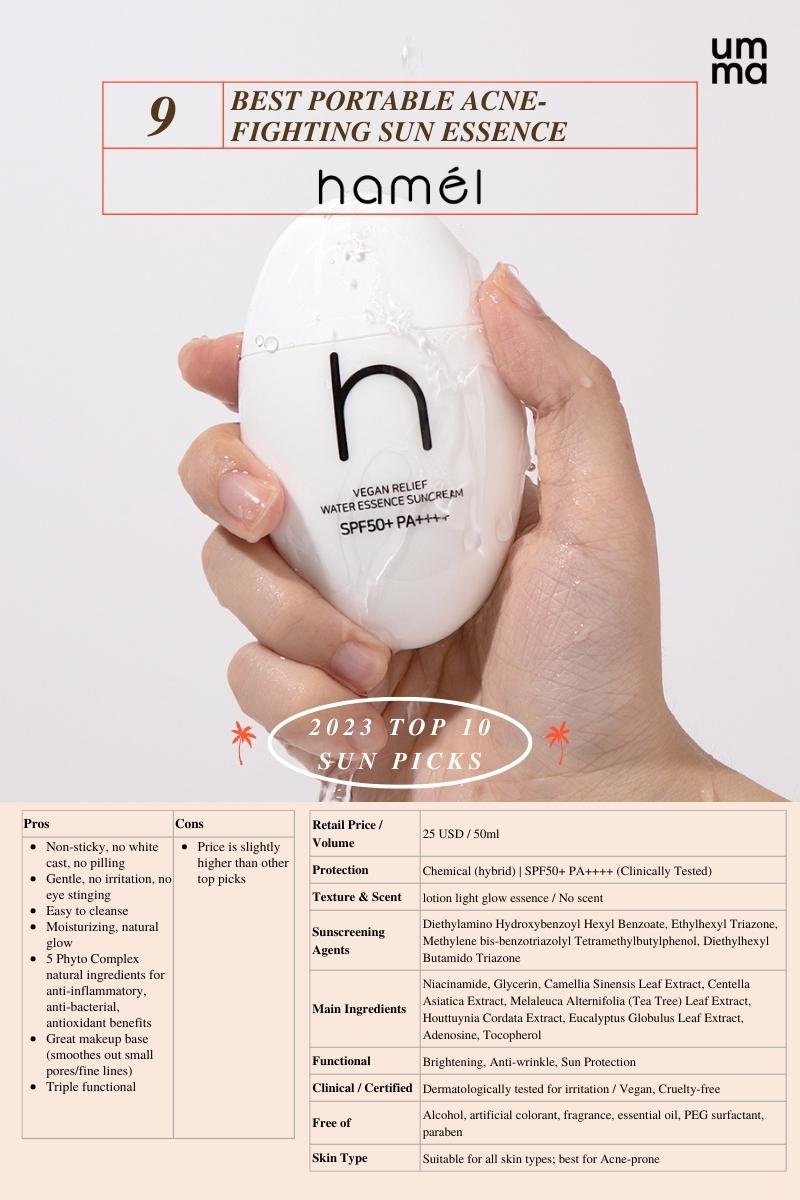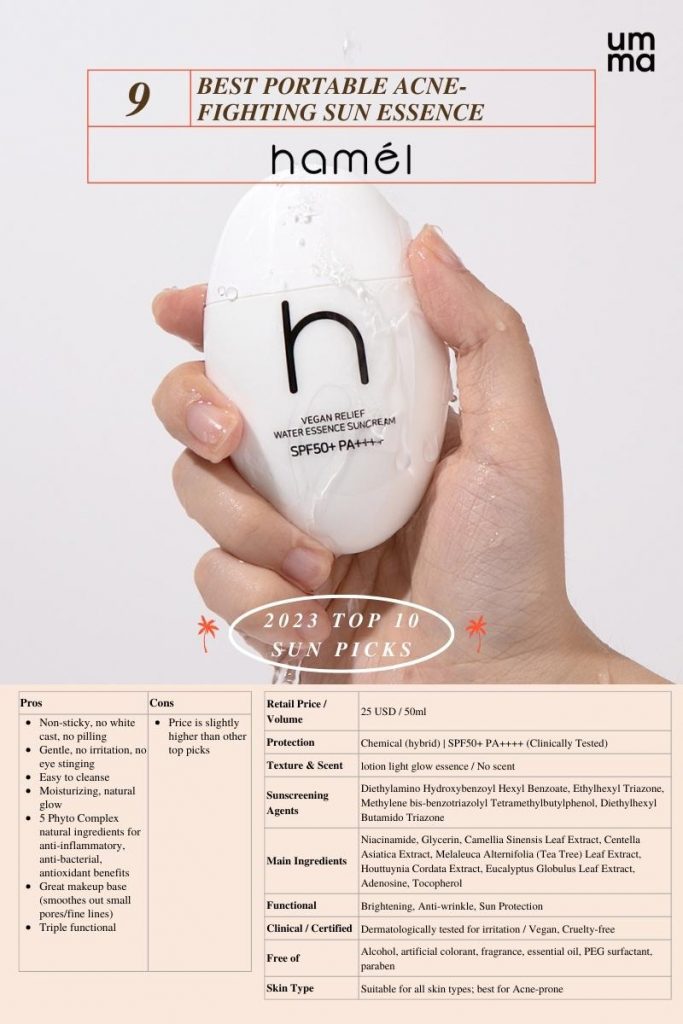 PETA and Vegan certified clean-conscious skincare brand, HAMEL is our hidden gem nomination for this list. The Vegan Relief Water Essence Sun Cream is a hybrid chemical sunscreen that offers powerful UV protection and effective skincare benefits. The lightweight application and packaging design makes it ideal to take on your beach vacations!
It offers non-sticky, non-greasy, no white cast formula that is easy to cleanse and gentle for everyone. The 5 Phyto Complex (Camellia Sinensis Leaf Extract, Centella Asiatica Extract, Melaleuca Alternifolia (Tea Tree) Leaf Extract, Houttuynia Cordata Extract, Eucalyptus Globulus Leaf Extract) provides anti-inflammatory, anti-bacterial and antioxidative benefits, making it perfect for acne-prone skin.
BEST COOLING ANTI-AGING SUN PACT
10 VT Essence Sun Pact
Best Highlights: One-of-a-kind essence and sunscreen in one pact packaging for portability and easy application. Contains multiple peptides and elastin for anti-aging benefits.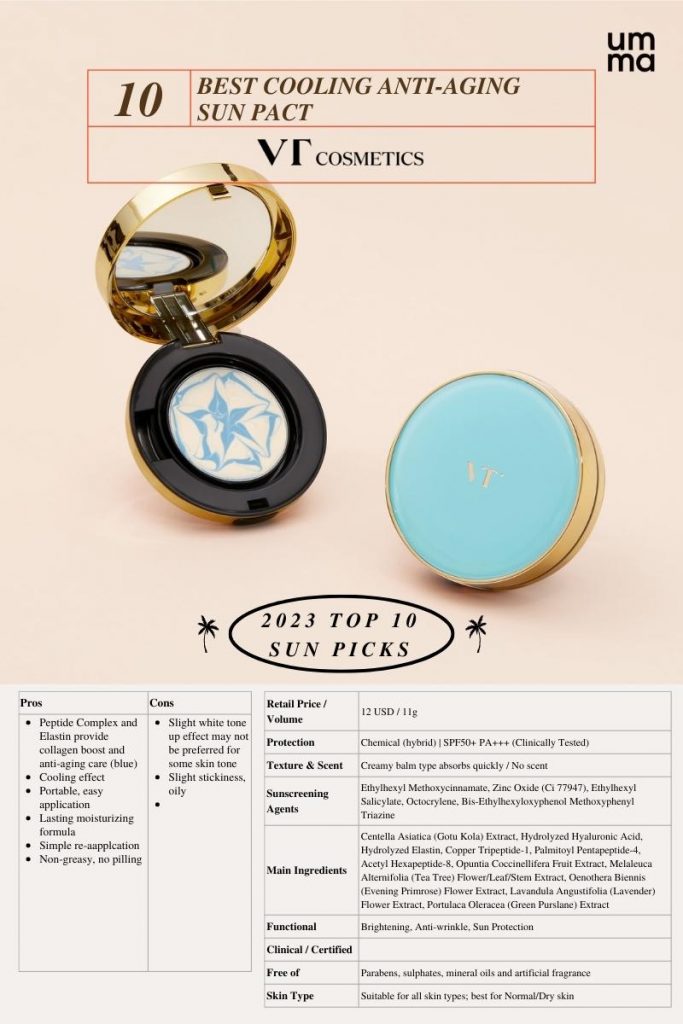 Awarded the 'Glowpick Awards' in 2021 and continuing on to be one of the top choice sunscreen alternative for fans, this product fills the gap of a need for an anti-aging, tone up sunscreen that can be reapplied with ease. It also provides a natural cooling effect with long-lasting moisturization that is perfect for the summer season. While suited for all skin types, it is especially great for normal to dry skin.
Take advantage of the 10% off limited offer until the end of April 2023, and stock up on Top Korean Sunscreen Wholesale from UMMA today!
For more details of the promotion, sign in and click on the main giveaway banner on the homepage.
Why Choose UMMA?
UMMA powered by Craver. one of the largest global K-Beauty supplier in South Korea, with 8 years of experience in global distribution and curation of K-beauty. We hand-pick only the best and trending brands and products for you to source from, so you can skip the time-consuming research, sourcing, and delivery waiting.
In fact, we provide an even faster delivery service, called u-quick. This is how it works: we stock up on 2000+ best selling products in high demand around the world, and we ship them within 48 hours of confirming your order. These products can be found when you use the 'view u-quick' filter.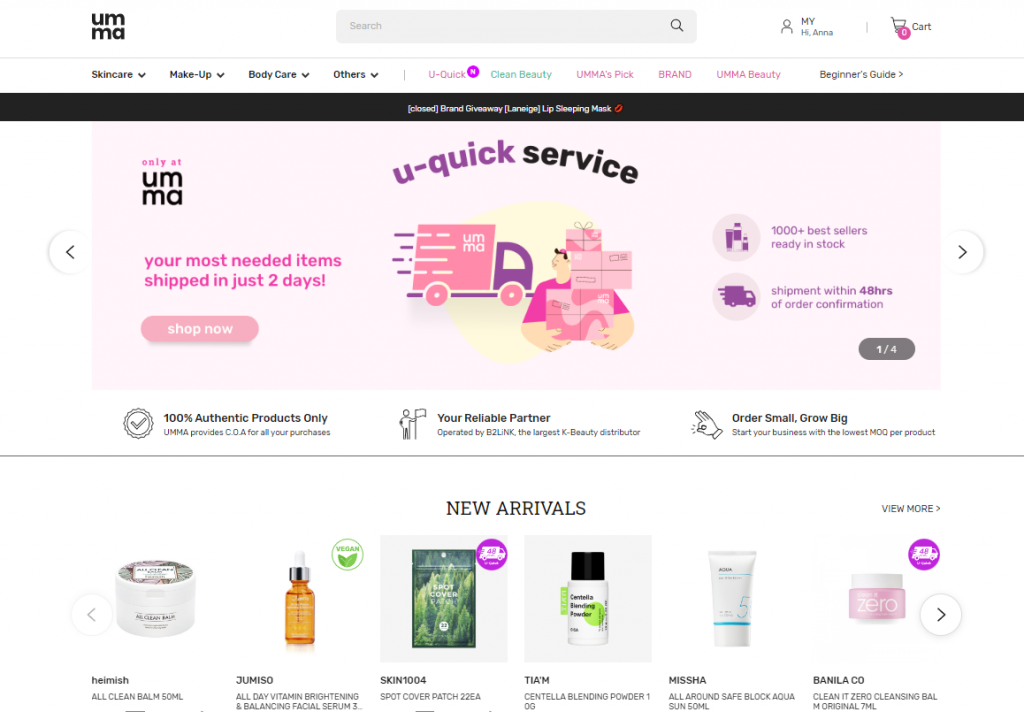 Furthermore, for every purchase, we provide a cash back program, called UMMA points, to continuously support the growth of our members.
You can also find more business support opportunities like Active Nine giveaway promotion to test new products in your market prior to making a purchase.
Lastly, we work hard (we really do!) to provide 1:1 sales and customer service, source products requested from you, and a plan a multitude of promotions for you to experience various kinds of dedicated support from us.
If all of this sounds like a good opportunity for you, don't hesitate to join our K-Beautiful family now. For more details about our service, check out our FAQ page.