The wonder works of globally renown Korean skincare, COSRX, is no longer a secret. Affordable pricing, exceptional skincare results, practical packaging – the list may go on as to why COSRX fans are loyal to this brand.
As a beauty retailer, you might think your customers are only seeking something newer and better to try out. While that may be true to some degree, they will actually more likely return for their all time favorite items.
As one of Korea's largest distributors of K-Beauty products, umma (powered by B2Link) contains great resources for beauty businesses. Our one-stop wholesale shop has thousands of authentic, top trending Korean cosmetics and skincare to choose from.
And since we have retailers from 213 countries sourcing from our website, we've put together a list of our top two COSRX wholesale items by country for 2021.
South Korea 🇰🇷
Of course, we need to start from the source of this wonder brand!
And the top 2 products in Korea are…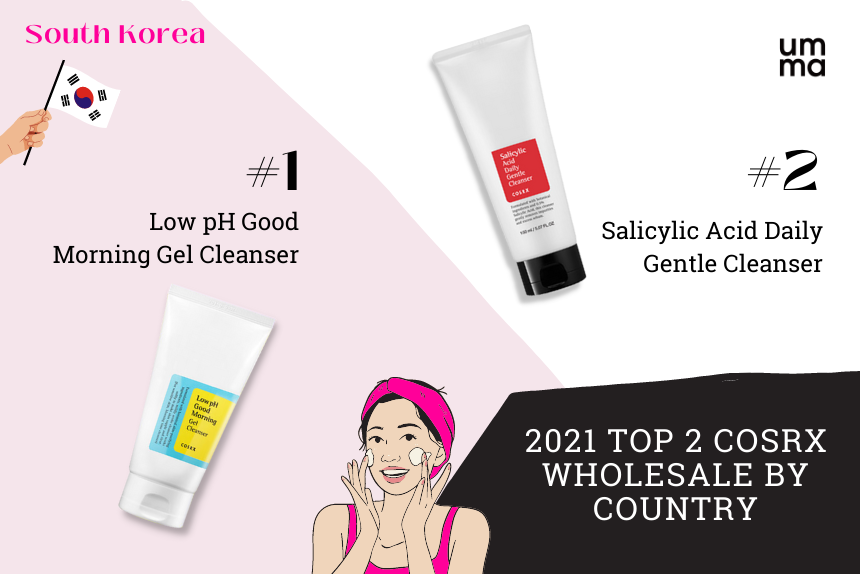 #1 COSRX Low pH Good Morning Gel Cleanser
#2 COSRX Salicylic Acid Daily Gentle Cleanser
Vietnam 🇻🇳
You might think tropical monsoon weather all year would keep your skin moist. However, external dew does not add hydrating benefits to your skin. Especially when you add heat to the humidity. COSRX delivers soothing and glow elements at full power with these two top sellers.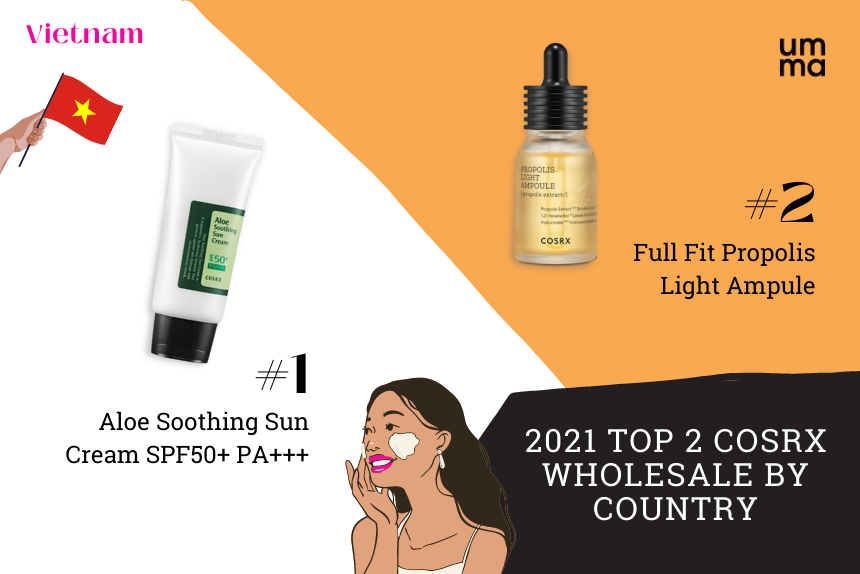 #1 COSRX Aloe Soothing Sun Cream SPF50+ PA+++
#2 COSRX Full Fit Propolis Light Ampule
Malaysia 🇲🇾
Climate definitely has influence over the preference of products in Malaysia as well. We added a mentionable product that's also popular for wholesale on our list for this country.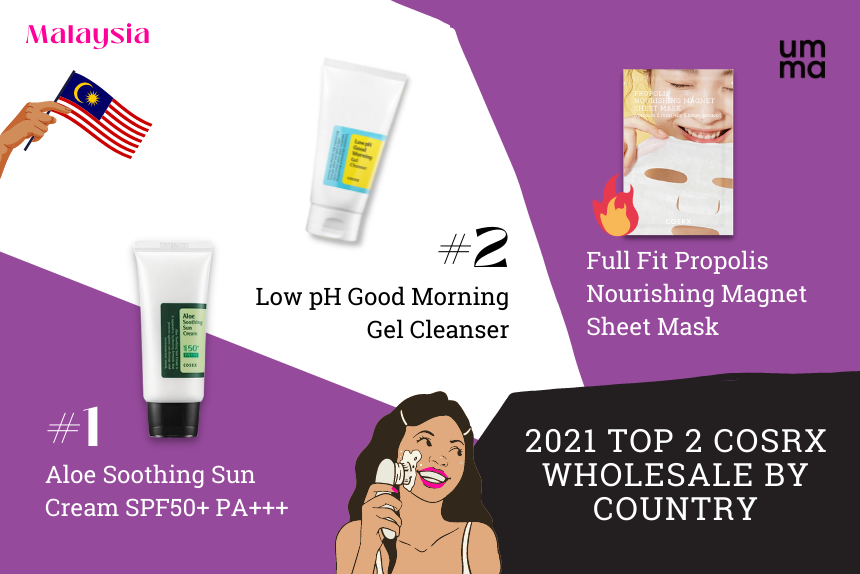 #1 COSRX Aloe Soothing Sun Cream SPF50+ PA+++
#2 COSRX low pH Good Morning Gel Cleanser
#Mentionable COSRX Full Fit Propolis Nourishing Magnet Sheet Mask
Singapore 🇸🇬
Got a bad case of maskne? These top two COSRX skincare sourced wholesale from Singapore may be just the solution.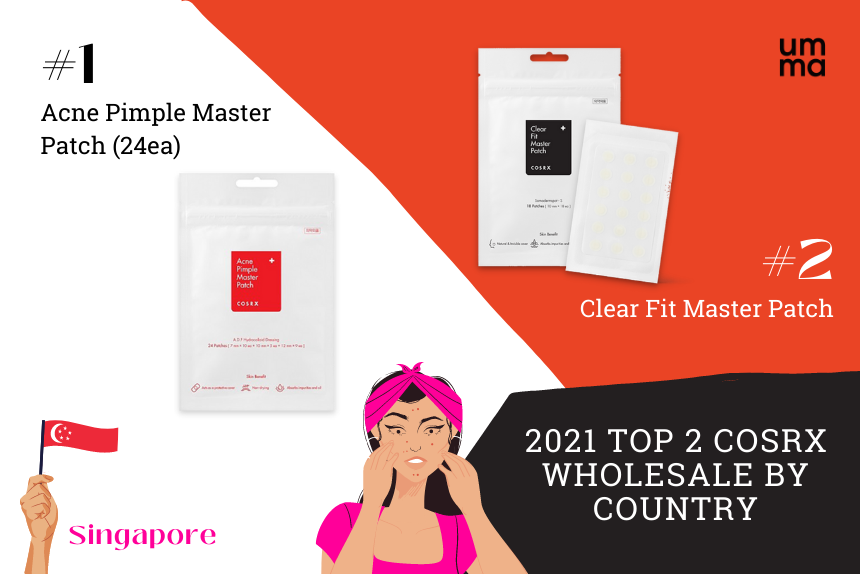 #1 COSRX Acne Pimple Master Patch (24ea)
#2 COSRX Clear Fit Master Patch
United States 🇺🇸
Protection from harmful UV rays. Protection from worsening breakouts. K-Beauty fans in the U.S. understand the importance of prevention. Here are the most sourced COSRX products retailers purchased from umma.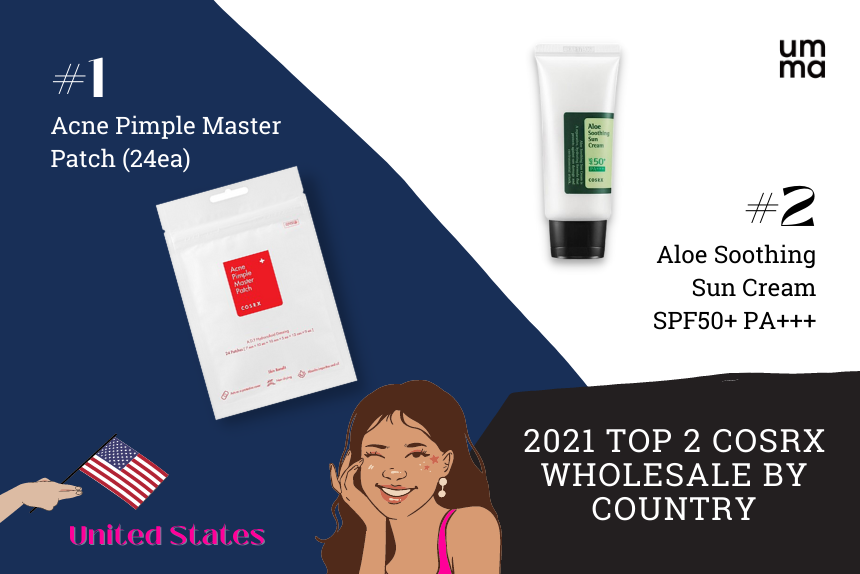 #1 COSRX Acne Pimple Master Patch (24ea)
#2 Aloe Soothing Sun Cream SPF50+ PA+++
Mexico 🇲🇽
One of the top trending countries in interest for Korean beauty!
If you haven't started selling K-beauty for your business, check out the rest of our list of best selling Korean cosmetics in Mexico to stock up on. Here is Mexico's top two COSRX products (which are actually Mexico's top two sellers overall!).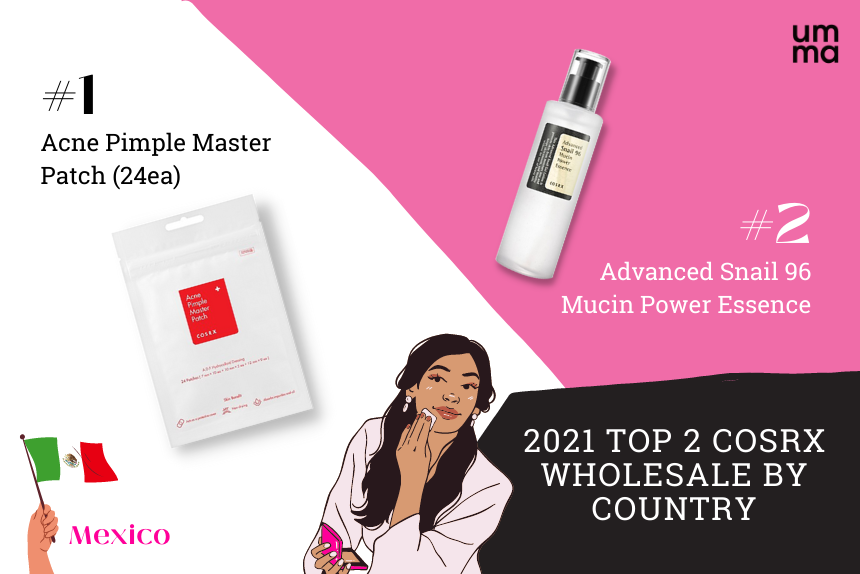 #1 COSRX Acne Pimple Master Patch (24ea)
#2 COSRX Advanced Snail 96 Mucin Power Essence
UK 🇬🇧
Also one of the top countries in rising demand for Korean beauty products. We have a special list of best selling wholesale Korean skincare for the UK market as well. So make sure to check it out! Here is the final top two list.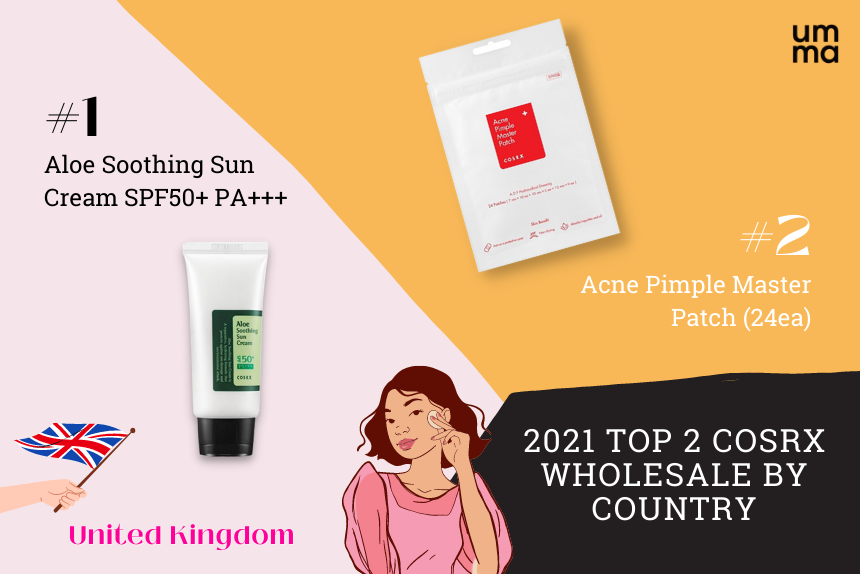 #1 COSRX Aloe Soothing Sun Cream SPF50+ PA+++
#2 Acne Pimple Master Patch (24ea)
That concludes our 2021 top 2 COSRX wholesale by country. As you can see, new doesn't always mean best selling. Make sure you know what your customers' wants and needs are before setting out to purchase big bulks of wholesale.
If you want to try out a new product, but you're not sure how your customers will receive it, check out our e-shop. It's free to register, we provide the lowest MOQ per product, and we consistently provide special offers to help your business grow.