Purity and originality in skincare is the utmost objective of Abib. The minimalist approach to skincare in the easiest possible way turned out to be the success of the brand. Simplistic approach to beauty has always been the dream of people in this fast-paced world. Abib products are carefully researched, prepared and designed. Moreover, Abib Laboratories grabs the attention of everyone who believes in quick and natural ways to rejuvenate their skin.
The use of excessive chemicals in skincare products subjects the skin to external elements in the modern world making appearances exaggerated and synthetic. Abib found the secret of organic skincare by revealing the wonders of skin perfection using organic methods and compositions. Each product focuses on self-generation of skin cells, slows down the aging process and prevents the skin from exposure to toxic ingredients.
These top-selling products of Abib are available for wholesale at UMMA – your one stop wholesale ecommerce that takes care of sourcing to timely shipping.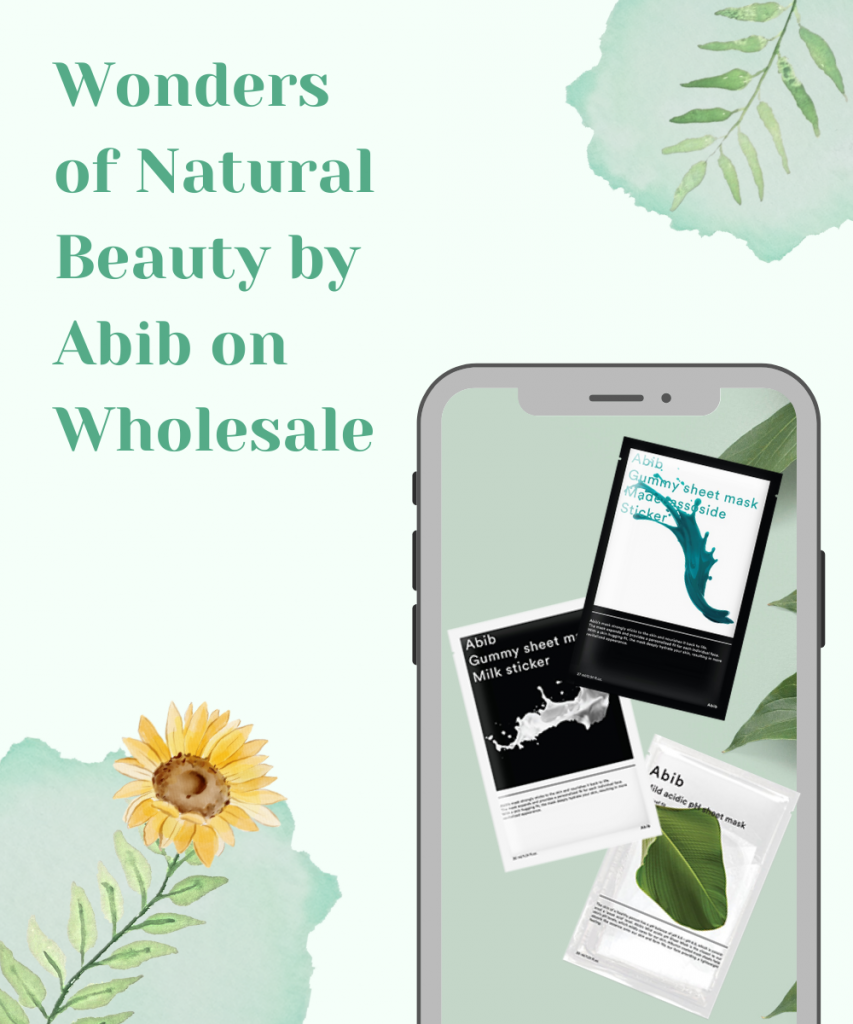 Gummy Sheet Mask Heartleaf Sticker Set
The solution to excessively sensitive skin, the first trending product by Abib contains the magic of Heartleaf. It cools down skin inflammation caused due to the formation of excessive sebum. The super-gummy microfiber sheets tightly seal your skin to absorb the magical properties of Heartleaf. The moisturizing properties of these sheets completes the true skincare your customers need. Abib prides itself for introducing this product to the K-beauty industry. Reviews on Amazon suggests that it is the best K-beauty gummy sheets people have ever used where they feel the difference with a single use.
Gummy Sheet Mask Madecassoside Sticker Set
Soothing, energizing and moisturizing, these Madecassoside sheets keeps the skin calm and self-preserved. Every sheet embeds a highly concentrated essence to meet the replenishing requirements of the skin. More like second skin, they fit perfectly to any form and type of face covering every single pore on the face. These sheets have been reviewed on Amazon as unexpectedly good and helps calming the skin after daylong makeup and sunscreens.
Mild Acidic pH Sheet Mask Heartleaf Fit Set
These premium quality sheets are made of bamboo and albumin (egg white) that starts to tighten according to the skin. After its perfect fit, the sheet mask absorbs the serum into the skin. This mildly acidic pH (close to pH of skin) mask sheet is perfect for sensitive skin and does not cause any irritation upon application. The pH sheet mask is a popular K-beauty product with a high demand on both Amazon and on Shopee. Skincare enthusiasts are actively adding this mask to their daily skincare routine. Even people with skin prone to breakout found it gladly satisfying.
Abib is on Wholesale at UMMA!
Abib's exceptionally soothing, calming, moisturizing formulation has cult followings from beauty fanatics. If you haven't heart of them, these items are the ones you want to test out in your market. If it's not the word of mouth that sells it, it's the formulation that brings results. Get Abib on wholesale for low competitive rates at umma.