Milktouch, the brand
The K beauty world is heavily saturated with brands with similar philosophies and similar formulations with trending ingredients and trending copies. When you finally discover the wonderland that is Milktouch's wide range of skincare and makeup products, you will realize what it means to 'be your authentic self'.
Milktouch aims to provide cosmetics that contain the voices of their fans. Each product is proudly curated through a thoughtful development process. The skincare ingredients are chosen with peculiar insight and the makeup colors and textures that blend smoothly to bring out the heart of the individual who wears it.
This is why the brand focuses on reaching those with a meticulous taste for fresh, original cosmetics. And this is why we at UMMA propose supplying Milktouch wholesale for your business.
To help test out this brand's amazing products, we at UMMA in courtesy of Milktouch have prepared a limited time giveaway event. Introducing the giveaway item:
All Day Long and Curl Mascara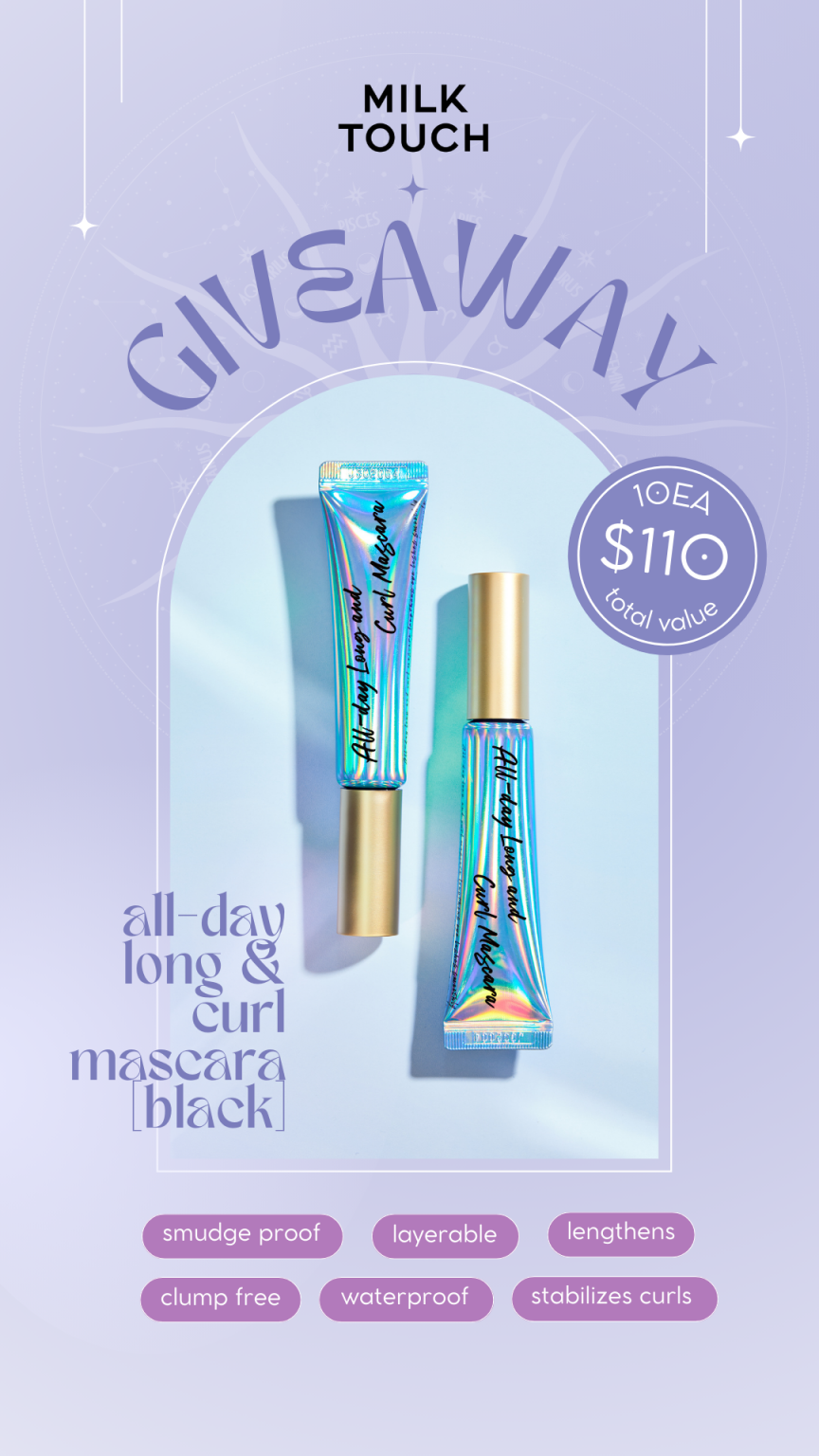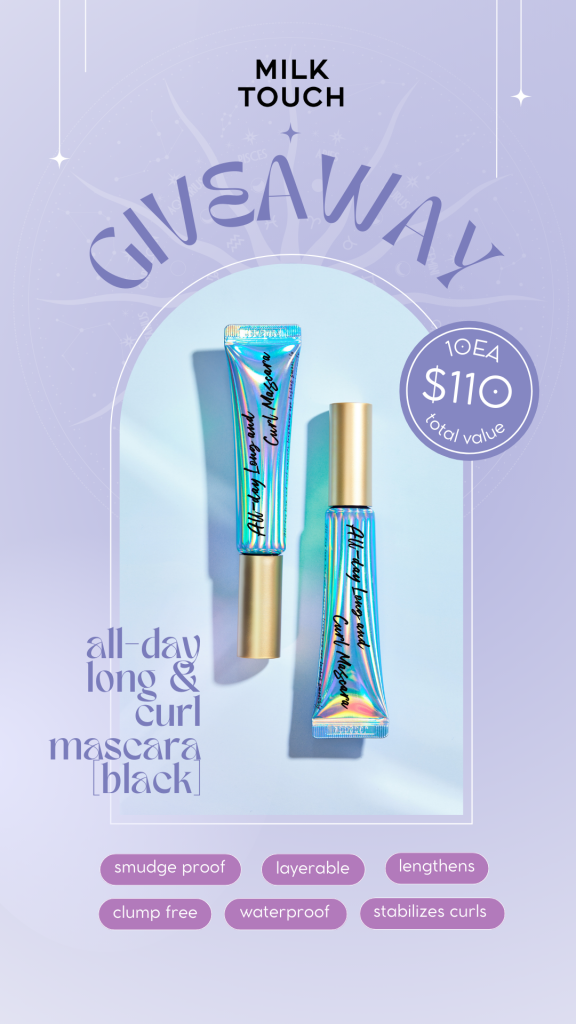 This long lasting, curling mascara actually does what it claims! This waterproof mascara was created to be smudge proof and clump free all day, and the curls do not die down. While some curling mascaras coat the eyelashes with too much product at once, creating a heavy look, the All Day Long and Curl Mascara applies just the right amount at a time to provide clean, lushious lashes. It is perfectly layerable for even longer, more voluminous lashes. And this is just what the beauty fans rave about with this product!
[Promotion] With any purchase from UMMA, Get 10ea All Day Long and Curl Mascara [Black]
Shop your kbeauty wholesale stock from UMMA, and get this exclusive product offer today!
For more details of the promotion, sign in and click on the main giveaway banner on the homepage.
Additionally, if you're looking for other top products by Milktouch, there are many other fan favorite products by Milktouch to look into. While there are so many great options due to the brand's very wide range of product choices – each more unique that the other – we recommend looking into these top choices:
Hedera Helix Relaxing Cream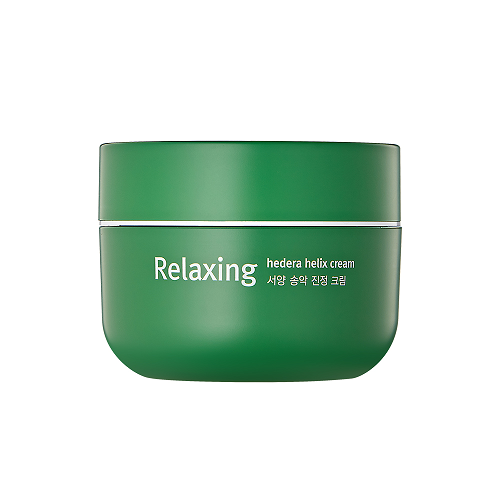 The Hedera Helix cream is the brand's best selling skincare item. Hedera Helix is actually a fancy word for the common English Ivy plant. It contains anti-oxidative properties that help protect the skin from aging. It also helps with oil balance and pore cleansing. Together with Rosemary extracts and Centella Asiatica, the formula soothes skin while providing nourishment to keep skin healthy and plump. To say the least, this one-for-all cream is completely underrated and ready to come out to the spotlight!
Reviewers complement the watery cream texture that helps clear up acne and works great on dry and acne-prone skin. This cream also contains all safe ingredients and claimed vegan.
Be My Perfect Multi Palette Mini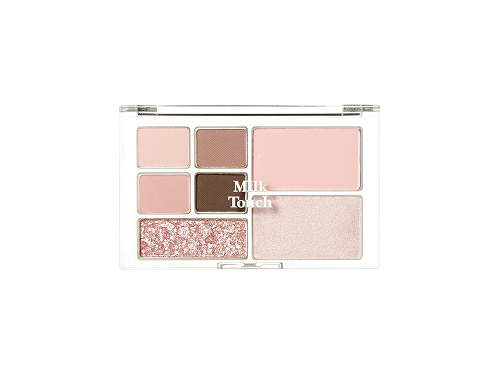 The best thing about palettes are that you can create multiple looks depending on your mood. But make them a mini size and you can take it anywhere, apply and reapply anytime! Be My Perfect Multi Palette Mini is your perfect purse pal that contains four different textures from pastel powder to macro glitter shades. Along with this convenience and ideal color combinations, reviewers absolutely adore this product! There are three palette choices:
The Choco Vanilla Split completes a got-the-perfect-light-tan look with light beige to chocolate brown shades that blend together in harmony.
The Strawberry Cotton Candy contains girlish soft pink tones with gray brown shades that work together to deliver a youthful feminine look.
Lastly, the Soft Peach Sorbet palette helps achieve a lovely 'no makeup' look with soft peach, beige, and brown undertones like sunshine on your face.
Long Lasting Velvet Glow Cushion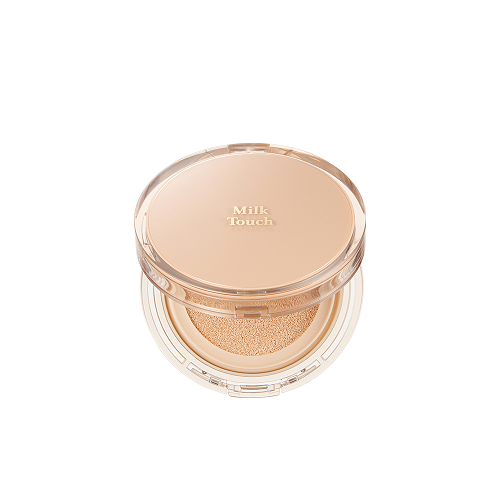 A very underrated glow cushion by Milktouch – many glow cushions out there lack performance when it comes to coverage. However, this cushion applies a very light, soft, and full covering layer while providing the perfect amount of moisture to the skin to provide that 'inner glow' look. Reviewers claim this formulation is extremely adhesive without the dryness, lasts long, and does not smudge off on masks.
Get Milktouch Best Items Wholesale at UMMA!
Finding underrated, niche, and cult favorite brands, and distributing all over the world is what we do best at UMMA. We now have 120+ brands you can source from, including unique brands like Milktouch. Register today to browse our wholesale ecommerce for free. Get a sign up bonus, and take advantage of our giveaways and exclusive members benefits.