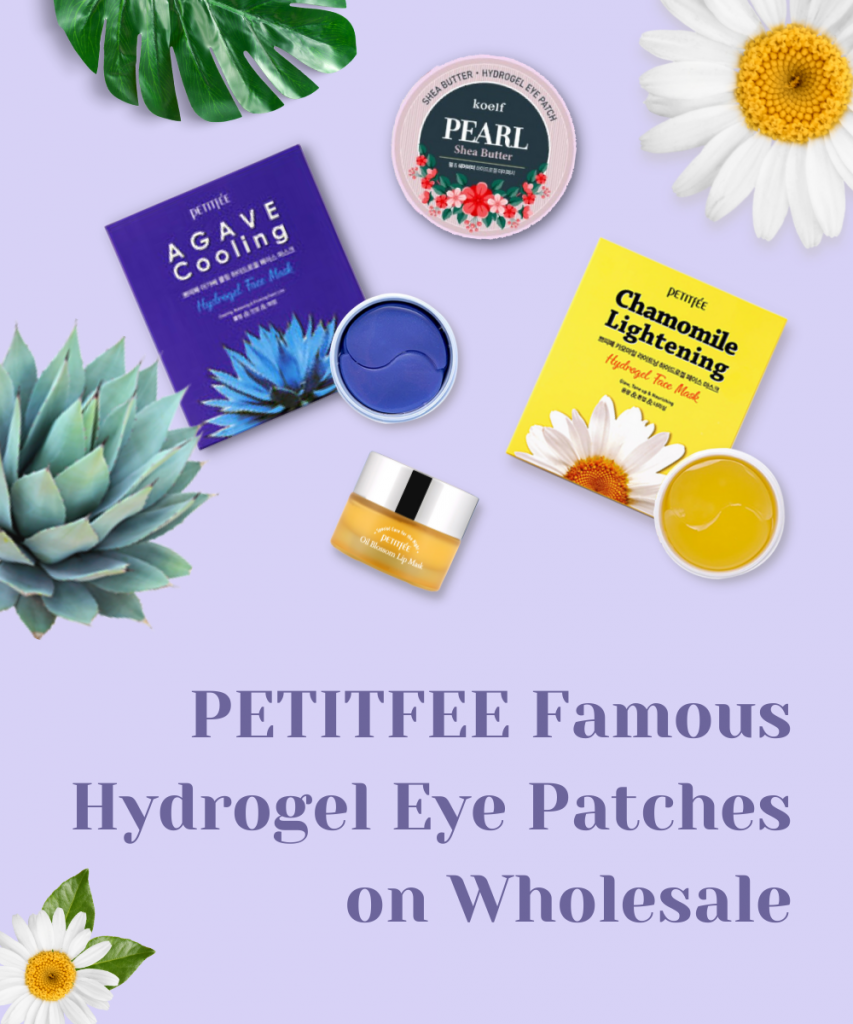 While the Gold Eye Patch was the first W.O.M. popular item, the following four are best and trending. At UMMA, you can get PETITFEE famous hydrogel eye patches on wholesale at competitive prices.
Focused on creating skincare solutions using natural ingredients, PETITFEE was able to create a line of hydrogel eye patches that won over the hearts of health & beauty lovers globally. Each one targets a different eye care concern. Since 2007, the brand prioritizes safety, quality and professionalism. Take a look at the four best selling products by PETITFEE.
Agave Hydrogel Eye Patch
PETITFEE's best and most popular item is the Agave Hydrogel Eye Patch. It has proven to be a game-changer when it comes to cooling the under-eye area. Most reviews on Amazon explain they are best when refrigerated and used right after waking up. The cooling effect moisturizes and elevates the under-eye bags common after waking up. More reviews comment about great value for money as one jar contains about 60 eye patches.
Pearl & Shea Butter Hydrogel Eye Patch
The eye patch jar contains drop-shaped eye patches that adhere to the under-eye allowing maximum absorption. The hydrogel thickness and shape is convenient and extremely adhesive. So, this multi-purpose eye patch can also be used on fine lines around the lips. The pearl brightens and shea butter moisturizes and softens the skin under the eyes.
Chamomile Lightening Hydrogel Eye Patch
Chamomile Lightening Hydrogel Eye Patch is ideal for those with dark circles. The power of chamomile, pumpkin and yuzu extracts instantly brightens the under-eye area. Moreover, it uplifts and refreshes tired-looking skin. Skincare gurus love how effective these eye patches are. Additionally, they never fail to mention the quantity they get for the quoted price.
Sea Buckthorn Oil Lip Mask
PETITFEE is known for their eye patches. But, this product was too good not to mention here. The Sea Buckthorn Oil Lip Mask is a power-packed overnight lip balm that contains moringa, argan, sea buckthorn, and jojoba. Additionally, it also contains hanchoncho, turmeric, meadowfoam seed, holy basil leaf and Indian mulberry leaf extracts. The combination of these powerful ingredients makes the Sea Buckthorn Oil Lip Mask a must for a nighttime routine. Amazon reviews rave about the levels of moisturization, fading of wrinkles and brightened lips.
Get PETITFEE Famous Hydrogel Eye Patches and Other Best Sellers on Wholesale
We provide the best of K-Beauty to bring your beauty business new levels of success. Register free and purchase these famous PETITFEE eye patches on wholesale. And also check out the list of Korean skincare and cosmetics brands we offer for inspiration for your business.