Skinfood is the first-ever Korean skincare brand that has rooted its pillars in food. Starting in 1957, the company used vitamins, minerals and antioxidants from food to create its products. The brand is based on the saying "you are what you eat" in its most literal form.
In this day and age, when we are connecting back to our roots, consumers want everything from their food to their cosmetics to be organic and chemical-free. Skinfood products are what every woke skincare enthusiast wants in their daily skincare routine.
Luckily, we have shortlisted six of the best sellers most in demand to consider stocking up for your business. Read on to find out, and get Skinfood on wholesale for low rates at umma.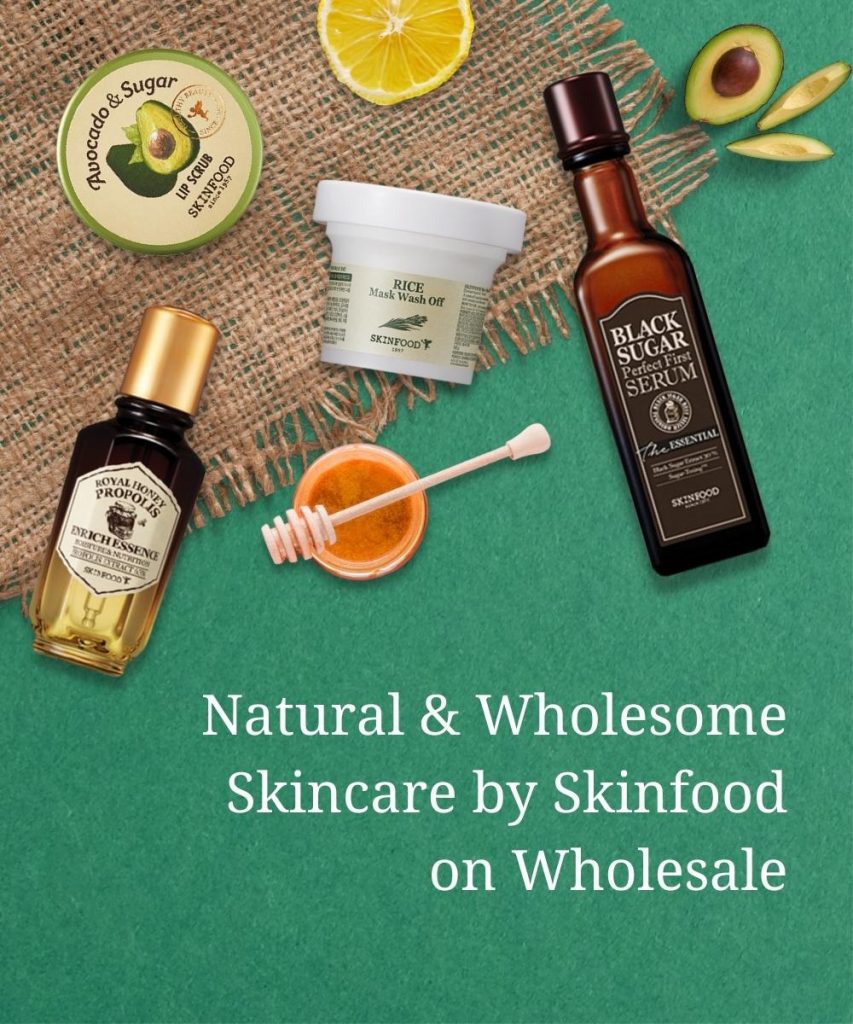 Royal Honey Propolis Enrich Essence
With a name that suits its essence, the Royal Honey Propolis Enrich Essense is the solution to reducing dark spots and acne; it also leaves the skin moisturized and gives it a honey-kissed look. Described as the best skin toner that is known for providing a deep nutrient cleaning experience for rough and dry skin. Moreover, it leaves the skin glowing and smooth, allowing users to achieve Korean beauty standards. Black Bee honey is one of its key ingredients that promise younger, moisturized and revitalized skin. Reviewers rave about the honey scent, how it leaves the skin moisturized, the convenient application over the skin, and how it helps eliminate dry spots on the skin.
Black Sugar Perfect First Serum The Essential
Porcelain skin is the ultimate goal for skincare enthusiasts. The fermentation of black sugar can help achieve this look. The Royal Honey Propolis Enrich Essence prevents the formation of wrinkles and results in smooth skin. It is not harsh and perfect for those who want to tighten their skin. It also reduces blackheads, dark spots, damaged skin and slows down the buildup of sebum. The serum leaves the skin feeling fresh, hydrated, and supple and all the adjectives that can be used to describe smoothness, as mentioned on Amazon reviews.
Rice Mask Wash Off
Facials are so 2017! This wash-off mask allows its users to get healthy and smooth skin without having to visit a salon. With customers satisfied with the smooth, young look that the mask provides them, this has become a favorite for many. The results have made them go for a second buy and have compelled them to make the mask a part of their daily skincare routine. With a mochi-like structure, the mask is not only easily adheres to the skin but also caters to all skin types. The mask is also known to brighten the skin tone and eliminate dead skin as soon as it is applied because of its effective exfoliation power.
Avocado & Sugar Lip Scrub
Nobody likes dry flaky lips and the Avocado and Sugar lip scrub helps create a moisturized layer. It also promises and delivers hydrated and moisturized lips. Keeping lips smooth and plump for long hours, while simultaneously replenishing, repairing, and hydrating the skin. Described as an "essential essence for lips" on Amazon reviews, skincare gurus are happy with the moisturizing qualities and the quick absorption of the product.
Fresh Fruit Lip & Cheek
Created with vegetable oil, the Fresh Fruit Lip and Cheek moisturize and provide nutrients to the skin. Additionally, it also gives the lips and cheeks a beautiful, natural-looking color. With many different colors to choose from, the product is suitable for all types of skin. Amazon reviews show how happy customers are with the long-lasting stain, which does not require a touch-up!
Salmon Dark Circle Concealer Cream
A good concealer is vital to achieving flawless looks. The Salmon dark circle concealer cream lives up to its name, made from Norwegian salmon oil. Which improves the immunity of the skin and possesses anti-aging properties. The product reduces dark spots, under-eye marks, wrinkles and fine lines. Moreover, it promises to provide full coverage with a glossy look. The product not only acts as a concealer but also nourishes the skin. Youthful and vibrant are adjectives used to describe the skin after using the concealer by users on Amazon. Its smooth and creamy texture blends well leaving the skin looking soft and smooth. Reviews on both Amazon and Shopee, second the claims made by the product and the brand.
Great deals for Skinfood on wholesale at umma!
Keep on top of your competition by investing in Korean beauty products available at UMMA. We provide top-self best-selling products, including ones by Skinfood on wholesale. Additionally, we provide great perks and benefits exclusive at UMMA to help your business grow. Register and become a member today and get a registration bonus to use on your first purchase.