Kim Hee Jun, a student of traditional Chinese medicine is the creator of ELIZAVECCA. The brand was established in 2011 but soon after in 2013, the Green Piggy Collagen Jella Pack became a hit in Korea. Milky Piggy Bubble Clay Mask quickly followed after to become a bestseller. Moreover, the brand became a cult favorite among Korean skincare fans around the world. Check out the top selling products of this fun-loving brand, ELIZAVECCA on wholesale at UMMA.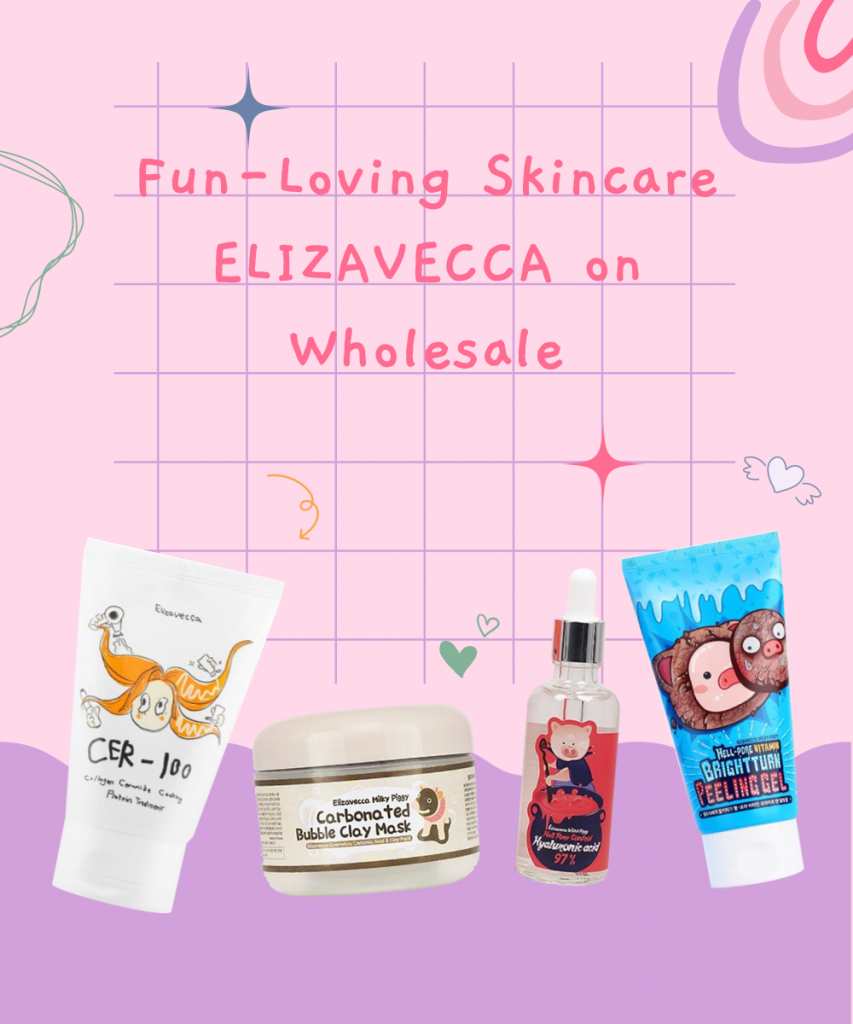 Best seller skincare products
Milky Piggy Carbonated Bubble Clay Mask
According to reviews on Amazon, using Milky Piggy Carbonated Bubble Clay Mask was fun! Every user enjoyed the bubbling effect of the mask on their face. Aside from the fun aspect, it also provides great skin tightening, refreshing, and skin softening effects. It's advised to be a little careful when using this product, because the carbonation formula reacts with air, water, and oil (follow their instructions). However, the results more often than not bring customers back for more.
Milky Piggy Hell-Pore Vitamin Bright Turn Peeling Gel
Rich in vitamin E, flower extracts, and lemon oil, the bright turn peeling gel has some amazing reviews. The best part about ELIZAVECCA is the fun packaging and names that immediately attract customers. Skincare lovers have found this peeling gel to be the perfect solution for exfoliating and moisturizing at the same time. Additionally, it instantly brightens and refreshes the skin.
Witch Piggy Hell-Pore Control Hyaluronic Acid 97%
The Witch Piggy Hell-Pore Control Hyaluronic Acid contains 97% hyaluronic acid. As you may well know, hyaluronic acid is highly effective in providing extreme moisture and preventing moisture loss. It helps in improving wrinkles and brighten the skin complexion at the same time. Skincare enthusiasts swear by this product and recommend it to be added to a nighttime skincare regime.
Best seller hair care products
Collagen Coating Protein Ion Injection
This leave-on hair essence is the Holy Grail for dry and damaged hair. Collagen Coating Protein Ion Injection by ELIZAVECCA has yielded great results. The best instruction for use is apply bottom up and leave it on after your shower on still wet hair. Moreover, it is also effective when used on dry hair daily. The serum protects and nourishes the scalp and hair up to the ends.
Collagen Ceramide Coating Protein Treatment
This product works as a professional hair salon protein treatment. A simple application on wet hair, the active ingredients soak into the scalp for soft, frizz-free, and shiny hair. Reviews on Amazon complain about the bottle is too small, since they cannot get enough!
ELIZAVECCA best products stock available at UMMA!
Add this brand of unique formulation and fun packaging to your beauty business. This brand is a great conversation starter for customers who are always in search of a way to spice up their routine. Sign up today and take advantage of all the exclusive offers and discounts from UMMA.