ACTIVE NINE ; the brand
Inspired by dermatological skincare solutions, ACTIVE NINE aspires to provide nine projects that focus on keeping skin's natural cycle active. And the first project starts with the most important skincare step – sun protection (or the 'Sun Blah Project').
What does a natural skin cycle look like?
Imagine the cycle of a storm. The rain clouds gather until the rain falls. And after it clears away, you see bright blue, clear skies. Like the cycle of a storm, healthy skin also has a similar cycle of activation, restoration, and balance. ACTIVE NINE's vision for the nine projects involve keeping a strict standard in product development that helps maintain this cycle.
The standards are:
1. It must activate the skin
2. It improves the skin's ability to regenerate
3. It reduces the speed of skin aging
4. It excludes harmful ingredients and contains more active ingredients
This focus is reflected by the high effectiveness, safe, quality products that is beyond the current market's standard of 'affordable'. The brand does not invest on expensive branding and design, but chooses to deliver to the user exactly what the product's unique qualities are. Like the packaging – it is minimal, and only contain in writing what the product promises to deliver.
ACTIVE NINE hopes to deliver simple, focus products that will clear the 'storm' of skin troubles for a long-term healthy skin life.
ACTIVE NINE ; Intensive UV Shield Airy Sun Soothing Essence
ACTIVE NINE's first product of the 'Sun Blah Project' is the Intensive UV Shield Airy Sun Soothing Essence SPF50+ PA++++. Like the title of the product portrays, this lightweight sunscreen feels and moisturizes like an essence. This sun essence provides a strong, clinically tested SPF/PA, yet light enough to re-apply several times a day without the heaviness or stickiness you would think it requires.
The formula contains 60% moisture ingredients, like Allantoin and Aloe Vera that keep your skin's oil-water balanced, and help soothe and hydrate your skin throughout the day. It also contains patented ingredients, such as Soothing Cooler* that prevents skin aging from heat, and Derma-Clera* that strengthens the skin barrier.
This sun essence is the perfect choice for those looking for a non-sticky, chemical sunscreens that does not contain any harmful ingredients for the skin or environment. And of course, you won't see any white cast.
While all this sounds extremely attractive, the most exciting part about this unique product is the price. For information about this product, sign in to shop at umma.io or ask us about it at cs@umma.io.
ACTIVE NINE ; giveaway
As the exclusive distributor of ACTIVE NINE, we have prepared plenty of stock for this brand's giveaway.
With any purchase at UMMA, you will be able to choose

up to 5ea

(per person) of INTENSIVE UV SHIELD AIRY SUN SOOTHING ESSENCE SPF50+ PA++++ 50ml.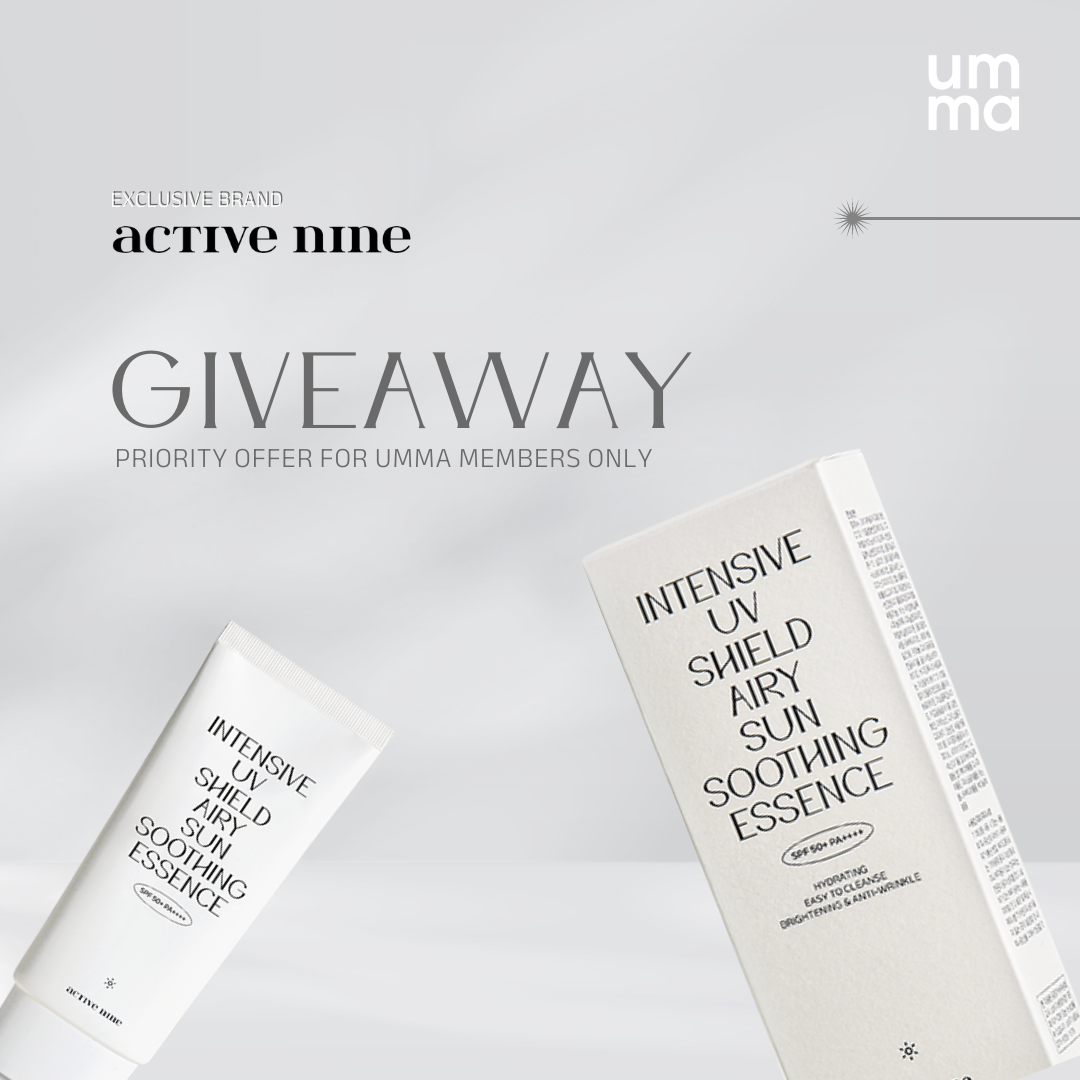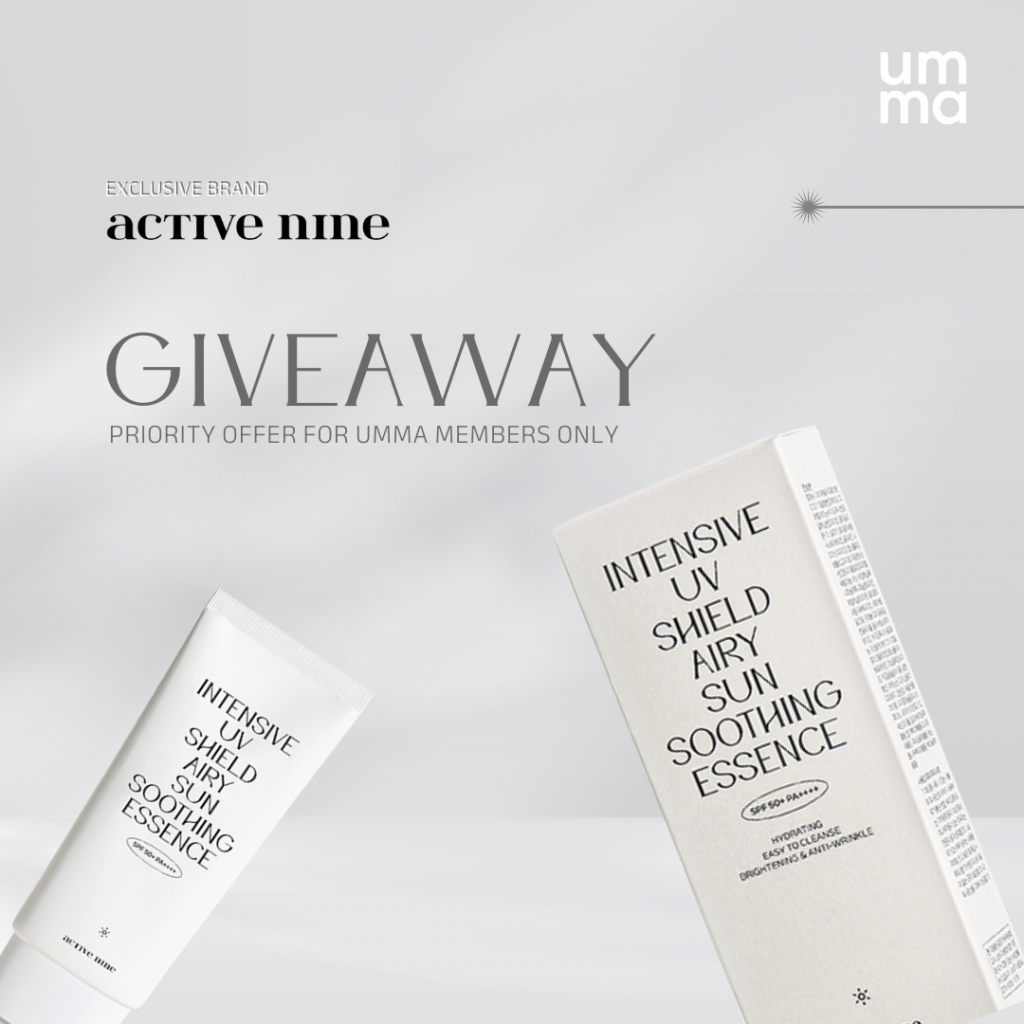 Shop your kbeauty wholesale stock from UMMA, and get this exclusive product offer today!
For more details of the promotion, sign in and click on the main giveaway banner on the homepage.
Why Choose UMMA?
UMMA powered by Craver. one of the largest global K-Beauty supplier in South Korea, with 8 years of experience in global distribution and curation of K-beauty. We hand-pick only the best and trending brands and products for you to source from, so you can skip the time-consuming research, sourcing, and delivery waiting.
In fact, we provide an even faster delivery service, called u-quick. This is how it works: we stock up on 2000+ best selling products in high demand around the world, and we ship them within 48 hours of confirming your order. These products can be found when you use the 'view u-quick' filter.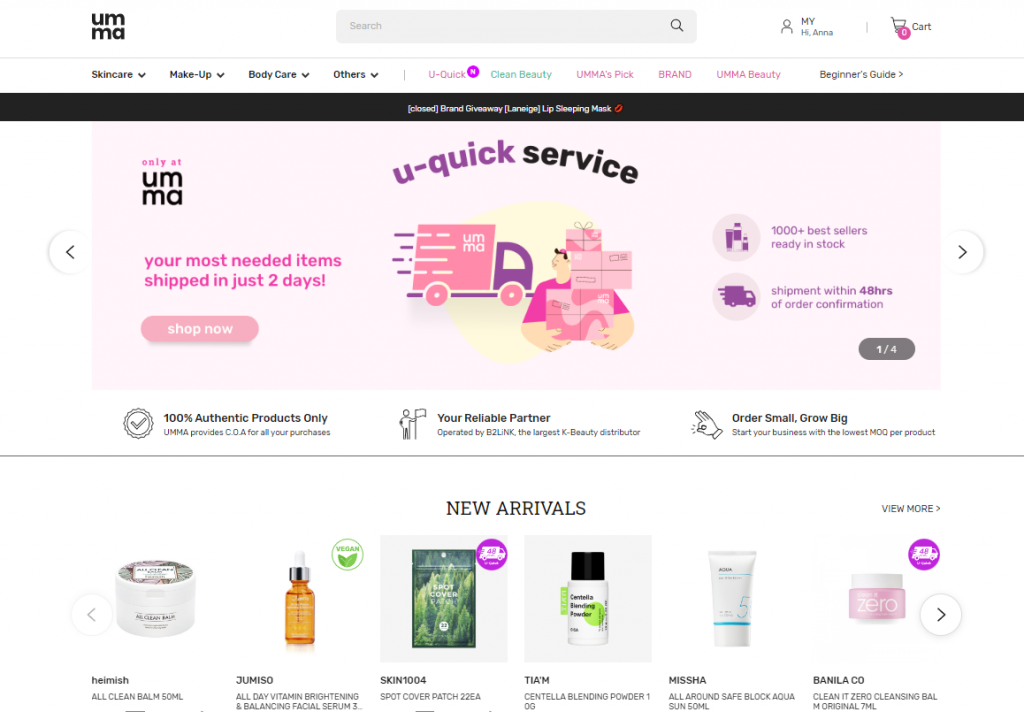 Furthermore, for every purchase, we provide a cash back program, called UMMA points, to continuously support the growth of our members.
You can also find more business support opportunities like Active Nine giveaway promotion to test new products in your market prior to making a purchase.
Lastly, we work hard (we really do!) to provide 1:1 sales and customer service, source products requested from you, and a plan a multitude of promotions for you to experience various kinds of dedicated support from us.
If all of this sounds like a good opportunity for you, don't hesitate to join our K-Beautiful family now. For more details about our service, check out our FAQ page.