UMMA Exclusive AXIS-Y Promotion
AXIS-Y has launched a new product according to the needs of their community – the NEW AXIS-Y PHA Resurfacing Glow Peel. As a celebration, we have prepared a wholesale launch promotion exclusive only to businesses looking to invest wholesale K beauty at UMMA.
Freebie Selections
Here are the three freebie options you can choose from: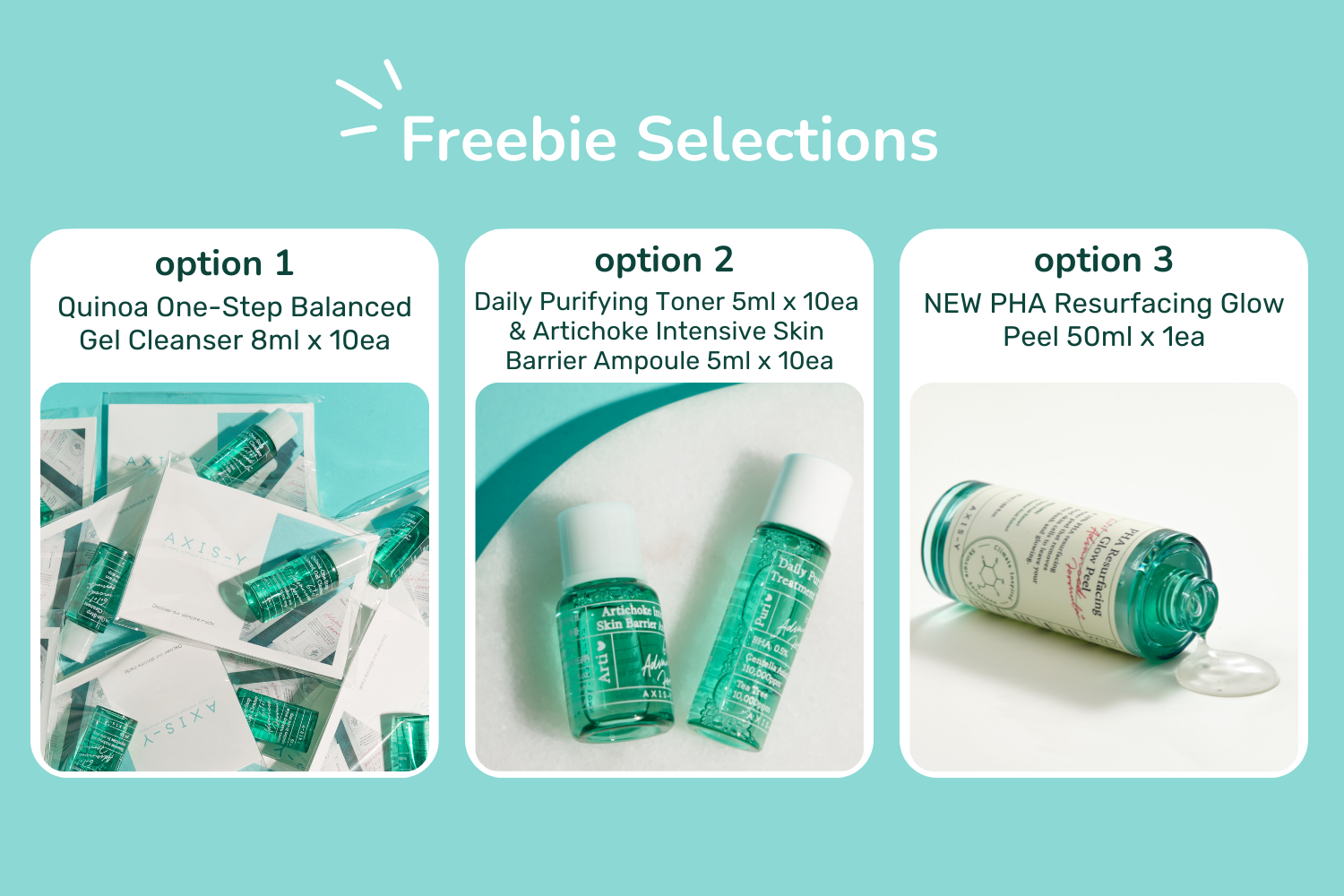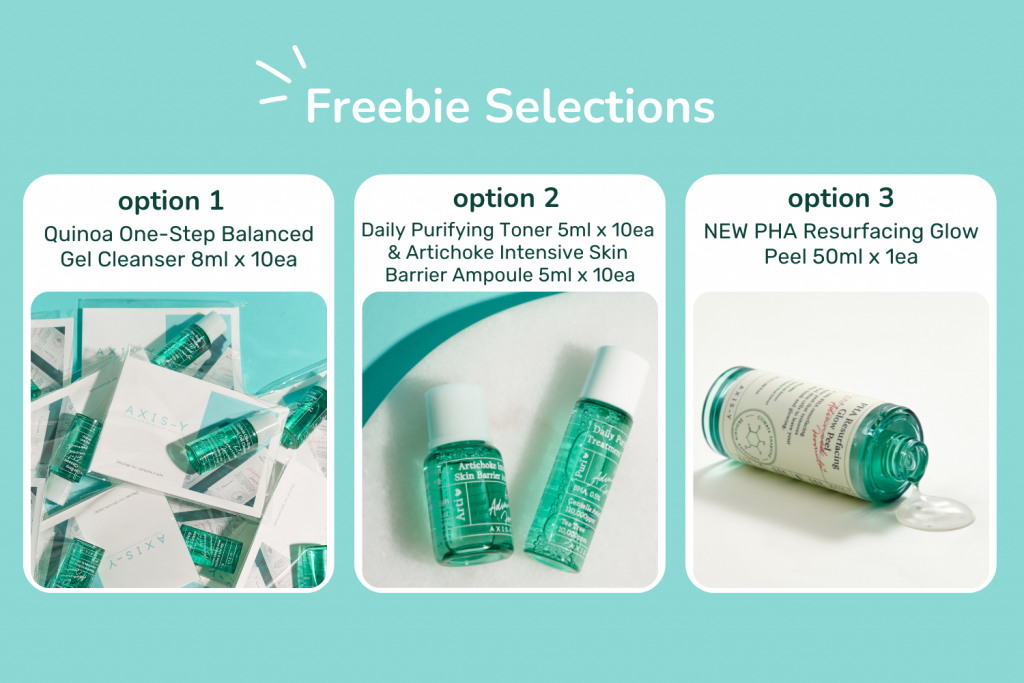 Option 1: AXIS-Y Daily Purifying Toner 5ml & Artichoke Intensive Skin Barrier Ampoule 5ml 1set x 10ea
Option 2: AXIS-Y Quinoa One-Step Balanced Gel Cleanser 8ml x 10ea
Option 3: NEW AXIS-Y PHA Resurfacing Glow Peel 50ml x 1ea
How to Claim & How Many
Here are the simple steps for obtaining these giveaway items
updated: 1. Sign in and shop at UMMA. Fulfill the below purchase amount of any brand products according to how many freebies you would like to claim.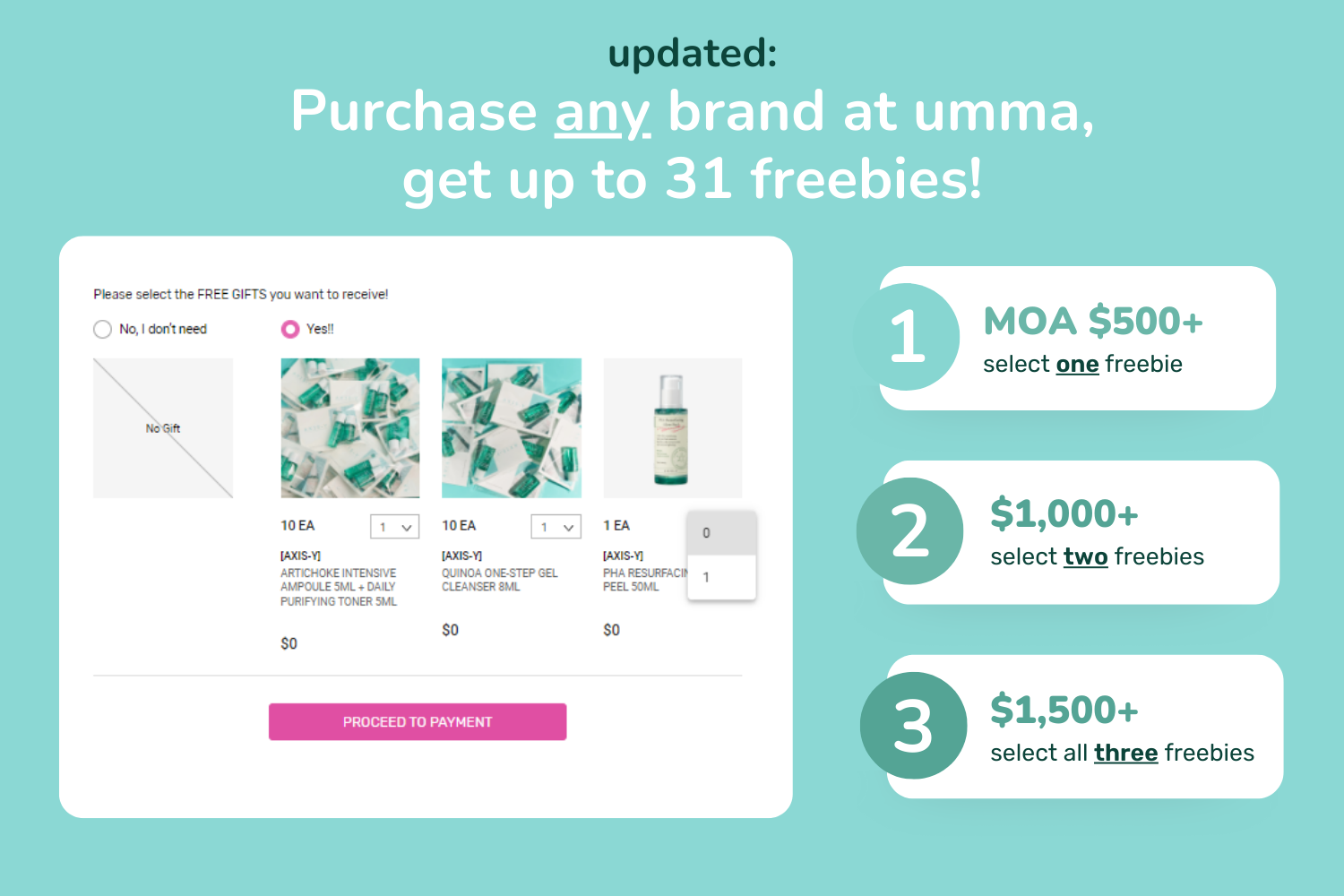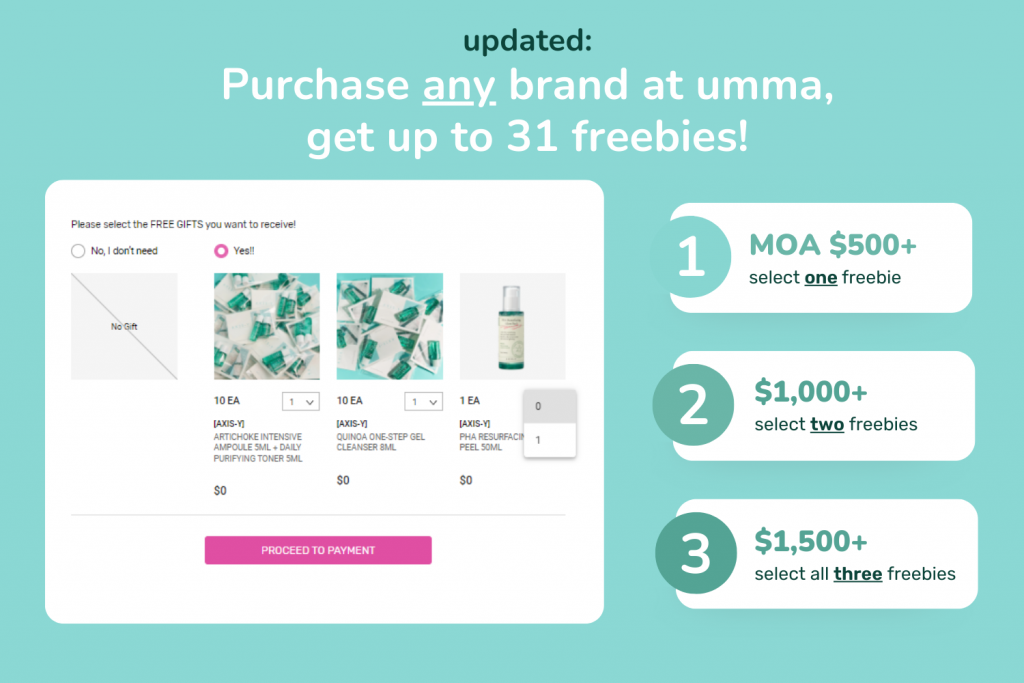 2. The option 'select gift' will show after you put in your shipment information. Make sure to select '1' for the freebie(s) you would like to claim in order to receive the gifts. (Make sure to select '1' for all three if you have a purchase over $1,500 USD.)
3. Complete your order, and wait for delivery.
4. Enjoy 🙂
*For more details regarding the promotion, please read the 'Detailed Promotion Information' section at the end of this blog.
NEW AXIS-Y PHA Resurfacing Glow Peel
This unscented cooling, soothing gel spreads easily on the skin to effectively clear out dirt and dead skin cells to reveal a brighter complexion without any irritation or sensitization of the skin. It is the newest addition to the 611 skincare line, with the core ingredient being 10% PHA, which exfoliates the surface of the skin gently yet effectively. Unlike AHA and BHA, PHA is non-drying, non-irritating, and suitable for all skin types. It protects and revitalizes skin from free radicals without damaging it.
What makes this product more gentle is that this is a wash off type peel, where you apply a thick layer and leave it on for 10-15 minutes before rinsing with water. It will not painfully peel off your skin after drying. With ingredients like Cucumber, Papaya, and Centella Asiatica extracts this peel will feel like a hydrating and soothing spa mask unlike other peel products available in the market.
To read more about the brand and the 611 skincare line, please continue reading below.
AXIS-Y: the brand
AXIS-Y has boomed in popularity since launching the brand early 2019, and going viral as a TikTok sensation in 2020. In less than 3 years, they have joined the K beauty elites, standing out as an emerging top selling global Korean skincare brand in a red ocean of competition.
Here are the quick facts regarding the brand's global success:
The Emotional Aspect: Encouraging Self-Care & A Sense of Community
AXIS-Y has set their brand mission standard on a different level.
The pandemic came with many discouraging feelings. Hopelessness, loneliness felt through social-distancing, low self-esteem, and even 'maskne' to top it off. AXIS-Y felt the need to not only provide a way to encourage self-care, but also to build a sense of community to combat these challenges among the beauty community.
Their focus for providing community-spirited products and content began to take on a life of its own.
The Actualization of Community Feedback
Most brands provide products they think the community needs. But as of recent, the wall between brands and the community has been coming down. The biggest differentiation factor of AXIS-Y could be in how much their community is involved in the development process of the products.
AXIS-Y's current '611 line' was created with hot, humid climate skin concerns in mind. It contains 6 natural ingredients, 1 core ingredient for targeting a major skin concern, and 1 patented skincare technology to enhance the skincare delivery. The fullness of this line comes with cruelty-free and vegan certificates, and was made to address the major skin concerns of the Southeast Asian region. This is why the majority of their global initiation consisted of (but was not limited to) building the SEA region community.
Currently, they are in the process of co-developing the ay&me line. The product development process is completely and transparently open to the one-thousand plus participants around the world. They are created based off the feedback given by the global beauty community.
Success Driven by Skincare Results
Lastly, a skincare brand's success cannot be achieved without products that actually work. AXIS-Y provides well-researched on-trend products. Each and every product has a specific purpose, and they exclude harmful skin irritants so all skin types, including sensitive skin types may enjoy their products. They contain popular Korean skincare ingredients, such as Niacinamide and Mugwort in order to deliver the best skincare results the community seeks.
They also provide 611 skincare routine recommendations to help individuals choose which products would best fit for their skin needs.
Why Choose UMMA?
UMMA powered by B2LiNK (now Craver Co.) is one of the largest global K-Beauty supplier in South Korea since 2016. We hand-pick the best and trending brands and products for you to source, and provide product recommendations so you can skip the time-consuming research, sourcing, and delivery waiting.
In fact, we provide an even faster delivery service, called u-quick. This is how it works: we stock up on 1000+ best selling products in high demand around the world, and we ship them within 48 hours of confirming your order. These products can be found when you use the 'view u-quick' filter. (Note: to utilize this service, your whole order has to include only u-quick items. Mixing in standard order items will delay your u-quick item shipment.)
Furthermore, for every purchase, we provide a cash back program, called UMMA points, to continuously support the growth of our members.
Lastly, we work hard (we really do!) to provide 1:1 sales and customer service, source products requested from you, and a plan a multitude of promotions for you to experience various kinds of dedicated support from us.
If all of this sounds like a good opportunity for you, don't hesitate to join our K-Beautiful family now. For more details about our service, check out our FAQ page. If you'd like to talk directly with our sales manager, we provide various language services: Malaysian, Indonesian, English, Korean, and Russian. Scroll down and click on the whatsapp contact that applies to you.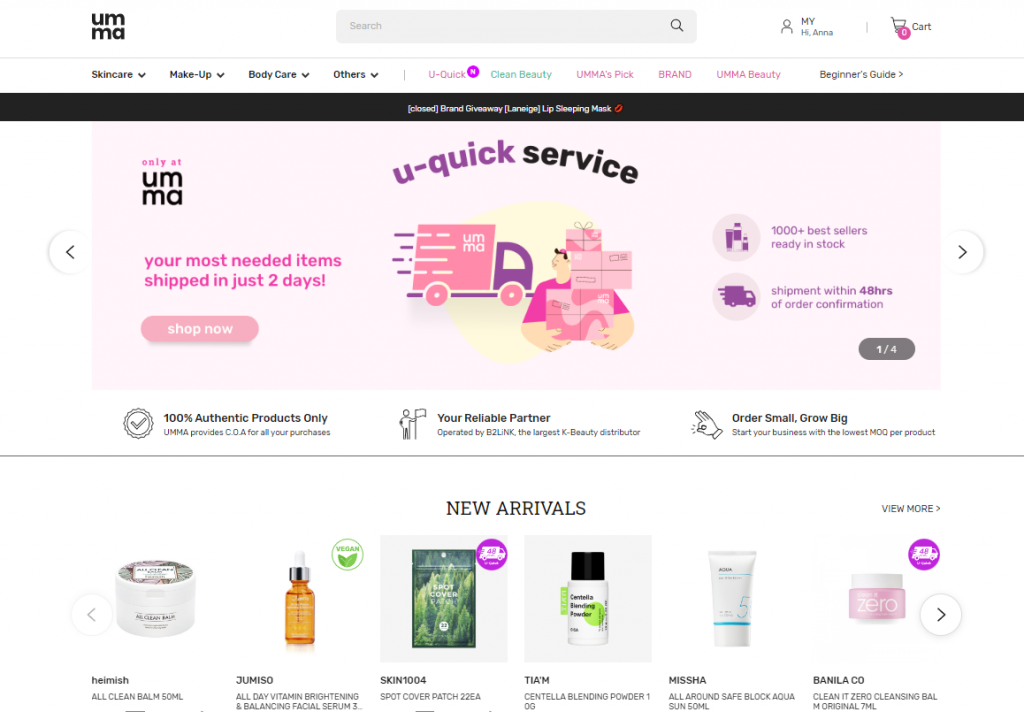 Detailed Promotion Information
– updated: Purchase is necessary to participate in this promotion. Fulfill MOA of $500+ to participate. No AXIS-Y purchase necessary.
– To select more than one freebie, you must include the correct amount of AXIS-Y products in your order. (over $1,000 for 2 freebies, over $1,500 for 3 freebies)
– This promotion is not available for China, South Korea, Vietnam, Turkey, Cambodia, Chile.
– Please note we will not be able to pay for any additional shipping fee (if any should apply). It will automatically be added to your total payment amount.
– Giveaway claims are limited to only once per person. One person may select a maximum of 10ea of 'Daily Purifying Treatment Toner 5ml + Artichoke Intensive Skin Barrier Ampoule 5ml set', 10ea of 'Quinoa One-Step balanced Gel Cleanser 8ml', and 1ea of 'PHA Resurfacing Glow Peel 50ml'.
– This promotion is first come first serve, limited set quantity availability.
– You may not be able to select all three freebies towards the end of the promotion, as there is only a limited quantity available of each freebie.