Beauty products are among the top selling items on Amazon. To put it into context, cosmetics and personal care products accounted for approximately 10% of all Amazon sales in 2019.

That was a 100% increase in revenue from beauty products, which rocketed from $10 billion to over $20 billion between 2018 and 2019. Just as impressive, health and beauty was the third fastest growing category on Amazon, carving out a whopping 44% of all online health and beauty sales.

The best part? K beauty has some of the best selling products on Amazon. They're so good and so demanded that Amazon now has a dedicated K beauty category.

But what does all that mean? Two things:
Amazon is the perfect online marketplace to sell cosmetic and beauty products. It has a never-ending demand in this category, which means you can make a fortune selling K beauty products.

Now that K beauty is a category on its own, the demand for Korean beauty products will only go up
Fortunately, choosing what to sell on Amazon in 2020 or 2021 is not as hard as you might think. That's especially true for K beauty products. And with that in mind, we've prepared a complete lowdown on Korean beauty products to sell on Amazon. But first things first…
Why Are Korean Beauty Products Popular?
There's a soaring demand for K beauty products worldwide, there's no question about that. In fact, the Korean beauty market is in the top 5 worldwide with an estimated revenue of 6.9 billion U.S. dollars per year.
That's better than France, which for a long time was considered the epitome of the cosmetics business.
The most amazing part is that South Korea only started to get global attention as a cosmetics producer in 1999. Yet it's already competing with the likes of Japan, whose cosmetics industry has been in existence since at least 1185 (Heian period).

Which begs the question: why is Korean beauty so popular? What is so special about Korean skin care? For one, K beauty products are often packaged in colorful, aesthetically-pleasing bags that are extremely hard to ignore. But more importantly, they bring a ton of health benefits to the table.

Take the famous 10-step skin care routine, for example. It not only keeps the skin healthy by hydrating it and improving collagen production, but it can also help in the treatment of skin problems like acne and eczema. It has anti-aging benefits, too.

Therefore, K beauty products are loved because they deliver results. Here's a better breakdown of the reasons why Korean beauty is so popular:
Natural ingredients and unique recipes
Korean cosmetic products often feature an assortment of beneficial organic ingredients. That's advantageous in two ways. First, they don't harm the skin because natural ingredients have virtually no side effects.

Secondly – and more importantly – the natural ingredients used usually treat, rejuvenate and improve the appearance of skin. You'll often find hypoallergenic, antioxidant, vitamin, anti-breakout, hydrating, anti-wrinkle and anti-aging ingredients in typical Korean beauty products.

For instance, Innisfree uses green tea seed extracts to create its most hydrating serums. Similarly, many Korean makeup brands use birch sap instead of water when creating hydro formulas. Thanks to its high amount of antioxidants and electrolytes, birch sap soothes the skin and can treat inflammation.

Nonstop innovation
When it comes to product development, Korean skincare brands tend to deviate from most other brands, often with amazing results. They'll use better options like birch sap and aloe instead of water for better skin hydration.

Another common feature of K beauty is the use of fermented botanicals. They're rich in micro-organisms whose enzymes break down molecules into raw materials that can benefit the skin. The smaller molecules are not only easy for the skin to absorb (because the skin has tiny pores), but they also reduce the risk of skin irritation.

Speaking of absorption, a good number of Korean makeup brands make "rubber masks" rather than paper sheet face masks. The reason for that? Rubber masks lead to effective nutrient absorption compared to paper sheets.

These are just but a few examples of the impressive innovations that are used in K beauty. You can bet that at any given time, a Korean cosmetic brand is looking for something new and better. The ultimate goal is to treat skin conditions, reduce signs of aging and enhance a flawless skin.

Focus on healing and prevention
The biggest issue with other cosmetic products is that they focus more on appearance than the root causes of skin problems. That's not the case with K beauty; it's the other way round.

They tend to focus on treating and preventing skin conditions. It's like: why wait to get wrinkles before you attempt to reverse the process? The Korean way involves starting to treat signs of aging even before they start.

It's the same for other skin issues like acne breakouts. You'll often find a good product that can prevent the onset even before it begins. A good example is this COSRX master patch that not only prevents acne, pimples and other types of breakouts, but also treats them.

Products that cater for all skin types
One of the most pleasant things about K beauty brands is that they have extensive product options for everyone. If you suffer from acne-prone skin, you can turn to COSRX – particularly their patches and serums.

Need a product for hydrating dry skin? Dr. Jart's Water Jet line is the magical solution. It doesn't end there; there are several products for sensitive, oily, young and aging skins.

To make things better, K beauty offers some of the best personalized skincare routines to accompany products. The famous 10 step routine is a good example.

Unbeatable bang for the buck
In spite of the high quality and effectiveness, Korean beauty products are surprisingly affordable. Most people across the world can enjoy K beauty benefits on a budget. That's one of the reasons why they are so popular – they offer better value for money.

Of course some brands like Sulwhasoo cater for upmarket buyers, but their prices are still within reach.
Selling Korean Beauty Products on Amazon
So, K beauty products are popular and good for the skin. But can they bring you profit if you're an Amazon affiliate? Absolutely; more so facial products. The total demand for K beauty products is an astonishing $6.9 billion in 2020, with $5.7 billion accounting for face products. That puts them among the best things to sell on Amazon.
On paper, the high demand should translate to a more-than-decent business opportunity for any cosmetic reseller. But how feasible is it? As it turns out, very feasible. Time to crunch a few more numbers.

Well over 63% of consumers start their shopping searches on Amazon, not on search engines. Additionally, 89% of shoppers are more likely to purchase products from Amazon than any other online marketplace. And Amazon Prime members are the best of them all. A whopping 48% buy at least one product per week and up to 74% of Prime members make a purchase every few weeks.

That's literally a huge market that's just waiting for you to carve out a share. Now, the big question is: what are the best things to sell on Amazon? As far as cosmetics, K beauty is the obvious answer. There are several reasons for that:
The average person is willing and able to spend $134.18 on K beauty products. That value is projected to hit $171.06 by 2025, which can only mean bigger profit margins for K beauty resellers.


Korean beauty products attract fair competition. It's usually near impossible to get a niche if you sell American, French, Japanese and other brands of cosmetics. That's because big brands already dominate those niches. K beauty, on the other hand, has not been monopolized. Literally anybody can give it a go and record impressive profits.

Korean beauty brands offer affordable prices. For that reason, it's possible for a reseller to put an affordable price tag even after factoring in Amazon's fulfilment fees. It's worth mentioning that a bulk of cosmetic buyers are not looking for high-end products.

Demand for beauty products is available all year round. The fact that cosmetics are not seasonal products means that you'll have consistent demand for your K beauty cosmetics.
How K Beauty Products Perform on Amazon
What are the best selling K beauty products on Amazon? As of today, this Dermal Facial Mask Sheet has 13,870 user ratings.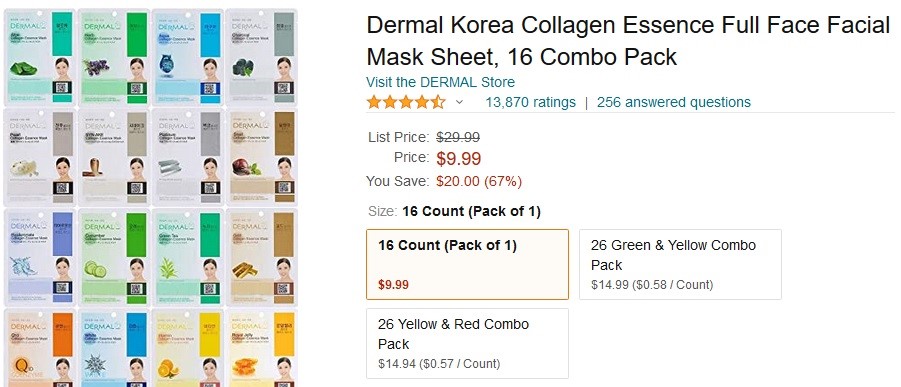 That's a testament to how popular it is. Most beauty products don't rack up as many ratings. Unsurprisingly, K beauty products easily attract over 1,000 user ratings. Here are a few more examples of top selling items on Amazon:



In short, Korean beauty products perform pretty well on Amazon. That's rather expected considering the cult following that K beauty enjoys worldwide.
Which Is the Best Korean Skincare Brand to Sell On Amazon Beauty Category?
In other words, how do you know what to sell on Amazon FBA? First, you'll want to know the K beauty products that people want. It makes a lot of business sense to avail things that people demand.

With that in mind, facial products are the most demanded. Out of the $6.9 billion worth of revenue from K beauty, $5.7 billion is directly attributable to facial products. That's roughly 83% of the total.
Needless to say, it won't hurt to have some body, sun protection and baby products as well. While their demand isn't as big as face products, they still boast a substantial market share.

Secondly, top selling products on Amazon are mostly affordable ones. While 89% of buyers prefer non-luxury products, only 11% are interested in high-end products.
Therefore, it makes a lot of sense to stock K beauty products that enthusiasts can afford and buy. The general rule of thumb is that Amazon buyers prefer beauty products that don't exceed $50 each.

Finally, Amazon consumers are looking for recognizable brands. Compared to generic products, brand names signal quality, innovation, R&D and performance. In fact, as many as 74% of Amazon buyers agree that brand name is one of the most important factors when shopping on Amazon.
Which K Beauty Brands Can Guarantee Top Selling Items On Amazon?
1. Innisfree
Innisfree is popular because it's the go-to brand for K beauty products that can heal skin conditions. Its green tea line has a huge following and is always in demand.
Best Innisfree products to sell on Amazon:
Green Tea Seed Serum and Jeju Lava Seawater Essence
2. Laneige
Laneige is famous for making highly hydrating K beauty products. It's always a fan favorite, especially among people with dry skin. While Laneige's cleansing balms and serums are great, its water sleeping mask attracts the highest demand.
Best Laneige products to sell on Amazon:
Laneige Water Sleeping Mask and Laneige Lip Sleeping Mask
3. COSRX
Although they are famous for making products for sensitive and dry skin, COSRX also have amazing skin brighteners and toners. Their cosmetics are mostly geared towards ladies.
Best COSRX products to sell on Amazon:
COSRX AHA/BHA Clarifying Treatment Toner and
COSRX Ultimate Moisturizing Honey Overnight Mask
4. Sulwhasoo
This is a luxury Korean beauty brand for the high-end consumer. Sulwhasoo's toners are simply magical. So are its moisturizers and emulsions.
Best Sulwhasoo products to sell on Amazon:
Sulwhasoo Essential Balancing Emulsion and
Sulwhasoo First Care Activating Mask
5. Nature Republic
Nature Republic doesn't have the best packaging, but it does offer the best price. It's the ultimate champ in value for money, especially when you buy its sheet masks.
Best Nature Republic products to sell on Amazon:
Shea Butter Fresh Steam Cream and
Soothing & Moisture Aloe Vera Skin Care Set
6. Benton
The best thing about Benton is that it exclusively makes anti-aging products. Of course that means some of the best collagen enhancers, moisturizers, anti-spot, and anti-wrinkle cosmetics.
Best Benton products to sell on Amazon:
Benton Snail Bee High Content Essence and
Benton Fermentation Eye Cream
7. CommonLabs
CommonLabs is the true definition of indie production. While not the biggest K beauty brand, this company uses potent ingredients to make cosmetic products. As such, it's the best brand for treating underlying skin conditions like acne breakouts.
Best CommonLabs products to sell on Amazon:
Vitamin B5 Moisture Ampoule and Dual Vita Anti-Oxidant Ampoule
Needless to say, that's not the last word on what to sell on Amazon FBA. There are many more Korean makeup brands and products than can fit in one webpage. However, what we have above is a starting point. In case you need more information about cosmetic reselling, please check out this guide on starting a wholesale beauty business.

Wondering where to get products to sell on Amazon? That's where UMA comes in. We partner with Amazon affiliates who specialize in K beauty products. In addition to offering brand products at affordable prices, we also prepare handy guides and inform our partners about the latest trends and products in Korean beauty.

Sign up today and get a registration coupon you can use on your first purchase.