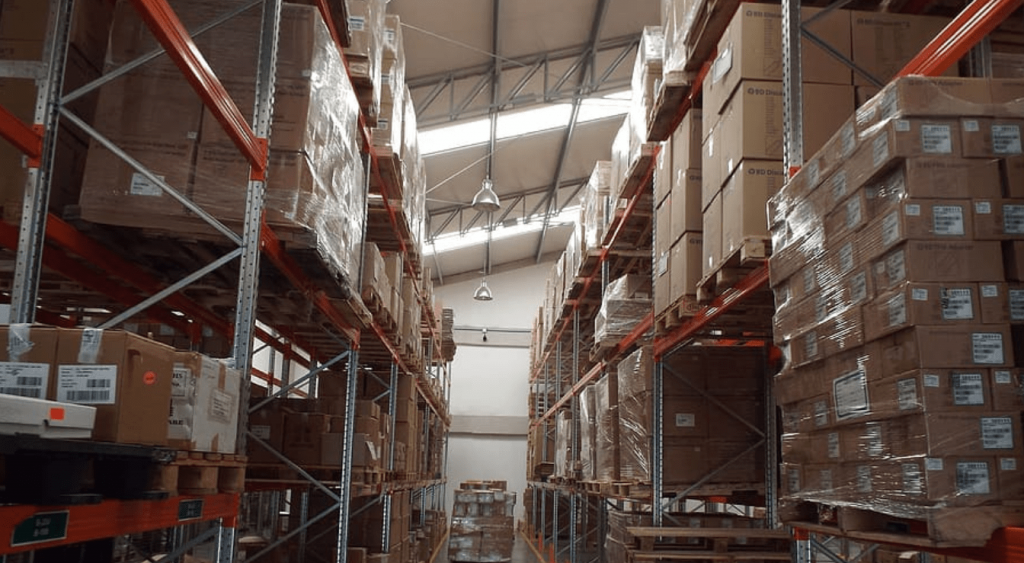 Almost all small business coaches or successful entrepreneurs you talk to will give you their unsolicited advice to 'buy low and sell high'. This is how businesses churn out their profit, and this is how you can take your small business to a whole new level. Selling your inventory or completing a business transaction does not necessarily mean you've made a profit on it.

Your business will go broke and become bankrupt fast if you don't buy your products at a low wholesale price and sell them at a retail price that guarantees you a major share of the pie.

We understand that as a small business owner you're lost or pretty confused right now. How do you determine the right way to move forward and transact as a wholesale buyer? How do you utilize economies of scale while buying, and break the bulk to enjoy better profits while selling? We take you through answers to these questions and a lot more in this guide on everything you should know about how to buy wholesale.
What Is wholesale to retail?
Wholesale buying basically occurs when retail businesses buy discounted products at scale from wholesalers and sell them at relatively higher prices to individual customers of their business. Companies start the whole buying process by looking for an individual wholesale distributor or platform that can simplify the buying process.

Wholesale buying is one step within the entire supply chain process starting with procuring raw materials and ending with the end consumer's purchase. Raw materials are procured and shipped to suppliers, who then take these raw materials to manufacturers to manufacture finished goods. Once the finished goods are ready, these manufacturers sell their goods to wholesalers, who then offer relatively cheap wholesale prices to retailers. The goods are then finally sold by retailers to the end customer.

Wholesalers are a fundamental part of this supply chain, as they help manufacturers find customers without having to deal with individual buyers. For instance, the United States alone has thousands of book publishers. Book stores or chains don't have the time to deal with all of these publishers at one time, which is why it can be beneficial for them to work with distributors who act as the medium of contact between publisher and book store.
Benefits of Wholesaling to Retail
We now understand wholesale to retail in great detail and have also differentiated it from dropshipping to help small business owners realize the difference between the two. Now, we look at some of the benefits you can get from wholesaling to retailers your products. These benefits include:
Lower Costs
As you buy products in bulk, you will get lower costs and your expenses will go down. All related expenses go down when you make wholesale purchases. Larger orders also reduce the costs of frequent shipments, as you order products in bulk and don't have to ship products frequently. Also, there is the added advantage of getting lower costs the more you add to order quantity. You get more discounts on a bigger order size.
Better Product Selection
Wholesaling gives you a bigger product pool to choose from. No global manufacturer would ship their goods to you or enter a transaction with you if you require an order of 20 or 30 units. Once you start dealing in wholesale, you can expand your horizons to step out of the local market and enter the global market with even better rates.

For instance, retailers looking to buy and sell K-beauty products can ditch the local sellers of these products to buy directly from UMMA. UMMA gathers K-beauty products from local Korean manufacturers and ships them globally to retail outlets across the world.
Scale Up Your Business
Wholesaling allows you to scale up your business and enjoy the perks that come with economies of scale and growth. We do know that economies of scale reduce costs, but wholesaling also allows you to experience growth faster than before.
How to Find a Wholesaler?
The following tips can help you find the right wholesaler that sell to retailers for your needs:
Attend Industry Events
You can also attend industry events and trade shows to find important wholesale to retail supplier information. There are a number of high-quality trade shows and industry wholesale events happening at all times, so you probably don't have to worry about the frequency of these events.

Once you're part of a trade show, you should look to evaluate your options and go step-by-step and not sign any contracts in a hurry. Many retailers today prefer global wholesale trade shows as they offer a lot more potential and can hook you up with some of the best wholesalers in the market. It is all a matter of luck and doing the right research.
Find Global Marketplaces Online
Make hay when the sun shines. With online B2B marketplaces booming around us, there is great potential for businesses to step up their game and get in touch with wholesalers that sell to retailers from across the globe.

Being in touch with reliable internet wholesalers that sell to retailers opens a whole new world of opportunity and allows you to explore new perspectives. You can also head on over to marketplaces like Alibaba and Aliexpress to communicate and connect with thousands of manufacturers and wholesalers from China. These online platforms now have additional security in place, and there are fewer chances of you being defrauded by a bogus Chinese manufacturer.

UMMA for instance is a representative online wholesaler that sell to retailers. They are based in South Korea, but operate an online platform to provide an environment where resellers around the world can easily contact and purchase products. You can even schedule meetings with wholesalers and manufacturers from other countries online, or in person, if you really do want to cover all corners and leave no loose ends.
Key Standards for Analyzing Wholesalers for resale
There are multiple standards that you should check while entering a deal with overseas manufacturers or wholesalers for resale. These standards include:
MOA
The amount buyers pay to a wholesaler or distributor is known as the wholesale price. Wholesalers that sell to retailer usually don't set a fixed price on goods. These orders and the prices for them are set on bulk. Retailers and buyers that buy more get better rates than those that buy less. Therefore, low prices are important, but make sure to check MOA(Minimum order Amount).

If the MOA is larger than the working capital you can use, the lower price is useless. So, find a wholesaler for resale that demands a reasonable MOA with a good price.

UMMA, a Korean beauty wholesaler, for instance requires an MOA of only $500. Since this amount is relatively small, it is a very good amount to start a test transaction before making a big deal.
Payment
Most wholesale to retail transactions include large transfers of money. Knowing the importance and scale of these transactions, you should have your eyes on these things; you should also go through the reputation of your wholesaler for resale and determine whether they can be trusted or not. Do check whether they provide escrow options along with other security details to secure your transactions even if things go wrong.

Buying wholesale products for resale can increase your profit margins and save you money, but you need to start by assessing multiple factors related to your business and finding out whether wholesale to retail is the right way for you. This step is necessary before you enter into a major transaction online.

Having ensured the suitability of your business to make payments, you should now see if the wholesaler you're about to enter a transaction with is genuine and can be trusted. Some tips to follow here include:
Check Business Licenses
You should check the business license of the wholesalers you are dealing with. Only deal with wholesalers that have an established business license and have maintained a significant presence. You don't want to be dealing with businesses that aren't registered in their respective states.
Conduct Factory Audits
If you are looking for an absolutely flawless payment experience, then you should tell your supplier or wholesaler that you would like to have their factory audited before the purchase order or PO is issued. This can be done to minimize product flaws when you are placing a customized order.
Background Checks on the Cheap
There are a number of third party authentication services like GloBIS today, which will authenticate the information you require related to the businesses you are dealing with. The credit report service of GloBIS and other such businesses will help you find out the financial information of your wholesaler including the legal representatives and financial records. This information will surely cement your trust.
Shipment
The shipping process is generally divided into three different stages when you are dealing with global wholesalers that sell to retailers. These stages include:
The local delivery made from the seller or wholesaler's factory to the nearest train station, airport or port.
International shipping from the seller's country to your country of residence.
Local delivery inside your country from the train station, port or airport to your company headquarters.
You can use optimized delivery options for each of these options to reduce costs. Extensive research online can help you find the best options for each of these stages. Once you do, you can go ahead with that delivery option to minimize costs. However, this stage-based form of delivery requires additional hassle and might take up your time. The better way forward is to use express shipping services. All of DHL, UPS and EMS provide express shipping services and can deliver products straight from the seller's warehouse to your company. Being the buyer, you'll have to pay for these services.

Most small businesses get confused while understanding the difference between wholesale to retail and dropshipping. Businesses consider both these activities the same and stay out of wholesaling for resale if they don't naturally agree with dropshipping methods.

Wholesale purchases basically require all retailers to hold stock on hand before they end up making and finishing a sale. When it comes to dropshipping, retailers have to never handle, store or see the products they are about to sell in the open market. Instead, customers place an order with the relevant retailer and the retailer gives that order to their supplier, who directly ships that product to the customer. This saves retailers from holding the product or worrying about storing it.

However, dropshipping comes with its fair set of problems as well. To begin with, your wholesalers that sell to retailers are directly in charge of shipping orders and meeting customer demands. If the supplier wholesalers for resale drops the ball, it would eventually end up eliminating your customer base. Additionally, the profit margins are generally smaller and you don't get to make much from the sale.

These are just some of the factors you should consider when finalizing a wholesaler for your retail business. Do prioritize financial security, and do perform your due diligence before falling for the first best offer.
Lead Time and Delivery Time
The time it takes sellers to source products, and prepare for timely delivery is known as lead time. This process is initiated as soon as the order is placed by a buyer and the payment is transferred. Wholesalers for resale that provide better lead times are bound to get higher satisfaction from retailers.

Delivery time is the time it will take a wholesaler to deliver the product to a retailer. Both lead time and delivery time come together to form the total time it takes for your order to be prepared and to be delivered to you. Retailers or buyers should determine the time of their order and the quantity they place on the basis of lead time and delivery time, and their combined total.
The Best Wholesaler, UMMA
Be sure to remind yourself of the essential information you've gained in this article, before you find a wholesaler that sell to retailers, and place an order. Umma is an online wholesaler for resale specializing in K-beauty products to retailers across the globe. If you want to buy K-beauty items in bulk wholesale, you can come in and benefit from their exceptional service standard. We meet all characteristics and conditions discussed in this post.

To get the latest news about K-Beauty products, visit our website and subscribe to our newsletter. It only takes a second!

Sign up today and get free 50 UMMA points that you can use on your first purchase.